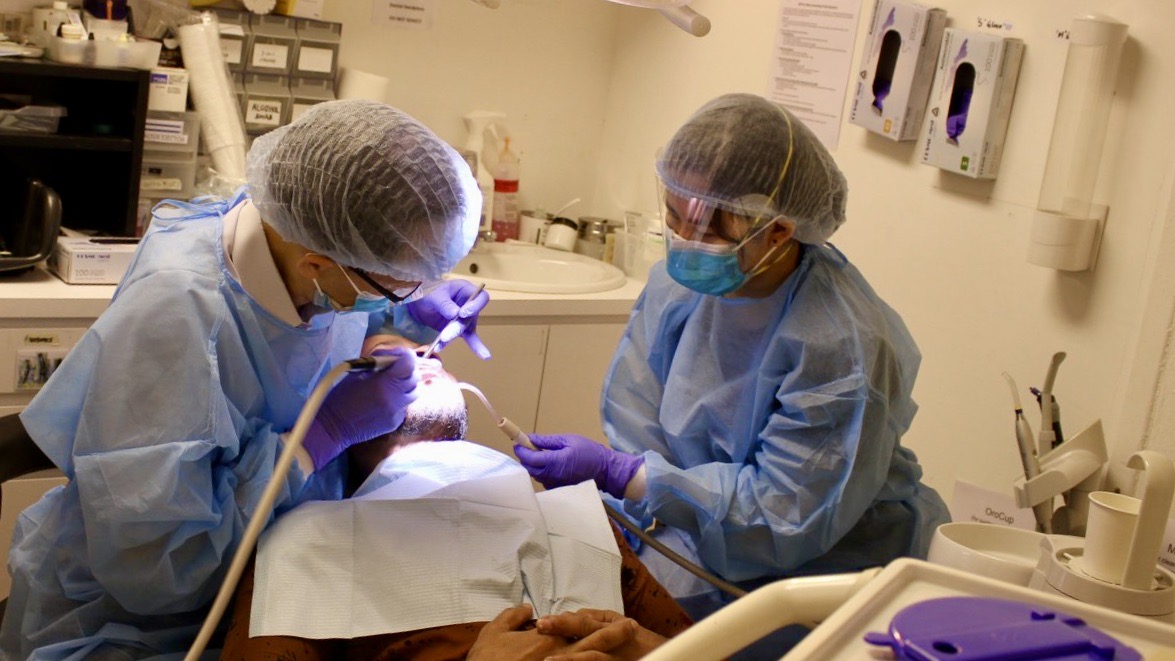 HealthServe has put out a call for more volunteer doctors and dentists after the novel coronavirus outbreak led to restricted movement of healthcare staff. All photos from HealthServe's Facebook page.
As our public medical institutions hunker down to fight the ongoing COVID-19 outbreak in Singapore, the pressure is also felt in HealthServe, a non-profit organisation that provides heavily subsidised health and dental care to migrant workers.
It had to close its clinics at Geylang, Mandai and Jurong over the weekend (February 8 and 9) due to a severe shortage of doctors. 
"Only 10% of doctors from our regular pool of volunteers are able to help now, as those working in the public sector are tied up," said Low Suwen, HealthServe's head of communications and engagement.
"Many still need medical and dental support."
On its Facebook page, Healthserve shared: "Moving forward, we will strive to keep our Geylang clinic operational at three sessions a week, as yesterday's clinic session showed that many still need medical and dental support." 
It put out a call on its various social media platforms for more volunteers to step forward to help during its clinic operation hours on Tuesday, Wednesday and Saturday evenings, 6:30pm to 9:30pm.
Of those infected with COVID-19, two are migrant workers who worked at the Seletar Aerospace Heights construction site.
To allay concerns, the clinic is adhering to the Ministry of Health's guidelines for healthcare institutions.
"We are not taking this situation lightly, that's why we have already implemented precautionary measures at all our clinics and centres, including separation of teams, temperature and travel screenings, and disinfecting areas on a regular basis," it explained in its latest Facebook post.
"Thank you to everyone on the front lines. Let's show appreciation, not hate."
Low shared that HealthServe has also ceased all traditional Chinese medicine (TCM) consultations, occupational therapy and physiotherapy sessions for the time being, to limit unnecessary exposure for volunteers and migrant workers. All large group meetings at its premises have also been put on hold indefinitely.
However, its casework and social services are continuing. These ensure that migrant workers with work injury claims or legal, criminal or employment-related issues are being helped, while unemployed migrant workers will continue to have access to free meals.
Despite the challenges, there have been sparks of encouragement. HealthServe shared how a South Asian man gave up his spot in the queue for whoever "needed more help" – a gesture that may have meant a significant financial sacrifice.
"Our patients can queue up to five hours to see a doctor at our clinics and many give up a work day (which means one day less income for their families) in exchange to get the medical help they need from our clinics," HealthServe explained.
During this challenging and uncertain period, HealthServe urged everyone to practise understanding and kindness.
"Many healthcare centres like ours and even government centres have been working longer hours than usual … Thank you to everyone on the front lines. We know a lot of our volunteers are in public hospitals sacrificing time with family and friends to serve in this crucial time. Let's show appreciation, not hate."
Operation #BoosterShot: Cell group offers healthcare workers boost of encouragement with free coffee
Keen to help?
Donate any extra masks, Vitamin C or hand sanitiser you may have. HealthServe will share them with migrant workers whose dormitories have not been able to provide or who do not have access to buy them. HealthServe also needs disposable medical gowns for their clinics.
If you are a doctor, orthopaedic or dermatology specialist, dentist or pharmacists without volunteer restrictions please consider serving with us in our Geylang clinic. Email [email protected] for more information.
If you wish to donate, please go here: http://healthserve.org.sg/hsdonateitems and indicate 'General/Relief'.
Follow HealthServe on Facebook as it will be updating the current donation items needed periodically.
If you have enjoyed reading Salt&Light...
We are an independent, non-profit organisation that relies on the generosity of our readers, such as yourself, to continue serving the kingdom. Every dollar donated goes directly back into our editorial coverage.
Would you consider partnering with us in our kingdom work by supporting us financially, either as a one-off donation, or a recurring pledge?
Support Salt&Light