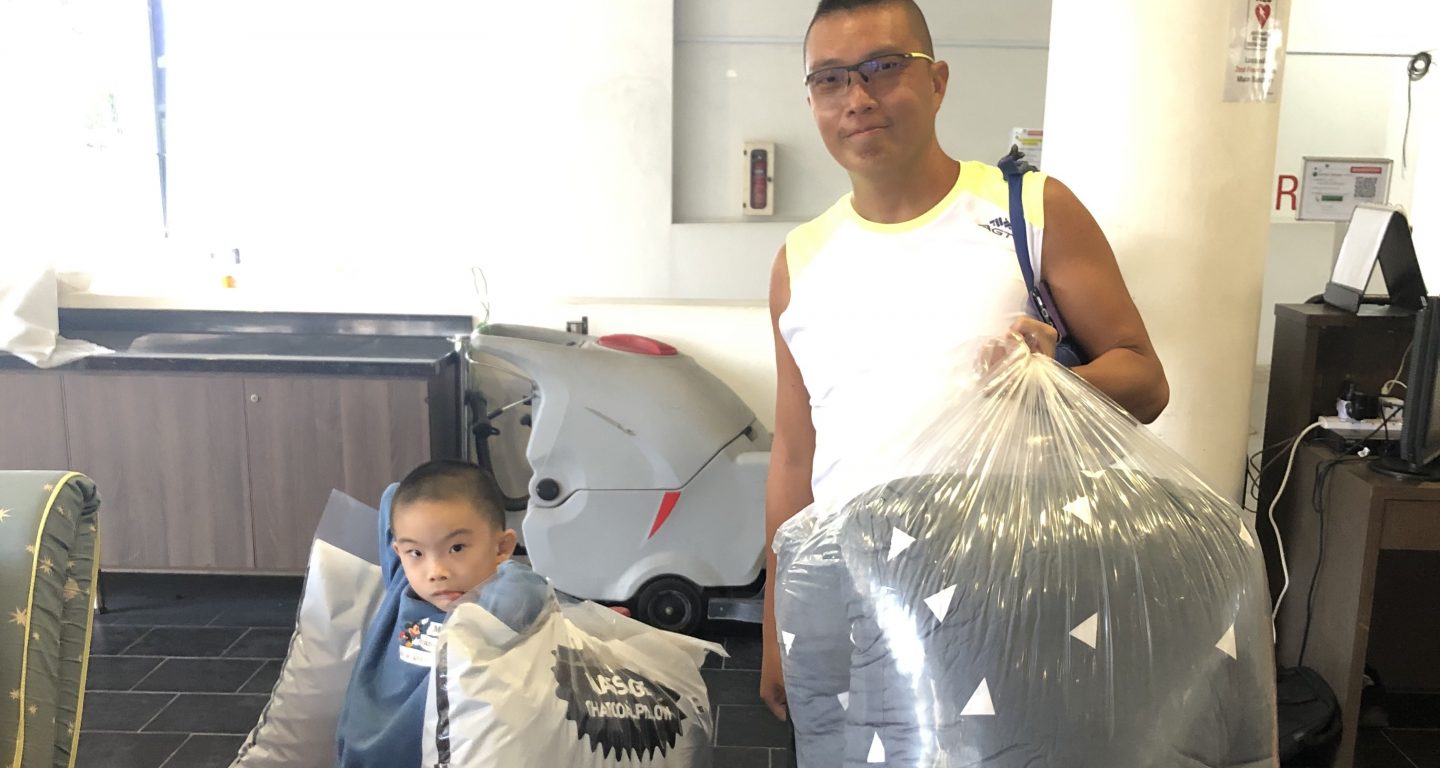 Covenant Evangelical Free Church (CEFC) members responded quickly to the call for donations of mattresses and pillows. Within two hours of the message being sent out, the necessary logistics were fully confirmed. All photos courtesy of CEFC.
When Malaysia closed its borders from midnight on Tuesday (March 17) in response to the escalating coronavirus situation, Malaysian workers who rushed to cross into Singapore on time were left without accommodation.
The situation is evolving day on day, with government efforts to house the 100,000 Malaysians without prior living arrangements in Singapore.
But churches and charities have sprung into action to help with efforts to meet the needs that have arisen.
First responders across organisations
Covenant Evangelical Free Church (CEFC) was one of the first churches in Singapore to respond to the need and open up their premises in Woodlands on Wednesday night (March 18).
CEFC confirmed that 20 workers arrived at the church around 8pm that night and they will stay the next 14 days there, split across three rooms. Mattresses, pillows and blankets were donated by members of the church congregation.
By Thursday, March 19, an informal network of churches and Christian charities had pulled together a Home Away From Home movement which will seek out affected workers sleeping rough and direct them to Transit Point @ Margaret Drive, a newly-refurbished shelter provided by New Hope Community Services (NHCS).
There are 70 spaces are available at the facility which was originally meant to provide shelter to the homeless in Singapore. Beds, laundry and meals are included.
Collaborations across churches
Ps Andrew Khoo, the founder and CEO of NHCS, told Salt&Light: "As Christians, I think this has to be our natural response to the needs out there.
"And especially since we already house rough sleepers, we have the space that can add value to others."
Their plan is to host the workers at least until March 31 before circumstances are re-evaluated.
As of last night, Church Of Our Saviour, Victory Family Centre, 3:16 Church and Touch International, were part of the collaborative efforts to help canvas public areas for stranded workers and to assist in on-site operations such as cleaning.
"I'm very, very happy and very grateful to stay here. Even got milk and snacks!"
47-year-old Desmond, a Singaporean PR who used to make the daily commute from Johor Bahru, was one of the first beneficiaries of this effort.
Speaking to Salt&Light just after midnight, he had just finished the registration procedures at Transit Point @ Margaret Drive, Desmond said that he heard about the initiative from another Malaysian worker and decided to look into it. He had spent Wednesday night at the void deck of an HDB block in Jurong because, while he had heard about the government subsidies, he was unsure of how to go about securing it.
"I'm very, very happy and very grateful to stay here. Even got milk and snacks! I took photo and sent to my wife," said the father of two.
Expressing the love of God
Meanwhile, the Homeless Hearts of Singapore (HHOS) has partnered with the Streams Of Life initiative to appeal to Singaporeans to "show welcome and hospitality".
"It is a joy to see various groups of churches banding together."
Abraham Yeo, the founder of HHOS, hopes to centralise the coordination and help match displaced Malaysians to available homes opened up by individuals.
Inspired by a church friend's message on a separate chat group, Yeo decided to scale up her call-to-action amongst individuals. Launched on Tuesday afternoon, the form has since garnered more than 100 responses of open homes.
"It is a joy to see various groups of churches banding together to work out quick, yet careful, plans to help those in need," said Yeo.
"Ultimately, the Church is called to reveal, not a mean and stingy God, but a generous God who 'is able to make all grace abound to you, so that in all things at all times, having all that you need, you will abound in every good work.' (2 Corinthians 9:8)
"Just like the Good Samaritan, we allow our initial plans and schedules to be disrupted so that we can stop and help. We are willing to foot the innkeeper's uncertain bill to make sure those in need can get all the help and rest they need.
"We exhibit and model the Father's heart for the foreigners in need, just as Deuteronomy 10 says: 'For the Lord your God is God of gods and Lord of lords, the great God, mighty and awesome, who shows no partiality and accepts no bribes. He defends the cause of the fatherless and the widow, and loves the foreigner residing among you, giving them food and clothing. And you are to love those who are foreigners, for you yourselves were foreigners in Egypt.' (Deuteronomy 10:17-19)
"Ultimately, this is what it means to be missional."
Here's how you can help:
Click here find out how to volunteer your time and efforts with Home Away From Home through outreach efforts, on-site operations such as cleaning and meal preparation.
Click here to register with Homeless Hearts Of Singapore and indicate if you are able to provide short-term accommodation in your home. Or share the link with someone whom you know might be able to help.
Donate any of these items directly to Transit Point @ Margaret Drive (51 Margaret Drive, S 149296) between 9am to 7pm: Bottled water, mattresses with bed linen, pillows with cases; Biscuits, instant noodles and hot beverages (milo, 3-in-1 coffee); Toiletries, hand sanitisers, surgical masks; Mosquito coils, standing fans, laundry detergent.
If you have enjoyed reading Salt&Light...
We are an independent, non-profit organisation that relies on the generosity of our readers, such as yourself, to continue serving the kingdom. Every dollar donated goes directly back into our editorial coverage.
Would you consider partnering with us in our kingdom work by supporting us financially, either as a one-off donation, or a recurring pledge?
Support Salt&Light