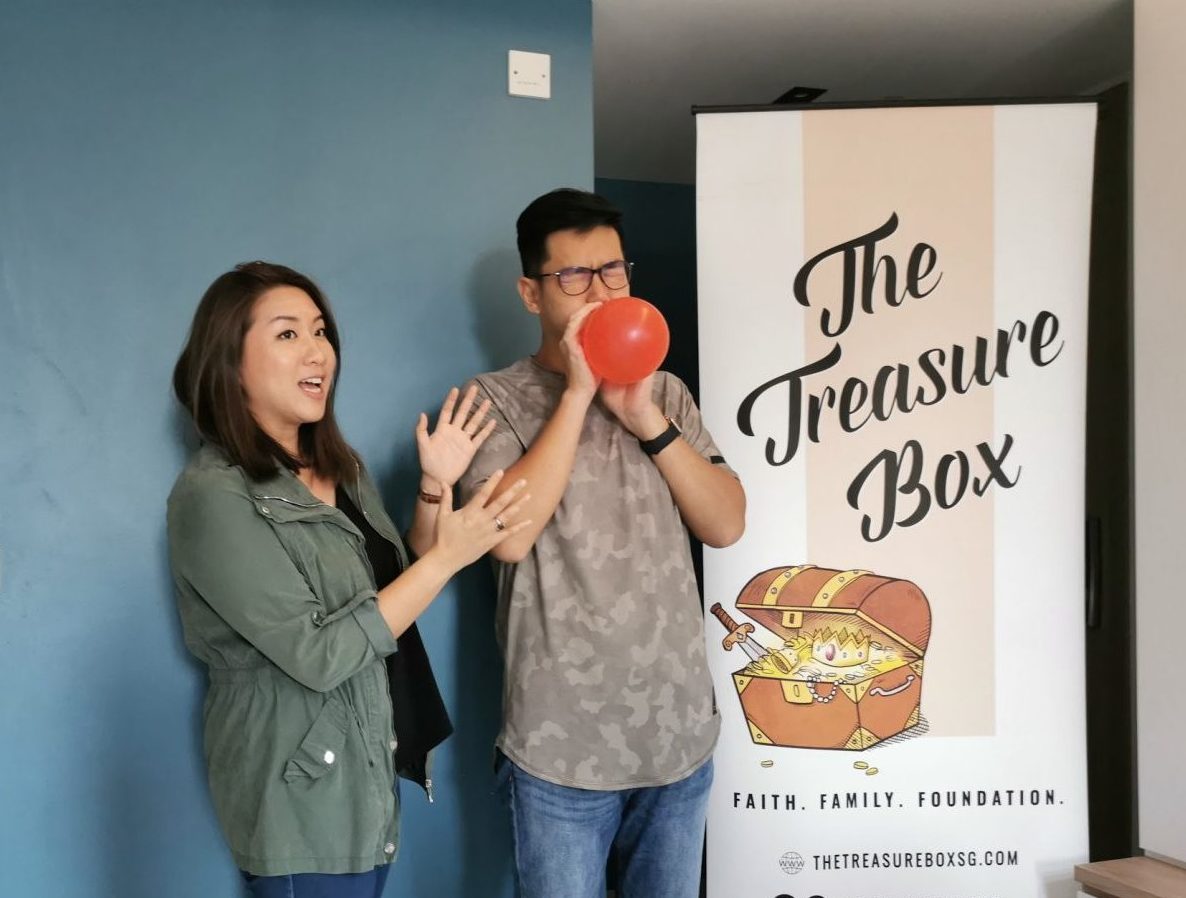 While adults join livestream church service on weekends, children aged 5 to 10 can simultaneously enjoy "children's church" led by Esther and Elvin Foong. All photos courtesy of The Treasure Box SG.
One family's livestream service experience last Sunday has prompted them to create an online series of services for children, so that young ones have their own "church" too.
Husband and wife team Elvin and Esther Foong from The Treasure Box SG (TTB) are releasing the online services for children aged five to 10 from 5pm today (Saturday, March 21).
"Much like your child heading off to Sunday School or kids' church, you can let them watch our programme on a separate device while you're streaming your own online service," said Esther Foong, 35, from TTB.
The first session, "Is God Real If I Can't See Him?", will be released around 5pm today on The Treasure Box SG's Facebook page.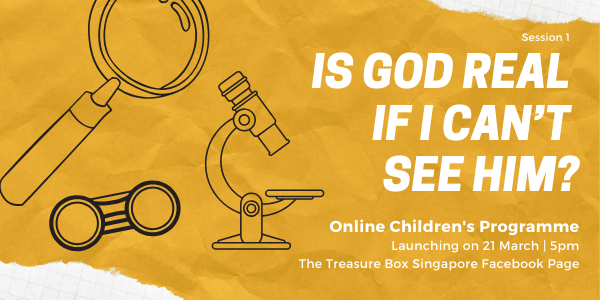 It will be the first of four weekly sessions focused on basic Christian beliefs.
The idea is to allow parents to watch a livestream church service uninterrupted, while simultaneously, their kids can enjoy an online service that engages them at a level they can understand.
Intergenerational "church"
The Foongs, who conduct children's events in churches, noticed a gap in the livestream offerings that have sprung up locally and overseas.
"The adults and youths are well catered for. But there are few inter-generational methods of engaging across the age groups," Esther told Salt&Light.
The Foong's first experience with a livestream service last weekend probably resonates with parents of young children.
It started with the best of intentions. Breakfast (though rushed) was followed by explaining to the children, Nathan, 9, and Phoebe, 7, what they would expect from an adult service, and preparing their hearts.
The Foongs also set up the TV, and pushed back the furniture to give themselves space to worship. The children were given journals before the start of the service to take notes during the sermon.
"During praise and worship, our son drew images that he saw in his mind as each song was sung," says Esther. "We took this as his expression of worship."
Their daughter started singing along. But by the third song, she lay on the ground, with her legs cycling in the air.
Even though the 45-minute sermon was given by a "very engaging and entertaining speaker", Esther describes the time as a "test of everybody's patience".
"Our son tried to take notes. Our daughter started rolling on the floor. And after a while, the kids started annoying each other," she said.
"We had to step in to regulate their behaviour. Which ended up affecting our ability to really listen and receive during the sermon.
"After the service, we talked through the main points of the sermon with our kids. It was a good sermon for adults, talking about the community." But it was difficult for the children to follow. 
The Foongs surveyed other families' experiences and found that many gave up focusing on the livestream service.
"One family decided to go bake a cake halfway through," Esther said wryly.
Others provided distractions like a craft for the children. But that did not provide an opportunity for the kids to learn and grow in faith. 
"Currently, the lesson plans for children being rolled out often require the parent to teach. But not every parent can do this," said Esther.  
The Foongs themselves released free downloadable family resources on their website and brought down the prices of other devotional resources in light of COVID-19. But even these are parent-led.
They realised they could use their experience in leading worship and sharing with children at various churches, to produce online services specifically for kids.
Kids' livestream
Parents may want to watch the livestream kids service on The Treasure Box SG's Facebook page in advance. Or at least watch the first part so that they see what items to prepare in advance – such as colouring materials, paper, notebook and bible – for younger children. The video factors in time for kids to go grab needed items.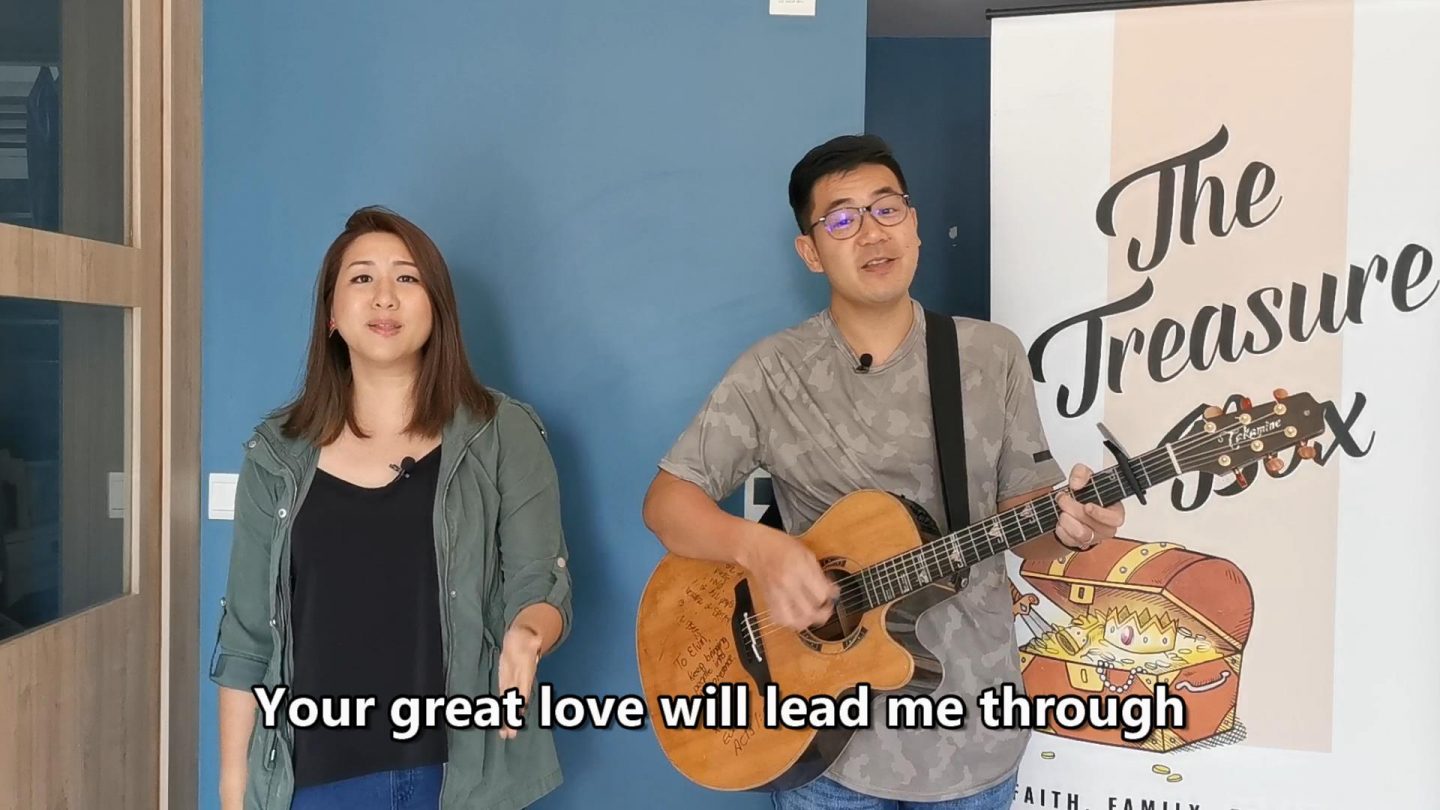 Each online service starts with a welcome, followed by praise and worship, and an interactive lesson, as well as a fun response activity that kids can do on their own.
The service is capped at 35 to 40 minutes.
As the video is on Facebook rather than YouTube, there are no advertisements to worry about. 
The full weekly videos are uploaded on Facebook from Saturdays 5pm all the way till midnight on Sundays.
After this, the video, minus the praise section, will be re-uploaded, to avoid issues with licensing. 
Families can tune in for subsequent sessions, centred on basic Christian beliefs, over the next three weekends.
"We hope that this will help to support families in their faith journeys, even though external circumstances may seem disruptive," said Esther. "We believe that this is an opportunity for families to bond and grow together, as we continue to trust the Lord to come and heal our land."
Where is God in this trying season? A new family devotional helps answer your child's questions
"How do I prepare my heart for a livestream service?" and other FAQs for first-timers
Here's how to continue fuelling your family's faith
If you'd like to find out more about the ministry behind The Treasure Box SG  and their devotional resources for children, visit their website, Instagram account or Facebook page. 
If you have enjoyed reading Salt&Light...
We are an independent, non-profit organisation that relies on the generosity of our readers, such as yourself, to continue serving the kingdom. Every dollar donated goes directly back into our editorial coverage.
Would you consider partnering with us in our kingdom work by supporting us financially, either as a one-off donation, or a recurring pledge?
Support Salt&Light