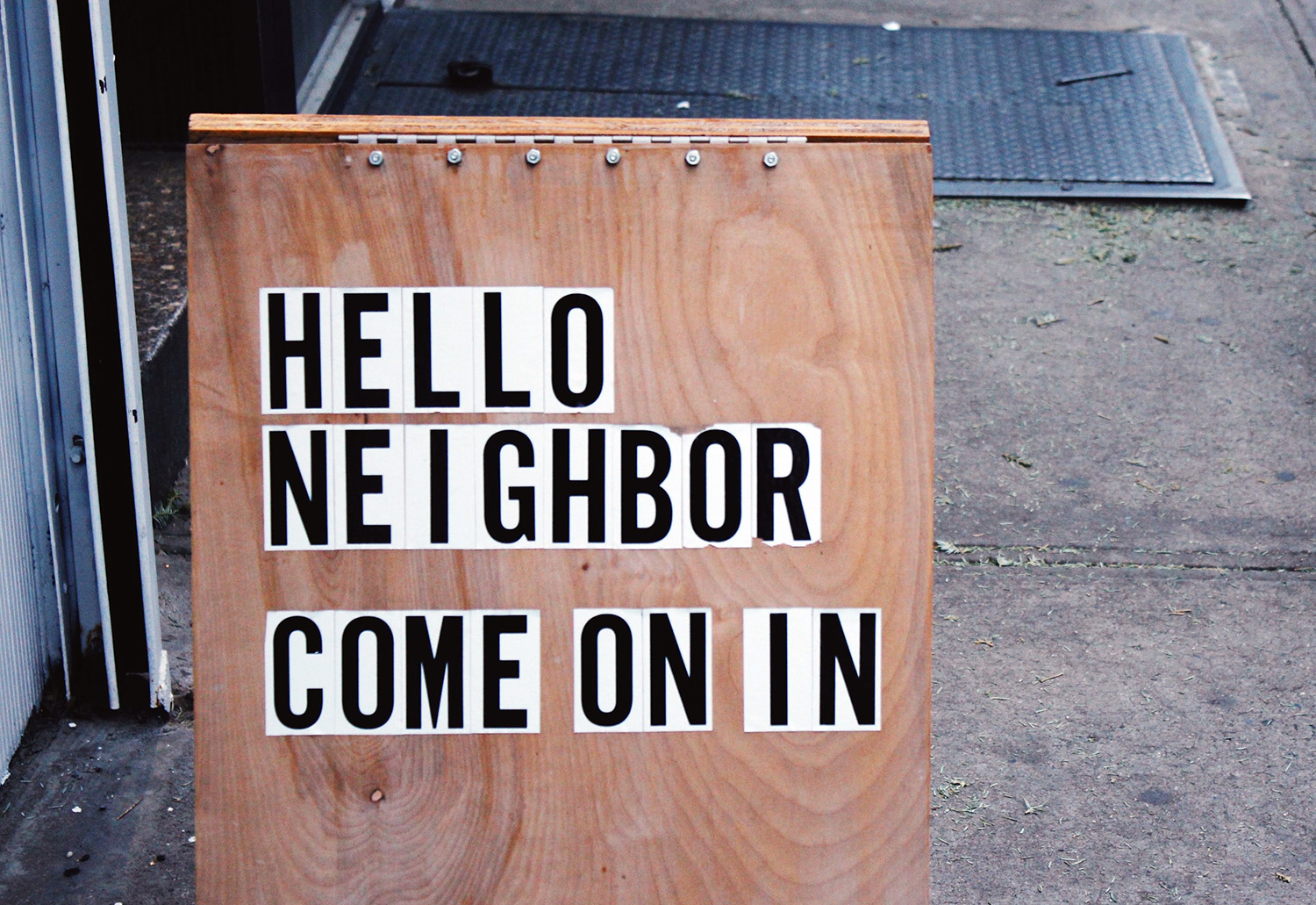 Are churches reopening for visitors? Photo by Jon Tyson/Unsplash.com.
When they arrived and gathered the church together, they declared all that God had done with them, and how he had opened a door of faith to the Gentiles. (Acts 14:27)
We've all heard the call for us to always be a church with open doors, allowing the Gentiles – or in our modern context, pre-believers – to come and discover the faith.
Is it time for churches to once again be churches with open doors – not merely to members but also to visitors exploring the faith?
Before the Covid-19 pandemic, this wasn't an issue. But in the months since churches were allowed to restart services in mid-2020, many churches reopened services meant for members-only due to a combination of the following reasons:
Pent-up demand from members unable to attend services for months;
The need to trial safe management measures; and
The need to maintain a contact database should contact tracing be required.
Now, almost a year since Singapore emerged from our Circuit Breaker, with the majority of churches having restarted worship services, we wondered if it was time for churches to once again be churches with open doors – not merely to members but also to visitors exploring the faith.
Methodology 
We opted to email churches anonymously as pre-believers, asking if we could register for a seat as a visitor. For those who replied, we further asked if visitors would get priority if seats were fully taken.
We decided to take this anonymous route to ensure that the findings were truly representative of how churches would respond in such a scenario, rather than give a politically-correct answer in response to a press query.
To keep things fair, we went with the first five churches from each major denomination we found on Google, as well as a few independent churches, and some from smaller denominations. All in, we reached out to 50 churches, 10 of which were independent. The aim is not to single out or shame any church or denomination, so none will be named in this report.
First, the good news …
1. Of the 25 churches that responded, 92% were open to non-members visiting.
That proportion far exceeded our expectations! Of the responses, 23 out of 25 churches responded positively, with only two saying services were reserved for members only. That means that, despite the current limitations, with church capacities drastically reduced due to the guidelines, most churches are aware of the need to be welcoming, rather than exclusive.
We know that every church's circumstances are different (for example, not all have their own dedicated building) and hence not all are in a position to take in visitors. No condemnation. But it's encouraging to know that the seeker will not be short of choices of services to visit each weekend.
2. Just over half indicated that seekers would have priority in booking a seat.
Of the 25 churches who responded, 13 (or 52%) indicated that pre-believing guests would be guaranteed a spot at the service. In some cases, this may have been because their onsite services were not yet full. But from Salt&Light's interactions with churches, we are aware that some appeal to their members to give up their seats for pre-believers – a noble and needful sacrifice!
One church even sets aside a handful of seats every week for visitors – just in case. That is seeker-friendly culture in action.
3. Many of the churches went the extra mile to be helpful.
This is the digital equivalent of how widely the usher at the door smiles at a visitor. At least five churches offered to help us register our names to simplify the process. Some gave us the contact of their lead pastor – how's that for a personal touch?
Here's a sampling of some of the helpful responses. How would you feel hearing these as a visitor?
"The answer to your question is a definite yes! I will help you register for service this week!"
"If you're interested, we can try to see what's possible and help get you a ticket!"
"Our church is open to the public and you are most welcome to attend our service."
"Would it be convenient for you to have a 15-minute chat on the phone with me to get to know you and your needs better?"
"I have checked the website. It is not fully booked. Do you need help in the booking of the tickets?"
4. Safety in following government guidelines was constantly mentioned.
The majority of churches – about three-quarters of those which responded – provided links to online registration portals as a pre-requisite for attendance. Apart from helping the church capture visitor data (within PDPA limits, of course), many said this was to help with contact tracing if needed. Around eight churches responded with detailed venue-specific safety information, such as entrances for specific zones.
The safer churches remain, the more likely we can remain open.
5. Most churches had online services open to the public.
For example, the two churches whose seats were reserved for members instead invited us to join in their online service. One of the happy consequences of this pandemic is the widespread proclamation of the Gospel online. One day in heaven, we'll find out just how many people came to the faith, or were discipled, through such digital means.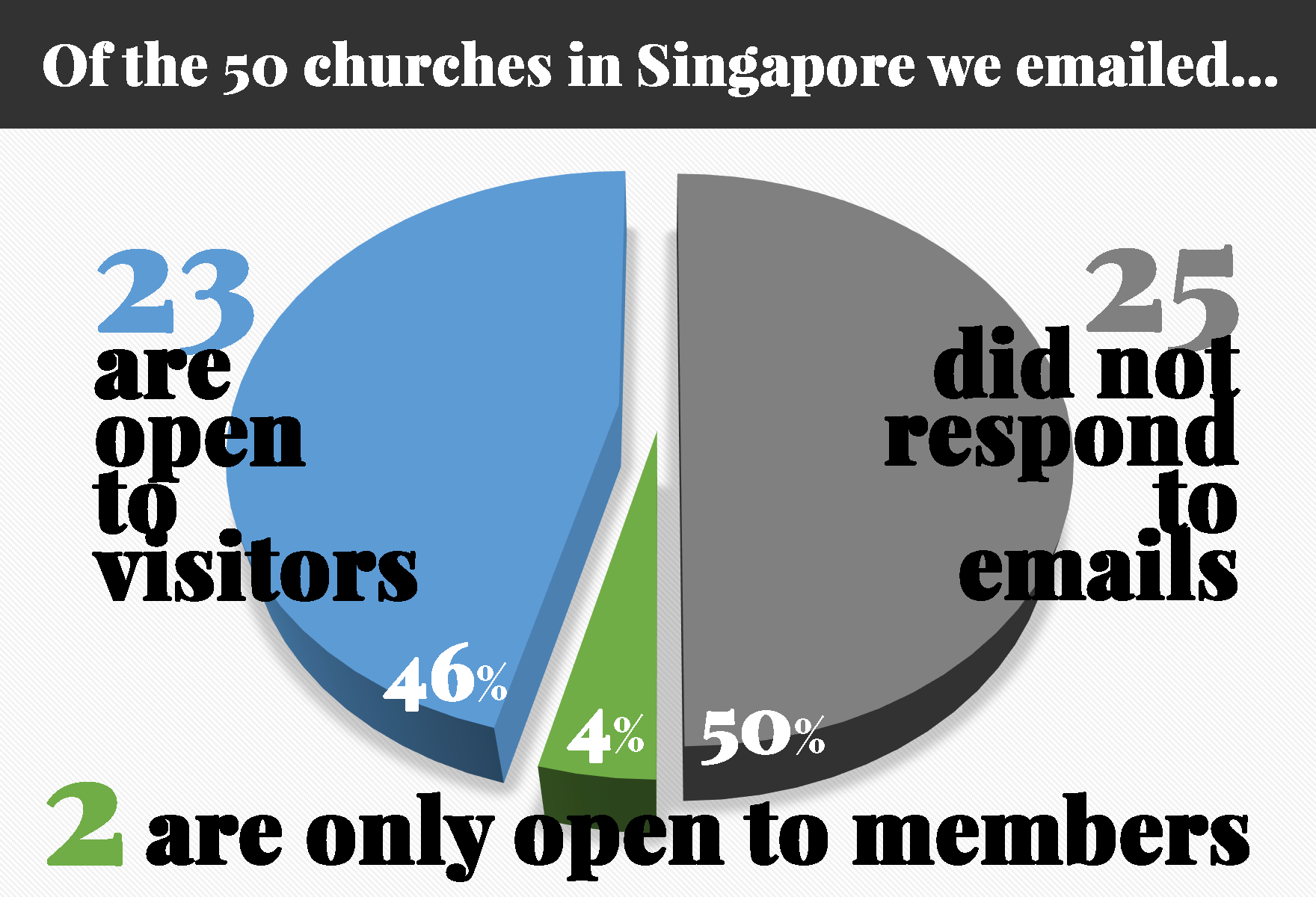 Areas for improvement
1. Of the 50 churches we emailed, only 25 – exactly half – responded within a week.
That means half of the churches in this experiment did not respond to a pre-believer looking to attend their service. There was even one denomination where none of the five churches we emailed responded.
What if a real seeker only searched and emailed one church? How would he view such a non-reply? How many seekers would be motivated to move on and try other churches?
2. Some churches took a week to respond.
The initial email was sent on a Thursday; by the following Thursday, responses were still coming in. In a day and age where people expect immediate replies, we wonder if such delays may be all it takes for someone to lose their initial motivation for reaching out. Better to strike while the iron is hot.
One possible approach would be to learn from secular standards, setting communications best-practices, such as requiring staff to respond to all social media messages or emails within 24 hours, or by the end of the next working day.
3. Many websites were not recently updated with "new normal" timings and processes.
For example, it was obvious that some had not updated their websites to reflect post-Covid service timings. In some cases, those who responded provided different times to those listed on their websites.
A website, or a social media page, is the new storefront in this digital age. Most churches are pretty good at keeping physical banners on their exterior walls updated – this same diligence should be applied to digital fronts, especially since updating online information is usually free.
What about your church?
Again, we would like to emphasise that we are aware that every church faces its own unique set of circumstances. Some may not be able to open up to visitors. 
The church must remain one with open doors, that all may come in and meet the Saviour for themselves.
But, as far as it is possible, we are firmly of the belief that any church that is able to should throw our doors open to visitors, in particular those who are seeking the Good News as pre-believers.
Whatever it takes to open the door of faith to the Gentiles.
This is a time of great shaking and tumult – not just for churches – but for the many out there who are seeking answers, comfort and hope in uncertain times.
The church must remain one with open doors, that all may come in and meet the Saviour for themselves.
---
RELATED STORIES:
The pandemic has shown us what is essential: COVID-19 survivor Pastor Wilson Teo on a future-ready church
"No battle is too hard for our Lord": Bishop Rennis Ponniah on impact of COVID-19 on the Singapore Church
"Where is the Church when it hurts?": Philip Yancey on living in COVID-19 times
If you have enjoyed reading Salt&Light...
We are an independent, non-profit organisation that relies on the generosity of our readers, such as yourself, to continue serving the kingdom. Every dollar donated goes directly back into our editorial coverage.
Would you consider partnering with us in our kingdom work by supporting us financially, either as a one-off donation, or a recurring pledge?
Support Salt&Light