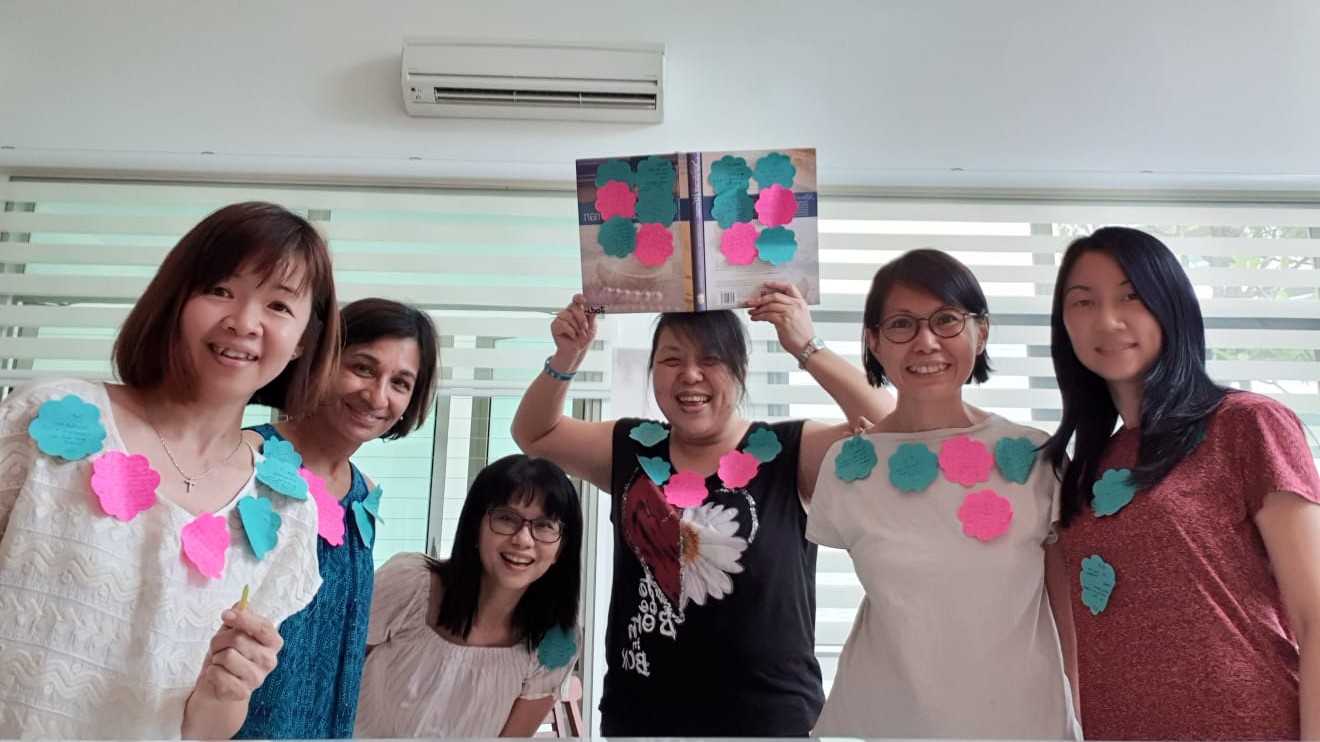 Jodi Yong (centre with card) with the WOW MOM group she leads in a picture taken before COVID-19 measures kicked in and they group started meeting online. All photos courtesy of Jodi Yong.
Mums do a lot of watching and waiting. At playgrounds, outside pre-schools, before and after enrichment classes.
One ministry has been using these lulls as opportunities to befriend mums and invite them to bible study groups. Call it evangelism and discipleship done in mum-style.
WOW MOM (Women of Worth. Moms on Mission) is a ministry under Cru Singapore.
"We would meet at school gates, and start talking and sharing the Gospel," said Jodi Yong, 51, co-ordinator of WOW MOM.
"I struggled because the group was all mothers with older children."
Now a mother of five children aged 10 to 22, she was not even a mum when she started out in the ministry.
"When I was pregnant with my first child, I was asking God, 'How do I serve you as a mum?'" said Yong.
She had been a full-time staff of Cru Singapore since she graduated at 20, working with young adults like herself. But poised at the threshold of motherhood, Yong worried that she would not be able to juggle work and family.
Cru Singapore had a ministry then for stay-at-home mums (SAHM) started by a staff member who was a mother. Yong decided to explore moving into that area of ministry.
"I went to talk to Pauline, the person-in-charge, and she said, 'Good, good, you can lead a group now.'"
Just like that, Yong found herself in charge of a mothers' discipleship group even before her own child was born. "I struggled because the group was all mothers with older children – in pre-school, in primary school."
But she soon discovered that she had as much to give to the group as she had to receive.
"I learnt about being a mother from them. But how to apply faith lessons in daily life, that was the area I could contribute to the group."
The reluctant leader
WOW MOM runs groups for mostly SAHMs who are looking for spiritual growth and fellowship with people in the same season of life. The women are usually mothers to young children so they would meet in the mornings when the children are in school.
"I was ready to take on more roles. Then, I got pregnant."
The groups are kept small, usually about eight or fewer per group for intimate sharing, and clustered around housing estates so the mums need not travel far to attend each session.
"We encourage the mums to come and support each other, but at the same time, know that we are placed in our neighbourhood for a purpose'," said Yong.
To help them remember their purpose, WOW MOM has an easy acronym:
T: Transformation by God's Word
E: Evangelisation for the lost
A: Accountability to one another
M: Multiplication of Christ disciples
"We believe in multiplication. This year, we encouraged the mums to reach out to two people each. We create platforms for engagement such as Facebook groups."
Four children later, Yong was given a new challenge. She was asked to take over the WOW MOM ministry.
"After three kids, I was ready to take on more roles. Then, I got pregnant with my fourth child!
"But God kept talking to me in my Quiet Time that He wanted me to rise (to leadership). I told God, 'You are crazy. You just gave me a new baby!' But God kept encouraging me was that I am called to be a leader because He is with me."
"You are chosen because of your willingness to trust Me."
So, Yong accepted the new position.
That did not mean things came easily. For the first seven years, she admits to "struggling a lot". There were fears of inadequacy because the leaders of the WOW MOM groups she oversaw were all "very capable women".
"Among my leaders I had two Bible school graduates. I felt very small. How was I to lead them?
"God had to keep reminding me, 'You are chosen because of your willingness to trust Me, not because of your qualifications.'"
So, Yong made the strength of the WOW MOM leaders her strength.
"I don't claim to know everything. I am open to new ideas and I'm willing to trust them to encourage the ministry in the right direction.
"I tell them, 'Go ahead, try new things. How can I support you?'"
Different mums, varied groups
Because of Yong's "more free play" style of leadership, WOW MOM groups have had the space to grow into different forms to meet the needs of the various mums.
There is now a working mothers' group that meets at lunch and is conducted quite differently from the usual mum groups.
"It used to be done in the evenings after work via Zoom but it was quite crazy because the children were all over their mothers and the mums couldn't concentrate."
"I appreciate the leaders and their different styles."
The group decided to meet over lunch instead and it worked. Done in an hour, it is a pocket of quiet when the working mums can reflect on their walk with God and their lives, and share their thoughts.
"Chin Ai (the leader) starts with a simple 10-minute sharing, then she comes up with questions that will make you think about God.
"They are going through a series about marriage and recently she asked, 'How do you show love to your husband?'
"I appreciate the leaders and their different styles."
One mum with a desire to reach out to others started a more seeker-centric group. Other groups focused more on parenting issues, drawing interested mums who were not Christians.
Others have contributed in different ways. One member came up with guidelines for group etiquette:
S: Safety and confidentiality
H: Help in prayer and practical ways
A: Authenticity and transparency
R: Respect and care for each other
E: Encouragement and growth
"There is a strong sense of ownership among the leaders because they have a say in what we believe in and how we run the groups."  
"There is a strong sense of ownership among the leaders because they have a say."
When COVID-19 forced Singapore to retreat online, Yong's easy leadership style gave one leader the freedom to rise to the occasion.
"As she prayed on her own, God impressed upon her to take things online. She started a Facebook page and used it to publicise the new group. That was how the group started.
"And this is from someone with no social media interest. She just obeyed God," marvelled Yong.
Because the group meets virtually, it had a wider reach. Two mothers from the Philippines asked to join the group.
Reaching the next generation
The ministry to mothers has benefitted the children as well. Yong shares about a mother whom she befriended in a chatroom one group had created.
"One mum pulled me aside to tell me how impressed she was that everything was run by children."
The woman had talked about her struggles and was so encouraged by the chat that she began praying for her children and encouraging her family to sign up for a class to find out more about Christianity.
"When we reach the mothers, we reach the children as well. Mothers can be real gamechangers when they follow Christ.
"Building the mothers up is a good way to build the next generation," said Yong.
Watching their mums live and share their faith has inspired the children in the groups to serve as well. One Christmas, Yong's daughter offered to organise the Christmas event for the WOW MOM group Yong was leading. Her daughter was just 12 then.
"We had organised a Christmas party the year before and it was quite tiring. My girl and the other children from the group saw how the mothers had done it and thought they could do it, too."
In the end, five children from the group including Yong's daughter and son, who was 14 then, formed the organising committee.
"We were so surprised to see the children use what they had learnt in school – Microsoft, going online to search out images – to make the invitation cards.
"They went shopping for things for the goodie bags on their own. We trained them to share the Gospel with other children. They led the games.
"One mum pulled me aside to tell me how impressed she was that everything was run by children. She was not a Christian but she told me, 'Next time you have such an event, I will sponsor it.'"
And God added to their numbers
Last year, when churches closed and meetings went virtual, Yong expected some fallout.
Instead, WOW MOM grew by 33%. Six new groups were added, including two Mandarin ones.
"We tell the mums, get to know other mums in schools, in the neighbourhood. Open your eyes when you are picking up your children.
"No mum should ever travel alone."
"You will always spot the same few mums. Smile at them, reach out to them."
Yong believes that there is room for WOW MOM to grow. Once conceived to help mothers with young children, she hopes the groups can provide support for mums with teens as well.
"Parenting challenges are very different with teens. One mum said, 'My 11-year-old is thinking of committing suicide.' Another asked, 'Does gender matter if there is no marriage in eternity?'
"Some mums talk about their marriages breaking up. We journey with them. No mum should ever travel alone."
---
RELATED STORIES:
"The benefit is two-way": A mum who is intentional about cultivating friendships
6 in 10 mothers face higher stress during Circuit Breaker, says survey of more than 1,000 mums
Heartbreaking number seek help for kids with depression: Salt&Light Family Night
If you have enjoyed reading Salt&Light...
We are an independent, non-profit organisation that relies on the generosity of our readers, such as yourself, to continue serving the kingdom. Every dollar donated goes directly back into our editorial coverage.
Would you consider partnering with us in our kingdom work by supporting us financially, either as a one-off donation, or a recurring pledge?
Support Salt&Light