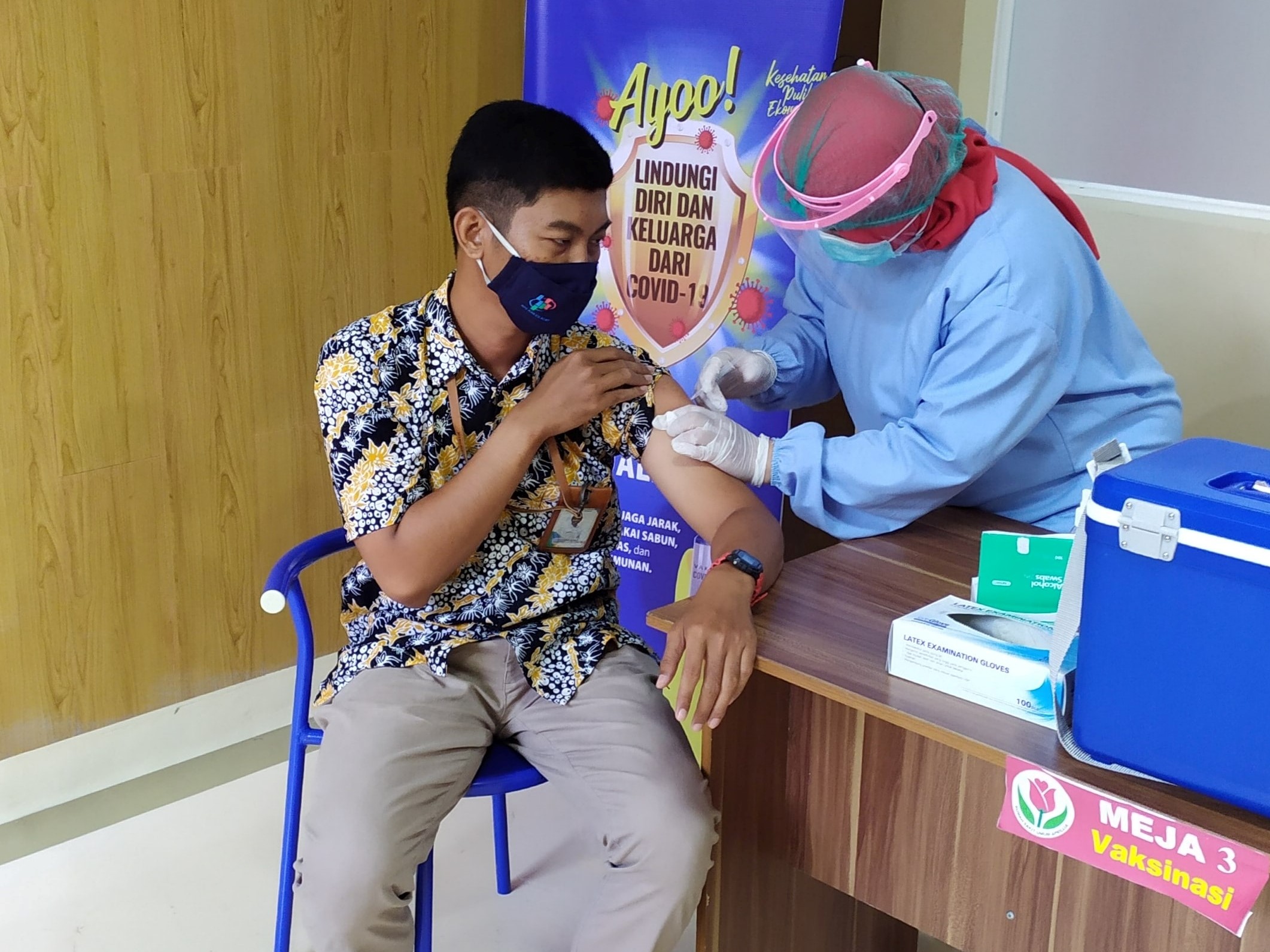 Let the body of Christ arise in prayer for Indonesia, which has overtaken India to become the epicentre of the Covid-19 pandemic in Asia. Photo by Fadil Fauzi on Unsplash.
In the last two weeks, some 40 of Gekari Haleluya's 700 members have contracted Covid-19, according to its pastor, Ricky Santoso.
Mirroring the Jakarta church's plight are churches like Petra Baptist Church in Medan, where the situation is – arguably – worse. 
"Almost every day, there is news of a friend who has died."
Said Petra Baptist's pastor, Jakup Ginting: "Almost every day, there is news of a friend who has died. It's very sad."
 Two months ago, Ps Ginting himself, as well as his wife, contracted Covid-19. Both were in a critical condition, although they have since recovered.
At Makassar City Blessing in South Sulawesi, Senior Pastor Efert Noldy Weenas has been preparing for the worst for his congregation of 250.
"We are making sure we have access to oxygen refills. But, till now, we don't have enough oxygen cylinders. And it is the same case throughout the whole country," he said.
Ripple effect
Indonesia's hospitals have been widely reported to be overwhelmed, with medicine and oxygen reserves running low. The country – the world's fourth most populous, with 270.2 million people – has now overtaken India in the number of daily Covid-19 cases, with the spike attributed to the highly transmissible and resistant Delta variant.
The World Health Organisation (WHO) Covid-19 dashboard charted 33,772 new cases and 1,383 deaths reported by Indonesia in the last 24 hours before press time (July 22). The cumulative death toll was listed at 77,583. 
Among the deaths have been those of doctors, which surged in the first half of July, in spite of the bulk of healthcare workers (95%) being fully vaccinated. Between July 1 and 17, 114 succumbed, which is more than 20% of the 545 total deaths of doctors from Covid-19 since the beginning of the outbreak.
Lockdown lengthened
Despite the economic consequences, Indonesia's current lockdown has been extended to July 25 (Sunday), with informal and daily-wage workers anticipated to be the hardest-hit.
Public places including shopping malls, parks and places of worship remain closed. Eateries can only offer takeaways and deliveries.
Churches have not been spared the pandemic's economic toll.
In Java and Bali islands – which account for two-thirds of the nation's infections – grocery stores and supermarkets have to limit their customers to half the store's capacity. They also have to close by 8pm.
Churches have not been spared. With a congregation size of just 50, Medan's Petra Baptist is struggling with the pandemic's toll. Said Ps Ginting: "Our church's financial situation has been very poor.
"The congregation has been unable to collect donations for social activities. We have only enough for (day-to-day) operations." 
To provide jobs for its congregants, the church has started an organic garden farming project.
Nationwide, approximately one in 10 persons in Indonesia lives in poverty, according to a World Bank overview updated in April this year. The number of poor had increased by more than a million between March and September 2020, likely as a result of the pandemic. 
Prayer pointers
In this season of uncertainty, let's take some time to unite in pray with fellow believers in Indonesia. Here are prayer pointers provided by the pastors in Indonesia whom Salt&Light spoke to.
#1: Protection
"The angel of the Lord encamps around those who fear Him, and He delivers them." Psalm 34:7
Pray for protection for the churches in Indonesia in the midst of the surge in infections.
Pray that "none of the evil diseases" will befall them (Deuteronomy 7:15).
Pray that He will "take sickness away" from among His people in Indonesia (Exodus 23:25).
#2: Healing
"Is anyone among you sick? Let them call the elders of the church to pray over them and anoint them with oil in the name of the Lord. And the prayer offered in faith will make the sick person well; the Lord will raise them up. If they have sinned, they will be forgiven." James 5:14-15
Pray for the recovery of those who have already been stricken with Covid-19.
Pray over their rehabilitation – that God will restore them to complete health (Jeremiah 30:17).
#3: Wisdom for those in authority
"I urge, then, first of all, that petitions, prayers, intercession and thanksgiving be made for all people — for kings and all those in authority, that we may live peaceful and quiet lives in all godliness and holiness." 1 Timothy 2:1-2
Pray that God will give those in authority the wisdom to make appropriate decisions in a timely manner as the country grapples with its Covid-19 situation.
#4: Livelihood of the people
 "And my God will meet all your needs according to the riches of His glory in Christ Jesus." Philippians 4:19
Many of the congregants of the churches Salt&Light spoke to are informal workers – drivers, food vendors – whose livelihoods have been severely affected by the lockdowns and curfews.
"It is getting more and more difficult to meet their daily needs," said Ps Ginting.
Pray that God will provide for their daily needs.
Pray that they will not be anxious about their material welfare, knowing that "all these things will be given" to them (Matthew 6:25-34).
#5: Provision of supplies
"For the Lord God is a sun and shield;
the Lord bestows favour and honour;
no good thing does He withhold
from those whose walk is blameless." Psalm 84:11
Some of the churches have been trying to get oxygen cylinders and refills, as well as vitamins and medicines for friends and congregants who are sick. There is a lack of medical medical coveralls, face masks, goggles and even hand sanitisers as well.
Pray that they will be able to get the necessary medical supplies.
Pray that God will make straight the path for the medical supplies and devices to reach those who need it (Proverbs 3:5-6).
#6: Faith that stands
"Consider it pure joy, my brothers and sisters, whenever you face trials of many kinds, because you know that the testing of your faith produces perseverance. Let perseverance finish its work so that you may be mature and complete, not lacking anything." James 1:2-4
Since all places of worship have been shut as part of the emergency restrictions, churches in Indonesia have moved online. Not all have been able to pivot, especially those in the poorer regions.
"Most congregations are not used to online worship. It is difficult with Internet fees. So, faith can also be weakened," said Ps Ginting.
Pray that, in these trying times, that faith will arise.
Pray that the believers will not give up meeting together even though the meetings are virtual (Hebrews 10:25).
Pray that all believers will hold fast to God's Word (Proverbs 4:13).
#7: Testimonies for God
"In the same way, let your light shine before others, that they may see your good deeds and glorify your Father in heaven." Matthew 5:16
The churches in Indonesia have been trying various means to reach out to their community. Though Petra Baptist in Medan is small – and many of its members, being informal workers, have lost their means of income – they have been cooking rice and distributing it to the poor in their community.
"Many responded positively and wanted to be discipled," said Ps Ginting.
Now, they need funds to continue the organic garden they have started.
Pray that the church will have enough to share with their neighbours who are in dire need and in so doing, be a light to the world.
Pray that, by their example of love and charity, they will draw more people to Jesus (2 Corinthians 9:10-11).
---
RELATED STORIES:
"Yes, we are suffering. But in times of darkness, that's when the light shines": Christians in Covid-embattled India unite to offer help and hope
Church in India in crisis as deaths from Covid-19 leave leadership vacuum