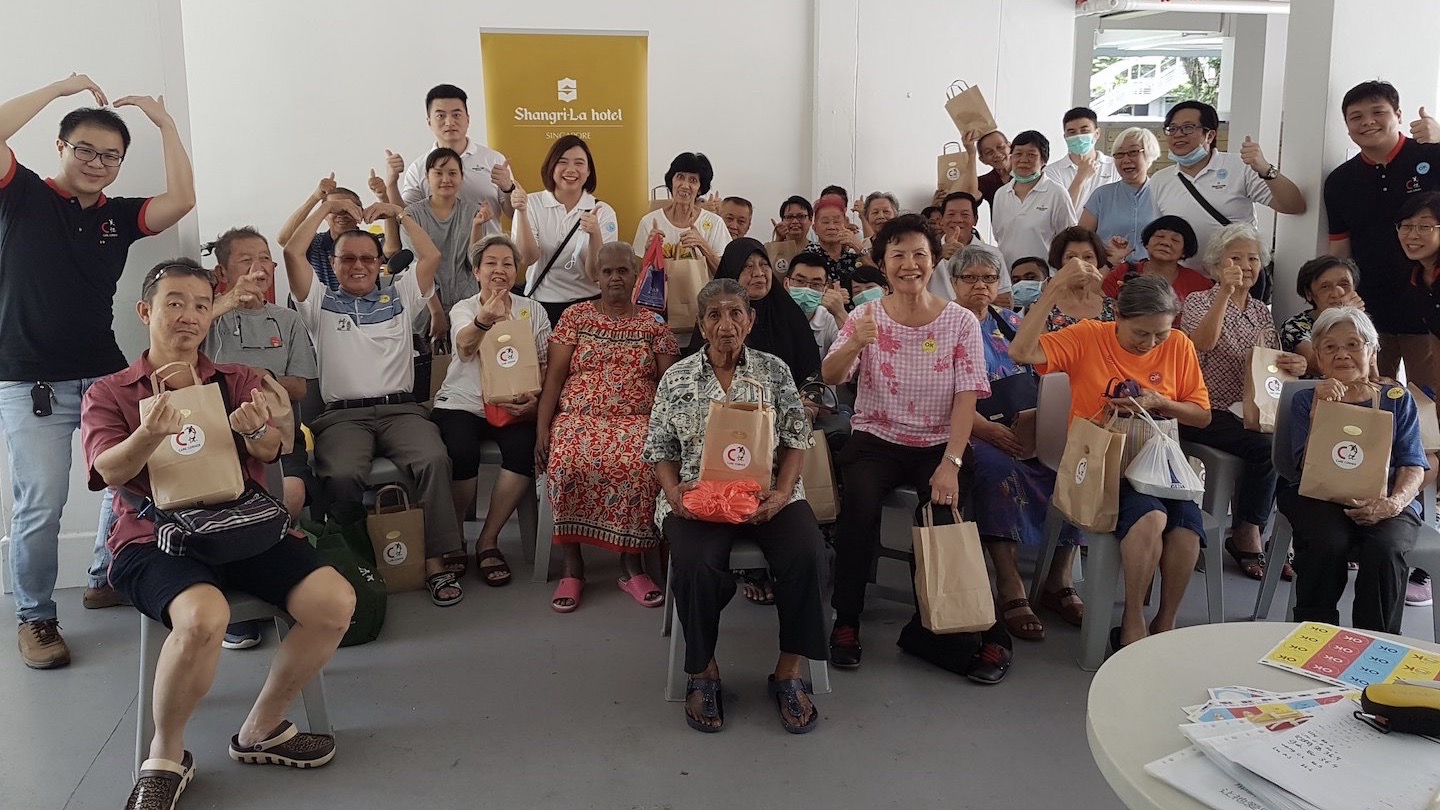 Care Corner Singapore, together with corporate partner, Shangri-La Hotel, distributed 227 care packs to seniors in Toa Payoh this week. But more help is needed to reach this group, says Care Corner Singapore's Gary Lim. Photo from Shangri-La Hotel Singapore's Facebook page.
The elderly are among the most vulnerable during this COVID-19 season. Yet, many of them may not know how to access the educational materials that the government has produced, especially those who can only speak dialect.
"We hope to simply show the love of God to the community with no strings attached."
To bridge the information gap, charity Care Corner Singapore is organising visits to seniors living in one-room rental flats from this week.
"We are looking to help more than 2,000 seniors that we have identified who are living in Toa Payoh and Woodlands. We can't do it alone and we are hoping to get volunteers to help," said Gary Lim, 44, assistant director of volunteer and community engagement at Care Corner Singapore. This prompted the non-profit organisation to start a volunteer recruitment drive, CARE Acts Initiative.
The charity is also distributing care packs consisting of surgical masks, hand sanitisers and Vitamin C to the seniors, who "may not have been able to get their hands on the items after the recent bout of panic buying", added Lim.
The packs will be given out together with fruit and an educational pamphlet designed by Care Corner. Printed in English and Mandarin, the pamphlet has QR codes that direct seniors to the dialect videos produced by the government, as well as step-by-step photos teaching them the proper way to wash their hands.
The visits to seniors will take place over the coming weeks. This week, Care Corner volunteers, together with one of its partners, Shangri-La Hotel, distributed 227 care packs to seniors at Toa Payoh, and took the chance to explain the importance of good hygiene.
Remembering the isolated
The charity is also hoping to gather volunteers to help clean and disinfect seniors' homes.
"As the isolated seniors may not have full access to the information the government has put out, they may not really understand the importance of cleaning and disinfecting their homes on a regular basis to prevent themselves from being carriers or being infected," said Lim.
"We want to keep up this work on a regular basis, especially for those who need home cleaning. It is not just a once-off effort but a sustained one, which we may stop 0nly when the government lowers the DORSCON level to yellow."
No strings attached
It is not just the vulnerable seniors Care Corner Singapore is concerned about.
"The daily lives of those who were served Leave of Absence (LOA)/Stay-Home Notice (SHN)/Quarantine Order (QO) would also be affected and we would like to help them as well," he added. Care Corner is looking to deliver food and daily essentials to those affected.
Care Corner will be working closely with various government offices and grassroots organisations to ensure there is no duplication of efforts and that no households are left behind.
The charity has built a microsite where members of the public can register their interest to volunteer. Those who are on LOA/SHN/QO can also log in to request for help.
Beneficiaries can request for the daily essentials they require.
"No better time for us to be salt and light in the community."
"When we receive their request, we will match sponsors to the items. This is to ensure that we are providing what people need," said Lim, who is mindful of preventing wastage. "The family may have a newborn so what they need may be milk powder, not more rice."
Care Corner Singapore was founded in 1981 by Reverend Tan Tien Ser with the aim to help blue-collar workers and other marginalised communities during the economic recession in the early 80s.
"This is really the time to do our part for fellow Singaporeans and no better time for us to be salt and light in the community," said Lim, adding that the organisation lives by Matthew 25:35-56.
"During times of crisis like this, we hope that, by simply showing the love of God to the community with no strings attached, we can be a shining light for the Lord."