Day 29: Second wind
A LoveSingapore 40.Day prayer and fast devotional, following 2020's theme of In the Long Run – A Journey Through the Book of Hebrews.
LoveSingapore // July 29, 2020, 12:01 am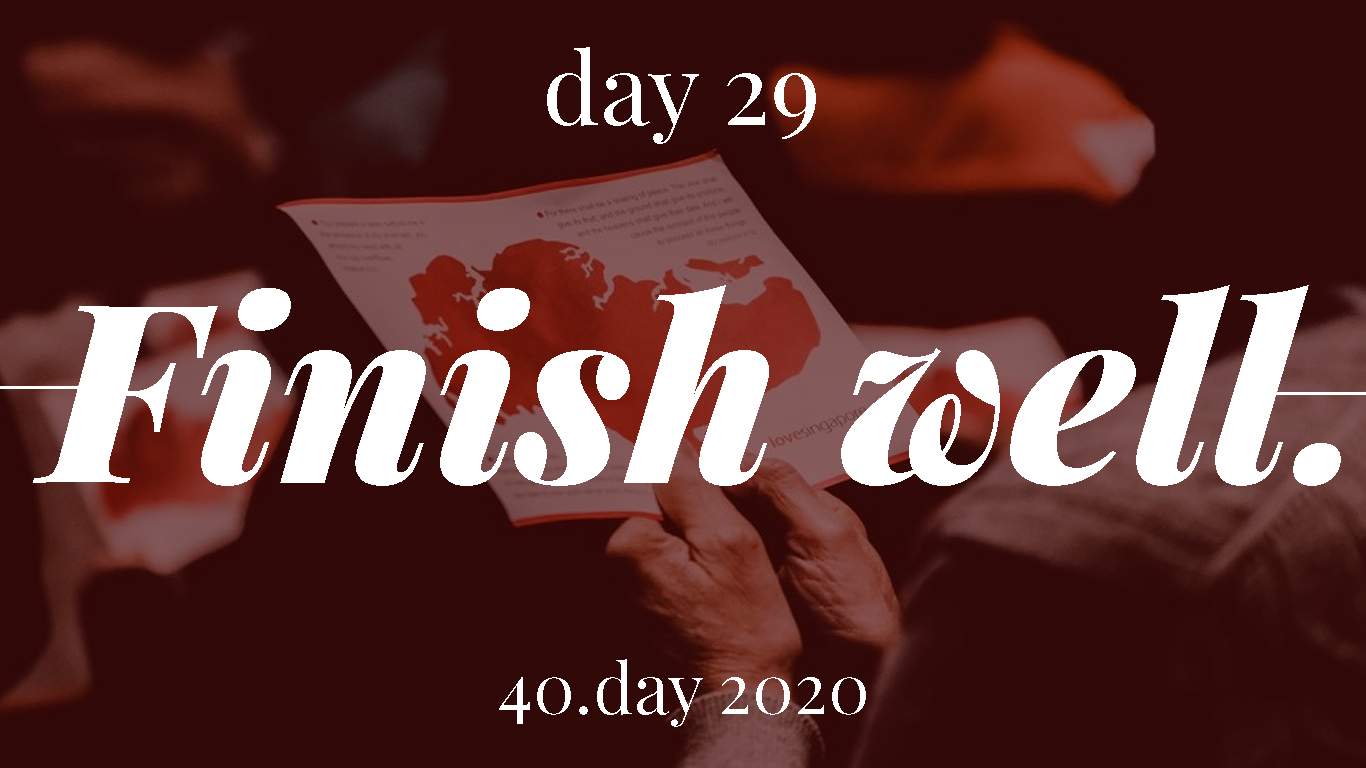 40.Day 2020
Bible reading for 40.DAY 2020 | July 29: Hebrews 12:12-13
---
Discipline is not an end in itself. It's a means to an end. What end? Athletes sweat it out in the gym, not for the fun of it. But to improve their performance on the pitch.
Roman tracks were smooth and straight. To avoid swerving, runners fixed their eyes on some object or a VIP just beyond the goal. Even with injuries, a disciplined runner could finish well, provided he kept to the straight and level path. Otherwise, he might sprain an ankle or dislocate a knee (Hebrews 12:13).
This is good news. Injuries do not disqualify us from the contest that counts for eternity. The Hebrews have injuries from past trials. And so do we. Drooping arms and wobbling knees signify dejection and despair (Jeremiah 6:24). Sadly, some have already thrown in the towel (Hebrews 10:25). Have you?
Discipline is not an end in itself. It's a means to an end. Train well. Run well. Finish well.
With discipline and determination, we can receive a second wind and healing along the way. Without discipline, however, we will not develop the character we need to face the painful realities of life even in good times. Much less in bad.
The Preacher assures his listeners then and now: Hang in there. Play by the rules. Endure to the end. You will cross the finish line. It depends not on speed but stamina and a steady pace.
If injuries don't disqualify us, then what does? Unfair competition. Steroids. Shortcuts. Bad theology. Sin. Such things defile and disqualify even the best of champions.
We are not competing against each other. We are competing against sin. Sadly, some of us have not learned this lesson. We foolishly jostle our own teammates off the track. What a shameful spectacle we make before the great cloud of witnesses.
We are all on the same team. Everyone who crosses the finish line is a winner. Even if you come in last and collapse across the line, all heaven will explode with joy. You made it!
And then what? The crowning ceremony. Roman winners were crowned with a wreath of celery that withered in a day. We will be crowned with the glory and honour of Jesus Christ our all time Champion and Coach. Therefore, cut the excuses. Train well. Run well. Finish well.
Prayer Track
•   Athletes grow weary. That's a given. There is no shame in weariness. But if we lose heart and accept defeat, that's a great shame. Because in effect, we are saying that Christ is not enough for us. Are you weak and weary today? Forget spa therapy. Turn to Jesus for a second wind.
Experience the difference: Have you not known? Have you not heard? The LORD is the everlasting God, the Creator of the ends of the earth. He does not faint or grow weary; his understanding is unsearchable. He gives power to the faint, and to him who has no might he increases strength. Even youths shall faint and be weary, and young men shall fall exhausted; but they who wait for the LORD shall renew their strength; they shall mount up with wings like eagles; they shall run and not be weary; they shall walk and not faint (Isaiah 40:28-31).
•   Athletes get injuries. That's a given. So it is with spiritual athletes. Are you among the running wounded today? What ails you? Betrayed confidence? Relational conflict? Office politics? Abuse of authority? Sidelined and silenced? Failed romance? World War III at home? Whatever the case, don't use it as an excuse to drag your feet or quit the race. Let your injury be an incentive to put in more effort. Stay the course. Steady your pace. Show Jesus your bumps and bruises, scrapes and scars. He will heal you in the running.
Pray: Dear Lord, you are my Trainer and Therapist. Make right all that is wrong in me. Make straight what is bent. Make fair what is foul. Make whole what is lame. By your stripes, I am healed. By your grace, I will run well and finish well.
•   Remember our pastors. They are finite beings just like the rest of us. Shepherding God's people is no walk in the park. Church as we know it, is tough enough. And now Covid-19. Pastors feel the rumblings of our collective anxiety. Some are losing steam from the crisis with no end in sight. Some suffer demonic attacks mentally and emotionally. Today, let us be their faithful allies, like Aaron and Hur, holding up their drooping arms.
Pray: Lord Jesus, our Great Shepherd, pastor the pastors of our city. Prepare a table before them in the presence of our enemies. Anoint them with fresh oil. Fill their cups to overflowing (Psalm 23:5). Turn every ordeal into a milestone of faith. Use their stories to inspire hope so that we might run with endurance and cross the finish line with everlasting joy!
•  Some athletes cheat. That's a shame. But when it happens in church among spiritual athletes who are all on the same team, that's appalling—unless we've gotten used to it! Beware: Your sin will find you out (Numbers 32:23). Take a spiritual doping test. Confess. Be it conflict, compromise, corruption, controversy, cover-ups, or whatever. Come clean. Play by the rules.
Pray the Word: An athlete is not crowned unless he competes according to the rules  (2 Timothy 2:5). I discipline my body and keep it under control, lest after preaching to others I myself should be disqualified (1 Corinthians 9:27).
---
Follow Salt&Light on Telegram, Facebook or Instagram for more of LoveSingapore's daily devotions until August 8, 2020.
"Step off the performance treadmill": Ps Ken Shigematsu on resting to be present to God and others