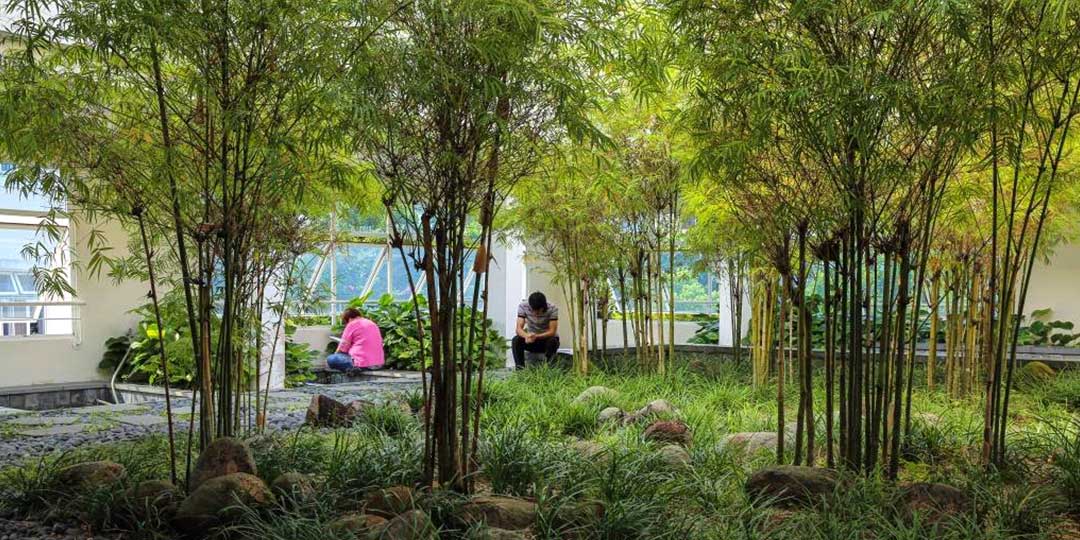 "The spiritual retreat brings us into a time of deepened communion with God where we are more able to engage in focused prayer and so draw closer to and follow Him," said Rev Dr Jimmy Tan, who leads spiritual retreats for lay leaders once every quarter. Photo from ttc.edu.sg.
We are citizens of a fast-paced, noise-filled, image-bombarded society that is constantly caught up in whirlwinds of activity and business.
From the moment we open our eyes in the morning, our unending to-do list leads us here and there, pulling our attention in one direction after another, ushering our bodies from one place to the next.
Jesus was constantly healing the sick, feeding the hungry and teaching His disciples. But He was never too busy to pray.
Jesus, too, knew what it was like to be busy. During his earthly ministry, He was constantly swamped by the crowds and spent His days healing the sick, feeding the hungry, teaching His disciples and fending off the Pharisees.
But He was never too busy to pray.
Scripture tells us that Jesus regularly retreated to somewhere quiet, away from the hustle and bustle, to pray and commune with His Father (Matthew 14:23; Mark 1:35; Luke 5:16).
Have we been doing the same?
Spiritual retreats — an extended time of prayer and rest in a quiet place — offer us silence and solitude, where we can better hear God's still, small voice and find rest and refreshment in Him.
What is the purpose of a retreat?
In lives inundated by so much noise, a time of quiet is needed, said Rev Dr Jimmy Tan, chaplain and lecturer in pastoral and practical theology at Trinity Theological College.
"Silence helps us to pay attention to God so that we can better hear and follow Him. Often, it is in the silence that God speaks to us through the Holy Spirit with the Word of God."
This helps us to recalibrate our inner compass, added Priscilla Chua, who runs Saint Andrew's Cathedral's contemplative spirituality ministry.
"Often, it is in the silence that God speaks to us through the Holy Spirit with the Word of God."
"There are a lot of distractions in the marketplace. The more we're in the marketplace, the more we're bombarded by all the values soaked in there, and we may start to think those values are the truth.
"So we need to come back to the true north. We need to recalibrate by being with God, building our relationship with Him and caring for our souls and spirits before getting out into the workplace again," she said.
Some people mistakenly think that spiritual retreats are only for the "super saints", said Dr Tan, who has been leading spiritual retreats for seven years.
"But they are really for ordinary Christians like us who need time for rest, retooling, refreshment and renewal. They are for those who wish to have some time off to commune with God in a more intentional and focused way."
He also debunked the myth that retreats are primarily for solving problems like spiritual dryness: "Although they can bring blessings to a person who might be seeking God for a particular reason, they are not meant to be just about fixing a problem.
"The purpose of a spiritual retreat is first and foremost to enter into deepened communion with the Lord. That is an end in itself, although it is not wrong for us to bring a matter before the Lord for discernment as we seek Him."
Can I go for a spiritual retreat alone?
Dr Tan strongly recommends going for a retreat with a trained spiritual director from a major Christian tradition or school of spirituality as it is important to be guided by someone whose theological assumptions are grounded in Scripture and Christian doctrine.
"Retreats are for those who wish to have some time off to commune with God in a more intentional and focused way."
He cautions against going alone, especially for those new to the practice: "The reasons are simple. If I'm going to try, let's say, a set of aerobic exercises for the first time, I may do it wrongly. Likewise, in our spiritual life, we don't walk alone."
A spiritual director typically spends between 40 minutes to an hour each day with each participant listening to their experience, recommending verses or passages for meditation and journeying with them.
Chua said: "For example, if someone finds it difficult to meditate or pray, the spiritual director is there to encourage them and ask questions to help them along. The director is also there to co-discern if what the person has heard is of the Lord or not of the Lord." 
What happens during a retreat?
Good news: Sometimes, the first day is spent just sleeping!
Dr Tan said: "Some people just feel so tired because they have been operating at full speed and don't realise that they need to rest. It's only when they get enough sleep that they are able to go into Scripture reading and prayer."
After enough rest is taken, Chua recommends participants to break up the time into one-hour blocks of prayer where they engage in a silent exercise followed by meditation on the Word.
"If meditation is my discursive activity on the Word, contemplation is the Word's activity on me."
She said: "After choosing a word or a phrase, such as "God is love" or "Abba", repeat it slowly in your mind with your eyes closed for about three to five minutes. You can also synchronise it with your breathing. 
"Every time your mind wanders off elsewhere, come back to the word or phrase. The purpose of this is just to be with God and to be very still in His presence."
This silence helps us to focus, become more alert to the distractions that come in and better able to put them aside, added Dr Tan. This prepares us to go into a time of focused prayer. The traditional exercise that is often used is Lectio Divina, which is Latin for "divine reading". 
Lectio Divina comes in four movements, which can be remembered using four "R"s: Reading, reflecting, responding and resting. 
"It's about finding ourselves in that space of surrender and in the mindset that wherever I am, God you are."
Dr Tan said: "First, we read the Word with deliberation. Next, we reflect on and ponder over the Word, thinking about it deeply and using our minds to actively engage with it. Out of that, we respond to the Word through prayer.
"When we have exhausted the exercise and the Word has gotten its way with us, we rest on the Word, letting the Word act on us. If meditation is my discursive activity on the Word, contemplation is the Word's activity on me.
"For example, the verse I am meditating on may be Psalm 119:105: "Your word is a lamp to my feet and a light to my path."
"I think about a lamp, I think about light and I think about my experience being in a dark place where the lamp showed me the way to go and illumined the way for me. That's meditation.
"Then, I realise that if Psalm 119:105 is true for me, I can be confident even in the midst of dark moments in life. I let that reality rest on me, and I become more at rest, more confident and more assured. That's contemplation."
Rest, and repeat.
"Imagine one who goes for a retreat, engaging in such an exercise where he or she feeds on the living Word, meets the living God and is guided in a living way. That's the benefit that will come through the retreat," said Dr Tan, adding that a retreat also provides a certain rhythm of prayer and rest that can be brought back to the daily grind.
Chua added: "As we journey deeper and closer to God, we develop an attitude of abandonment to God. It's about finding ourselves in that space of surrender to Him and in the mindset that wherever I am, God you are."
Now recharged and realigned to Christ, we are ready to go back out into our busy and demanding lives at rest in His goodness and love.
Where to go for a spiritual retreat
There are several individuals and organisations that hold guided retreats here and abroad.
In Singapore, the Community for Spiritual Formation regularly organises three-day retreats led by a team of spiritual directors, while Trinity Theological College organises retreat weekends once every quarter for lay leaders.
Over at Saint Andrew's Cathedral, a half-day retreat is held every first Saturday of the month. Kingsmead Centre, run by a Roman Catholic team, also runs guided retreats throughout the year.
Apart from leading silent retreats of up to eight days here and in Seven Fountains, See.K Ministries also runs one- to three-day retreats aimed at helping people find God in all things, even pop songs, films, dance and drama.
For those who prefer getting out of the country, Listening Inn, run by couple Simon Tan and Rinda Teo, takes retreat groups to Chiang Mai, Thailand.
The Institute for Christian Ministry, under the Methodist Church in Malaysia, also organises monthly retreats at a retreat centre about 100km away from Kuala Lumpur. 
For those new to this practice, it is good to start with one- to two-day retreats before embarking on longer ones. The spiritual director accompanying you should be formally trained and someone you feel comfortable with, advised Dr Tan.
If you have enjoyed reading Salt&Light...
We are an independent, non-profit organisation that relies on the generosity of our readers, such as yourself, to continue serving the kingdom. Every dollar donated goes directly back into our editorial coverage.
Would you consider partnering with us in our kingdom work by supporting us financially, either as a one-off donation, or a recurring pledge?
Support Salt&Light