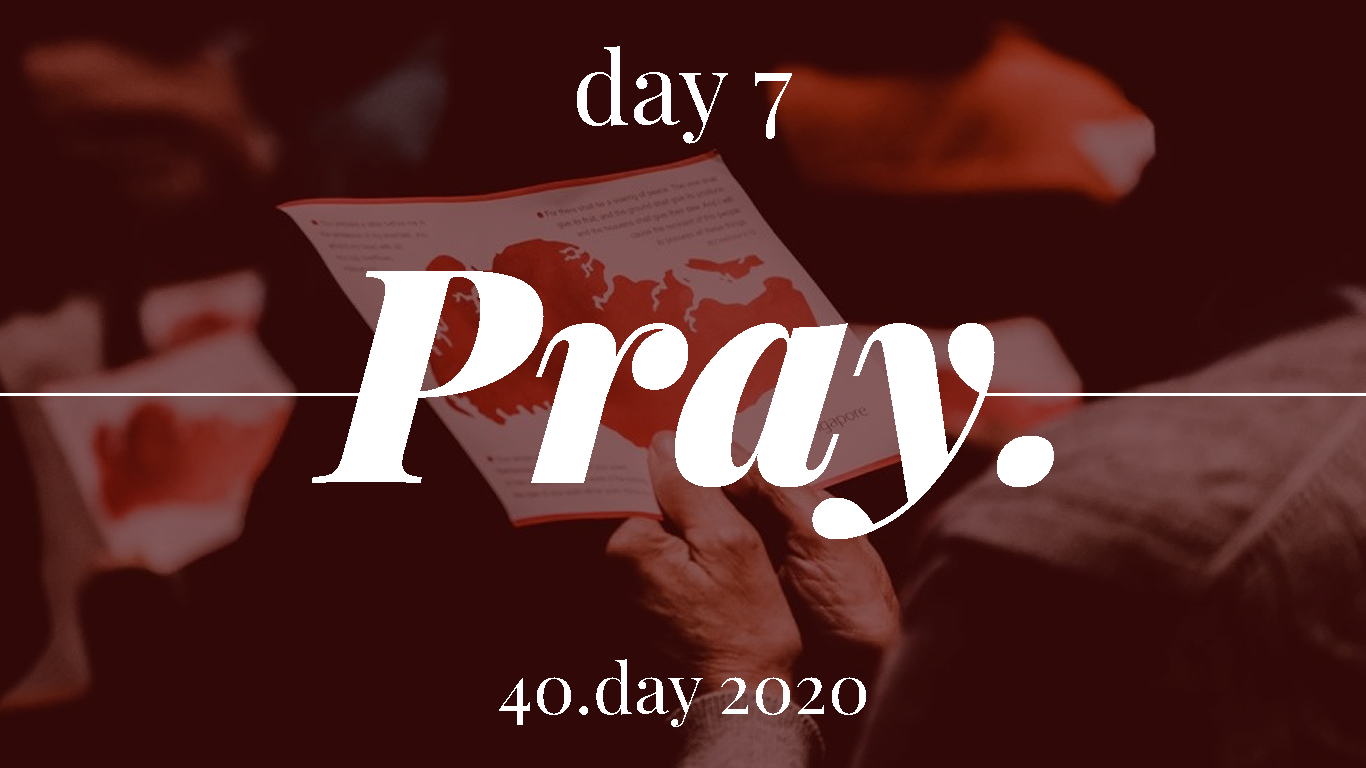 40.Day 2020
Bible reading for 40.DAY 2020 | July 7:  Hebrews 7:21-25
---
Jesus is our Perfect High Priest. He has no skeletons in his closet to disgrace his office. No hidden faults to hinder his prayers. He is holy, innocent, unstained, separated from sinners, and exalted above the heavens (Hebrews 7:26-28). And he prays for you.
Jesus is the Guarantor of the New Covenant (Hebrews7:22). That's a legal term. A guarantor co-signs for a loan or a promise. He would give his life, if need be, to see the debt paid and the promise fulfilled. Jesus gave his life. What more can he do? Much more. He can pray. He ever lives to intercede for you.
As oxygen is to the lung, prayer is to the soul.
What is intercession? Let's say you have a close friend who has favour with a king. You can't approach the throne in your own name. But your friend presents your plea to the king. And it is done.
Jesus is your closest Friend. When you need help, he prays for you. When you're tempted, he intercedes for you. When you fail and need forgiveness, he is your Advocate. Jesus lives to pray. He was always praying on earth. He is forever praying in heaven (Hebrews 7:25; Romans 8:34). The Holy Spirit also intercedes for us (Romans 8:27). With God the Son and God the Spirit entreating God the Father for us 24/7, how can we fail? Unless we fail to pray! Alas…
Jesus is able to save to the uttermost. He can save the worst scalawag on the planet. But that is not the meaning of to the uttermost. It means that when he saves, he saves absolutely, completely, and forever – provided we draw near to God through him (Hebrews 7:25).
In ancient Jewish and Christian literature, to draw near means to pray. You say you can't pray 24/7 like Jesus? But can't you draw near to him and pray for just one hour? When the Son of Man comes, will he find faith on earth? (Luke 18:8). Will he find prayer?
How can we live without prayer? We can't! At least not fully. As oxygen is to the lung, prayer is to the soul. How can you breathe without prayer?
Prayer Track
Prayer is the most essential service we can provide for Singapore in this pandemic and in the lead-up to GE2020, a crisis election that will shape Singapore's future (PM Lee Hsien Loong). Memorise and pray the Word: Continue steadfastly in prayer, being watchful in it with thanksgiving (Colossians 4:2). Rejoice always, pray without ceasing, give thanks in all circumstances; for this is the will of God in Christ Jesus for you (1 Thessalonians 5:16-18). Rejoice in hope, be patient in tribulation, be constant in prayer (Romans 12:12). 
 
Prayer is communion with God: the 'home-life' of the soul (The Kneeling Christian). We should feel at home in prayer. But some of us feel awkward. Consider the following confessions taken from actual feedback in prayer workshops convened in Singapore. Respond to each one in terms of its relevance to you: Very True, Quite True, Not True.
What is the state of your soul? Be honest.
01. I struggle with unbelief due to unanswered prayers.
02. I am skeptical because of disappointments in life.
03. I feel unworthy because of my wishy-washy walk with God. 
04. I have a hard time trusting God. Unhealed wounds inflicted by authority figures have marred my image of God as a good Father.
05. I feel inadequate in prayer. I am always at a loss for words.
06. I feel alone with no close friends and no confidant to pray with.
07. I feel defeated in my spiritual life. I have enough mess to deal with. Why bother praying for others?
08. I feel indifferent. I have become numb to the troubles of the world.
09. I am lazy. I lack discipline.
10. I lack spiritual hunger.
11. I don't have time.
12. I used to pray a lot but now I've lost the fire.  
In the long run, our choices mark us for life. Today, turn the page. 
The old is past. The new is come. Look to Jesus, your best Friend, your Perfect Prayer Partner, your Coach. He is praying for you. Join him in the Holy Place. Don't mask your emotions. Tell it like it is. The state of your soul. Your struggles and shortcomings in prayer.  
 
Start a new chapter in your prayer life. Determine to thrive, not just survive. Let this be your new normal.
Confess: Prayer is all about my friendship with my Lord. Prayer is my privilege, my delight, my lifestyle. Prayer is not beyond me. I am not helpless. I am not alone. I have direct access to God my Father through Jesus my Great High Priest. I have the Holy Spirit, my Great Helper, who prays in me, for me, and through me.  
 
We can't all be politicians, but we can all be pleaders (Spurgeon, Adapted). 
This election, may the fear of God guide all voters: The fear of the Lord is a fountain of life, turning a [nation] from the snares of death (Proverbs 14:27).
---
Read the devotional from Day 6: Point of no return here. Follow Salt&Light on Telegram, Facebook and Instagram for more of LoveSingapore's daily devotions over the next 40 days.
"Be positive, stay calm": Bishop Rennis Ponniah urges prayerful response to Novel Coronavirus
How God answered Francis Chan's "ridiculous" prayer for a son-in-law
If you have enjoyed reading Salt&Light...
We are an independent, non-profit organisation that relies on the generosity of our readers, such as yourself, to continue serving the kingdom. Every dollar donated goes directly back into our editorial coverage.
Would you consider partnering with us in our kingdom work by supporting us financially, either as a one-off donation, or a recurring pledge?
Support Salt&Light