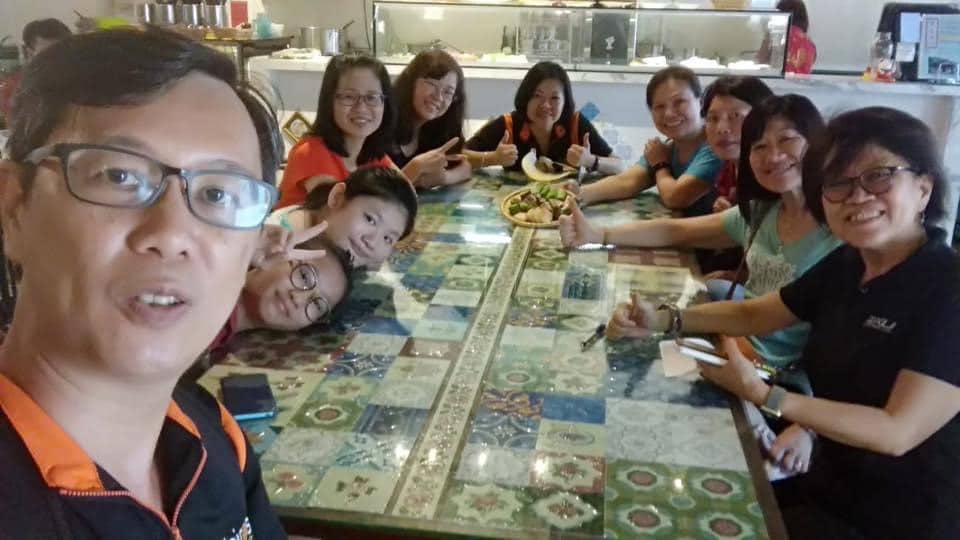 Foodsteps was a food trail organised by Paya Lebar Chinese Methodist Church that took friends and newcomers to various parts of Singapore to enjoy food and also mingle with church members. Photo courtesy of Choo Shiao Bing.
The little congregation of 110 had been given a challenge.
They had to organise an event that would draw new people to their church service.
"Pastor said he wanted a bonding and outreach activity," said Choo Shiao Bing who was tasked to spearhead the project.
Only, they did not have a church building that year. In fact, they would not have one for the next three years or so. Their church was undergoing massive renovations.
Traditional activities that would interest people but require a location would not work.
What would follow would be an out-of-the-box event for the Contemporary Service of Paya Lebar Chinese Methodist Church.
"It had to be non-threatening, not too in-your-face. We needed a way for people to bring their friends and loved ones to meet church people, and be more comfortable with them," said Shiao Bing.
The idea that Shiao Bing landed on was a food trail dubbed Foodsteps. "What better way to bond than over food?"
With gatherings of sizeable numbers now possible after two years of stringent Covid restrictions, here are some inspiring ideas your church can use to invite newcomers to hear the Gospel.
1. Foodsteps
Foodsteps was the foodie's version of The Amazing Race. From the starting point, teams were each given riddles and puzzles to solve that would take them to different food stops.
"The teams always had be at different stops. Otherwise, there would be too many people crowding around the same shop. Everybody would be buying the same food and trying to find a place to sit," explained Shiao Bing.
At each stop, participants would sample the food and be given a task to perform in order to earn a clue. That clue would take them to the next stop.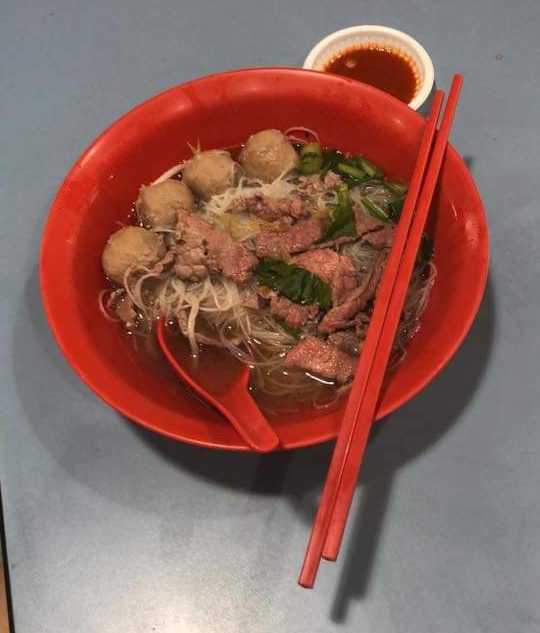 To come up with the tasks and clues, Shiao Bing drew on her experience playing in Escape Rooms. Shiao Bing's family – husband and three children – had been visiting Escape Rooms for some years.
As the participants walked from food stop to food stop, church members would talk to guests.
"We visited all the Escape Rooms in Singapore, then we went to Malaysia. We have even played in Scotland and the Netherlands.
"If you have been to enough Escape Rooms, you would know the different kinds of puzzles there are and the principles behind them."
Shiao Bing and her team took nearly two months to research places to visit, try out different foods to include in the trail, speak to stall owners to arrange for special deals, and draw up and test the various routes. Each route had to take the teams to the same stops but at different times before directing them to a final destination.
Nearly a hundred people, divided into 11 teams, turned up for Foodsteps. Non-Christian friends and relatives came. Many were drawn by the novelty – a chance to go on a walking tour of Singapore and sample some of the best local eats.
As the participants walked from food stop to food stop, church members would talk to the guests.
For those who were tentative, they would simply chat to make them comfortable. For the ones who were ready, they would share the Gospel.
2. Culinary Arts Ministry
Food is also what Adam Road Presbyterian Church uses to break the ice with pre-believing friends. They have a Culinary Arts Ministry which organises cooking classes where recipes for desserts and the Gospel are shared.
"The whole idea is to attract people who don't usually find church attractive to come."
The idea was broached by a member 12 years ago. Shirley Wong was a Home Economics teacher who wanted to use her expertise to serve the church. Together with Mona Chia, the Director of the church's Women's and Children' Ministry, they came up with the idea of offering cooking classes to bring people to church.
Said Mona; "The whole idea of culinary arts is to attract people who don't usually find church attractive or have no reason to come.
"A lot of people love to find out what goes into dishes and the process of making them. This is a good way to draw them to our premises."
The classes are conducted by Shirley and two other full-time bakers. Sophisticated sweet treats are broken down into easy-to-follow steps that participants can replicate at home.
"We teach them how to make expensive desserts like tiramisu more cheaply by substituting ingredients. Or we show them how popular but pricey desserts like snow-skinned mooncakes are made," said Mona.
Over the years, the desserts have gotten more exciting – animal-shaped mooncakes, tiger tarts for the year of the Tiger, dog-shaped choux pastries, and mantou (steamed buns) stained red with dragon fruit juice and shaped like roses for Mother's Day have been some of their recent creations.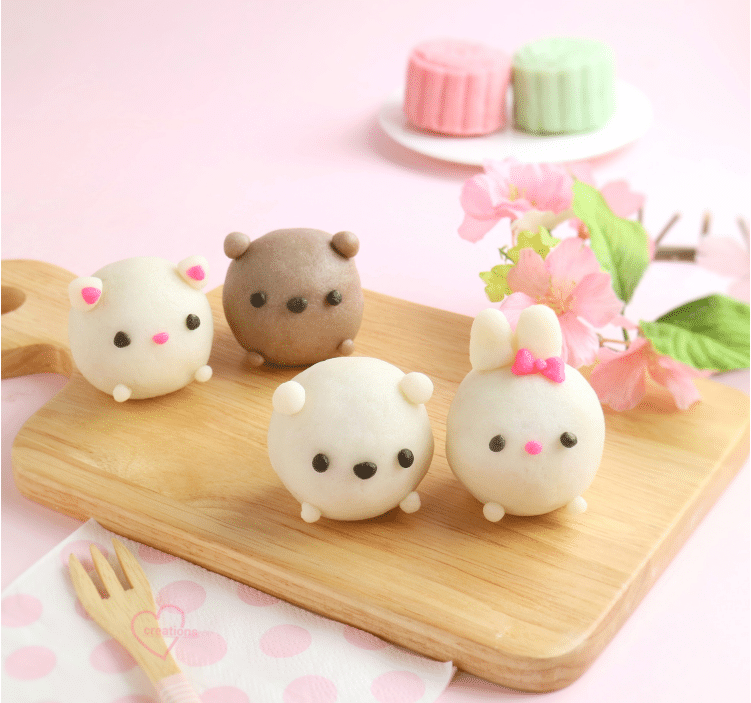 "People are drawn to the classes because the items are quite novel."
Waiting for their dishes to be cooked "gives the participants the opportunity to hear the Gospel while they wait for their creations to be ready".
The church does not have a full-fledged kitchen. Instead, it creates cooking stations within one of the multi-function rooms. So we do cakes and desserts that only require baking, steaming or chilling."
This gives the participants the opportunity to hear the Gospel while they wait for their creations to be ready.
The teachings are always related to the food prepared. One Valentine's Day, they taught participants how to make chocolate hearts. While the chocolates chilled, Mona talked about the love of God. During the Mooncake Festival, the lesson touched on the One who created the moon.
Pastors and staff workers have stepped in to share the message as well, while volunteers help out with the various duties.
"We do the shopping, the preparing of the ingredients, the measuring, the setting up of the room, the washing up.
"We make it easy for the participants."
Before Covid-19, the ministry would organise up to six such cooking classes a year. Some 30 people would attend each time.
"Priority is given to pre-believers because we have limited cooking stations. Members can only attend if they bring a friend," said Mona.
Those who attend the cooking classes and express a desire to find out more about the faith are directed to the church's Discovering Christianity classes.
During the pandemic, the ministry shifted online and offered cooking demonstration videos.
3. Digital Day of Outreach
Cru Singapore, in partnership with Indigitous, has come up with a way for churches to do outreach in the digital space. Digital Day of Outreach (DDO) is ideal for cell groups and mid-sized groups such as youth, young adults or senior groups, and can be done as an in-person activity, a totally online one, or a hybrid event.
It begins with a share party where Christian friends gather.
After a time of prayer for the people they want to reach, each person engages his friends through his social media accounts, inviting them to watch a four-minute video Falling Plates. The video presents the Gospel message in a simple yet relevant and compelling way by using visual metaphors.  
The friends are then invited to respond with their take on the video which the Christians can then steer towards a spiritual conversation.
DDO is premised on the example of Acts 8:4 where believers talked about Jesus "wherever they went". So, it relies heavily on spreading the Gospel through relationships. 
A group of five women from Hope Church tried DDO after learning how to use the resources through a webinar. In the span of an hour, they reached a total of 33 friends, 23 of whom responded. Out of those conversations, nine took a spiritual turn where the Christians had a chance to turn the topic from the video to God.
"This is not like a church event where you invite people to come. Instead, each person goes to their devices to look for people to connect to online," explained Lillian Seow, Senior Digital Strategist and Associate Lead of Digital Strategies at Cru Singapore.
The Gospel is "spread through relationships".
The beauty of this is in the fact that the Gospel message is brought to those who need to hear it instead of asking them to come to it through attending an event or a church service.
Cru Singapore has an entire kit available online to teach users how to organise a share party, invite people to participate online, connect with friends on social media using the video, engage friends in conversations following the video, and following through on the initiative.
"As part of DDO, we also recommend that people use our Jesus film app. There are several short films that share the Gospel in a concise manner. It's portable because it is on your phone and you can use it wherever you are."
When DDO is done as a hybrid event, people are invited to homes. After a meal, they watch the Falling Plates video together and engage in conversations.
4. Praise Dance
Until Covid-19 safety measures barred the gathering of large groups, a band of up to 40 seniors would meet every Tuesday evening to dance. Lined up in neat rows, they would do an hour-long routine that is a cross between mass dancing and line dancing. The only difference is the music – only Christian songs, usually in Mandarin, are used.
"It's a great way to expose people new to Christianity."
This is Praise Dance, a series of exercise-cum-dances choreographed to catchy music set to Bible verses. The concept was developed by Taiwanese music teacher Ng Mei Yun in 2004 to incorporate worship into exercise. The idea caught on and some 10,000 people in Asia, the US and New Zealand are now involved in Praise Dance.
The Hokkien Service at Paya Lebar Chinese Methodist Church started their own Praise Dance Ministry in 2014.
"Some of us found out about it and got trained to conduct Praise Dance sessions to start this in our church," said Richard Zhang who heads the ministry.
Because dancing is not often associated with the Church and the Praise Dance routines incorporate exercises, those who participate in Praise Dance have found it easy to invite pre-believing family and friends to join them.
"It's a great way to expose people new to Christianity because they are dancing to Bible verses set to music. Each session ends with a song that is the Lord's Prayer.
"So they are involved in worshipping God with song and dance without really realising it," said Richard.
"We have people who have joined us as pre-believers and then gone on to be baptised in the church."
When Paya Lebar Chinese Methodist Church moved out of their premises because of renovation works, the ministry relocated to the car park of another church. The location was highly visible to passers-by which helped the ministry.
Curious on-lookers, drawn by the exuberant dances, would walk in and ask to join the group.
Given the nature of the dances, Praise Dance tends to attract the elderly.
"We even have dances that allow people to take part while sitting down to accommodate those who cannot stand or cannot stand for long."
---
RELATED STORIES:
How to share your testimony in 3 easy steps (even if you have never done it)
If you have enjoyed reading Salt&Light...
We are an independent, non-profit organisation that relies on the generosity of our readers, such as yourself, to continue serving the kingdom. Every dollar donated goes directly back into our editorial coverage.
Would you consider partnering with us in our kingdom work by supporting us financially, either as a one-off donation, or a recurring pledge?
Support Salt&Light