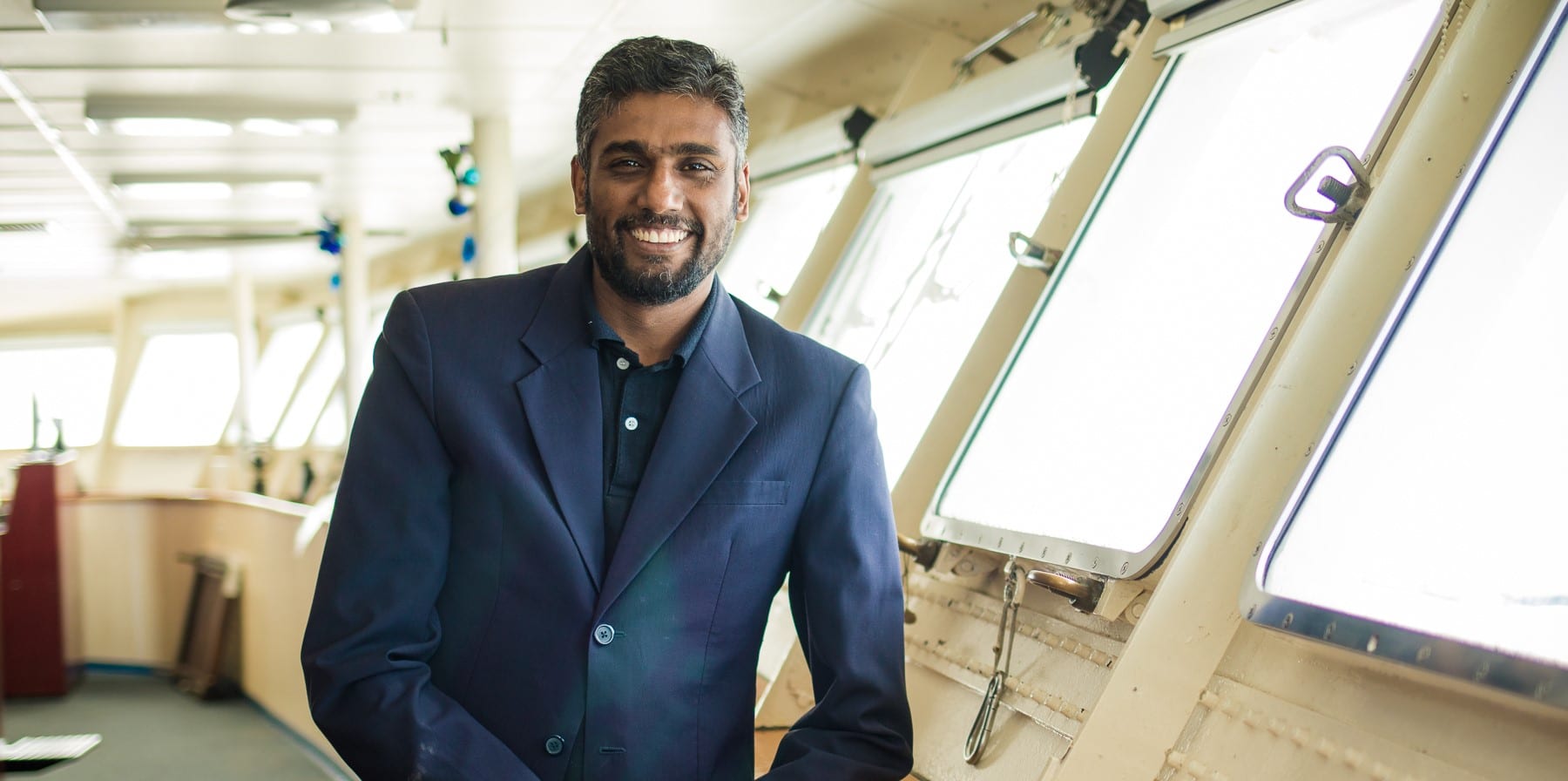 CEO of Operation Mobilisation's Ship Ministry, Seelan Govender, on board the Logos Hope. All photos courtesy of OM Ships Ministry unless otherwise stated.
Last year, CEO of Operation Mobilisation's (OM) Ship Ministry, Seelan Govender, was in Freetown, the major port city and capital of Sierra Leone. He was visiting the docked Logos Hope, OM's ship which brings the Gospel to far-flung places.
On that trip, Seelan had the chance to meet a man whose life was transformed by the very ministry he heads.
The spiritual leader of the community told the villagers that a child sacrifice was needed to ward off evil.
Pastor Emmanuel Conteh was a boy 20 years ago, living in a village in the north of the country. At the time, his village was experiencing ill fortune. The spiritual leader of the community told the villagers that a child sacrifice was needed to ward off evil.
"The lot fell on him," said Seelan, recounting the story.
Seelan, 44, was talking to Salt&Light on the occasion of OM's announcement that they had just acquired a new ship, Doulos Hope, for their ship-based ministry. Into his second term as CEO, Seelan had served two decades on board OM ships before his appointment in 2017.
Asked for stories of how the Ship Ministry, which began in 1970, has touched lives, Seelan shared the story of Ps Emmanuel.
Escaped from child sacrifice
Although Ps Emmanuel was marked for death, he managed to escape his village with his sister. For three days, he hid in the forest before going to Freetown. There, he came to the faith and started a church with about 30 people and about four full-time workers.
Five years later, Logos II, the ship that Logos Hope replaced, arrived at Freetown.
Said Seelan: "He came into contact with us. He volunteered and came many times to serve on board and was inspired by the stories, motivation and passion of the young people.
"He was given discipleship materials and encouraged by the leaders. Lawrence Tong, the International Director of OM was on board the ship at that time and he met him."
With the literature materials, Bibles and discipleship material given by OM as well as a vehicle, Ps Emmanuel was so encouraged that he went on to start Sent Ministries with just 30 people.
"We gave him the language, equipment and encouragement to continue when he was giving up."
Today, he plants churches in the north of Sierra Leone. He has even returned to the village from which he escaped to share the Gospel. Because of his work, the villagers came to faith and the "structures of evil and child sacrifice have been broken".
His ministry, which includes churches, schools and orphanages, now numbers some 10,000 strong. There are also plans to equip 300 workers to continue the work.
"He came to tell us that had it not been for the Ship Ministry, his ministry would not have been given definition and shape.
"We gave him the language, equipment and encouragement to continue when he was giving up," said Seelan.
"He is one of the most humble people I've ever met, very unassuming. Meeting him was one of the highlights of last year.
"When I look at that, I then start to see the catalytic influence of OM's Ship Ministry. It is not that we started it, it is not that we will finish it.
"It is the inspiration, encouragement and motivation, and a little bit of equipping and resources that was desperately needed for a ministry like Sent Ministries."
Investing in making disciples  
It is for continuing OM's vision to invest in disciple-making, leadership training, holistic community engagement and collaboration with the local church community that OM acquired Doulos Hope.
Said Seelan, announcing the acquisition: "It is a privilege for us to join God in His mission to invite others to see transformed lives and communities.
"That is why we have chosen the name Doulos Hope, 'servant of hope'. We are excited for this new phase of our ministry; we have always been passionate about building a community of disciples worldwide and vessels like Doulos Hope will help us realise this." 
"Multiple vessels will allow us to bring attention to these areas and mobilise the church."
The first new ship of a planned OM fleet of five, each ship is expected to help reach the five new regions marked out by OM: Mekong, South Asia, Arabian Peninsula, North Caucasus and the Sahel from Senegal to Eritrea.
Said Seelan: "OM has ear-marked five spotlight regions around the world in which there is very little access to good news and not many people going there.
"Multiple vessels will allow us to bring attention to these areas and mobilise the church."
This is because quality relationships are built on more than just one visit. It is not possible for Logos Hope alone to make return visits to ports and territories while also reaching new areas. Multiple ships, each visiting 10 to 12 port cities annually, will significantly increase momentum and impact.
The hope is that in the next 10 years, through engagement with the ships, a million churches will be mobilised to pray for these regions and beyond where there are very few believers.
A Covid blessing
That OM managed to get Doulos Hope during a time when the pandemic-plagued world has been bowing under the burden of economic strain is nothing short of miraculous.
"We shouldn't be expanding a fleet during a pandemic when most of the shipping industry is collapsing. Cruise liners have sold tons of ships. The last thing on our mind was to think of expanding," Seelan told Salt&Light.
Yet, in the last two years, the pandemic actually opened doors for OM in ways not expected. People feel a greater urgency to bring the Gospel to the lesser reached areas of the world. As a result, they started giving more to OM's mission.
Then, with the marine industry floundering, more ships became available at prices lower than before.
"As we walked around, I had a distinct sense of peace … 'Is this the ship the Lord is giving us to use for His kingdom?'
"We looked at over 200 ships. We wanted a smaller vessel that would give us extended reach beyond Logos Hope which weighs over 12,500 tonnes. So, she is limited in which ports she can go to. Smaller ports are very difficult for her to visit.
"A smaller vessel with lighter draft would have greater reach to ports that are not so close to bigger cities," explained Seelan.
When they first chanced upon a cruise ship that would be the future Doulos Hope, the odds were not good. OM's technical crew deemed it too light and thought it required too much work to convert into a ship for the Ship Ministry.
But some time in March this year, Seelan and a team of OM leaders visited the ship.
"As we walked around, I had a distinct sense of peace, irrespective of whether it is the right or wrong ship, I asked, 'Is this the ship the Lord is giving us to use for His kingdom?'
"We had the sense, the excitement, this could be a significant tool, a potentially huge impact as a catalyst for a part of the world we longed to be in which is Asia – Southeast Asia, South Asia."
As negotiations unfolded, another miracle happened. OM did not have a team of people to refurbish the ship at this early stage. But the crew of the ship, who had been working onboard it for the last 15 years and knew the ship best, offered their services.
"What an answer to our prayers. I am just trying to keep up with what God is doing," marvelled Seelan at the way things panned out.
"This should not be happening in a pandemic. God is wanting to do something at this particular time through this vessel."
Year of preparation
Following its handover, Doulos Hope, which is currently docked in Penang, will spend a year being outfitted and equipped for ministry.
"What an answer to our prayers. I am just trying to keep up with what God is doing,"
Like its sister ship Logos Hope, the new ship will be fitted with a floating book fair, bringing Christian and educational literature to the ports at which it stops. There will be a 130-seat meeting room as well as a 30-seat training room ideal for accommodating and training crew and external partners. This will allow the ship to host seminars, ministry trainings and fellowship events.   
Then, from the first quarter of 2023, it will sail Singapore and Malaysian waters before likely hitting the shores of other Asian nations.
The new ship will be based in Southeast Asia, sailing its shallower waters. The plan is for it to stay in ports for extended periods to enable greater cultural engagement even as it shares knowledge, help and hope with vulnerable or marginalised communities.  
By 2030, nearly 70% of the world will be living in urban spaces. This means that most of the least reached areas would also be urban spaces, said Seelan. That is why the Ship Ministry is working towards the "transformation of the city".
They hope to do this by finding "people of peace" in every city who have a burden to see their city transformed for God, a model found in Luke 10. When Jesus sent out the 72, he urged them to find "someone who promotes peace" in every city (Luke 10:6) to help them further their work.
In today's context, these "people of peace" would be affinity groups, organisations and churches who are willing to partner OM.
"So, it is going to be much more strategic conversations rather than mass numbers coming in.
"We are going to be very focussed and very intentional with smaller groups to see multiplication and movement start, predominantly led by the people of the city."
---
To find out more about Doulos Hope, visit www.om.org/ships/douloshope or explore opportunities to serve with OM's current operational ship, Logos Hope at https://www.om.org/ships/join.
To connect with your local OM office, visit OM Singapore or follow them on Instagram and Facebook. 
---
RELATED STORIES:
"God directed me from the beginning": Singaporean Lawrence Tong on leading Operation Mobilisation
"God, what are you doing?": When a go-getter learnt to take her Kingdom assignment one step at a time
If you have enjoyed reading Salt&Light...
We are an independent, non-profit organisation that relies on the generosity of our readers, such as yourself, to continue serving the kingdom. Every dollar donated goes directly back into our editorial coverage.
Would you consider partnering with us in our kingdom work by supporting us financially, either as a one-off donation, or a recurring pledge?
Support Salt&Light