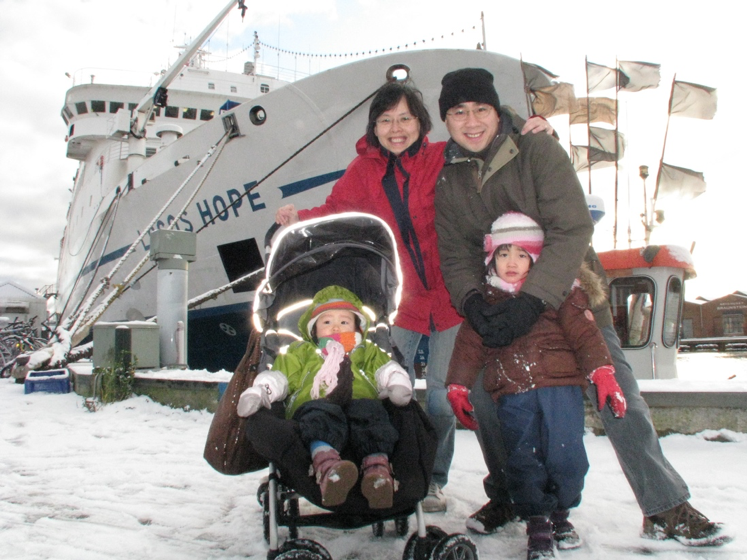 From being "blindsided by God" to a journey of "start-stop-start-stop for, gosh, almost five years", go-getter Su-Ling learnt to daily recommit to God's call, and be fully dependent on His grace. Photo courtesy of Ng Su-Ling.
"I got through the weekend with hardly any sleep because it was so stressful, but it was such a wonderful experience," recalled Ng Su-Ling, former Associate International Director of Operation Mobilisation (OM).
Su-Ling was referring to the Logos Hope fundraiser weekend in 2008 which culminated in a gala dinner attended by around 700 guests. It provided the crucial funds to launch the OM ship into service and was one of the largest amounts ever raised at a single event in OM's history.
"There was that sense of God both using me and allowing me to flourish."
Su-Ling had led the planning and coordination with a team from different OM offices, while based on the half-furnished Logos Hope.
No mean feat considering they were based in five countries across three continents, in a time where expensive international IDD calls, not Zoom, was the norm.
"Through that, there was that sense of God both using me and allowing me to flourish," Su-Ling said.
The fundraiser was an unexpected assignment that Su-Ling had eagerly accepted.
"I was so desperate for something to do besides looking after my kids, I just said yes."
Su-Ling's young family was part of the pioneer crew of the Logos Hope while it was still undergoing extensive refurbishing.
"God knew that I was dying inside."
Anna, her youngest, was a wee nine-month-old baby and Katelyn, at two years, was only just learning to speak in full sentences. With her husband Han Teck heading the personnel department, and under the expectation that families had to care for their own kids, Su-Ling found herself taking on the role of primary caregiver.
"It was like living in a construction site," Su-Ling said of the unfinished ship. "With two little ones, it was particularly challenging," Su-Ling said. "Just feeding, cleaning, pooping, napping, playing."
An "endless cycle" that she found herself in as a full-time mother on board a ship in limbo. "God knew that I was dying inside."
"Blindsided" by God
Full-time motherhood onboard a non-operational ship had not been part of her idea of the mission field.
But Su-Ling's early days in missions was characterised by circumstances unanticipated and out of her control.
"Another two years – that's doable. We can do that."
From the get-go, the couple had been "blindsided" by God.
Su-Ling and Han Teck were preparing to move to New York City in 2000 for Han Teck to pursue his PhD. They had already quit their jobs and shipped several boxes to New York when they felt a strong prompting to missions during a talk by OM veteran Chacko Thomas.
The pair both felt so strongly about abandoning their current direction that they knew they had to explore this impression further. Su-Ling explained: "Usually, we would have the wrong timing and quarrel about what we should do next."
Within three months, all the necessary arrangements had been made and the couple joined another OM ship, the Doulos, in January 2001.
Towards the end of their two-year term on the Doulos, Han Teck and Su-Ling were invited to help guide the project team to acquire and launch OM's fourth-and-as-yet-unnamed ship into ministry.
Their unique mix of professional experience and ship ministry filled an important role – Han Teck was in organisational development while Su-Ling was a business consultant.
The couple felt God telling them to stay on "just a little while longer".
They thought: "Another two years – that's doable. We can do that."
And that was as far as they understood from God in that time, Su-Ling said.
Five-year curveball
Neither saw the five-year curveball coming.
"On hindsight, I think God just led us one step at a time. Because if He had revealed the full picture, we may never have taken the plunge," Su-Ling said of the detour-ridden journey. "We ended up getting caught in these cycles of uncertainty. And we were in a holding pattern for a long time."
"It was start-stop-start-stop for, gosh, almost five years."
The project was fraught with challenges and unexpected delays. And it was especially frustrating because these were mainly marine-related issues which lay outside their expertise.
From thinking and dreaming of how and what they would do, it became a "God, what are You doing? And what is our part in this?" Su-Ling said. "It was start-stop-start-stop for, gosh, almost five years."
Ever-practical, the couple decided to go ahead and start their family whilst the project was ongoing despite the uncertainty. God had called them to the project, and while it seemed to be going nowhere, the couple were committed to stay.
"God will just have to take care of things," Su-Ling concluded with a wry smile.
Katelyn was born in the UK and Anna, born in Singapore, spent most of her first two years onboard the Logos Hope. While work for Han Teck would continue unabated with the arrival of the girls, life for Su-Ling would change significantly as she transitioned from full-time project team member to full-time mum.
Into the Caribbean
Loneliness and bitterness were a regular feature for her as a full-time mum in missions, Su-Ling said, "comparing how come my husband gets to do all this exciting work. And I'm stuck in the cabin with the housework and two kids."
Before going into missions, Su-Ling was used to thriving in the fast-paced world of business.
"I couldn't do things that I felt I would have enjoyed doing and instead – I love my kids to death – but I was stuck with them all the time," she said, adding that this led to many serious conversations with Han Teck. "I felt very needy."
"I was comparing how come my husband gets to do all this exciting work. And I'm stuck in the cabin."
She laughed and said: "I know right. It's not me."
There was a mothers' group which Su-Ling attended, but it was not her cup of tea.
She clarified: "I don't want to disrespect many women who thrive in this role. There were many full-time mothers on the ship and they had a great ministry mentoring other ladies and running impactful women's programmes onboard and onshore.
"I did some of that, but it's not my primary gifting. And I couldn't be someone that I wasn't," said Su-Ling. "I wanted to live out my faith some other way."
No surprise, then, that the high-stakes fundraiser was such welcome news to Su-Ling.
Soon after that opportunity came by, the Logos Hope was fully commissioned into ministry.
Since its launch in February 2009, it has welcomed nearly 9 million visitors in over 180 ports and sold over 9 million books and Christian literature, bringing the hope of God to the nations.
Su-Ling and her family lived onboard for a few more months, sailing into the Caribbean before returning to Singapore.
Leaning in to listen
Su-Ling returned to the rhythm of corporate life in Singapore, but in 2013, fellow Singaporean, OM International Director Lawrence Tong gave her a call, inviting her firstly to head up a new global initiative, and then later to join the Global Leadership Team to facilitate change management and strategy implementation in OM.
Through these years in leadership, Su-Ling believes she has grown, compared to her younger, more task-oriented self when she was leading the Logos Hope fundraiser.
She had to daily recommit to God's call, and be fully dependent on His grace to carry her through.
"I've learnt to be a better facilitative leader, often being in conversations where I need to make sure that I am understanding the real pain and frustrations of people on the ground, while equally representing other points of view they needed more perspective on," she shared.
"I have matured a lot in trying to lean in to see, hear, and feel other people's positions: How are people handling things? How are they doing? What is God doing here? How am I being obedient?"
Seeing the people in the task and not losing sight of the bigger story, Su-Ling was able to facilitate greater collaboration among OM leaders during a significant time of organisational change, helping the movement remain grounded in God's foundations, yet be nimble and relevant in the changing mission landscape.
Having dealt with uncertainty all through her ministry, does she have regrets?
"I don't think I would have chosen it, but I don't regret it either. God did something in me that could not have happened any other way."
For a "go-getter" like herself, Su-Ling acknowledged that there would have been "no other way to make her slow down and just be". She had to daily recommit to God's call, and be fully dependent on His grace to carry her through.
"That was a season of just being," she reiterated. "I have a very good relationship with my kids. When I'm with them, I'm 100% with them. But I really appreciate being able to put aside the 'mum hat' for a while.
"And when I go away to attend to OM work overseas, it gives me this space to inhabit a different me that's also me.
"As Hagar (in Genesis 16:13) said at the well, 'God sees me'. There is the me He created, and even though things were difficult at times and not always a perfect fit with how I was made, He had His hand on me."
---
We are created in unique ways for God's good purposes. Join God in what He is doing all over the world. Explore mission opportunities with OM here or drop a note at [email protected]
40 God stories
To commemorate their 40th year, OM Singapore has published a book, Unchanging: On Mission With a Faithful God, capturing 40 God-stories of Singaporeans, including Ng Su-Ling, who love God and His mission in many parts of the world.
"The quintessence of OM rests on the premise that God can use anyone, anytime, anywhere, whenever one hungers for Him. It is about giving God a chance to work in and through us," said Rev Keith Lai, President of National Council of Churches of Singapore (NCCS), who served on board OM's Logos ship.
"The 40 curated stories in this book testify to this truth. What a motley bunch of most unlikely individuals. What diverse and interesting backgrounds. But all with an underlying common thread – a touch of God's grace stirring in their hearts to leave home and venture into the fathomless unknown." 
To purchase the book for yourself and your friends, click here.
---
RELATED STORIES:
"There was no big blueprint, just the fingerprint of God": HealthServe's Dr Goh Wei Leong
A picture of a sitting toilet confirmed this couple's call to missions
If you have enjoyed reading Salt&Light...
We are an independent, non-profit organisation that relies on the generosity of our readers, such as yourself, to continue serving the kingdom. Every dollar donated goes directly back into our editorial coverage.
Would you consider partnering with us in our kingdom work by supporting us financially, either as a one-off donation, or a recurring pledge?
Support Salt&Light