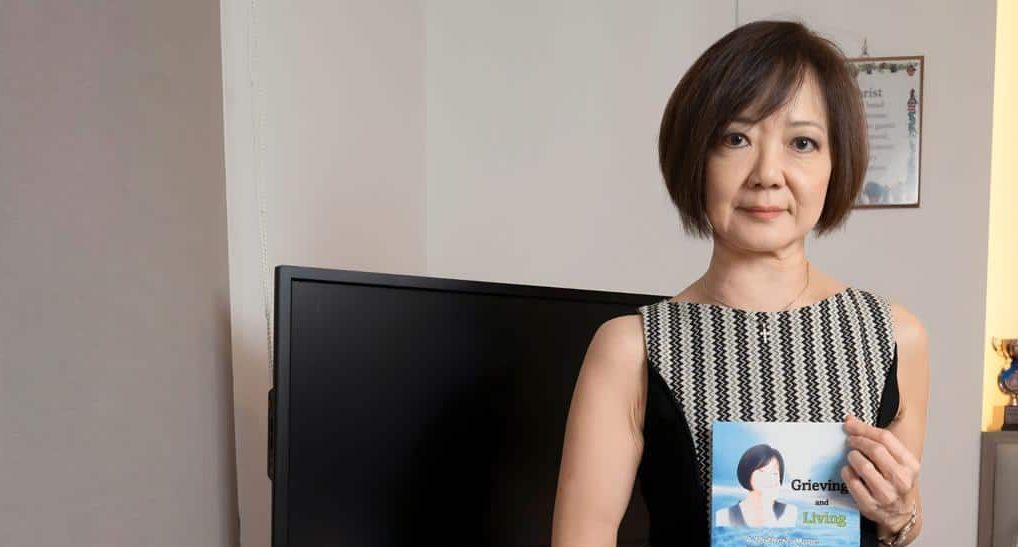 As early as 2020, Jenny Teo had wanted to write a book to help suicide survivors with their grief. God would bring people into her life to help her make the book a reality. All photos courtesy of Jenny Teo.
Almost two years ago, Salt&Light interviewed Jenny Teo about the greatest loss in her life.
Her only son Josh Isaac Ng had died by suicide three years before. She wanted to share his story to remember him, comfort other grieving parents and bring to light the painful issue of rising teen suicides in the country.
"God is orchestrating the book. God is so good."
Her heartache, though still raw, was seeking closure then. As she ended her sharing, she mentioned that someone had approached her to write an e-book about her experience.
"God is orchestrating it. He is amazing," she had said then.
This April, the book that Jenny wanted to write is out. Grieving and Living. A Mother's Hope. A Mother's Journey chronicles the life and loss of her son as well as her own journey to recovery as a suicide loss survivor. 
"God is so good," said Jenny, 63, of the miraculous way the book came about.
Powerless with pain
Five years ago, Jenny would not have been able to say this.
She had woken up early one June morning to find her only son's lifeless body. Josh Isaac Ng had suffocated himself to death just five months shy of his 21st birthday. The deep pain of depression had become too much to bear.
Four months before he died by suicide, Josh had overdosed on tranquillisers.
"One morning, when I tried to wake him up, he said to me, 'Mum, there is no purpose for me to wake up.'
"His words shocked me. He was going through depression then and I think he was suicidal."
Josh had been struggling with his studies, disappointed that he could not get into a polytechnic and had been feeling stressed about enrolling in a university abroad.
Living in close quarters during National Service had been tough for the teen whose depression made him want to isolate. He was seen as not a team player and had been bullied.
He and his on-again-off-again girlfriend had also broken up.
Four months before he died by suicide, Josh had overdosed on tranquillisers. Jenny had found him then and had sent him to the hospital in time.   
But she had felt powerless to help. Medication prescribed by the psychiatrist and sessions with a family therapist had brought Josh no relief.
Though she longed to talk to him, her son had been largely silent.
A prompting to write a book
In the weeks and months following Josh's death, Jenny struggled with guilt and grief. Had she been a good mother? If her son had loved her, why could he not have stayed? Why had she not protected him?
But slowly, she found solace and then some closure.
"By telling his story, I could do something for my son again."
It began with a video interview about her suicide loss. Going public with her pain tore aside the shroud of shame that became the first step towards healing.
Then came a talk she gave with Caregivers Alliance Limited (CAL). Preparing the slides for the presentation was cathartic.
"By telling his story, I could do something for my son again. He couldn't say much about his depression and suicide ideation because he was suffering from so much stigma. But I could be his mouthpiece.
"I can still be his mother even though he is gone. It was a redefinition of my role as a mother."
Soon Jenny was giving more talks. In 2020, a desire to put down the contents of her talk into a book "dropped into my spirit". But she knew nothing about writing a book and much less about publishing one.
Then came an invitation to give a talk – Suicide: Asking the Real Questions – at Bethesda Bedok-Tampines Church (BBTC) in August of 2021. Some 200 people attended, among them a man who owned a printing company.
"You can imagine my goosebumps. I was shocked. I already had that idea in my heart."
That night, he called Jenny.
"He told me that he and his wife felt a very strong prompting from the Lord to ask me to write a book.
"You can imagine my goosebumps. I was shocked. I already had that idea in my heart."
The man offered to help her launch an e-book, and eventually a physical book, all for free.
Jenny accepted the offer but did not get down to writing the book till last year.
"God brought into my path someone who knew about the publishing software. This person was able to help me get the book together.
"Then I got hold of the man who owned the printing company."
Though time had passed, the man was still willing to proceed with the project. This time, Jenny insisted on paying for the printing. But the man extended her great kindness, going so far as to provide her with the best quality paper for her book.
"It's the kind of paper you use for coffee table books. I received a lot of favour from him."
From one caregiver to others
Five is often considered the biblical number of God's grace. In the production of the book, Jenny encountered the number five everywhere.
The books were delivered on March 15. A total of 1,055 copies were printed – 1,000 copies and an extra 55 that would have been thrown out because of slight flaws. The work order number for the project was a five-digit number: 50055.
"Every one of these things is a confirmation from the Lord that He has His hand on this project. I'm really excited about how God's hand has been in this book project."
At 35 pages, the self-published book is lightweight – "knowing that not many people read books now, I wanted it to be short so they can read it in half an hour". 
But the paperback is heavy on strength of emotions and depth of wisdom, distilling the grief recovery process into three steps that Jenny herself  had lived.
"I've come up with the book already. Now it is up to You to orchestrate who it should reach."
Absorption chronicles how she came to terms with the loss of her only child. Adjustment deals with life after the loss. Acceptance is about her not so much moving past the suicide loss but moving forward with it as she learnt it was deep psychological pain that drove her son to take his life.
"I was very raw. I threw myself into sharing my story."
Jenny is donating the nett proceeds from the sale of the book to Caregivers Alliance Ltd, the organisation that played a part in helping her find closure.
This book is part of a gift from a caregiver to other caregivers.
Ahead of the book's launch, Jenny gave a copy to a domestic helper working for her friend. The woman is also a suicide loss survivor.
"She told me she was very inspired by my book. It caused her to rethink her own grief journey and made her realise that her own situation was no worse than mine.
"She now has a better hope of her own recovery.
"This was an answer to my prayer. I had told God, 'I've come up with the book already. Now it is up to You to orchestrate who it should reach to impact those who need the hope to help them recover from their own painful journey of loss.'"
---
To buy Jenny Teo's book Grieving and Living. A Mother's Hope. A Mother's Journey, click here. Nett proceeds from the sale of the book will go to Caregivers Alliance Limited. 
---
RELATED STORIES:
"I don't have anyone to call me Mum anymore": A mother speaks up about youth mental health after her son's suicide
Her son took his own life, she would not let others do the same
"I hate his sickness. But I still love him": A wife's 14-year anguish at seeing her schizophrenic husband waste away
If you have enjoyed reading Salt&Light...
We are an independent, non-profit organisation that relies on the generosity of our readers, such as yourself, to continue serving the kingdom. Every dollar donated goes directly back into our editorial coverage.
Would you consider partnering with us in our kingdom work by supporting us financially, either as a one-off donation, or a recurring pledge?
Support Salt&Light