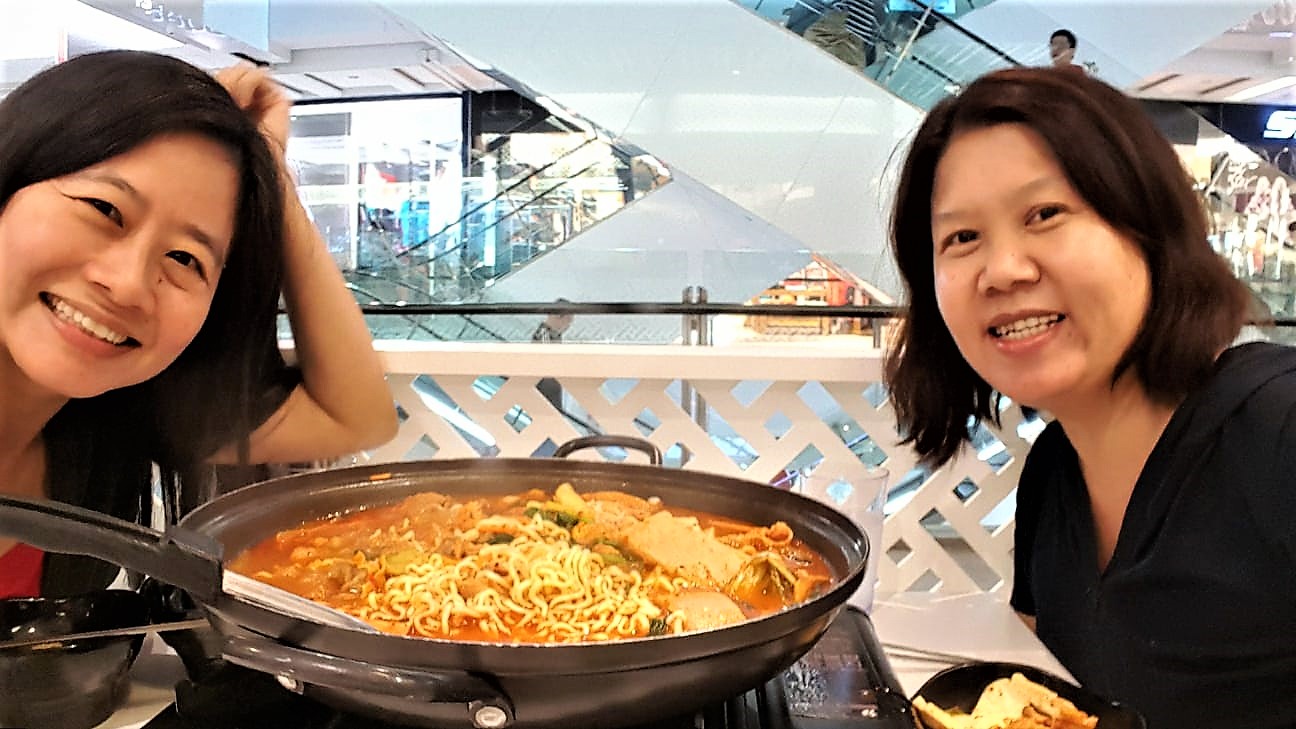 Karen Low (left) and Sharlin Ang met at a WOW MOM group meeting more than a decade ago and have been firm friends ever since. All photos courtesy of Karen Low.
When Karen Low returned to Singapore with her husband after working abroad, she found herself a stay-at-home mum (SAHM) with a three-year-old son and a shrinking social circle.
A former colleague invited her to join an SAHM support group and she accepted it readily.
"It helped me to grow as a mum and helps to keep me on my toes."
"The group was reaching out to mums who are homemakers and I thought, 'Okay, I can do that. It would be helpful for me and it would be an opportunity to minister to other mums as well'," said Low, 55.
This was her introduction to WOW MOM, a community of support groups for SAHMs started by Cru Singapore.
The groups, clustered around different neighbourhoods across the island, meet to encourage each other in their parenting journey, study the Bible and learn to share their faith.
"It was different from cell group because it was all mothers supporting one another. It was helpful at the time because I had just come back to Singapore.
"When we meet, we study the Bible, we do book studies on prayer, marriage, parenting, and we study the women in the Bible.
"So, it helped me to grow as a mum and helped to keep me on my toes."
The weekly meetings were held in the mornings, which fit perfectly the mothers' schedule since their children would be in school then. It also gave the women a chance to meet new people and get real help.
"They were open to joining us because we were talking about our struggles as mums."
Apart from sharing their experiences as mothers and offering tips on managing children, the household and their husbands, the women also helped each other in practical ways.
"One of the mums has three boys. When she had to run errands, I would babysit one or two of the boys," said Low.
"When I injured my leg, they helped me with my marketing, bought lunch for me and visited me to provide fellowship."
There would be play dates for the children as well, so the mothers could drop off their kids and get some time to themselves.
"In terms of ministry, the group included non-believers and young believers. It started with neighbours whom we invited and those who lived around the same area."
Soon, they were making friends in the market and playgrounds, and inviting homemakers to join them.
"The mums were open to joining us because we were talking about our struggles as mums. We provided a listening ear and we carried one another's burden through prayer." 
Seeking peace
That was how Low met Sharlin Ang, 52. Ang was the neighbour of the woman running their WOW MOM group. A homemaker too, Ang was "looking for a religion to be more grounded".
Brought up in another religion, Ang had sought peace through different practices and dietary restrictions.
"But I realised that the people were good at religion but not good in real life. I was wondering, 'Why are these people not real, not true?' So, I decided to back out and became a free-thinker for many years."
When Ang discovered that her neighbour was a Christian, she approached her to find out more.
"I wanted to know about Christianity, about God and how real He is because, when I think about Christianity, I feel more calm and at peace," said Ang.
When Low met Ang at the WOW MOM group, she thought she would befriend Ang and share the Gospel with her because Ang was not a Christian. But the two became more than WOW MOM buddies.
Said Low: "She joined the group before I did and she's very sociable, very helpful, someone who really cares. We kind of clicked. We could talk to each other."
Added Ang about Low: "I like her because she is very calm and she is not judgemental. With her, you can ask any question and she will not judge you.
"When I think about Christianity, I feel more calm and at peace." 
"I was very comfortable with her and we had kids about the same age. My youngest son and her son are a year apart."
Soon, the two mums were meeting every day. They lived only a few blocks away from each other and would go to the market together and then to breakfast afterwards.
With three children – one in secondary school, one in primary school and the youngest in kindergarten then – Ang was "the more experienced mum" and Low would regularly seek her advice. 
"She is the resourceful one and she drives. We would take our kids out – we would go swimming, to the playground.
"I thought that I was going to help her by reaching out to her but it turned out that she helped me instead," said Low.
"I really wanted to entrust myself to God."
Their friendship did make it easier for Low to share her faith regularly, although it would be a long process.
Said Ang: "My husband isn't a believer. He never opposed me going to the group, but I just wanted to wait for the right time."
It would be three years before Ang made the decision to become a Christian.
"We were swimming with the kids. She had gone for evangelism training even though she was not a Christian yet.
"So, I decided to talk to her and then I asked her if she wanted to accept Jesus," said Low.
Explained Ang: "There had been many opportunities before. At the WOW MOM group, the leader would often ask who wanted to pray to receive Christ but I just never did.
"This time, I just felt it was the right time. I was calm and at peace and really wanted to entrust myself to God."
Both women agree that an interest group like a mum's support group is a great way to create opportunities to share God's Word.
"It's non-threatening and practical because we talk about how the Bible applies to life, children, our husbands. It's definitely helpful," said Low.
Agreed Ang: "It helps that Karen is also not pushy!"
God is present
After Ang became a Christian, Low decided to start a follow-up group to help Ang better understand the Bible.
"Other than the mummies in the WOW MOM group, we also meet a lot of new believer mums or mums who were not sure of their salvation.
"And there were mums in the WOW MOM group who wanted to know more about their faith or were confused about certain things in the Bible. So, I started a Bible study group for these mums," said Low.
Ang, who could not go to church regularly because her husband was not a Christian, found the follow-up group particularly helpful.
"Every lesson helps because it helped me learn about God and how wonderful He is. God spoke to me through the meetings.
"And Karen is a very nice mentor. I learnt a lot from her. I'm still learning from her.
"She explains things very clearly and calmly when you don't understand God's Word or what people share."
In time, Ang brought a friend who became a Christian through the group.
"Every lesson helps because it helped me learn about God and how wonderful He is."
"We met through our sons, who were in badminton together," said Ang.
That original Bible study group eventually closed but Low has since started another Bible study group of which Ang is a member. They meet at lunch.
Said Ang: "Even right now, God speaks to me through the group."
Ang's oldest child recently moved out to live with a friend. "We're okay with it but, as a mother, I did wonder: Is it for the better or not?"
At the Bible study group, they were discussing Philemon and one verse – Philemon 15 – which talked about how momentary separation can be good, stood out to Ang.
"It spoke to me. I thought that maybe that's why my daughter wanted to go out for a while. I felt that it was a very comforting note. I felt at peace."
The children may have grown up and the women may have moved on from the WOW MOM group. But the friendship and faith found all those years ago are still going strong.  
---
RELATED STORIES:
"The benefit is two-way": A mum who is intentional about cultivating friendships