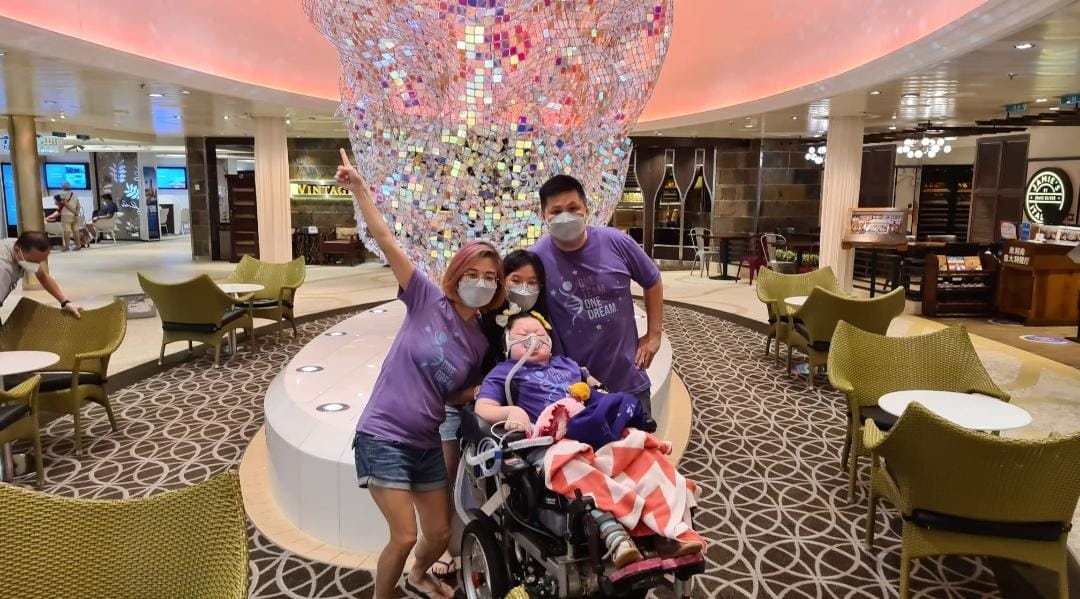 The Ng family on a rare holiday. They decided to seize every opportunity to have happy moments as a family after nearly losing Amelia in January. Videos by Thomas Franks. Photos by Thomas Franks and Amanda Ng.
Amelia Ng, 16, cannot eat, speak or move. On some days, even opening her eyes and breathing can be difficult.
She is the first person in Singapore to be diagnosed with Infantile Neuroaxonal Dystrophy (INAD), a rare neurological disorder that causes progressive damage to the nervous system.
What does love look like if one is bedridden and hooked up to a ventilator all day long?  
There are only about 150 children in the world with this condition. Many do not survive beyond their tenth birthday. 
In this series of three stories – The Faith, Love and Hope of Amelia Ng – Salt&Light finds out what it is like to be Amelia, and how the bedridden teenager who can communicate only through blinks and swallows, is still able to inspire those around her with her special kind of love.
---
What does love look like if one is bedridden and hooked up to a ventilator all day long?  
Would it be all about receiving, without the opportunity to ever give? 
Perhaps love is not just a verb, but is also a posture, a state of heart, as described in 1 Corinthians 13:4-7, one of Amelia's favourite verses from the Bible:    
Love is patient, love is kind. It does not envy, it does not boast, it is not proud.
It does not dishonor others, it is not self-seeking, it is not easily angered, it keeps no record of wrongs.
Love does not delight in evil but rejoices with the truth.
It always protects, always trusts, always hopes, always perseveres. 
Love through trauma
More than once, Amelia has turned blue when her oxygen levels dropped drastically, putting her at risk of brain damage and even death.   
In the latest episode last month, the family had just returned from an outing at Suntec City. 
As Amelia's father attempted to transfer a sleeping Amelia from the wheelchair to her customised bed, she started awake, sending the alarm of the ventilator beeping furiously as her oxygen levels plunged dangerously from 90 to 80, 70, 60, 50, 40 to 30.  
Amelia's face and lips turned blue and her eyes opened wide in panic. 
Chaos ensued.  
Amelia's father was still trying to place her down on the bed, her mother was praying, their helper was simultaneously crying and shaking Amelia.  
Amelia's face and lips turned blue and her eyes opened wide in panic. 
Amelia's older sister, Amanda, just three years older, had a split-second decision to make.  
She could remove her sister's oxygen mask and manually resuscitate her, as she had done many times in the past, or wait for the oxygen levels to climb back up and for her sister to resume breathing normally. She thought quickly: The risks of losing her sister through manual resuscitation might be greater given that her sister's lungs had weakened over the years.  
The family opted for the difficult decision to wait.
Thankfully, after a few harrowing minutes, her sister's oxygen levels started climbing back up.   
In the wake of the emergency, Wendy Loh, Amelia's mother, confided in Amelia's HCA Hospice palliative nurse, Poh Ya Nee, her worries of whether Amelia was angry with them, as they seemed to have "done nothing" when she was fighting for her life.  
When Ya Nee visited Amelia the day after, she could sense that Amelia really wanted to tell her something.   
"Amelia's concern is always about others, not herself."
She spent a long time deciphering Amelia's concern; communication was painstaking as Amelia is only able to respond with blinks and swallows to "yes/no" questions.
Eventually Ya Nee discerned that Amelia was having mixed feelings over her traumatic, near-death experience. But she was not angry with the family.  
Ya Nee felt that it was important for the family to know that Amelia was not angry with them, and gestured for Wendy to come over to Amelia's bedside to personally hear from her daughter.  
Yet even after Wendy came over, Amelia's eyes kept looking towards the kitchen.
Ya Nee realised that Amelia also wanted their helper, Weni, to be present.  
When Weni came over, Amelia, via Ya Nee, made it clear to all of them that she was not angry  over what had happened.
"This is how loving and thoughtful Amelia is. Her concern is always about others, not herself. She had seen Weni in tears during the emergency. Once she saw that Weni also got the message that she was not angry, she heaved a sigh of relief and went back to sleep," said Ya Nee.
Despite almost losing her life, Amelia was thinking of others.
"What would Mummy do when you are not around?"
As the number of "turning blue" episodes increased in frequency last year, Ya Nee knew she had to talk to Amelia about the prospect of losing her life.  
To Ya Nee's questions, Amelia indicated that she was not worried or scared about the episodes.  
What she was worried about, however, was her family.  
But who exactly was she worried about?  
Patiently, Ya Nee went through a list of her family members, and Amelia blinked in response to the mention of "Mummy".  
"I remember that Wendy would often say to me, 'What would I do if Amelia is not here?' Amelia would likely have heard it," said Ya Nee.  
So, she posed Amelia another question: "What would Mummy do when you are not around?"  
Amelia teared, and did not want to continue the conversation.  
"She seemed not to be afraid of her own physical suffering or death, but was worried about what it would mean for her mum," said Ya Nee.  
Love is patient, love is kind … it is not self-seeking, it is not easily angered, it keeps no record of wrongs. (1 Corinthians 13:4-5)
Inseparable sisters
Though she may be the youngest in the family, Amelia often stays awake to wait for her older sister to come home after school.  
"Even though it may be late at night, she tries her best to keep awake to make sure I am home safely," Amanda told Salt&Light. "I know that because she is often awake when I come home but drops off to sleep while I'm showering.  
"Sometimes, she still keeps awake even after I have showered, and I know then that she wants me to tell her about how my day went." 
"Even though it may be late at night, Amelia tries her best to keep awake to make sure I am home safely."
Amelia is able to love her family, despite being severely disabled and dependent.
Observed their mother: "Amelia will ration her energy and try to be awake for different pockets of time for each of us, such as when Dad returns home, because she wants to spend time with each of us."  
Five years ago, older sister Amanda took the drastic step of dropping out of school to be homeschooled, so as to spend more time with her sister.  
It was not an easy step to take. As an extrovert, she enjoyed herself as a Secondary Two student in Kent Ridge Secondary School, and was active in the concert band group and in student council.  
Her mother also did not want Amanda to sacrifice her education; their lives were already filled with uncertainty.
But Wendy's heart broke when Amanda said: "We know we do not have much time with Amelia." 
"I don't see it as a sacrifice. When you love someone, you would do it."
When Amelia's condition deteriorated in January, she could no longer be transferred from her narrow trolley bed in the living room to the larger bed in the bedroom at night.
"Moving her is risky as her airway is like a thin straw. Any small movements would affect her oxygen levels," explained Amanda.  
Knowing how Amelia enjoyed being hugged and held, however, Amanda challenged them both.
As the trolley bed was too small for Amanda to lie alongside her sister to cuddle her, Amanda hugged her by lifting her up to a sitting position instead. 
Each time Amelia sat up, her oxygen levels would drop to the 70s, and she needed to lie back down.  
"I tried lifting her and hugging her once, and asked her when we should stop. She indicated to me to continue, so we did it a few times," said Amanda.  
In one evening, Amanda can lift her sister up to hold her and put her back down up to five times. It is a physically demanding task as Amelia weighs about 40kg.   
"I don't see it as a sacrifice. When you love someone, you would do it. She would do the same for me if she could," said Amanda, who is currently interning at Salt&Light while pursuing her university studies.
Love one another. As I have loved you, so you must love one another. (John 13:34)
The devotion of parents
After a distressing period of almost losing Amelia from respiratory attacks in January, Amanda and her father broached the idea of taking Amelia on a cruise.
"I just wanted to see her to her 16th birthday."
Wendy was not so keen on the idea as Amelia needed a constant oxygen supply.  
Despite her maternal fears, she eventually gave in.  
"I challenged myself to get out of my comfort zone so that the family can do new things together. If we went on a cruise and lost Amelia, at least we can say we loved her as a family," she said.  
The risks were real, but she tried to mitigate them by writing to the cruise company beforehand to alert them about Amelia's condition.
A staff member even made a special exception to help grant Amelia's wish of taking the North Star ride, an airborne capsule that elevated the family high above the ship for 360-degree views of the ocean. Amelia's eyes opened wide as she took in the stunning sunset.
"I had to be willing to take some risks and take time to discover what Amelia likes," Wendy said.
Amelia's father, Kin Nam, who runs his own engineering firm, shows his love for Amelia in practical and resourceful ways.   
He designed for Amelia a bed with drainage holes that can be placed on top of the bathtub so that Amelia can be showered while lying down comfortably. He also made her a portable bed that can be wheeled around the house, and customised her wheelchair to fit an oxygen tank. 
Weni, the family's domestic helper, has also shown dedication to Amelia by taking care of her for the past seven years.  
She has not been back home to Indonesia to see her husband for four-and-a-half years since Covid first struck.  
Yet she chose to delay her return trip back home by a year in order to celebrate Amelia's milestone 16th birthday on October 1.  
"I just wanted to see her to her 16th birthday," said Weni.  
(Love) always protects, always trusts, always hopes. (1 Corinthians 13:7)
Fellowship of supporters
When the family celebrated Amelia's 16th birthday in a function room at the Republic of Singapore Yacht Club two weeks ago, they invited a number of children with special needs or who were from the Rare Disorders Society.
Among the guests was a baby who was recently diagnosed with INAD – only the second in Singapore after Amelia.  
"We wanted to share our journey with them so that they may also see the love and hope around. Our community has been such a support to us in this journey that may otherwise be a rather lonely one," said Amanda.  
Instead of collecting birthday presents, the family urged their guests to make a love offering to the INADcure Foundation which raises funds for research and a cure for the devastating disease.  
Despite being asleep for the first part of the party as she had to conserve energy, Amelia awoke just in time for the birthday speeches. She was even able to convey her appreciation to the family and friends present.  
"Amelia … you want to say something?" Wendy stopped in the middle of her speech and approached her daughter. "Say thank you?" 
"Mmm," Amelia expressed with effort.
"It takes a lot out of her, just to make a small sound," said her mother. 
But that night, Amelia was unusually "talkative". She made plenty of sounds. 
For even someone like Amelia, who cannot speak, can express love. 
Love one another. As I have loved you, so you must love one another. (John 13:34)
---
Read about the moving Faith and Hope of terminally ill Amelia Ng.
---
Salt&Light Family Night: How can my faith and my disability co-exist? 
Would you praise God if your child were born with a disability? Would you be angry with Him if an illness caused his disability? Would you wonder why healing never came?
When health and wholeness are not always apparent, can faith still remain strong? How can believers hold on to a God of goodness and healing in a life where there is disability?
Join our panellists in this month's Salt&Light Family Night, each of whom lives with some disability but have experienced a God of grace:
In 2018, a burst ovarian cyst led to septic shock for Carole Ann and possible organ damage because of infection and inflammation throughout her body. She was put in an induced coma for two months. While she survived, the medication given to save her resulted in gangrene setting in her arms and legs. All four of her limbs had to be amputated. She now uses a wheelchair and types with a stylus pen attached to her stump.
But it was during her coma that God appeared to her in visions assuring her of His love and majesty. She became very sure that God had preserved her for a purpose.
Principal of Queensway Secondary School, Peter Tan, is legally blind, the result of a genetic eye disorder called retinitis pigmentosa in which retinal cells die. There is no cure for it.
When his doctor first told him of the prognosis, Peter struggled with God for a very long time. He cried before Him, pouring out his insecurities and fear of what the future would hold.
In time, Peter found assurance that God would support and protect him. He attributes his courage to face the challenges to knowing God's presence from the hours and days he waited on Him.
Now, he is able to say: "Sighted or not, I will serve the Lord all the days of my life."
Joshua was born with achondroplasia, a bone growth disorder that causes dwarfism. Mainstream kindergartens refused to take him in and he was bullied in primary school. Yet, he found love and acceptance in his church. He is now a freelance photographer who serves in his church's worship team playing the drums. Joshua also shares his testimony at churches and schools.
Date: October 25, 2022  
Time: 8.30pm–10pm
Cost:  Free
Register at: https://bit.ly/familynightoct2022. Pre-registration is required.
About the hosts:
Carol Loi is a digital literacy educator, and leadership and family coach. A John Maxwell Certified Trainer for leadership and communication skills, she is also the founder of Village Consultancy, an organisation dedicated to equipping families, educators and children to be leaders and influencers both online and offline.
Alex Tee is a former banker turned home-schooling father and impact investor. He has been married to Channy for over 12 years and they have three children aged ten, nine and seven. The deepest desire of their hearts is to prayerfully raise children to be part of a family who seeks first the kingdom of God and His righteousness. Besides the passion to raise strong children, he also loves connecting the rich and the poor through impact investing.
About the organiser:
Salt&Light is an independent, non-profit Christian news and devotional website with a passion for kingdom unity, and a vision of inspiring faith to arise in the marketplace.
My name is Amelia Ng. I cannot speak, move or breathe on my own. But I can pray.
What hope is there when loss keeps happening? Terminally ill Amelia Ng defies the odds
If you have enjoyed reading Salt&Light...
We are an independent, non-profit organisation that relies on the generosity of our readers, such as yourself, to continue serving the kingdom. Every dollar donated goes directly back into our editorial coverage.
Would you consider partnering with us in our kingdom work by supporting us financially, either as a one-off donation, or a recurring pledge?
Support Salt&Light