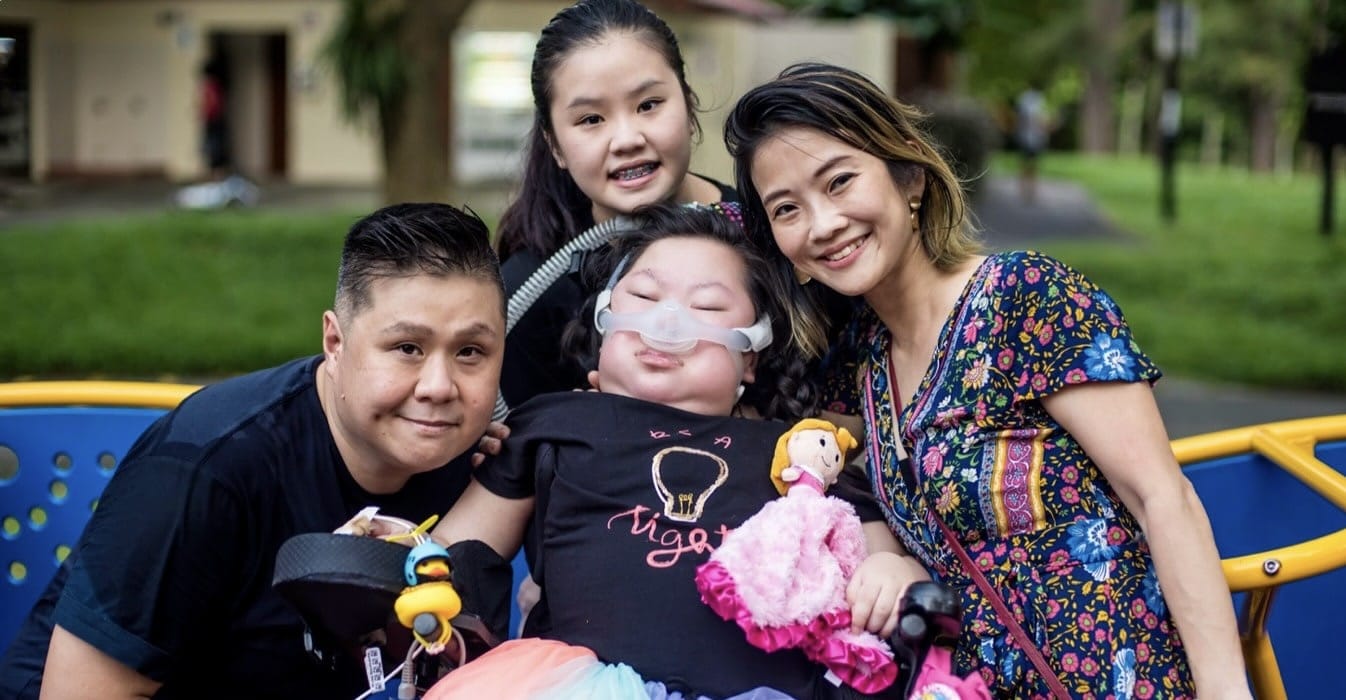 Amelia Ng (in wheelchair) with her parents and sister, Amanda, in a family photo shoot in 2020. Videos by Thomas Franks. Pictures courtesy of Amanda Ng.
Amelia Ng, 16, cannot eat, speak or move. On some days, even opening her eyes and breathing can be difficult.
She is the first person in Singapore to be diagnosed with Infantile Neuroaxonal Dystrophy (INAD), a rare neurological disorder that causes progressive damage to the nervous system.
  Amidst multiple challenges, Amelia's life has been characterised by joy, courage and love.
There are only about 150 children in the world with this condition. Many do not survive beyond their tenth birthday. 
In this series of three stories – The Faith, Love and Hope of Amelia Ng – Salt&Light finds out what it is like to be Amelia, and how the bedridden teenager who cannot speak can still profess her faith, her love and the reason for her hope. 
---
Her milestone 16th birthday party is in full swing. 
Amelia had requested a butterfly-themed party, and so the ballroom at the Republic of Singapore Yacht Club is beautifully decorated with dozens of gold and pink butterflies.  
The centrepiece of the day – lovingly put together by Amelia's mother, Wendy – is the dessert table.  
Apart from the tiered cake glittering with butterflies and edible gold leaf, the other sweets on the table are meticulously named.  
"Wheels of Joy" for the pastel cupcakes spinning on a mini ferris wheel. 
"Drops of Courage" for the cheery, colourful marshmallows.  
"Hearts of Melts" for the display of white chocolate hearts in a heart-shaped tray.   
"Cookies with Velvety Love" for the warm bakes of red velvet coconut cookies. 
Indeed, amidst multiple challenges, Amelia's life has also been characterised by joy, courage and love.
And the faithful community of family and friends gathered at the party are witnesses to the miracle of this her 16th birthday.
Loss upon loss
Infantile Neuroaxonal Dystrophy (INAD) is a progressive and degenerative disorder, and its symptoms intensify over time.  
Over the years, the Ng family has seen Amelia experiencing loss upon loss.
Amelia lost her ability to crawl when she was two years old.  
Lost her ability to chew and swallow at five years old. 
Lost her ability to use the eye gaze machine to communicate at 14 years old.
Now, at 16, even opening her eyes and taking a breath can be difficult.
A 16th birthday to remember 
Perhaps that is why Amelia is drawn to butterflies.  
Earlier in the week, a friend had given Amelia a lime butterfly pupa which had just pupated on a spoon. A butterfly was expected to emerge a few days later. 
Amanda, her sister, asked: "Why do you like the butterfly, Amelia? Because it represents freedom?"
No response.   
Because it is pretty? 
No response.   
Because it symbolises new life?  
Flutters eyes. (Yes)  
It has been one year since the Ng family finally managed to get a diagnosis of this rare condition of Amelia's. For the first 15 years of her life, Amelia's illness could not be identified by doctors.  
Every year of life for Amelia is extended time and hope; most children with the disorder do not survive beyond age 10.  
And so, each birthday celebration is a milestone, a triumph, a blessing. The family lives on the edge, never knowing which will be Amelia's last birthday. 
Amanda, who is three years older than Amelia, quit secondary school halfway to be homeschooled, so that she can spend more time with, and take better care of, her sister.  
"Our family believes that Amelia is not a mistake."
Amanda has since enrolled in a Psychology degree at university, and is also an intern at Salt&Light.
Amelia celebrated her 16th birthday on October 1, outliving her medical prognosis, to her family's gratitude.  
At the party, invited guests, including family, friends and parents of children with special needs or rare disorders, mill around the activity booths as the party get underway.  
The nail art and temporary butterfly tattoo stations delight the fashionista in Amelia. 
At another table, guests get to write their birthday wishes for Amelia on butterfly-shaped paper, to be hung as a mobile above her bed after the party so that she can read them whenever she wishes.  
Amelia, the strategist, knows she needs to ration her energy at the party in order to stay awake during the crucial speeches and cake-cutting moments later on, so she promptly closes her eyes.  
Her palliative care nurse from HCA Hospice, Poh Ya Nee, who is manning the nail art booth, wastes no time in giving Amelia's nails some butterfly stick-ons.  
Shortly after, the speeches commence.  
As if on cue, Amelia opens her eyes and listens.  
Mum Wendy begins speaking about her pain in seeing how her daughter gets weaker and weaker with each passing day.  
"All seems to be lost in the eyes of many. People may also question her quality of life," says Wendy frankly. 
"Our family believes that Amelia is not a mistake. She truly demonstrates who Jesus is – Amelia loves unconditionally, without asking for anything in return. Her faith has brought our family back to Christ. Her hope is that God will find a cure for INAD so that newly diagnosed kids can kiss the condition goodbye."
After the party, Amanda asks her sister why she still has hope in her life, despite living with a fatal disease.  
Amelia indicates – through blinks and swallows – that her hope lies in Jesus one day having a cure for INAD.
She becomes emotional and sighs at the mention of a cure. Her oximeter starts beeping, indicating a drop in her oxygen level.  
"I think it's because she knows she may never see a cure in her lifetime," Amanda confides.  
Currently, there is no cure or treatment for INAD that can stop the progress of the disease. As it is rare, there is also little funding for the research needed to find a cure.
Still on Amelia's to-do list: Going for another cruise, seeing more family and friends come to know Christ, and writing a book.
That is why the Ng family has been turning down birthday presents but urging their family and friends to donate to the INADcure Foundation, a non-profit organisation that does research in gene replacement therapy.  
Is there still hope?  
Hope, to Amelia's family, is holding on to their trust in God, believing that He will give Amelia the strength she needs for her time on earth, and believing in a heavenly reunion one day.  
Hope, to Amelia's palliative care nurse, is seeing the enthusiasm Amelia has in living out her remaining days.     
"Amelia is full of hope. She is always looking forward to doing new things with her family, whether it is going to a new place or doing a new type of art and craft. There are a lot of things that she wants to do," says Ya Nee.  
Still on Amelia's to-do list: Going for another cruise, seeing more family and friends come to know Christ, and writing a book.
Amelia's zest for life is apparent, and she still says "yes" to all that life has in store for her, as proclaimed in a song which her church friend sings at her birthday party:  
Through their lives, Amelia and her family teach others a lot about perseverance, love and hope.
And I know there is hope and glory 
Burning in those brilliant eyes 
And there's a mighty story 
By the Author of her life 
So her spirit's at rest 
And her heart can say "yes" 
For her hand's in His hands 
For her hand's in His hands. 
After the birthday speeches, Rev Timothy Das, Senior Pastor of Community of Praise Baptist Church where the Ng family worships, shares a word of encouragement and says a prayer for Amelia and her family. 
Through their lives, Amelia and her family teach others a lot about perseverance, love and hope, he notes.    
"Those are precious lessons for us and many others here who may be going through the same challenging circumstances.
"Let there be a refreshment, a renewal of faith, a renewal of hope and an encouragement that comes from you, Father."
"May there be great hope today," he prays.  
Among the friends present are not only families with children with special needs and rare disorders, but also a family whose baby has recently been diagnosed with INAD.  
"Let there be a refreshment, a renewal of faith, a renewal of hope and an encouragement that comes from you, Father, that will help them also take one day at a time," prays Pastor Timothy.  
What hope can look like then, beyond a desire for a cure and a zest for living, is perhaps having the fortitude to face the challenges of today, and also having just enough for tomorrow, he adds.  
The struggle, the hope
The struggle is real.  
Before a caterpillar can become a butterfly, it has to go through a pupa phase where a great deal of transformation happens beneath the surface. 
During this time, most of the tissues and cells that make up the larva are broken down inside the pupa, and they are rebuilt into an adult butterfly. 
Therefore we do not lose heart. Though outwardly we are wasting away, yet inwardly we are being renewed day by day. (2 Corinthians 4:16)
The struggle is necessary.  
As the butterfly approaches its moment of freedom, its wings push and push against the inside of the pupa. 
It is the pushing motion that strengthens the butterfly's wings so that, when it is ready to emerge, it is able to fly. 
On a bright Monday morning, Amelia's lime butterfly finally squeezes out of its chrysalis and flaps its black, white and yellow wings for the first time.  
Amelia falls in love with this new life after witnessing its metamorphosis.  
The family feeds the butterfly some honey, and plans to release it the next day.  
The following evening, Amelia watches as her family members help her to release her butterfly.  
There is a lingering reluctance at the parting, but her eyes open wide as she watches the butterfly take flight from the balcony towards the sea.  
In the same way, Amelia knows that her family, especially her mother, may need more time before she, too, flies off.
And so, she fights on to live another day. 
---
Read more about the moving Faith and Love of terminally ill Amelia Ng.
My name is Amelia Ng. I cannot speak, move or breathe on my own. But I can pray.
Amelia Ng may not be able to choose how long she lives. But she chooses how much love she gives
---
Salt&Light Family Night: How do I reconcile my faith with my disability? 
Would you praise God if your child were born with a disability? Would you be angry with Him if an illness caused his disability? Would you wonder why healing never came?
When health and wholeness are not always apparent, can faith still remain strong? How can believers hold on to a God of goodness and healing in a life where there is disability?
Join our panellists in this month's Salt&Light Family Night, each of whom lives with some disability but have experienced a God of grace:
In 2018, a burst ovarian cyst led to septic shock for Carole Ann and possible organ damage because of infection and inflammation throughout her body. She was put in an induced coma for two months. While she survived, the medication given to save her resulted in gangrene setting in her arms and legs. All four of her limbs had to be amputated. She now uses a wheelchair and types with a stylus pen attached to her stump.
But it was during her coma that God appeared to her in visions assuring her of His love and majesty. She became very sure that God had preserved her for a purpose.
Principal of Queensway Secondary School, Peter Tan, is legally blind, the result of a genetic eye disorder called retinitis pigmentosa in which retinal cells die. There is no cure for it.
When his doctor first told him of the prognosis, Peter struggled with God for a very long time. He cried before Him, pouring out his insecurities and fear of what the future would hold.
In time, Peter found assurance that God would support and protect him. He attributes his courage to face the challenges to knowing God's presence from the hours and days he waited on Him.
Now, he is able to say: "Sighted or not, I will serve the Lord all the days of my life."
Joshua was born with achondroplasia, a bone growth disorder that causes dwarfism. Mainstream kindergartens refused to take him in and he was bullied in primary school. Yet, he found love and acceptance in his church. He is now a freelance photographer who serves in his church's worship team playing the drums. Joshua also shares his testimony at churches and schools.
Date: October 25, 2022  
Time: 8.30pm–10pm
Cost:  Free
Register at: https://bit.ly/familynightoct2022. Pre-registration is required.
About the hosts:
Carol Loi is a digital literacy educator, and leadership and family coach. A John Maxwell Certified Trainer for leadership and communication skills, she is also the founder of Village Consultancy, an organisation dedicated to equipping families, educators and children to be leaders and influencers both online and offline.
Alex Tee is a former banker turned home-schooling father and impact investor. He has been married to Channy for over 12 years and they have three children aged ten, nine and seven. The deepest desire of their hearts is to prayerfully raise children to be part of a family who seeks first the kingdom of God and His righteousness. Besides the passion to raise strong children, he also loves connecting the rich and the poor through impact investing.
About the organiser:
Salt&Light is an independent, non-profit Christian news and devotional website with a passion for kingdom unity, and a vision of inspiring faith to arise in the marketplace.
If you have enjoyed reading Salt&Light...
We are an independent, non-profit organisation that relies on the generosity of our readers, such as yourself, to continue serving the kingdom. Every dollar donated goes directly back into our editorial coverage.
Would you consider partnering with us in our kingdom work by supporting us financially, either as a one-off donation, or a recurring pledge?
Support Salt&Light