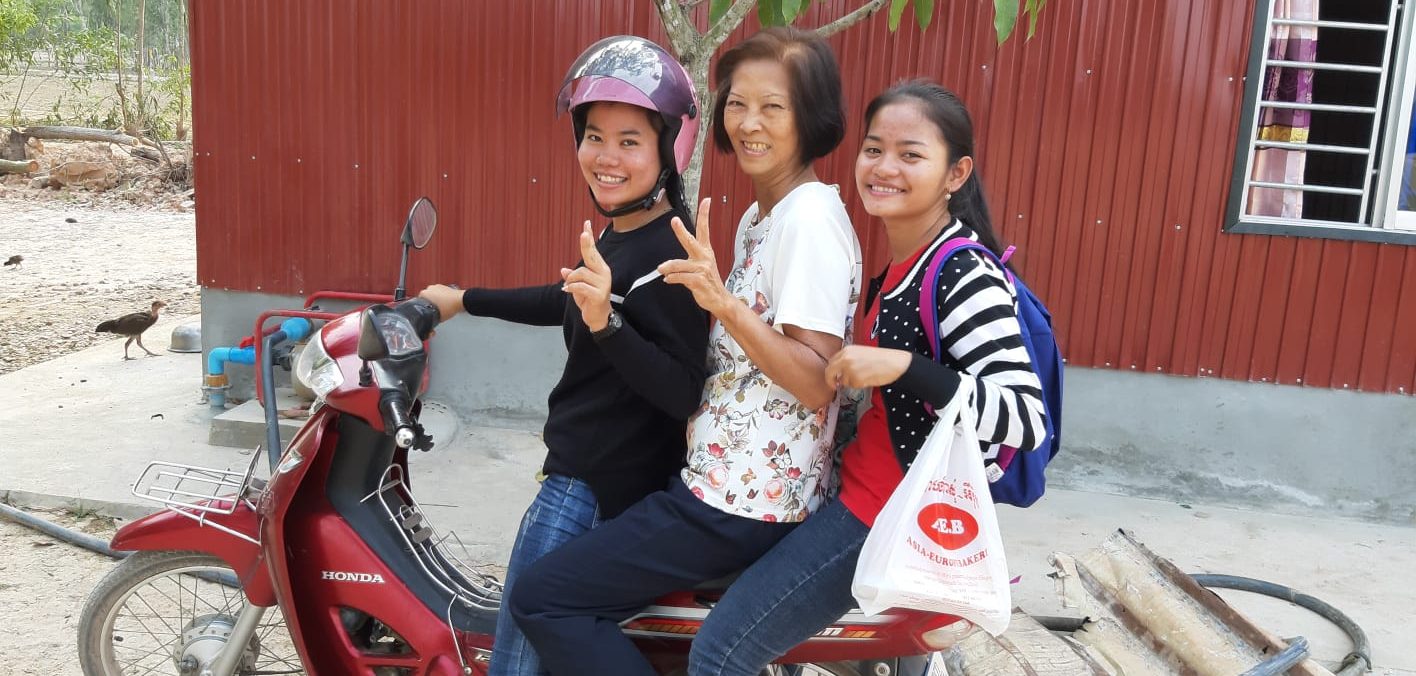 Constance Ng (centre, with two local teachers), 74, has been teaching English full-time to young children in a small village in Cambodia since 2017. It is a fulfilment of a calling she felt when she made her first of many annual mission trips there more than 20 years ago. All photos courtesy of Constance Ng.
"I think I'm not suited to go for mission trips because I don't know how to pray," Constance Ng had told her church leader.
She was then a new Christian, in her 40s. 
"I will stay in Cambodia until the Lord calls me home."
Her leader's reply was simple: "God is the One who teaches and equips you. So just go."
That simple statement sunk deep in Ng's heart.
So Ng went on her first mission trip to the Svay Rieng Province of Cambodia, to teach English to a small group of children. 
It set in motion a love that would see her moving there for good at age 70.
The advertisement
Over the next 22 years, Ng's heart for the children grew and grew. She would return to the village annually with a group from St Hilda's Church for up to two weeks each time. Sometimes she made a few trips a year. 
"I grew a desire to want to teach English to the children there full-time, but I wasn't properly trained and I didn't know if I was capable enough," Ng, now 74, told Salt&Light. 
There was also never really a "right timing".
Ng was working full-time as an office manager and assistant to the dean at a university.
In the village, there was no proper building or classroom. Given the limited accommodation options, it was also inappropriate for a single woman to live in close proximity with other visiting teachers and pastors, who were mostly men. 
"God is the One who teaches and equips you. So just go."
"I was waiting and waiting for the Lord for a sign to know when is the right time to serve in Cambodia permanently," Ng said.
She held to Psalms 27:14: "Wait for the Lord; be strong, and let your heart take courage; wait for the Lord!"
Then in 2016, while flipping through the newspapers, Ng came across an advertisement for a Teaching English to Speakers of Other Languages (TESOL) course. As Ng did not have a university degree, she needed this certification if she wanted to teach in Cambodia.
The advertisement would jump at her again over the next few days. She took it as a sign from God.
Ng later resigned from her job and focused on preparing for the big move to Cambodia.
Apart from the TESOL course, Ng also attended a three month programme at Tung Ling Bible School, to prepare for ministry work and strengthen her spiritual growth.
"Though none go with me, still I will follow. No turning back, no turning back."
To equip herself to teach and interact with kids, she also observed lessons at St Hilda's Kindergarten. It is affiliated to St Hilda's Church, where she had been worshipping for the last 30 years.
"God would constantly drop ideas into my head on how to make lesson plans more creative and interesting. It is not by my own capability but God who equips me," Ng said.
At that time, God was moving in the village too. 
The Hope Anglican Centre (HAC) was being constructed. Its third level was going to be reserved for the Church of Christ our Redeemer (CCOR) Language Centre, where the village children could learn English – for free.
HAC knew about Ng because of her frequent visits to the village. So when she approached them about serving full-time, they agreed for her to supervise the centre.
The building would also house the pastors' office, a dining area and sleeping quarters for visitors, where Ng could stay – for free.
With everything aligned, Ng knew that this was God's confirmation for her to go full-time.
The big move
When the HAC was finally ready in 2017, Ng packed her bags and flew off to the village again – this time for good.
Ng sold her family home – a terrace house she had bought over from her father. She donated a portion of the proceeds to Christian organisations and her church. The remainder was for her use in Cambodia.
"It is not by my own capability but God who equips me."
She does not need much in Cambodia. Accommodation and food is provided by the HAC. Her church blessed her with a sum of money for the trip. 
Looking back, Ng said her decision was one that reflected the old-school hymn, I have Decided to Follow Jesus: "Though none go with me, still I will follow. No turning back, no turning back."
Ng acknowledges God's hand at work. And counts among her blessings how God has conditioned her body for Cambodia. 
"When other short-term mission volunteers come, their t-shirts would be soaking wet within an hour. But I am somehow able to take the heat." 
She has only been bitten by mosquitoes twice so far, compared to other volunteers who have dozens of bites within days. 
The simple life
A typical day for Ng starts at 7am, when she would have breakfast and a time of praise and worship with the four local teachers. They would then start preparing for the day's lessons.
Three of the teachers, who are Christians, would occasionally incorporate Christian action songs – such as Jesus Loves Me this I Know and Because He Lives – in their lessons too. 
"The children love it whenever we teach them new action songs," said Ng. "In fact, they always request for us to teach them more."
Around 200 children aged six to 15, walk through the doors of the CCOR language centre everyday. It has six classrooms. Currently, it holds five one-hour long classes each day. 
Ng has been humbled by the childlike faith of her students and has learnt the joy of living simply. 
The local teachers are in their early twenties – all undergraduates majoring in English. Ng is taking them through an International English Language Testing System (IELTS) programme to better equip them.
Their English is currently at that of a Primary 3 student in Singapore, but fast improving because of "their good learning attitude". 
"Working with people five decades younger than me has been very humbling," said Ng.
"I learn new things everyday. I am more aware of the youngsters' likes and dislikes. And am more conscious about some of my old-school thoughts such as how to discipline the children."
Ng is thankful for the bond she has with the teachers, despite the generation gap. They would would visit Phnom Penh once a month to eat and shop together.
Slowly but surely, Ng is trying to learn the Khmer language, so that in time, she will be able to converse with the local teachers when they lapse into their native tongue. 
Ng has been humbled by the childlike faith of her students. From them, she has learnt the joy of living simply. 
"There is a big difference between the children in Singapore and Cambodia," said Ng.
"In Cambodia, the kids are independent and rough it out. They like to run around in the mud without shoes. But more importantly, they accept things and seldom complain."
Never alone
Friends have been concerned about Ng's emotional well-being and often ask if she feels lonely. However, she is content in knowing that she never walks alone because "God has always been faithful".
"I actually think that it is easier to serve because I am single," said Ng. 
"I don't have to play the role of a wife, mother or grandmother. So in a way, I have nothing holding me back. Being single is really another preparation by God."
Isaiah 6:8 rings true for her: "The Lord says: 'Whom shall I send, and who will go for us?' Then I said: 'Here I am! Send me.'"
"I don't have to play the role of a wife, mother or grandmother. I have nothing holding me back."
"Obedience does reap benefits and I am thankful that God has blessed me with good health," said Ng, who only pops pills for her cholesterol once a week. 
Because of Covid-19, Ng has temporarily returned to Singapore on the advice of her leaders and friends. She will return to Cambodia as soon as her visa is approved.
"Many people have asked me how long I will stay in Cambodia. My answer has always been the same: I will stay in Cambodia until the Lord calls me home," said Ng, tearing up. 
"No one retires in the Lord."
---
MORE STORIES ON PEOPLE SERVING GOD IN THEIR GOLDEN YEARS:
Giving God our golden years: 7 tips from seniors who lead the way
This busy octogenarian is never lonely, even during lockdown
Actively serving God, blessing others, in their golden years
If you have enjoyed reading Salt&Light...
We are an independent, non-profit organisation that relies on the generosity of our readers, such as yourself, to continue serving the kingdom. Every dollar donated goes directly back into our editorial coverage.
Would you consider partnering with us in our kingdom work by supporting us financially, either as a one-off donation, or a recurring pledge?
Support Salt&Light