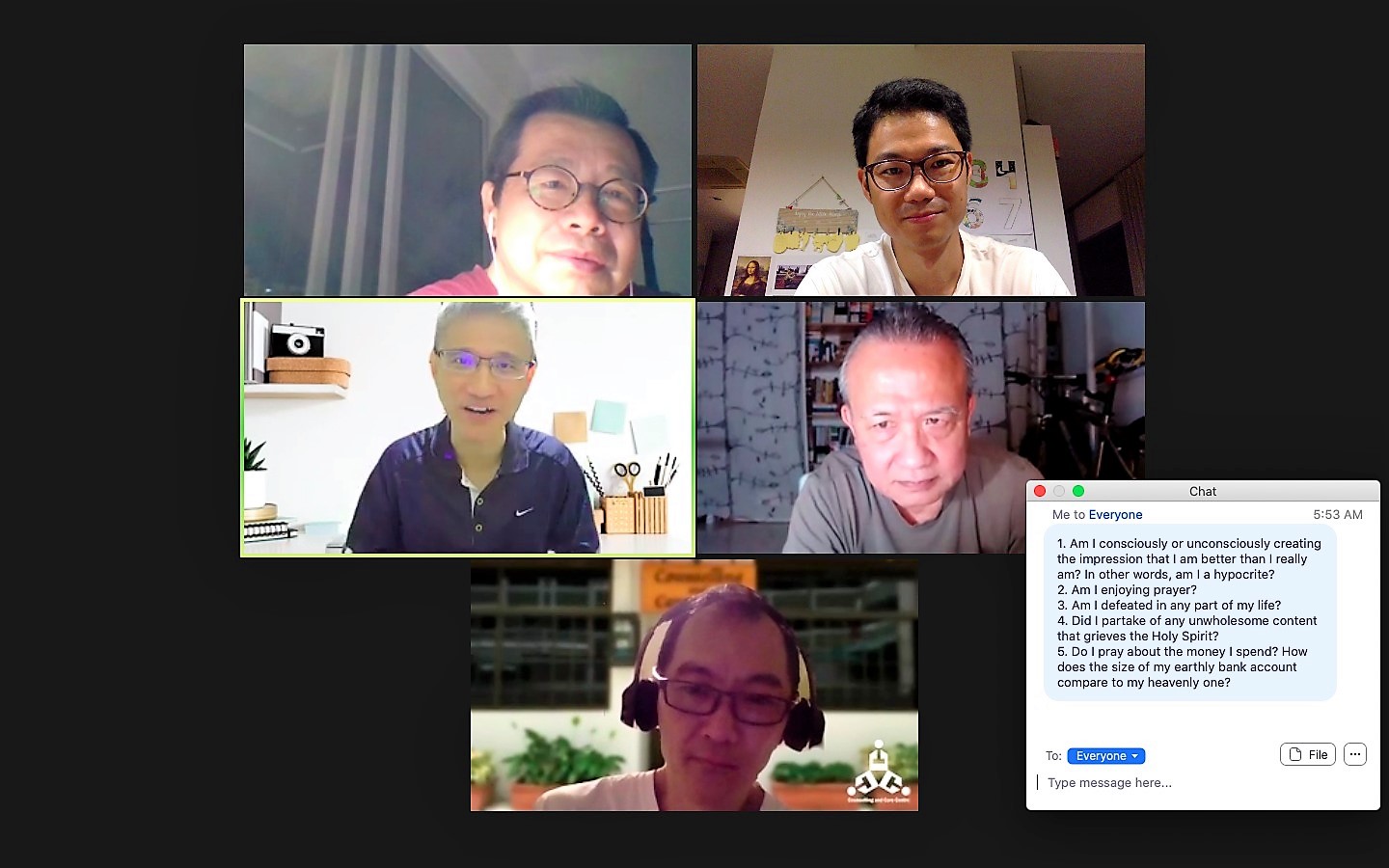 (Clockwise from top left) Jason Wong, Alex Tee, Ps Randy Khoo, Wee Boon Choon and Elijah Sim at one of the 5.45am Zoom accountability group meetings. The questions on the right are designed to get them to reflect on their walk, work and marriages. Photo courtesy of Alex Tee.
Are you a hypocrite?
Do you pray about the money you spend?
How are you like Christ more today than yesterday?
Every Tuesday for the last six months, five men have met at 5.45am over Zoom to ask soul-searching questions that make them reflect on their life, their faith and their marriages.
Theirs is not a cell group meeting. The men are from different churches.
Theirs is not a prayer meeting. That happens on another morning at an even earlier time – 4.56am.
Theirs is an accountability group. It does not have a name. But its purpose has been clear from the start.
Said banker turned home-schooling father Alex Tee, 42, who founded the group: "I see the value of being accountable. It's one of those things that we yearn for – to know and be known, and to be honest.
"Most men would want a group like that but they were not to be found."
So, he started one and invited two men for whom he had a lot of respect – Wee Boon Choon, 67, a retired grandfather of four who used to be an inflight manager with Singapore Airlines, and Jason Wong, 58, a centre manager at The Salvation Army.
Boon Choon invited a mutual friend of his and Jason's – Elijah Sim, 52, who is a counsellor. The last member Alex added to the group was Pastor Randy Khoo, 48, from The People's Bible Church.
Said Ps Randy of his decision to join the group: "Change comes from the community, and from the right community."
Asked why he picked these men in particular, Alex explained: "They are all leaders in their own right. They are all mature (in their faith).
"We picked leaders to start because we recognise that leaders need to have this accountability structure and if leaders can model this, it's much easier to expect anyone else to fall into the discipline."
Fathers on their knees
True friendships among men at any age are precious.
Alex stressed that the accountability group works because the men are friends and have a strong level of trust amongst them.
Agreed Elijah: "I do have men good friends but I think the friendship with this band of brothers is nothing like the kind of good friends I used to have, even Christian good friends.
"In the past, the good Christian friends are those we do ministry with. It's about doing things together. With this group, (our friendship) began with prayer."
Though a few of them had known each other for several years, decades even, they had merely been work or church acquaintances. It was Elijah7000 that bonded them.
The movement has weekly Saturday prayer meetings throughout the island that begin at 4.56am. The timing is a reference to Malachi 4:5-6, a rallying cry to "turn the hearts of all fathers to their children" and the mission of Elijah7000. It was through these prayer meetings that the men grew closer to each other.
Said Boon Choon: "Jason kept inviting me to the 456 prayer meeting. I said 'yes' but with no intention to go. I was asking, 'Why do you meet at that hour? 6am is more reasonable.'"
But his wife overheard the conversation and encouraged him to go, reminding him that in his days as part of the SQ cabin crew, he had woken up at odd hours for work.
When Boon Choon eventually went, he was surprised to see so many fathers on their knees in prayer.
"My first encounter made me think there are 'crazy' fathers there. These are fathers who are serious about their Christian faith."
That common desire to be better fathers strengthened their friendship.
Said Jason: "We are the same – fathers, sons of God, putting aside our own titles and profession. We just pray on our knees and cry on our knees, repenting. That experience was so real for me."
More than a prayer group
Sometime in 2020, each of them started to feel that they needed more than the prayer group to help them in their faith and fathering journeys.
Said Boon Choon: "I am very much for the importance of accountability groups. I have felt that it is good because Christian leaders need to be accountable to one another.
"I have been wanting to have a group to check on one another in our Christian growth and Christian life."
When Alex mooted the idea, they "jumped at it".
"It shows the maturity and willingness (of these men) to count the cost," said Alex.
Certainly, there is a cost because waking up before sunrise on a work day just to meet is not easy.
As to why it has to be in the morning instead of, perhaps, after work, Alex said: "The early mornings are such a pattern for our Lord so we did want to try and emulate that. There is something about the mornings when the mind and the spirit are fresh compared to later in the night.
"We also didn't want to start any later because it would get in the way of the day – sending wives off to work, seeing the kids off to school."
Space for struggles
But why is there a need for a separate group when church already has cell groups?
Said Elijah: "In church, there is somehow some censorship when we share for well-intended reasons. The church people all know each other. So, the sense of being able to feel completely safe may not always be there."
Being a leader also reduces the number of platforms for heart-to-heart sharing.
"There is a certain sense that if I were to share my vulnerability, am I going to be stumbling somebody else? Because in a cell group, the level of spiritual maturity can be quite different.
"Even when I share, it is to model vulnerability. There is the weight that I am supposed to be doing something – I'm sharing so people can share," said Elijah.
In modelling the Christian walk, there is often less space for struggles that have no solutions.
"I feel like if I share, I also need to share a little bit of my overcoming journey so that I can be inspiring; I need to share my testimony about how I have overcome to give hope to people."
The accountability group offers a place to "share honestly and not just give but also receive".
22 Questions
Each meeting lasts only an hour and begins with prayer before they take turns to answer one or two of these questions:
Am I consciously or unconsciously creating the impression that I am better than I really am? In other words, am I a hypocrite?
Am I enjoying prayer?
Am I defeated in any part of my life?
Did I partake of any unwholesome content that grieves the Holy Spirit?
Do I pray about the money I spend? How does the size of my earthly bank account compare to my heavenly one?
How I am like Jesus more today than yesterday? What is hindering me from being more like Jesus today?
The questions do not change and, by now, the members know them by heart. But for the last question which was contributed by Jason, the rest have been adapted from John Wesley's 22 questions.
"I love studying church history and these heroes of the faith. Wesley was one who was more serious about accountability," explained Alex. 
Then, the real work begins – the honest sharing.
Vulnerable and personal
"The questions that have been set forth are really questions where you have to be vulnerable. These are very direct questions. It involves the question, 'Are you being humble? Are you defeated?'
"You cannot beat around the bush. It calls for honesty and vulnerability with one another. And when we are real with one another, vulnerable, it helps us keep to the straight and narrow path," said Boon Choon.
Agreed Jason: "This is different from all the other brothers I have met in church. The difference is that we go deeper in the area of being vulnerable and we share very personally."
Such reflection in a group is new. "The furthest I get asked (in the past) is, 'Have you done your Quiet Time?'" said Elijah with a laugh.
That this is a gender-specific group helps during sharing.
Said Jason: "Some issues that we face with our spouse can be quite challenging emotionally. There is a lot of emotions in it. Even if you bring it to the wife and share, it can be quite explosive.
"Then you have nowhere to go than on your knees. When you have an accountability group, you have other men you can share with that you know you can trust."
Called to account
Six months may be too soon to evaluate the effectiveness of the group but Alex maintained that it has been helpful for him.
"We often fail to appreciate the forces that act against us throughout the week, throughout the day when we are weak, down or haven't had enough rest. It is then that the temptations would come along and we find ourselves quite defenceless.
"With this discipline and this structure, we are introducing another force that will keep us on the straight and narrow. All through my week, I know what these questions are and they are replaying in my mind especially when I'm tired. I know, I better not embarrass myself come Tuesday."
Agreed Ps Randy: "Knowing that someone will ask me to account for key areas of my life makes me want to do what's right."
That consciousness is what Boon Choon appreciates as well because it helps him check his behaviour throughout the week.
The opportunity to have others weigh in thoughtfully has helped Elijah. "Hearing and sharing makes me more thoughtful about how I respond to my wife. When I hear what they share, it also inspires me and helps me to learn why the Lord puts certain into things our lives.
"Then, I begin to look at myself more than at others and be more introspective rather than blaming and externalising."
As a marriage counsellor, Elijah often tells couples to carve out couple time to maintain their marriage. This is not something he often does, he confessed.
"So, this is linked to the question: Am I a hypocrite? Do I preach one thing and do another? It has helped me to keep in check."
Where we are, where we want to be
Another area about which the men think hard is money. "I'm selective about my giving," admitted Boon Choon.
"But Alex shared that it is not how much you give but what you keep, and I have been doing a lot of reflection in this area.
"This group is encouraging us to sharpen one another, to learn to have a better perspective."
Added Jason: "I look at my bank account and think, 'Lord, I truly need to give.' I have been thinking hard over the last few months that when the Lord says, 'Give', we give."
Of this band of brothers bent on being better for God, Alex said: "For everyone, there exists a gap between where we are and where we want to be. These men talk about the specifics of this gap vulnerably, authentically.
"And the sincere effort in everyone to want to close the gap is very moving. It encourages me to keep plodding along the narrow way."
---
How to start an accountability group
Desire accountability
Invite others who also desire accountability
Keep the group small – no more than five
Keep the meeting short
Start with prayer
Use questions that elicit self-reflection
Meet regularly
Salt&Light Family Night: How can I be accountable in my marriage?
In recent times, fallen Christian leaders have made the news, shaken the church and triggered the world to  question the faith.
Pastors, preachers, leaders – one by one brought down by indiscretion, infidelity and sexual scandals –  leaving the rest of us to ask: How can we do better? How can we safeguard ourselves and our marriages?
Join us on Salt&Light Family Night as hosts Carol Loi and Alex Tee talk to husbands and wives across different ages – 30s, 50s and 60s – who share how they build accountability into their relationships and protect their marriages.
Date: Tuesday, March 30, 2021
Time: 8.30m-10pm
Cost: Free
Register now at: http://bit.ly/SLFamilyNight30Mar
About the Organiser:
Satl&Light is a Christian news digital platform where believers can unite in spirit and purpose to see God in the 9-to-5, to influence and to impact, to find meaning in the mundane and to wrestle with doubt and despair in faith – and find amazing grace for the journey ahead.
About the Hosts:
Carol Loi is the International Director of Generations of Virtue, a ministry committed to transforming culture, one family at a time. She runs a social enterprise Village Consultancy that provides digital literacy education as well as John Maxwell Certified training on leadership & family life. She and her husband are raising two teenagers.
Alex Tee is a former banker who left the corporate world to home-school his three young children. His deepest desire is to prayerfully raise children who seek first the kingdom of God and His righteousness. He is part of the Elijah 7000 group of fathers who meet every Saturday at dawn to intercede for families and the nation.
---
RELATED STORY:
If you have enjoyed reading Salt&Light...
We are an independent, non-profit organisation that relies on the generosity of our readers, such as yourself, to continue serving the kingdom. Every dollar donated goes directly back into our editorial coverage.
Would you consider partnering with us in our kingdom work by supporting us financially, either as a one-off donation, or a recurring pledge?
Support Salt&Light