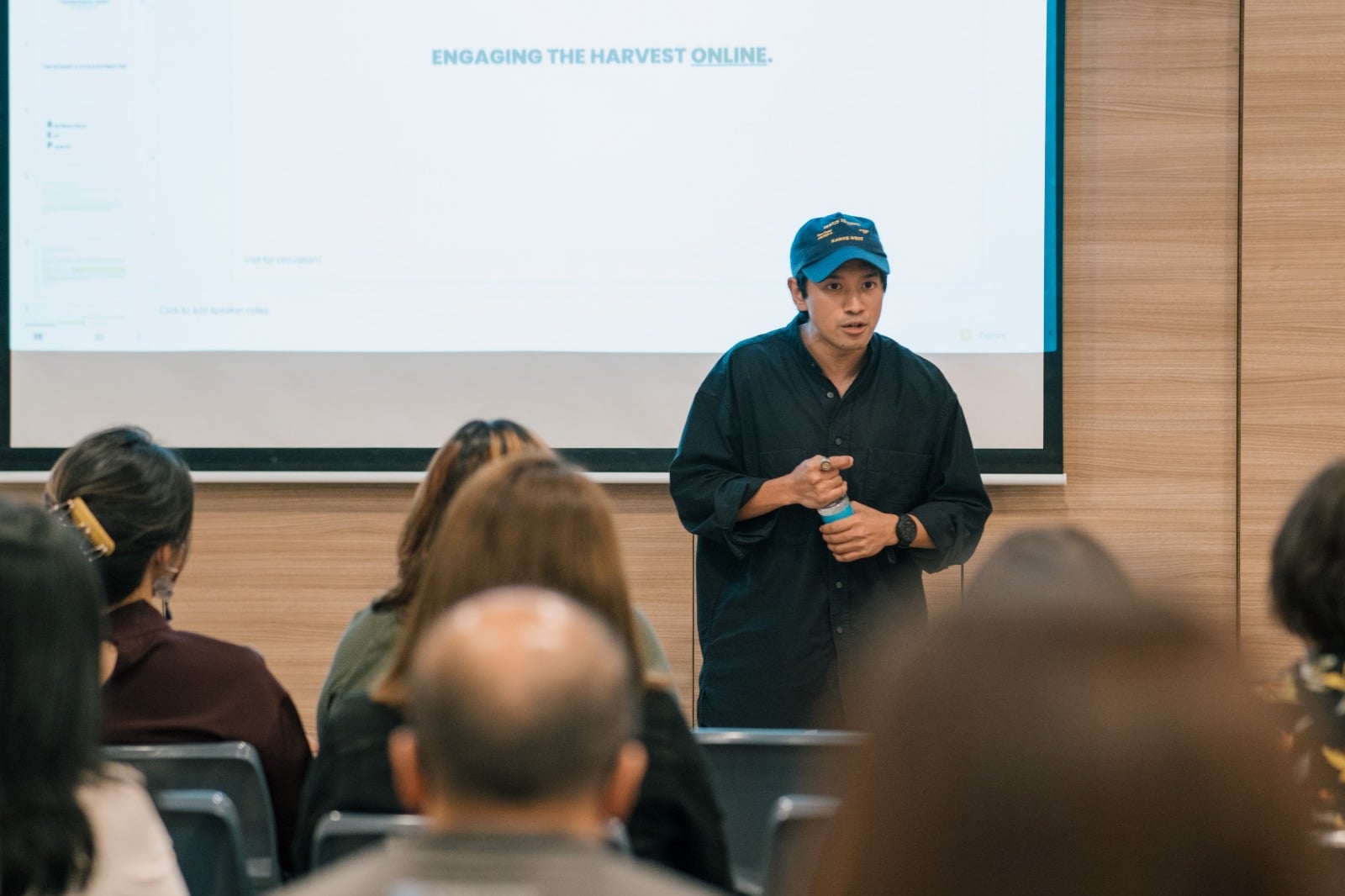 When pioneering a digital ministry, Isaac says the church must first be clear of its purpose and why it exists. All photos courtesy of APCCS unless otherwise stated.
The pandemic has changed the way Christians worship, as churches scrambled to shift services online.
Two years since Covid-19, it is now commonplace for churches to have a camera in place and services livestreamed, even as physical services resume.
Churches and Christian organisations all over the world have also adopted various online tools to reach and connect with people.
Finding meaning in digital spaces
"There are endless possibilities of what you can do online," said Isaac Ong, one of the speakers at the APCCS Lift Conference, organised by the Alliance of Pentecostal & Charismatic Churches of Singapore.
It was held from 15 to 17 June at Grace Assembly of God (Tanglin) to inspire and equip church leaders for effective ministry.
Isaac spoke at one of the sessions, "Digital Church", sharing his insights on how churches can use technology to bless others.
"You are here to be light, to bring out the God-colours of the world. It's not a secret to be kept."
The 34-year-old online campus coordinator at Cornerstone Community Church and founder of social enterprise Colours Global emphasised that the church must first be clear of its purpose and why it exists.
Isaac said: "We're here for discipleship, we're here for people to encounter God, we're here to spread the Gospel and to do missions."
He added, referencing Matthew 5:13-16: "We are here to be salt – seasoning that brings out the God-flavours of this earth.
"If you lose your saltiness, how would people taste godliness? You would have lost your usefulness and end up in garbage.
"Here's another way to put it: You are here to be light, to bring out the God-colours of the world. It's not a secret to be kept."
Isaac believes the online space is "incredibly effective and highly portable", an important tool in bringing the Gospel to where people are.
"It's really such a waste that we don't employ it or find out how we can use it."
A new initiative
That conviction led to the birth of community+, a digital ministry founded by Cornerstone Community Church.
It is a weekly Wednesday night service held in a studio and livestreamed on YouTube. On the last week of the month, the studio is open for people to attend the service in person.
Isaac was part of the initial team of five full-time staff and two administrative staff, including a pastor who conceptualised the initiative. The team ran two rounds of closed-door pilots, taking into account feedback and adjustments before it was launched in 2021.
To date, the YouTube channel has garnered about 1,700 subscribers, with 400 to 600 unique viewers who return weekly to attend the online service.
Isaac said: "People are looking for truth, and we as a church have the ability to bring the biblical worldview to them.
"Our hope is that with community+, they may not say yes to Jesus but they resonate with these biblical worldviews."
He added: "We were not looking to build a church, we were not looking to make sure people must come every week. Our goal was very clear: We wanted to create content that will be a blessing to the body.
"We wanted to create content that will be a blessing to non-Christians. Where they end up and where they go, we are ok to be open-ended about that."
Sowing the seeds
So what's the most important thing to keep in mind when pioneering a digital ministry? Just get started.
"When you start, you increase your learnability and also the amount of innovation that happens all around. You will also invite other people to join," said Isaac.
"If you're waiting for the ideal everything, you might as well not move."
Waiting until everything is perfect to start is simply not possible.
"If you're waiting for the ideal team, you're waiting for the ideal equipment, you're waiting for the ideal everything, you might as well not move," he said, adding that the church's duty is just to put forth our five loaves and two fishes for God.
Isaac suggested the following mindset: "This you can be sure of Lord – I will always steward the things that you've placed in my hands, well.
"I will not bury it in the ground because I am fearful, Lord, I will use it."
He shared some do's and don'ts of starting a digital ministry, as Christians and churches prepare for the missions field online.
Do's
1. Work with what you have
Each church has a congregation that is unique. Different churches minister to different groups of people.
Since no two churches are the same, the resources they have may also vary.
It is for this reason that Isaac encouraged churches to adjust their resources based on what they have.
He said: "Every church must find for themselves their needs and their strategy."
It could be something like committing to doing something in the online space every Tuesday for a month, or creating an Instagram page for the church.
The church may choose to reach out to the lost or start with strengthening their relationship with their current congregation.
Resources also comprise people who come together to use a digital tool for a new ministry or project.
"You have to identify the people that you need to gather," said Isaac, adding that it means deciding whether the team will comprise volunteers or full-time church staff.
But with the endless options available online, someone has to make the call to steer the team in a specific direction.
2. Have someone decisive on the team
"If you want to start on anything deeply innovative, try to make sure that the decision-maker is in the committee," said Isaac.
He added that having a decision-maker helps to portray the team's vision clearly to both the team and people approving the new project, which could be the church board or pastors.
"People are looking for truth. We as a church have the ability to bring the biblical worldview to them."
"And the truth is, not all our pastors or leaders need to be innovative, but the innovative people in church must play their role in the church," he said.
Although Isaac helped to build the strategy and overall vision for community+, having a pastor on his team helped to establish credibility and ensure the team was on the right track in this new ministry.
One of the key decisions the team made was to create an Instagram page.
Isaac said: "Our Instagram page makes sure that people get the information when they see us on social media. It's where we create bite-sized content to make sure that for those who didn't get to join us, there is still an opportunity for them to take away some sort of value."
This has served the team well in creating awareness on the initiative.
However, Isaac cautions that every project will invite comments, constructive or not.
3. Gatekeep your feedback
Whenever something new is launched, people will have something to say about it. Isaac raised the importance of deciding what to treat as valuable advice and on the other hand, what will not work for the project.
However, one must be attuned to identifying good feedback when it comes along and implementing it.
Isaac said: "Feedback that is very important actually questions the values, foundations and principles."
community+ services initially began with worship before going into the message, a sequence familiar to many Christians.
However, as they aimed to reach non-believers as well, the team received feedback to start with the message first so it would be less confusing for people who are not familiar with worship.
The team responded promptly, shifting worship to the end, allowing for both Christians and non-believers to respond and reflect accordingly.
Don'ts
1. Fear failure
Moving ministry to the digital space may be daunting, but constantly fearing what could go wrong will not get the ministry anywhere.
Isaac said: "You need to adjust your expectations and say 'I'm willing to not know everything' because the truth is, if you only want to know every single piece before you take a step, I don't know if you'll ever make that step."
"I don't know at what point we were tasked to make Christianity impossible or difficult for people."
He added: "We need to be people that have an appetite or at least a level of resources to say we don't mind failing a bit. We should not mind making mistakes and boo-boos here and there."
Isaac gave the analogy of baby-proofing a home: "If done to the whole house, one might as well put the kid in a ziplock bag and the kid would not be able to be a kid anymore."
Ultimately, it is better to move away from fearing failure and instead having faith that it is not just the church's project but God's, too.
He said: "I need to trust the Lord with the building of the Church, I need to trust the Lord with the building of the programme, I need to trust the Lord with the innovation and creativity."
He added that Christians should ask God how they can steward what He has given them for His glory.
2. Make excuses
Moreover, it is easy to find many reasons not to adapt to online tools.
Many assume that things done in the digital space should be left to young people who are more "tech-savvy". Isaac begs to differ.
He said of his experience interacting with seniors in his church: "They are very active on the different platforms, whether it's Facebook, WhatsApp or Instagram."
He added: "If your child is on Instagram, Facebook or WhatsApp, you're not going to say, 'Aiya, it's a young people thing.' If you're so invested in finding out what your child is doing, go download the app."
While conceptualising community+ as a digital church, there were concerns that participation would be too passive because of its perceived accessibility.
"I don't know at what point we were tasked to make Christianity impossible or difficult for people," said Isaac.
At the end of the day, regardless of the type of digital tools or online space, Isaac believes the best way to approach is "to be a person that is always learning, teachable, humble to go run for (God's) glory, for the sake of the mission, for the sake of the Gospel."
---
RELATED STORIES:
How can we be effective witnesses in an impersonal digital age?
"Listen better": World Vision International's Andrew Morley on reaching millennials
If you have enjoyed reading Salt&Light...
We are an independent, non-profit organisation that relies on the generosity of our readers, such as yourself, to continue serving the kingdom. Every dollar donated goes directly back into our editorial coverage.
Would you consider partnering with us in our kingdom work by supporting us financially, either as a one-off donation, or a recurring pledge?
Support Salt&Light