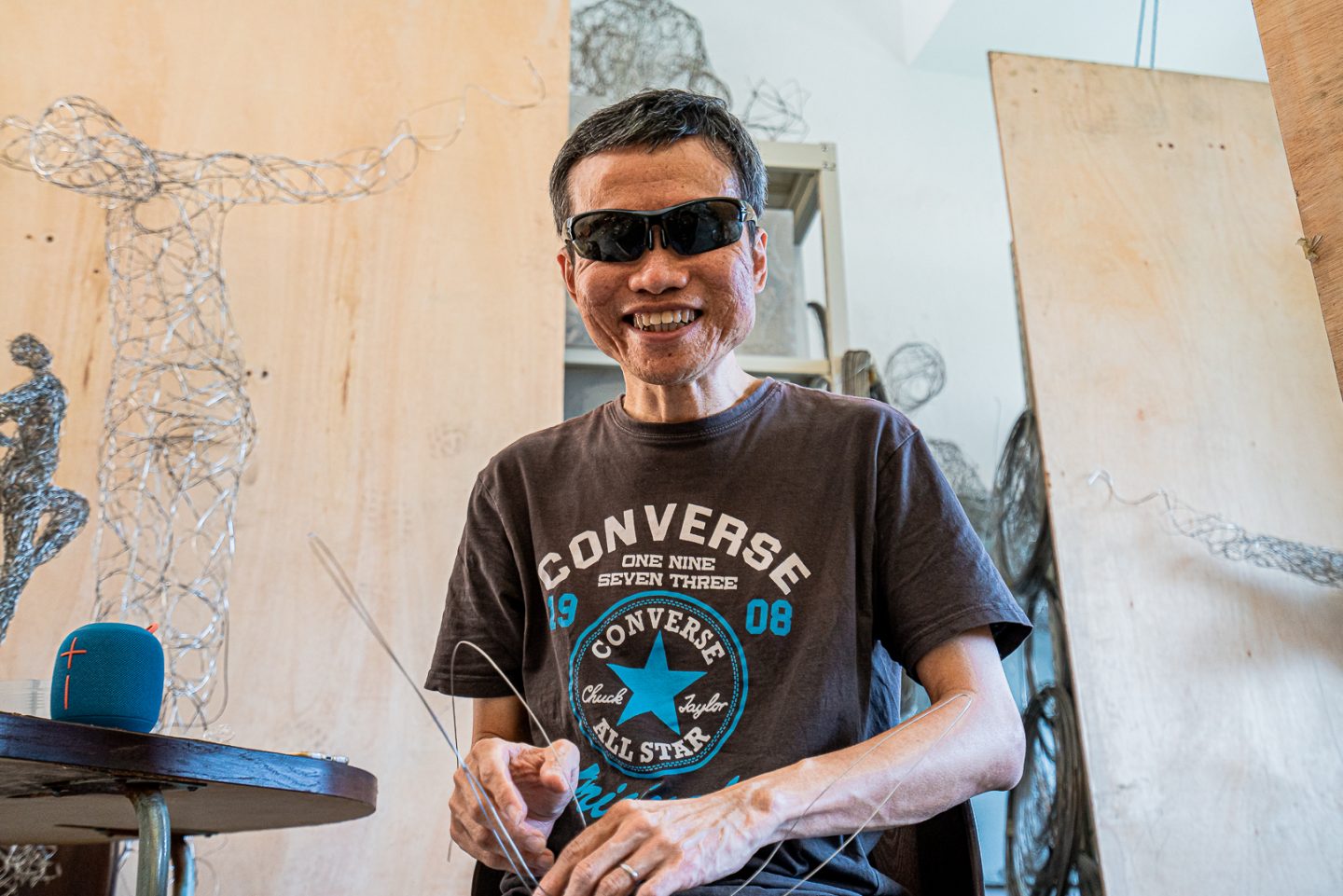 Victor Tan Wee Tar is an artist that specialises in using wires to create sculptures. He has been visually impaired since he was 23. All photos by Rachel Phua unless stated otherwise.
Stepping into the former Telok Kurau Primary School, still awash in pastel colours, only the soft blare of a Chinese folk song and cats prancing down corridors point to any signs of life inside the compound. An otherworldly impression sets in, undeniably apt for a studio that today houses 28 artists and arts groups.
Nestled on the fourth floor is Victor Tan's den, where grey statues and mannequins sprawl out all over the room, some suspended from the ceiling too.
In the middle of the workshop is Tan, quietly cutting coils of stainless steel wires, twirling them into bird-like structures for his upcoming project for the Esplanade.
It's 3.32pm, Tan's phone reads aloud to him. Unlike most people in his field, Tan is visually impaired. Life, according to the 50-year-old, appears as distorted shapes and patterns and light.
Yet, it was through this adversity that the artist of more than two decades has overcome the odds to do work that he believes draws people closer to God.
Blessing in disguise
Tan began his working life as a very busy man. After National Service, he enrolled in Singapore Polytechnic to study architecture technology part-time while working as a full-time drafter and insurance agent on the side.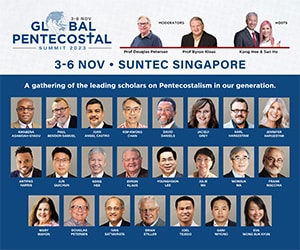 But, one morning when he was 23, Tan woke up with his vision blurry. A series of consultations followed and Tan was diagnosed with optic neuritis, in which his optic nerve becomes inflamed. Vision loss due to the condition is usually temporary, but Tan's situation was permanent. He had to drop out of school and leave his jobs.
Tan believes his purpose as an artist is to draw people closer to God.
Though devastated, Tan didn't want to mull on his disability for too long, and approached the Singapore Association of the Visually Handicapped (SAVH) about a month after the diagnosis. "I was young. I was prepared to start anew all over again," he said.
One day, at SAVH, he overheard a conversation about painting classes that were held over the weekend. "Painting? You mean I can do art?" he exclaimed. 
Given most of the beneficiaries had trouble seeing, the classes turned out to involve more ceramics than drawing. But for the first time after more than a month, Tan's spirit quickened. Making art had been a childhood hobby.
At a teacher's prompting, Tan enrolled at Lasalle College of the Arts in 1995, where he was encouraged to use wires as his primary medium. "The teachers said the sculptures were very life-like," he said. 
To some extent, Tan acknowledges that his condition is a blessing in disguise. As a child, no one around him took art seriously, even though he enjoyed sketching and painting. Now, he could "play full-time" in his newfound career as an artist.
Turning heavenward
For a craftsman who used to create sculptures that illustrated the very emotions he felt due to his circumstances – anger, anguish, frustration – Tan's works have now taken on a mellow and reverent tone.
He recently completed a figure of Jesus Christ for an upcoming exhibition in October called Beautifully Made by Bless Asia, which is open to the public. The sculpture is accompanied by "paintings" where he crushed paper, dripped red paint over it, and placed the crumpled sheet on top of white-coloured boards to create patterns and streaks that look like blood spreading across the canvas. He is surprised to hear that faint tracings of what look like a cross have appeared on one of them.
One frequent fixture in Tan's works is the human figure, which he calls a "landscape" by which he captures the various expressions and movements that only we are capable of. Art historian and Lasalle lecturer Jeffrey Say calls it his way of "communicating to us the different facets of humanity's material and spiritual condition".
"And that is what makes his sculptures so resonant and evocative," Say added. 
His favourite work is one that is on display at the rooftop of the Orchard Central mall.
Tan describes the sculpture, titled The Stair, The Clouds and The Sky, as a reflection of what rest looks like  – a new interpretation he's given it since becoming a Christian three years ago.
People's minds are cluttered by distractions and worries in today's world, Tan explained. He hopes that as passers-by stop to admire the display, their mind turns heavenward – hence the cloud – while fear dissipates, even if it's just for the moment.
Blind but not blinded
Not that Tan has completely come to terms with his current state. Birds often make an appearance in his projects, given that the animal symbolises what he longs to be one day: "Free enough to move around, not being bounded by anything." For now, he meditates on the verses that remind him of God's tender and omnipotent nature, be it Isaiah 53:5, Jeremiah 29:11 or Deuteronomy 31:6.
Since coming to faith, these creatures have taken on an additional meaning. "I feel that as I make birds, the Spirit's presence is with me," he said, referring to Matthew 3:16, when the Holy Spirit "descended like a dove". Designing them prompt him of the "state of freedom", joy and peace the Spirit represents, he said.
"I feel that as I make birds, the Spirit's presence is with me."
In the 21 years as an artist, Tan's pieces have been showcased all over the world, from Tokyo to Copenhagen, in public solo exhibitions and among private collections. In Singapore, his works can be found at the Singapore Botanic Gardens, Sentosa and Asian Civilisation Museum.
But Tan's intent for his art remain modest. Essentially, his purpose is to encourage the spectator to be more introspective, he said, and through contemplation, be pulled back to God. What does it mean to be the "best creation He's had" (Genesis 1:25-31)? What does it mean to be made with thoughts and feelings far more complex than every other livestock and creeping things and beasts of the earth?
"I think it's good to bring people's attention back to humanity, what it means to be human."
If you have enjoyed reading Salt&Light...
We are an independent, non-profit organisation that relies on the generosity of our readers, such as yourself, to continue serving the kingdom. Every dollar donated goes directly back into our editorial coverage.
Would you consider partnering with us in our kingdom work by supporting us financially, either as a one-off donation, or a recurring pledge?
Support Salt&Light