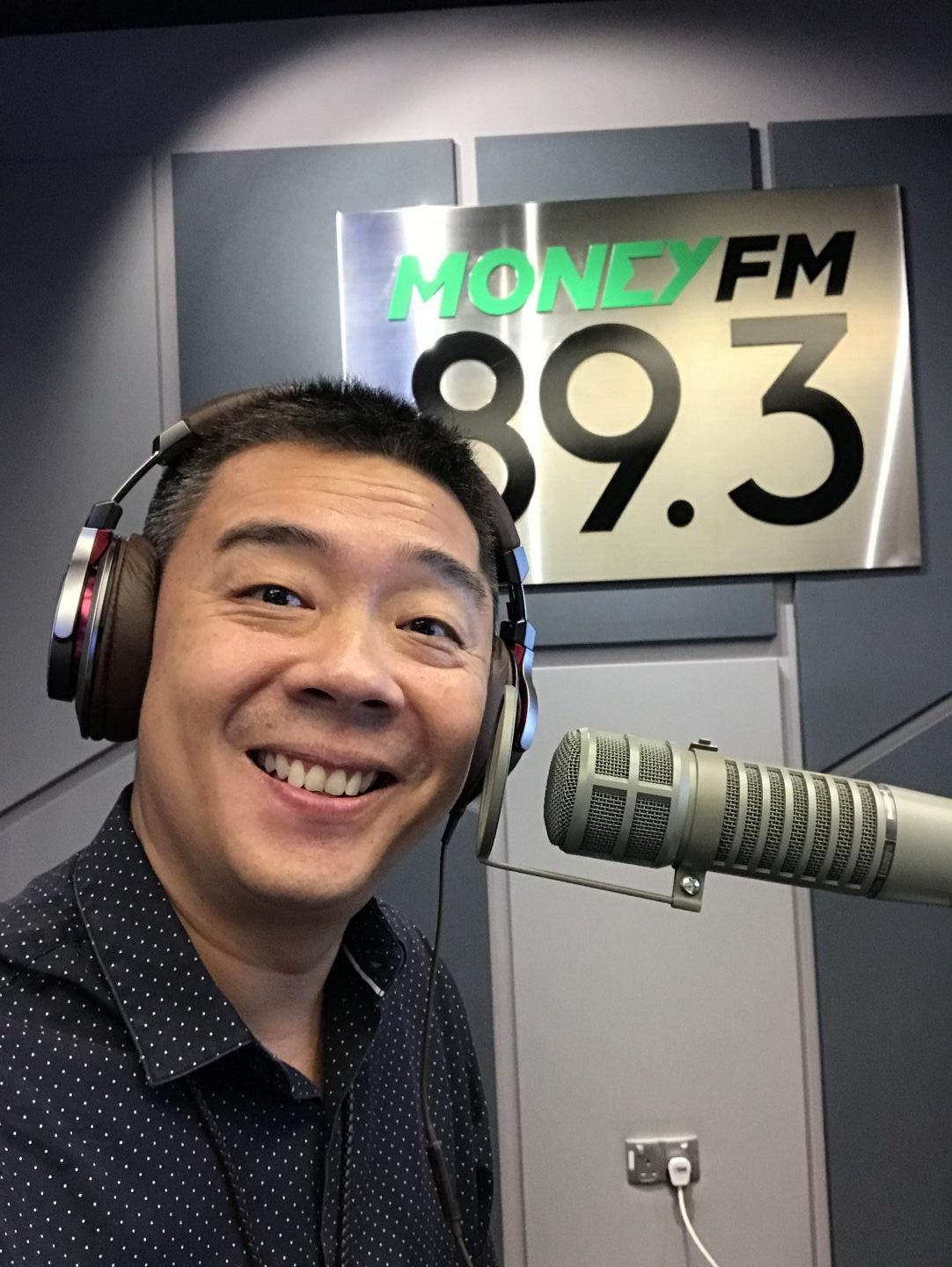 Bernard Lim is a producer and presenter with Money 89.3FM. He became a household figure among Singaporeans after joining Mediacorp's Perfect 10 radio station (now known as 987FM) as a DJ in 1992. He was also the host of the local version of Wheel of Fortune. All photos courtesy of Bernard Lim.
I'm a born Catholic and only child, raised in a Roman Catholic family with a pious grandma, auntie, newly baptised mum and a not-so-religious dad.
My sibling is a half-brother of a different mother; he is 10 years my senior.
My early quiet prayers were for the family to stay together and for my school exams results. Although I was never a church altar server, I did have early ambitions to be a Catholic priest one day.
Grandma passed away suddenly when I was preparing for my 'O' Levels in 1984. The family was devastated.
Dad broke down at the wake late one night and he made a conscious effort to change his lifestyle following the funeral.
I understood people passed away for a reason.
Rediffusion days
At a young age, I was inspired by Rediffusion, a cable music box that my half-brother installed at home. I became a fan of all the presenters or deejays – I have to thank my half-brother for exposing me to pop culture.
This fuelled my passion for radio. I started to work as a part time deejay and announcer during my National Service and during my National University of Singapore days. I would rush from my camp to Rediffusion on Saturday evenings to work till midnight.
I would rush from my camp to Rediffusion on Saturday evenings to work till midnight.
I landed a job on the 987 Perfect 10 station at the Singapore Broadcasting Corporation in 1992. I worked tirelessly and took advantage of the new radio and TV exposure.
Soon, I met my flight stewardess girlfriend and we were into a jet-setting life of fancy cars, branded handbags, nice dinners and parties. I stopped going to church because something told me that I may betray Him one day. We broke up eventually after five years.
Still, I didn't heed the call of Proverbs 3:5-6: "Trust in the Lord with all your heart, and do not lean on your own understanding. In all your ways acknowledge Him, and He will make straight your paths."
I met my ex-wife next and within a year and a half, we decided to get engaged.
After getting married, we stayed together in my mum's place and we saved hard to buy our dream home two years later.
The first few years were full of excitement. A house must be a home, we told ourselves.
Unknowingly, we were undergoing our marriage test. We had no common religion nor interests, habits or goals. She was flying regularly as a flight stewardess. Both of us were too drained to have any strength or courage to fix our problems. We also had nobody to talk to when we needed help then.
The marriage crumbled in 2007 after seven years. This was also when I left Mediacorp after 15 years for Lifebrandz, which operated and managed bars and clubs in Clarke Quay.
I was working every night of the week but rediscovering God – after my lapsed years – and attending mass regularly again at the same time.
I become healthier too as I started to run regularly.
The stroke
In 2009, I was appointed chief executive officer of the public-listed company. In gratitude, I made the commitment to serve as a lector in the parish Church of Saint Bernadette.
While I was achieving results for the company, I was constantly struggling between the nature of my work and my faith. I needed sales and that meant seeing everyone happily drunk nightly.
I was unable to reconcile that in church. A priest told me that God will lead me away one day (1 Corinthians 10:13).
I slipped into a coma suddenly and was rushed to Tan Tock Seng Hospital. I regained consciousness only two days later.
In December 2013, I rejoined Mediacorp as managing director for television, overseeing all local television stations like Channels 5, 8, U, OKTO and the minority stations.
But in April 2014, at the peak of my career, I was struck down by Arteriovenous-Malformation (AVM).
This is a stroke, where a weakened blood vessel in the brain burst. I slipped into a coma suddenly and was rushed to Tan Tock Seng Hospital.
I regained consciousness only two days later. I spent three months recovering before returning to work.
This period was depressing and mentally tough. I started to realise that life is not about making chief executive, operating officer or managing director.
This chapter jolted me to stay closer to God.
I started appreciating the people who loved me.
I had the high life but it all felt empty. I went for the second operation in February 2015 to be certain there would be no relapses for me.
God's calming presence, unconditional love, protective blessings and faithful support gave me the strength to heal and recover. I didn't extend my Mediacorp contract in end-2015 as I wanted to rest and recalibrate my life.
Full circle
Life the following year was a challenge. I was looking for a full-time job and the uncertain economy did not make things easy.
I drove for Uber using my BMW 5 Series for six months before I was offered a job as head of the corporate communications department for Cambodian real estate developer Phnom Penh City Centre (PPCC). 
God's calming presence, unconditional love, protective blessings and faithful support gave me the strength to heal and recover.
In Phnom Penh, I learnt to adapt to staying alone, handling all the simple chores like housekeeping and laundry.
I prayed quietly and saw that my time there was laid out by Him.
He helped me to locate a Catholic Church with English mass the first Sunday I was there. I was so inspired that I even volunteered to proclaim the Word of God as a lector after two months.
In April 2018, after 16 months, I resigned from PPCC as I needed to return to Singapore to be close to my ageing parents, who are both past the 80-year mark.
I started work at Singapore Press Holdings' new business and finance radio station, MONEY FM 89.3, as a radio presenter, coming full circle.
I work with a team of dedicated and committed colleagues.
Let me leave you with two of my favourite quotes.
1 Corinthians 10:31: "Whatever you do, do it all for the glory of God."  
I ask myself: Is someone still successful if they are excelling at work yet failing God and others?
How do we know if we are successful in our lives?
Romans 8:28:"And we know that in all things God works for the good of those who love him, who have been called according to his purpose."
Trials are inevitable. They are part of living and working in this world. But I believe I will never face my trials alone. God is always for me and never against me.
If you have enjoyed reading Salt&Light...
We are an independent, non-profit organisation that relies on the generosity of our readers, such as yourself, to continue serving the kingdom. Every dollar donated goes directly back into our editorial coverage.
Would you consider partnering with us in our kingdom work by supporting us financially, either as a one-off donation, or a recurring pledge?
Support Salt&Light