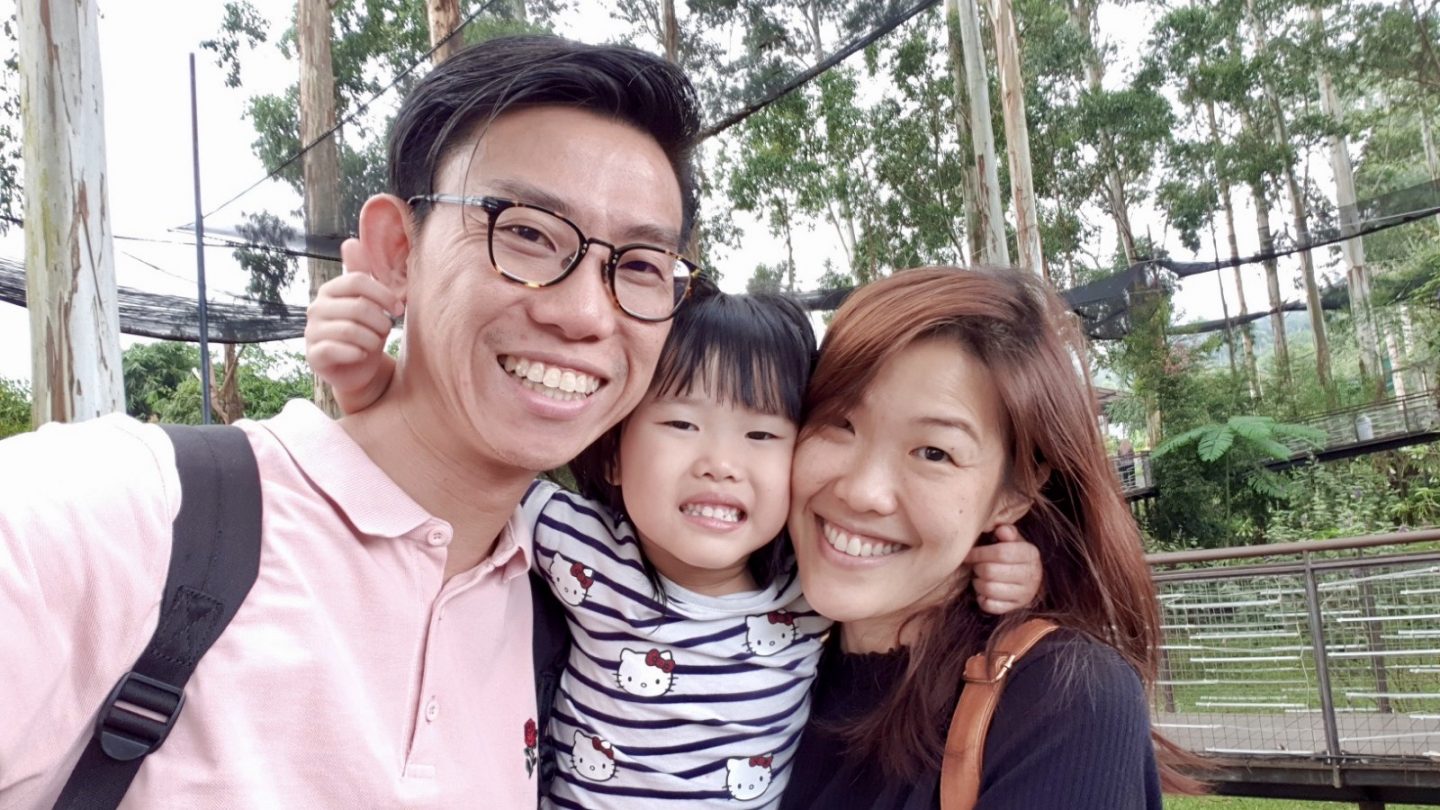 "God is absolutely amazing and good": Clarence Foo's encounter with hairy cell leukaemia showed him the Father heart of God. Pictured here with daughter, En Yu, and wife, Faith. All photos courtesy of Clarence Foo.
Cancer struck when Clarence Foo was just 31. His life was going well on all fronts: His career as a software consultant was taking him places, he was blissfully married and increasingly involved in church ministry.
He was also in the pink of health: He had not seen his family doctor for a year, which was unusual by his standards.
The only thing bothering him was a nagging ache in his right shoulder. One January morning in 2010, this developed into a sharp pain that rendered his whole right arm immobile.
"Your blood count isn't normal. You have hairy cell leukaemia."
"I tried to lift it but it was very painful," recalled Foo, now 41 years old. "The highest I could lift my arm was for it to be level with my shoulder, but not any higher than that."
Thinking his frequent flying was the cause, he tolerated the pain, but it was so severe on some days that he needed his wife's help to get up from bed.
Traditional Chinese medicine did not bring relief and, in March 2010, he decided to undergo further checks at Singapore General Hospital (SGH).
He headed to his appointment dressed in Bermuda shorts and a shirt, convinced he had rheumatoid arthritis and wouldn't be more than a few hours at the hospital.
Breaking news 
A routine blood test surfaced some abnormalities, however, and Foo was warded for observation. The next day, he underwent a bone marrow aspiration and was subsequently discharged.
He thought nothing of it and did not expect the news that greeted him at his follow-up appointment on April 7, 2010.
"It is always easy to ask, 'Why me?' but I prefer to ask, 'What do You want to do?' "
"Mr Foo," his doctor said, "we have some good news and bad news. Good news is that you don't have arthritis. Bad news is your blood count isn't normal. We are sorry, you have hairy cell leukaemia."
It was explained to be a rare and chronic form of leukaemia.
His white blood cell count was found to be close to zero, which meant his immunity was dangerously low.
Tests also showed that his bone marrow – the body's "factory" for blood cells – was dysfunctional: Eight out of every 10 cells produced were cancerous.
The preferred question
Foo, who had no family history of leukaemia, was shocked. "80% of the 'factory' was koyak (Malay word for 'spoilt')!" 
The next few days went by in a blur as he and his wife, Faith, allowed the diagnosis to sink in.
Their church community rallied around them and prayed for them. Despite the bleak news, the couple was confident that something good would come out of the episode (Romans 8:28).
"It is always easy to ask, 'Why me?' in situations like these, but I prefer to ask 'Why, God?' and 'What do You want to do?' " said Foo, a deacon at Cornerstone Community Church. 
"Initially, we decided to pray through the cancer, that we are not going to go for chemotherapy. There was an improvement in the next two months as we prayed, but not significant enough for us to know that healing had taken place.
"So, in June 2010, we decided to start on chemotherapy and this was when the show became interesting."
Supernatural lessons
His body responded well to the first round of treatment and he was discharged from the hospital. Upon hearing good reports from the doctors, Foo decided to sneak up to Johor Bahru to join in the fun at the annual church camp.
While there, he caught a secondary infection and developed a very high fever – a small matter to a healthy person but a matter of life-and-death for a cancer patient. Within five days of his discharge, he was back in SGH.
"I watched two patients pass on and I saw others suffering and unable to breathe properly."
This time round, the stay was more agonising – not just because he was in worse shape, but also because he witnessed how disease could ravage lives.
"I watched two patients pass on and I saw others suffering and unable to breathe properly. The time in the hospital was crucial; God used it to teach me many things."
It birthed in him a hatred for sickness and a compassion for those who are ill. "If I do not go through the hospital experience, I will have prayed for healing for others from a 'power' point of view.
"God has the power to heal people supernaturally. But there is always one preceding description before Jesus healed anyone: He was moved with compassion (Matthew 14:14). Then, Jesus acted and did something for the people." 
"The primary motivation was compassion and love, which was an important lesson for me – because it is one thing to pray for someone and wanting to see a miracle, but it is another to pray for someone out of compassion."
Mind games
Foo was discharged after spending nearly the whole of June 2010 in hospital, and his condition started to improve in July when he completed treatment.
"My blood counts improved each week, but there were also weeks when they dropped drastically."
"I had to learn how to fight using God's truth and stand my ground." 
His faith was sorely tested, with the devil taunting him ceaselessly: "You are going to die. This is just a temporary recovery."
"I went through that almost daily," he shared, recounting being alone at home while recuperating. "The thoughts would come and kacau (Malay for 'disturb') me. I had to learn how to fight using God's truth and stand my ground." 
It was not an easy battle, and he overcame it by constantly declaring the power of the blood of Christ (Hebrews 9:14), which has cleansed him so that he may serve the living God.
"I kept doing that till the taunting stopped."
Man's foolishness, God's wisdom
A medical review was scheduled on August 23, 2010. Foo's ears perked up when his puzzled doctor muttered: "No, this cannot be so fast!" 
His test results had come back with the all-clear! "I was like: 'I'm going to box you! You want it to be longer?!' " laughed Foo.
God had healed him of hairy cell leukaemia in a little under three months. Nonetheless, while he was thankful, his healing did not take place in exactly the way he had hoped. 
"This is enough to change you. I don't need to intensify it."
"I had this wild idea that I would wake up one morning and the doctors tell me my blood test report is normal – a phenomenon they can't explain but I can because I know my God can heal me supernaturally.
"I also had this stupid thinking that if my leukaemia was much worse, then the healing will be more dramatic."
He still remembers the day when God spoke to him gently regarding these thoughts: "Clarence, this is enough to change you. I don't need to intensify it."
With the benefit of hindsight, he said: "In the past, I used to think – and I think a lot of other believers too – that God is out to tekan (Malay for 'torture') us. But from that episode, I realised He will not actually allow us to go through more than what is necessary."
The Father's heart
It was something he understood first-hand only when he and his wife had their first child on June 3, 2014 – four years to the date he had started chemotherapy. "Being a father, I realised I would not wish harm on my kid. I will discipline her when I have to, but I would never want to 'over-discipline' her."
"That was a very important lesson for me because it really solidified my understanding that if I do go through something, firstly, God is watching over it and also, it will be the right dose, never overdose (1 Corinthians 10:13)."
August 23 this year would mark him being cancer-free for a decade.
"Leukaemia really turned my life around in many ways, but one of the most important things was that I came to know God as Father."
"I always tell people that leukaemia was probably the best thing that happened in my life," said Foo, who has switched careers and is now working in the real estate industry.
"It really turned my life around in many ways, but one of the most important things was that I came to know God as Father. A lot of wrong mindsets and concepts were taken away and changed.
"Often when I meet people and clients for the first time, they ask why I seem to be so calm and collected? They wonder where I got my quiet confidence from.
"Yet in the past, I wasn't like that – I was intense and prone to pessimism. But an experience like mine changes you. It should, and for the better."
Reflecting on his journey, he highlighted God's hand of protection upon his life: Despite his low immunity, he did not fall ill for a year prior to 2010. If it wasn't for that persistent shoulder ache, he would never have made an appointment to visit the doctor.
Miraculously, the week he was diagnosed, the pain disappeared.
"I realised it was God's way to get me to see a doctor because it was so painful for so long. And it was just gone, like that. God is absolutely amazing and good!"