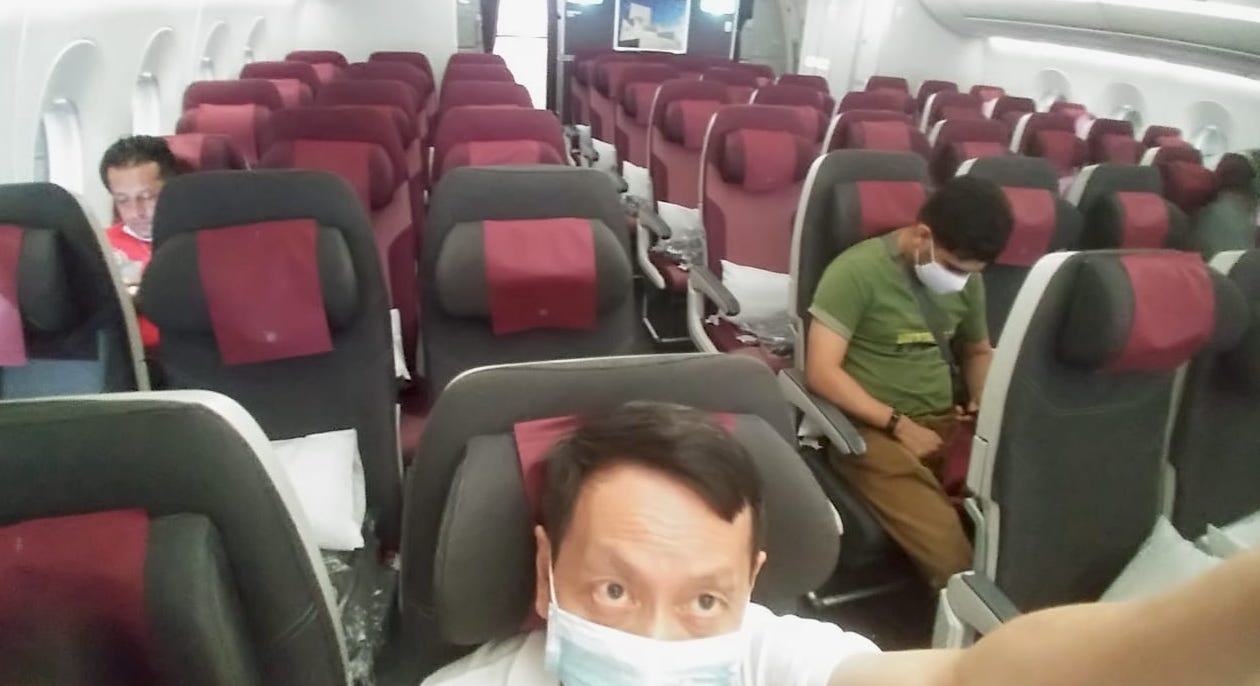 Travelling during a time of Covid. Anthony Chee, a missionary to Mozambique, took this photo on a near-empty flight back to the country in January this year. Photo courtesy of Anthony and Jennie Chee.
This past week has brought a sense of déjà vu for many in Singapore. The growing numbers of Covid clusters are echoing the uncertainty of pre-Circuit Breaker days.
India's Covid-triggered collapse of the healthcare system is in the global spotlight. Worldwide, there is also news of second and third-wave infections, with Korea bracing itself for the fourth wave.
Despite all this, there are Singaporean missionaries making their way back to their different fields across the world. Others have already been back as early as December last year.
Timor Leste's double-whammy
Ting Siew Lee, who has been in the field for almost 14 years, returned to Timor Leste in the beginning of December 2020.
In the five months that she has been back, however, Timor-Leste has been hit by a "double whammy", said Ting. The second wave of Covid came in March when cases started spreading, and then, on Easter Sunday when Tropical Cyclone Seroja made landfall in the capital as well.
The natural disaster displaced tens of thousands of people and flooded key health facilities like isolation centres and the national testing laboratory. It made a lockdown "practically impossible".
Ting and her co-founder, Wong Li Shan, had originally planned for a six-month sabbatical starting May of last year. But amidst the rapidly-deteriorating situation in March, with daily changes in travel advisories, flight cancellations and border closures, they were forced to leave earlier than planned.
Ting ended up leaving on the last commercial flight out of Dili on March 29, 2020.
Their return was equally uncertain as well, with no regular commercial flights to Timor Leste for most of 2020.
The main objective of her sabbatical had been the next step in leadership development of her local leaders, Ting told Salt&Light. It was a chance for them to "run operations without the missionaries" at Cocoon, which provides education to children and youth in the capital of Asia's youngest nation.
Back to another lockdown
Mark and Cynthia Koh*, who have four home-schooled children under 12, have also returned to their field of service in an Asian country in early April this year. (*Names have been withheld due to the sensitive nature of their in-country work.)
The Kohs had originally intended to ride out the pandemic. News of Covid had surfaced in early 2020, but they "didn't feel like it would be a big threat", Cynthia said.
However, Cynthia who occasionally hears from God through dreams and visions, had a series of "bizarre" dreams of taxis, aeroplanes and helicopters, three nights in a row in March 2020. Around the same time, a close family member was diagnosed with end-stage cancer.
During the pandemic, there were over six new converts and more than a dozen baptisms in a Gospel-resistant people group.
After much consideration and conversations with leaders from their sending church, the Kohs decided to leave. They managed to get back to Singapore shortly before the borders closed.
When they heard that the country was slowly reopening last December, they were keen to leave as soon as they could. While they were in Singapore, almost 80% of their ministry had continued online, undisrupted. But locals were resuming face-to-face meetings and the number of online meetings had dropped drastically.
"Things were starting to move and there's work to be done here," Mark told Salt&Light over Zoom as Cynthia started tearing next to him.
She explained that the area they are working in is traditionally not receptive to the Gospel – during the last two years, there were only three baptisms in the church that the Kohs have partnered. However, during the pandemic, there were over six new converts and more than a dozen baptisms.
This week, the country has gone back into lockdown, but the couple is still glad to be where God has called them to be.
The Covid reality
Crossing borders in this climate is not always so straightforward.
Joe Chan* is a self-supported tent-maker works in the same Asian region as the Kohs. He had initially booked his return flight on April 28. However, two days before his flight, Chan's compulsory pre-departure swab test came back positive.
It came as a shock to Chan. The 58-year-old who was vaccinated, asymptomatic and had already tested negative twice in December when he first returned to Singapore.
This time, he was admitted to an isolation facility while his close contacts were put under Quarantine Orders. But his serology test results eventually confirmed that it was a past infection. It is likely that Chan had contracted Covid in the field.
However, he is unable to return as yet because of border closures that have been re-imposed.
Learning what it means to trust
Though much remains out of human control – travel bans, flight availability, physical health and safety – the common thread is the emphasis on the missionaries' trust in God, His timing and His provision for them.
Jennie Chee is a missionary in Mozambique. She has been there with her husband, Anthony, since 2003.
Last May, Salt&Light featured their harrowing experience as they raced back to Singapore shores. They took five flights through four countries at the peak of the pandemic.
The decision to leave had been "terrifying" for Jennie then. She "battled" with anxiety attacks over the many Covid "what-ifs" and the assurances of her faith in God. Jennie said point-blank that last year, she had "lost my focus on God as I gave in to my fears".
"God knows my needs and delights in meeting those needs, even those I don't know about."
Today, the Chees are back in Mozambique facing an impending third wave of Covid as they enter the flu season. Churches remain closed but their ministry is "as per normal". They have been there since January this year and are still in good health, though unvaccinated.
As Jennie described their situation to Salt&Light matter-of-factly, her demeanour belied a vastly different psyche. What changed? Was she still afraid?
"Of course!" This time, however, there was an inner peace that seemed to overpower the fear, Jennie said.
She attributes this peace to witnessing God's provision, having been "especially blessed" by being able to spend the final months of her father's life with him in Singapore last year. Her father was a stalwart who constantly reminded her to trust in the Lord with all her heart (Proverbs 3:5-6).
"God used the faith of my dad to turn my focus back to Himself. He showed me that He knows my needs and is capable of and delights in meeting those needs, even those I don't know about."