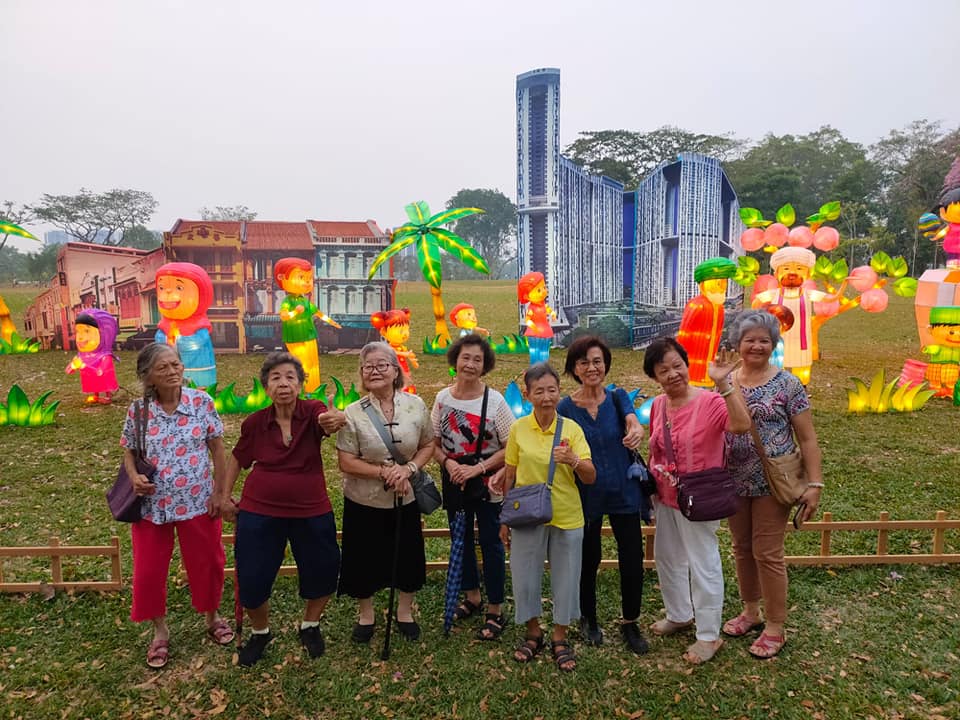 Elderly members of The Love-Aid Project's "JiaLe" coffee club at an outing to Jurong Lake Gardens last September. Since the Circuit Measures kicked in, the charity has had to find new ways and means to connect with their elderly clients, most of whom live alone in one-room flats. Photo from The Love-Aid Project's Facebook page.
Siew* has been grieving. One of her neighbours, whom she was very close with, passed away last month after suffering a bad fall. Siew, who is in her 70s and lives with her son in a one-room flat, weeps often. Neighbours have noticed her roaming around the neighbourhood asking for her late friend.
Wong* was recently discharged from the hospital. The elderly man, who is in his 70s and lives with a helper in his one-room flat, has had a number of health scares in the past few months. He has also begun to show signs of dementia and his disposition has changed dramatically in the past year. 
Siew and Wong are just two elderly friends that Clement Ee, the director of charity The Love-Aid Project, worries about now that he is unable to visit and check in on them due to the Circuit Breaker measures.
New ways to keep the human touch
Since 2013, Ee's charity has been serving low-income youth and the elderly in MacPherson by journeying with them through home visits and social activities.
"The relational aspect, like human interaction and connection, is the most important part of the work that we do," Ee told Salt&Light. "But with the measures, it's more difficult to connect with them and support them."
Apart from calling up the elderly regularly, his team is trying to work out how to move their community online so the elderly can see and speak with one another. "We are still learning and trying to adapt," he said.
Like The Love-Aid Project, many charities and their operations have been hit hard by the nation's latest safe distancing measures to curb the spread of COVID-19.
Charities are finding themselves challenged to come up with new ways and means to serve the underprivileged.
Since many client-facing services have halted, charities are finding themselves challenged to come up with new ways and means to serve the underprivileged.
But they do not have the luxury of time to figure it out.
Beneficiaries – or service users – who can no longer receive regular services risk facing increased isolation and even regression in their conditions, said Anita Fam, president of the National Council of Social Service (NCSS), the national coordinating body for voluntary welfare organisations in Singapore.
She is particularly concerned about isolated seniors who live alone and do not have access to social interaction and activity programmes.
"Their mental wellbeing will be impacted if they do not stay connected," she said, adding that there are various challenges in teaching them to pick up technology.
"I cannot imagine the stress that they are going through at this time."
Noting that there was a sharp spike in suicides by the elderly in Hong Kong during the severe acute respiratory syndrome (SARS) period in 2003, she added: "This is something which I pray will not happen here."
In another example, Fam said that those who are used to receiving regular therapy or counselling may also suffer a regression in their physical or mental condition, exerting even more stress on their caregivers.
She is also especially worried for these caregivers who take care of people with disabilities or mental health conditions, as they have "no respite" or help during this stay-home period.
"I cannot imagine the stress that they are going through at this time," she said.
Keeping helplines open
To help alleviate stress on those vulnerable to isolation and distress, TOUCH Community Services, which reaches out to needy groups like low-income families, the elderly and those with special needs, is keeping its helplines open and making daily calls to check in on its clients. It has also moved its counselling sessions online.
They have turned to technology to continue carrying out a large bulk of their services.
"The cold hard reality is that we will never be able to do things in the same way again."
For example, they began running home-based e-learning classes for vulnerable children and clients with special needs, and are also communicating with seniors over WhatsApp by sending them resources on simple exercises, accurate news and other educational videos.
Nevertheless, the organisation recognised that there may still be needs that they are unable to meet from afar: "With most of our staff telecommuting, we see the community, such as hawkers, coffeeshop workers and young neighbours assuming a critical role as they are the eyes and ears on the ground, and can provide timely help to seniors in distress."
Fam, president of NCSS, said that the charities who will survive this pandemic are those who are open to changing and adapting their operations, including digitising and changing the way client-fronting services are carried out.
"The cold hard reality is that we will never be able to do things in the same way again," she said, adding that this nonetheless may improve operational efficiencies and surface fresh fundraising opportunities. 
40% drop in donor dollars
Apart from having to adapt their services to the changing landscape, charities will also have to cope with falling donations.
Fam said: "Charities rely very much on fundraising activities and donations to support what they do and, given the current economic situation that we are in, the fundraising prospects for the entire charity sector look very bleak.
"The worry for all charities will be the drastic drop in the donor dollar as we are all facing hard economic times now and for the foreseeable future."
Charities that Salt&Light spoke to raised the same concerns.
"There's a window of opportunity for us to make His Name known, to bring good news to the poor."
While Ee from The Love-Aid Project has seen short-term or ad-hoc donations, including groceries and laptops, come in, there has been "quite a significant" drop of about 40% in long-term donations.
Apart from the poor economic outlook, he added that another factor may be that people are donating to a lot of other causes. "There have been a lot of needs that have been springing up during this season, and I think they are perceived as being more urgent," he said.
Teo Tee Loon, executive director of Lakeside Family Services, which looks out for underprivileged youth, children, families and elderly, also foresees that fundraising will be "much more challenging" this year.
Every year, Lakeside holds several major fundraising events, including a golf tournament and a charity lunch or dinner. The funds raised go to supporting programmes for the vulnerable elderly, at-risk children and youths, families of the incarcerated, women with unsupported pregnancies, and as well as needy individuals and families affected by COVID-19.
"Don't lose heart if you're doing good. It's only when we keep at it that we will see the harvest."
"So far the golf tournament has had to be cancelled and it is uncertain if we will be able to run the charity lunch. So we will have to see how things work out," he said.
Meanwhile, other charities are still calling for donations to tide their clients through their immediate needs.
This is despite more people making short-term donations, as reflected by the 67% spike in donations on fund-raising website giving.sg in February compared with last year, according to a report by The Straits Times.
For example, TOUCH Community Services is hoping to raise $850,000 for its emergency relief fund to support vulnerable groups such as low-income families who are unable to afford groceries and necessities, or children who do not have access to digital devices to study from home.
At the international level, World Vision is also raising funds to carry out an emergency response in 17 countries, including Afghanistan, Haiti, India and Syria, which aims to reach 22.5 million people – half of them children – in the next six months.
Their emergency response includes promoting preventive measures to stop or slow the spread of the virus and supporting health systems and workers in vulnerable communities, said Lilian Chung, national director of World Vision Singapore.
"World Vision is especially concerned about the most vulnerable children, especially refugees and displaced children, and those living in communities with low access or weak health systems. Millions of children are displaced, living in urban poverty, conflict, or large, overcrowded areas, with limited access to healthcare; our worst nightmare is this virus taking hold in these conditions," she said.
Commit to good
The world's needs are varied and plenty, and Fam from NCSS humbly urged all believers to see God's leading as to how they are to help during this time, whether it is in the form of time, talent or treasures – or all three.
She also urged Christians to remember that "in God's world, He does not compartmentalise His work for the needy and downtrodden into Christian and non-Christian buckets like we do".
"So pray about how and where you are to give of yourself, and if we are obedient to His leading, the promise in Isaiah 58:10-11 is what we will enjoy."
Ee from The Love-Aid Project, who is also a pastor at 3:16 Church, added that this is a season for the Church to stand up and be salt and light in the world (Matthew 5:13-16).
"Bringing about sustainable life change, it always involves a journey." 
"There's a lot of fear and uncertainty during this time. But there's a window of opportunity for us to make His Name known, to bring good news to the poor, healing to the broken hearted and to really declare jubilee."
He encouraged believers to make a committed decision to care for the less fortunate, offering help and love even long after the pandemic is over.
"In a crisis, aid in terms of material stuff is needed, but if we're talking about bringing about sustainable life change, it always involves a journey. We have to keep at it. It's not meant to be a one-off or ad-hoc thing.
"So if in this season God has moved you towards the plight of a particular group of people, whether it's the poor or the elderly or migrant workers, then continue. Stay with it. Commit yourself to journeying with people because that is important."
Quoting Galatians 6:9, he added: "Don't lose heart if you're doing good. It's only when we keep at it that we will see the harvest."
What are charities trusting God for during this time?
Teo Tee Loon, executive director of Lakeside Family Services: Jesus said: "In this world, we will have trouble. But take heart, I have overcome the world." (John 16:33)
There's much to be encouraged from His words. Firstly, it tells me that the Lord knows what we are going through. The fact that there is trouble in this world should never surprise us. In fact it only serves to confirm that we are doing the right thing, being in a profession that helps and serves those who are most in pain, distress and need.
Secondly, He says "take heart", which to me means to be brave and strong. Don't be disheartened or discouraged. In the midst of the gloom and dread caused by the overhanging shroud of COVID-19, Christians should be the first to bring joy and cheer to others, encouraging them to never give up, to have hope and to hang on. And together with that, to bring practical help.
Thirdly, and perhaps most importantly, Jesus has overcome the world. This means that He is greater than all the problems this life could ever throw at us, including COVID-19. So we should not fret or despair. In Him, we will be able to overcome the challenges of these current times, and many more!
Clement Ee, director of The Love-Aid Project: We are assured that God is in control in every situation and there is no need to panic. While I am concerned about a few individuals, I am always assured that none of this has taken Him by surprise.
I'm also reminded that I may not have the full picture. Our perceptions and understanding will always be limited. I may not have all the answers but God does. So we always go back to Him for that revelation and for that insight. 
Healthserve rolls out counselling for foreign workers amid concerns over morale and mental well-being
"If we've received mercy, do we not extend mercy?": The Last Resort's Kenneth Thong on how we can be agents of justice in a desperate time
If you have enjoyed reading Salt&Light...
We are an independent, non-profit organisation that relies on the generosity of our readers, such as yourself, to continue serving the kingdom. Every dollar donated goes directly back into our editorial coverage.
Would you consider partnering with us in our kingdom work by supporting us financially, either as a one-off donation, or a recurring pledge?
Support Salt&Light