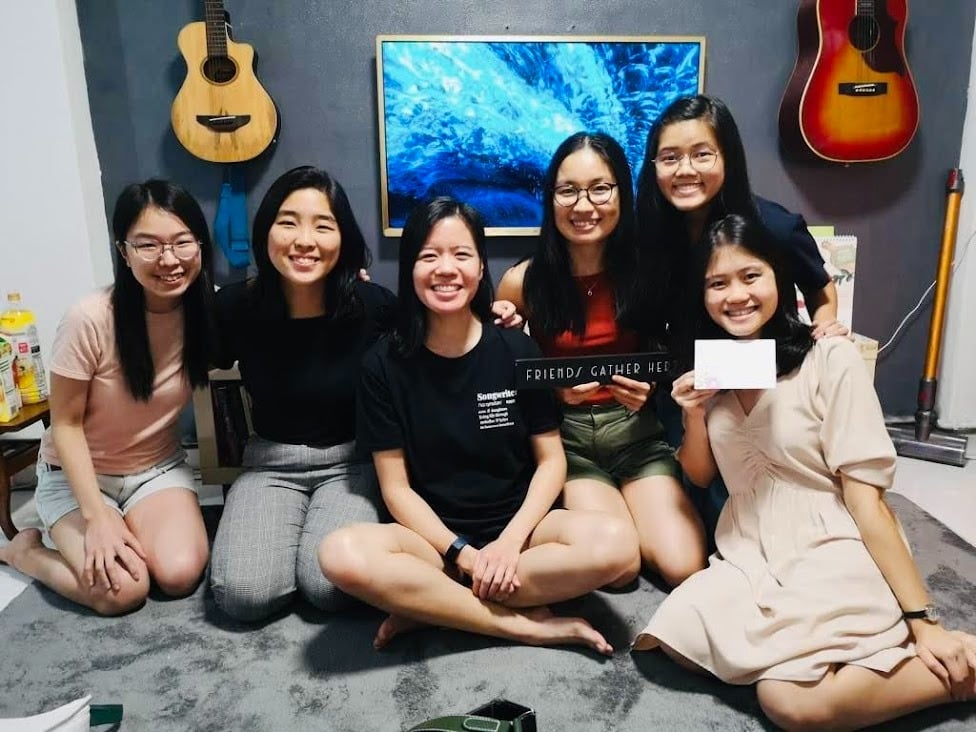 Sarah Tso (third from left) with girls from a small group that she mentored for five years. "I'm always brought before God – no matter how much experience I have, I still need to depend on Him," said Sarah. All photos courtesy of Sarah Tso.
Speech therapist. Writer. Youth mentor. 32-year-old Sarah Tso wears many hats, but she depends on God's wisdom to guide her all the same.
"It's always challenging for me. After I've mentored for a while and think I'm getting really good at it, I get curveball situations, and I'm like: 'Okay God, this is how You keep me dependent on You,'" said Sarah, who once led NTU Cru, a Christian campus ministry in her university.
After all, the self-described "third-culture kid" has been through enough upendings in life to know that each person's journey is unique; a story waiting to be told.
Looking through God's lenses
A published author, Sarah finds that God has given her His lenses with which she sees the patchwork of society, enabling her to write beyond the limits of her own experience.
In 2018, she wrote From Stereotypes to Archetypes, a collection of six interviews with ex-offenders who journeyed from prison to prominence.
"It's just being fair to people, acknowledging them not just from one lens. Yes, they did commit crimes. But there's so much more than that."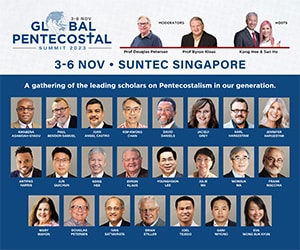 Sarah was also invited to write articles on dating and marriage for YMI, a platform for young Christians with faith-based articles on everyday living.
It was quite a leap from topics she had been comfortable with writing, such as singleness and apologetics.
Naturally, she had major reservations. "I only have one serious relationship in my life and he's my husband now, so I don't feel super experienced in this area.
"With all those great sermons and articles on dating out there, I felt I had nothing to add to this whole entire knowledge base inside the Christian circles."
Yet of all the articles Sarah had written, those on dating and marriage turned out to be most well-received. One even made it to YMI's top article of the year for 2021.
To explore the basis for her convictions and to understand situations beyond her own experiences, Sarah would always turn to the Bible, inquiring: What does the Bible say? Is there a Bible verse for this? Does the (biblical) rule apply to current times, or was it time-bound?
"I'm just sharing second-hand wisdom – whatever is given by God," Sarah told Salt&Light.
Seeing oneself through God's lenses
While she now enjoys a close relationship with God, it took an unwelcome move to Singapore for Sarah to own her faith.
A junior high school student in the United States, she dreamed of pursuing Medicine in a local university there. The then 12-year-old was well on track in terms of her academic performance.
That changed when her family relocated from Indiana to Singapore.
Sarah felt God tell her, "Just think of Jesus for one moment: Do you think He knows how you feel?"
"All that basically went up in smoke when I had to come over here. I had to reluctantly press a reset button in my life and start all over again.
"I just felt totally abandoned by God," said Sarah.
In secondary school, Sarah struggled academically and socially.
Studying English – a subject which she once enjoyed – became a challenge for her, as she could not get accustomed to the emphasis on marking schemes and rubrics, which she had not encountered back in the US.
"I thought I loved writing and was good at it, but I was getting Cs."
To make things worse, Sarah was also teased.
"People were laughing at me because of my accent. Although we were speaking the same language, they thought I was speaking too fast and not enunciating my words. I didn't know Chinese, Hokkien or Singlish at that time, so I couldn't blend into my neighbourhood school."
An unhappy 12-year-old Sarah found herself complaining to God: "Why did You bring me here to fail?"
"I felt really understood at that moment, and that's when things started to get better."
On one of Sarah's afternoon quiet times – a practice she has kept since Sunday school – she felt God's loving words to her.
"Sarah, you have moved from the West to the East. It's very different, I know. You feel disappointed, abandoned, rejected; you just feel like a failure.
"But just think of Jesus for one moment: He moved from heaven to earth, North to South. He was rejected and abandoned. Do you think He knows how you feel?"
This was a defining moment for Sarah.
"I felt that Jesus was actually there with me. The same God who was with me through my childhood was now here in this situation.
"I felt really understood at that moment, and that's when things started to get better," said Sarah.
Fresh provision for new challenges
Later, when Sarah set her sights on a career in speech therapy, God provided the grades she needed at crucial junctures.
Then a biological sciences undergraduate at Nanyang Technological University (NTU), Sarah had to achieve a near-perfect score for her graduating project to meet the stringent admission criteria for postgraduate speech therapy courses.
On top of her heavy academic commitments, she was leading the NTU chapter of Cru, a student campus ministry.
"God saw me through then, and He'll see me through now. I have to just press in and rely on His strength."
While on a Cru mission trip to a closed country, Sarah received her results: the maximum grade point average (GPA) of 5.
That was the first of a series of confirmations that God wanted her to do speech therapy.
As a postgraduate student in the United Kingdom, she found herself once again having to adapt to a foreign culture. For speech therapy students, cultural awareness, and communication style, had significant implications on their grades.
In the lead-up to a clinical examination which solely determined whether students became practising speech therapists, Sarah's twin sister would constantly remind her: "God brought you over there. He's going to bring you back as a full, practising speech therapist."
Now, whenever Sarah encounters a challenge at work, she tells herself, "God saw me through before. This is where He wants me to be.
Seeing difficult people through God's lenses
Sarah would go on to work with the Asian Women's Welfare Association (AWWA) – God's answer to her post-graduation prayer: "Please give me a job that I would be happy to wake up to every morning for 40 years."
But just two weeks into her dream job, the newbie was back-stabbed by a particular colleague and was assigned tasks beyond her job scope.
She prayed: "Please give me a job that I would be happy to wake up to every morning for 40 years."
Other therapists in the department were similarly affected, and therapy sessions were disrupted when the individual did not submit key documents on time. Colleagues lost their sleep over the stress.
"I felt bad for the kids, because ultimately, their teaching was compromised. We tried to mitigate as much as we could while trying to help this (difficult colleague) become a better teacher," said Sarah.
Instead of chiming in when fellow therapists gossiped about their colleague, Sarah prayed, "Hey God, can You please help me through this? Show me what to do."
During that time, Sarah's parents, who were attending a church camp overseas, received a specific word concerning Sarah.
"The speaker said that our second daughter (Sarah) is a peacemaker," Sarah's mother told her.
The word resonated with Sarah. "Being a peacemaker doesn't mean that I let myself be a doormat, but it means I try to get parties to talk and reconcile in their own time," she told Salt&Light.
While other therapists gave their colleague a cold shoulder, Sarah would greet her. For about a year, she explored ways to communicate with her colleague. These included treating her graciously, while escalating evidence of her failure through proper channels to relevant personnel, such as the centre manager.
This earned Sarah the respect of her fellow therapists. A close colleague of another faith even told Sarah, "I think you are a really good example of a Christian."
Community: the key to finding one's calling in life
Although she is enjoying her dream career, Sarah's life purpose extends beyond that.
In 2019, Sarah discovered her life mission when attending The Significant Woman, a life-coaching discipleship course by Cru Singapore.
Her mission statement reads: "To encourage and mentor young adults through my words and writing, that they will know God, His Word and His purpose for their lives – and will in turn help others."
Ever since her discouraging experience with the English subject in secondary school, Sarah had not been writing much. But through The Significant Woman, she met friends who called out her gift of words.
Encouraged, Sarah decided to give writing another chance. She told God, "Since You said this is what I'm good at, then I'll say yes.
"And I'll say no to everything else, just focus my energy on writing this year, and just see how it goes."
"Since You said this is what I'm good at, then I'll say yes. And I'll say no to everything else."
That same year, Sarah published From Stereotypes to Archetypes, wrote lyrics for her church's debut music album, and also authored her first series of faith-based articles on YMI.
Her key to discovering one's life mission? Do it with community, and without comparison or haste.
"Comparison can hinder your view of what God really wants you to do; and people who rush tend to borrow from other's lives. They might look at other's Instagram stories and think: 'That looks really exciting; that might be my life's calling.'
"We usually consume social media on our own. But in community, that's where people get to know us, where we can open up about ourselves and have accountability."
Through godly community, God showed Sarah that her childhood love for words, which once lay dormant in doubt and discouragement, was His choice instrument to make Himself known.
Now, Sarah wants everything she writes to point people to a God who sees them beyond what they do, where they work, and what society has labelled them to be; a God who first became real to her when He showed up amid her rejection.
"We're so much more. I'm sure God sees us through many lenses, as complete human beings, made in His image."
---
This story is part of a special series produced in collaboration with Cru Singapore, which is celebrating 50 years of God's grace in disciple-making.
Did you know that there are still approximately 7,400 ethnic people groups that are unreached? Journey together with Cru Singapore to Reach boldly, Build deeply and Send urgently. Explore opportunities by visiting Cru Singapore's website or following them on Instagram and Facebook.
If you have enjoyed reading Salt&Light...
We are an independent, non-profit organisation that relies on the generosity of our readers, such as yourself, to continue serving the kingdom. Every dollar donated goes directly back into our editorial coverage.
Would you consider partnering with us in our kingdom work by supporting us financially, either as a one-off donation, or a recurring pledge?
Support Salt&Light