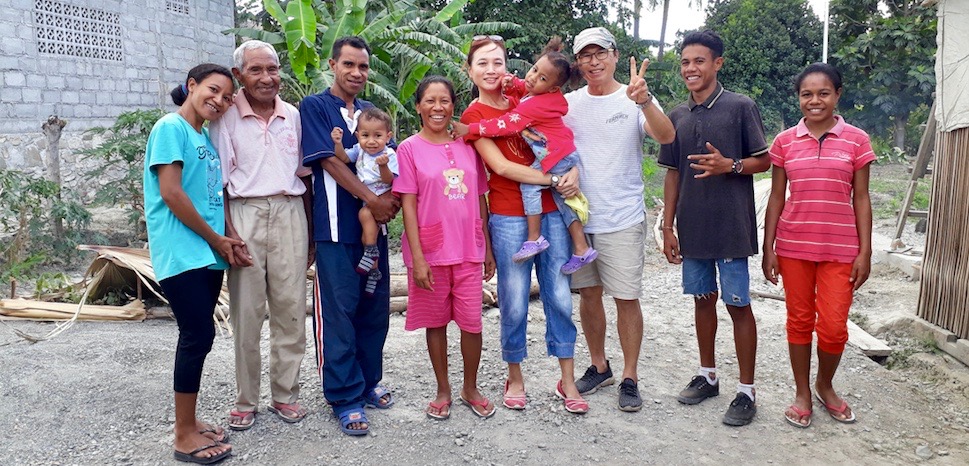 Jessica's birth parents (3rd and 4th from left) offered their first child to the Lees for adoption. The Lees took Jessica to Singapore when she was three years old, in order to give her a good education. Seen here is Jessica's extended family who turned up to say goodbye to her. All photos courtesy of Francis and Grace Lee.
In 2016, missionary couple Francis and Grace Lee received news that rocked their world. Their Timorese disciple, Afonso, said he wanted to give his firstborn child to them. His wife was about six months pregnant then.
Francis, who was 56 then, remembers that conversation vividly. "He sensed this child was going to be someone great. He felt he didn't have the capability to bring up this child to be a great person. So he asked God who he could entrust this child to. He sensed that God wanted him to give the child to us.
"It was shocking and unbelievable. It's their first child! We told him, 'You pray about it. You need to hear correctly from God. How about your wife? How does she feel? How about your parents?'"
The news threw Grace into emotional turmoil as well. At the time 47 years old, she wrestled with God: "God, can you speak to us? Is this child meant for us?"
"I was quite overwhelmed. Stories (about mothers) in the Bible came to me – Hannah, and Mary, especially Mary's words, 'Be it unto me, according to Your word' (Luke 1:38). And Elizabeth! She was ageing but God gave her a child." 
Pharaoh's daughter
The Lees have been married since 1994. In 1999, they served on board the missionary vessel Doulous for two-and-a-half years. After that stint, they settled down in Singapore again and went to Bible school.
Grace recounts telling God this: "God, this is the best time for us to have children, now that we are in Singapore for a few years."
But the couple did not conceive, and they went on to serve in Timor-Leste in 2006, at the start of the LoveSingapore movement to spiritually adopt Timor-Leste.
"After a few years in Timor-Leste, we were open to adopting a child," Grace says. "It would make a lot of difference to invest in one child rather than seeing the children come and go."
"But God, I am not Pharaoh's daughter, I don't have resources!"
Even so, Afonso's offer of his own child shocked the couple. But, little by little, confirmation of God's direction came.
At a Skype Board meeting with their leaders, a pastor shared the opening verses of Isaiah 54. Verses 3 and 4 caught Grace's attention:
Sing, barren woman,
    you who never bore a child;
burst into song, shout for joy,
    you who were never in labor;
because more are the children of the desolate woman
    than of her who has a husband,"
says the Lord.
2 "Enlarge the place of your tent,
    stretch your tent curtains wide,
    do not hold back;
lengthen your cords,
    strengthen your stakes.
3 For you will spread out to the right and to the left;
    your descendants will dispossess nations
    and settle in their desolate cities.
4 "Do not be afraid; you will not be put to shame.
    Do not fear disgrace; you will not be humiliated.
You will forget the shame of your youth
    and remember no more the reproach of your widowhood.
"Pastor Joshua, the Board Chairman, said, 'Do not hold back, the blessing is guaranteed!'" Grace remembers.
"I asked God, 'Are you speaking about our situation? We are not young, and we don't have the resources.' Again, I thought of Bible stories – of Moses being given to Pharaoh's daughter."
Still, Grace wrestled within herself: "But God, I am not Pharaoh's daughter, I don't have everything!"
She adopted us first
The Lees chose to name the baby Jessica for a girl or Jayden for a boy. The baby girl was born in June 2016. The Lees visited her the very next day. They were still skeptical if her parents were truly serious about giving her away, or if they might change their minds.
 "We decided to let the child be weaned first, like how Samuel was weaned before he was brought to the temple," recalls Francis.
Grace added: "I did not know what to do with a baby! We told the couple to take as long as they needed to wean her – even two years was okay. I also told her aunty, 'You must be her nanny and help me!'"
"God said to me, 'All these are signs I've given her to you'."
A few months later, Jessy's birth parents moved in to stay at the training centre that the Lees were running. That gave the couple more contact time with the little girl.
"At that point, I could see that Jessy (as we called her) was drawn to me. Her mother would say that whenever I passed by, the baby would crawl towards the door, or that she would stop nursing and tilt her head to look at me when I walked by."
In February 2017, when Jessica was about eight months old, her father asked the Lees if they would take the girl home once a week to spend time with her.
Grace recalls: "We brought her home every Friday and returned her the next day. Her birth mother would come and nurse her, and then go home. Jessy never cried. She was so happy to see me.
"God said to me, 'All these are signs I've given her to you.'
"I always say that Jessy adopted me first! She has a special affinity with me," Grace recounts, still moved by the memories. 
In July 2017, Jessy's birth parents officially handed the girl to the Lees.
"She didn't cry at all. It was quite amazing. She seemed to know she belonged to our family," Francis says.
Angel from Hawaii
The next question began to loom in the couple's minds – should they go all the way and pursue legal adoption?
An unexpected source of assurance came, this time, from a visiting Hawaiian team. They had stopped at the couple's training centre to use the bathroom during a long drive through the Timorese countryside.
"An elderly Hawaiian man stood in front of me and said, 'I am an adopted child.' He was in his 60s. I thought to myself, 'Why are you telling me this? I don't know you at all.'
"He continued to say, 'It's so wonderful, aren't we all adopted into God's family? It's all by trust! It's not about the legality. I have my birth parents, my adopted family and I've adopted someone else!'"
Grace describes the Hawaiian visitor as an angel God sent to assure them that all would be well. "The message to me was to just wait and enjoy having Jessy in my home first, don't worry about the paperwork yet."
"The Singapore church had 'adopted' Timor-Leste as a country. Some 13 years later, we really adopted a Timorese!"
Gradually, the Lees felt convicted to pursue full adoption.  
God's leading continued to unfold in amazing ways.
The couple looked for a lawyer in the capital city, Dili, to assist them in pursuing adoption. They were told that it would cost about US$7000 (about S$9,500) in legal fees. But just before they committed to hiring the lawyer, Francis received a text message from a Brazilian pastor friend, suggesting that he also check out the public defender in the city.
The Lees decided not to hire the private lawyer just yet and went to the public defender's office. To their amazement, they were served by an efficient and professional team who processed all their documents and represented them in a district court, for no charge at all.
The case went to court in April 2019, and the Lees were officially recognised as Jessy's legal parents.
"The judge reminded us that this is a full adoption, that from this day on, she will become our child. Based on Timorese law, when a child is adopted, she has no more legal claim on her birth parents, and every claim on us. Her birth certificate will show both our names," says Francis.
Grace quips: "When we went to Timor-Leste in 2006, the Singapore church had 'adopted' Timor-Leste as a country. Some 13 years later, we really adopted a Timorese!"
No looking back
In addition to naming their child Jessica, the Lees also gave her a Chinese name of Lee En Hui (李恩惠), which means grace.
After that step, they decided it was time to take the girl back to Singapore. Jessy was around three years old and the Lees wanted her to begin adapting to Singapore culture, and to receive a good education.
"We prayed to God, 'If you have given us this child, make a way for Jessy to get citizenship!'"
Grace wrapped up her work on the field and moved back with Jessy in August 2019.
The next step was to apply for Singapore citizenship.
"We prayed to God, 'If you have given us this child, make a way for Jessy to get citizenship!'"
The Lees were advised to apply for citizenship online with the Immigration and Checkpoints Authority, since they had all the official papers to prove their adoption was legal. They translated the Timorese court order into English and submitted all their documents online.
"Our lawyer said, 'Just wait and trust God!'" This was in September 2019.
"This is really God; humanly speaking, it's not possible."
In January 2020, the application was approved. They were not even called up for an interview. Shortly after, the Lees collected Jessy's citizenship certificate, and passport.
"God has done so many miracles. Everything was completed before Circuit Breaker. She got her Singapore passport in February.
Grace told Him: "God, You really want her to be here. You meant it that way, I cannot look back anymore."
"It's really amazing," Francis recounted, visibly moved. "We didn't even spend much money, from day 1 in Timor-Leste, until she got her citizenship. This is really God; humanly speaking, it's not possible."
A miracle-working God
Francis tells Salt&Light that it was John 12:24-25, about a grain of wheat falling to the ground and dying, that first inspired him and Grace to go into missions.
But it is the following verse, 26, that has now come alive to him, after adopting Jessy: "Whoever serves me must follow me; and where I am, my servant also will be. My Father will honor the one who serves me."
To Francis, the gift of a daughter is an inexplicable honour from the Father.
"We tend to focus on the first part – that we need to die to self, thinking we should honour God, why should He honour us?"
But the honour God has given to them is, to Francis, "a blessing that I cannot describe, it's beyond words".
The honour (of parenthood) that God has given to them is, to Francis, "a blessing that I cannot describe".
Grace meanwhile, confesses that motherhood has not been easy.
"In the past, I like to plan and think ahead. With a child, I cannot. I really have to surrender."
"We live by faith, not by sight" (2 Corinthians 5:7) is a verse that has special meaning to the couple.
"I tell God, 'Thirteen years in Timor-Leste is still not enough; You still want to train me'," laughs Grace. "(Parenthood) is a work-in-progress. I've taken care of 12 trainers and a class of 40; now all my energy is on this one little girl."
More than once, Grace reminds this reporter that she is not young. At 51, it is not easy for Grace to raise a child. Francis, now 60, is still based in Timor-Leste.
But Grace is often reminded that God has a destiny for Jessy.
"It's another step of faith. 'God, help me!' Every time I say that, there are breakthroughs," she declared.
Towards the end of the interview, Jessy joins us, after her ballet and music classes.
The four-year old speaks English clearly, and has just started attending a daycare programme. Initially, she found it hard to adjust to the noise, crowd and smells of Singapore, but she has since settled down.
"Do you like Singapore?" I ask the little girl. She bursts into the chorus of "We are Singapore".
As we wrap up the interview, Jessy begins to warm up to me. "I have many toys! Come to my house tomorrow!" One day soon, I tell her.
Saying goodbye to the intercultural family, I, too, cannot help but be in awe of our miracle-working God.
"We knew in our heart that we are Kaela's 'forever family'": Couple who were moved to adopt their foster child
A divine exchange: When God showed one mother how He saw her special son
"Church was my faith reserve for what was to come": Surgeon who lost mum, slept at the airport as a teen