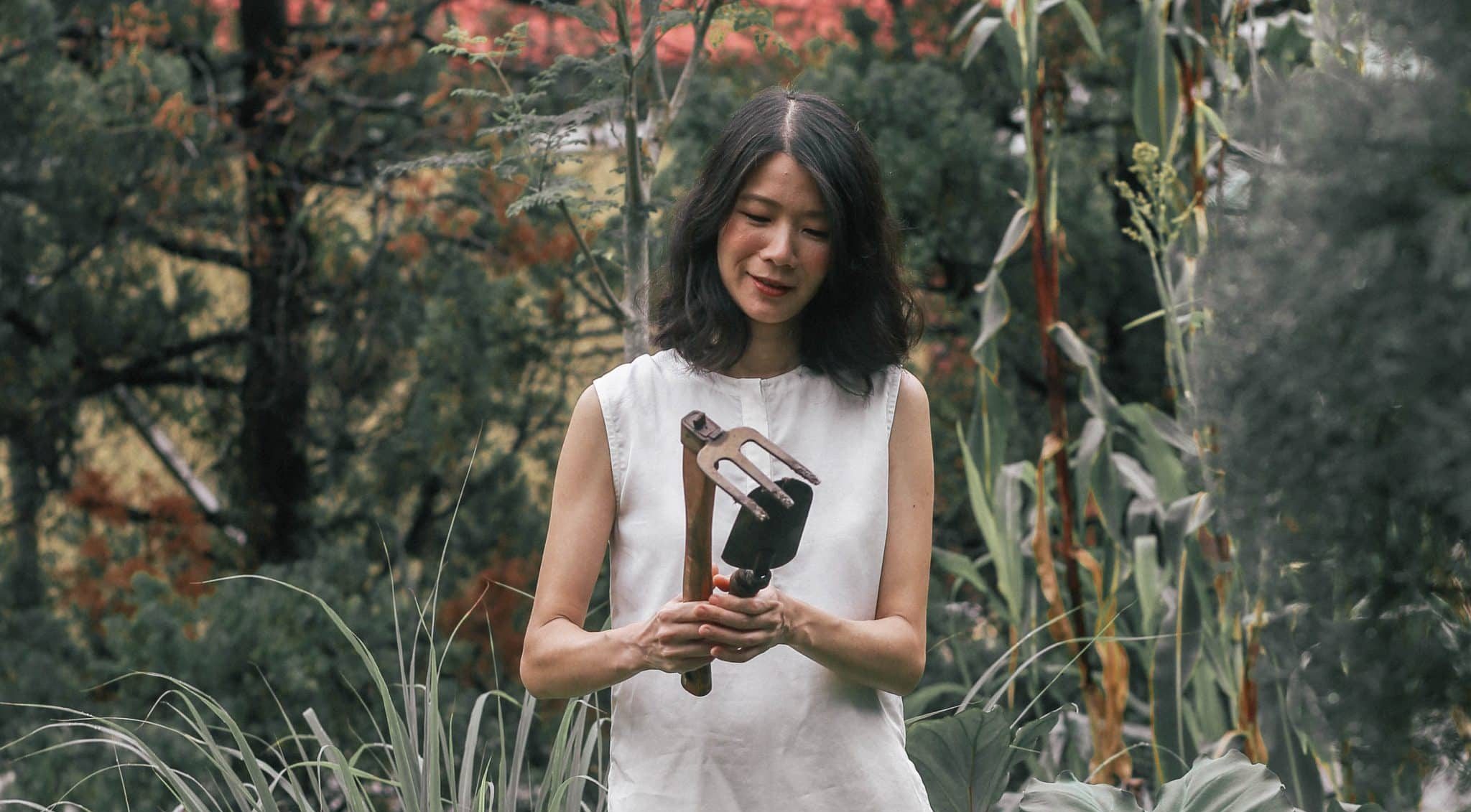 Olivia Choong was intrigued by New Age spiritualism in her search for meaning in life. But she would discover that they were but poor imitations of the truth found in Christianity. All photos courtesy of Monica Lie, Esse.
At the height of her involvement in the New Age movement, Olivia Choong, 43, was seeking guidance from astrologers, psychics and healers. Each visit would cost a few hundred dollars.
Then, there were the retreats, festivals, meditation CDs and products, all of which she bought because they promised her healing, peace of mind and prosperity. By her own estimates, Olivia must have spent thousands of dollars in the more than 10 years she was into New Age beliefs and practices.
"I was so joyless in my life."
"I spent S$3,000 on beads because I believed they worked. They are said to give off energy and are supposed to be beneficial. When I worked, I would wear them and feel comforted.
"I bought crystals to affect the energy in the house and I got a purple energy plate that was said to be able to bring harmony to my life and I would put it under my pillow and sleep with it.
"I went on to healing oils and potions. There was this entire market of New Age products and services."
But none gave her the purpose and hope she was seeking.
"I was so joyless in my life."
Search for meaning
Olivia had grown up in a Catholic family. She was baptised as an infant and went to church regularly every week, attending Sunday services with her parents as well as catechism classes.
"For a long time, I felt emotionally unstable."
By the time she was in her late 20s, though, "God was the furthest thing from my mind; I was relying on myself for everything".
On the outside, life seemed to be on the up and up. She had founded Green Drinks Singapore, a non-profit society which focusses on the environment. Her social calendar was full. She was clubbing, drinking and "talking rubbish with my friends".  
But on the inside, Olivia felt that it was "an empty lifestyle".
"For a long time, I felt emotionally unstable. There was underlying anxiety. So, I wasn't at peace. I was just very restless.
"Spiritually, I felt I was quite bankrupt. I knew there was more to life. It can't just be work alone. But I couldn't put a finger to what else there was."
Then, she went through a "terrible breakup" and she hit "rock bottom".
"I didn't want to get out of bed at that time. I was quite vulnerable."
During a conversation with a work friend at the time, she happened to bare her soul.
"I was searching and New Age was the first thing I grabbed onto."
"I told him, 'I need a life purpose.' He suggested that I see his astrologer. He said, 'He is very accurate and he can tell you what is lined up for you.'"
Olivia had read horoscope predictions in the newspapers and thought it "seemed harmless". So, she got in touch with her friend's astrologer.
"I wanted to see what life had in store for me. So, I was searching and New Age was the first thing I grabbed onto.
"I had no hobbies at 28. It was late in life not to have a hobby. So, I couldn't throw myself into anything."
That first encounter with the astrologer became the start of Olivia's involvement in New Age spiritualism.
Dark side of New Age beliefs
In the years that Olivia was immersed in New Age beliefs and practices, she revelled in how they allowed her to be a more spiritual person. At times, she was even in awe of how they could tap into the supernatural.
"It is not just God who gives the power to do these things but the enemy can give power to people as well."
"I was thinking: Why is it that all these psychics can tell the future? They are so gifted."
But there was a dark side to the spiritualism.
She was often harassed by spirits which manifested as throbbing in her ear. Psychics she consulted told her that she was being troubled by child spirits. No matter what she did to get rid of them, they always seemed to return.
She also suffered excruciating backaches. At times, she would be in so much pain that she could not walk. Once, she had to cancel a flight. Whatever healing she sought from New Age practitioners was short-lived.
It was at that point that she met the man who would become her fiancé, Levan Wee. Two years into their relationship, Levan, who had been "anti-Christian", miraculously had several personal encounters with God and became a Christian.
Levan began telling Olivia about the supernatural experiences he had with God, from visions to miraculous healing. It made Olivia curious and she started finding out more. Six months later, when Olivia met a Christian couple for dinner and the wife shared the Gospel message with Olivia, she gave her life to Jesus and became a Christian.
The woman also walked Olivia through the steps of Freedom in Christ, a course that helps Christians overcome issues that are holding them back from living an abundant Christian life. It was then that Olivia realised that the supernatural things she had been involved in were not of God. 
"I had thought: If it's so bad, why does it work? But Levan told me that it is not just God who gives the power to do these things but the enemy can give power to people as well.
"As I went through Freedom in Christ, I saw there were very few things on the list that I did not do. Yoga, meditation, Reiki – all the things that had seemed innocuous. I had to renounce a whole life of stuff."
"A lot of other healings I had were temporary. This was permanent and it was free."
Then, Olivia met a pastor and his wife. Without her even asking, they prayed for her. As they did, the pastor's wife had a vision of a snake falling away from Olivia and she told Olivia that she had been healed of her backache. Olivia had not even mentioned that she had been troubled by back pains.
It was then that Olivia remembered that she had participated in a spiritual awakening in which energy in the form of a "coiled snake" at the base of her spine was released. 
"I realised that the snake was causing my backache. Up to that point, I was still holding on to New Age stuff and trying to make meaning out of it. I was still convinced it was okay.
"From that healing, I realised that I had gotten tricked. I hated being cheated and lied to. I realised everything must go."
From that day onwards, Olivia's backaches disappeared.
"A lot of other 'healings' I had were temporary. They worked for a while and then it would come back. This was permanent and it was free. Wow!"
Clearing spiritual debris
Nearly two years on, Olivia is still clearing out the remnants of her time immersed in New Age spiritualism.
"Every day, I know there is something harassing me to different degrees. Recently, it was very bad and that was after I did even more renouncing of New Age practices.
"I realised that there were some doors that I still hadn't closed."
"I felt like something was hovering over me. When I pray or when I call upon God or Jesus, I would feel this thing going up my neck. When I listen to worship music, it feels like hair being brushed in the wrong direction."
What she has been doing is to prayerfully find out how she had opened doors to these spiritual harassments and renouncing those practices.
On one occasion, she mentioned to Levan that she was still getting harassed by spirits. He prayed about it and then asked her if she had ever prayed to ask for a third eye. She had. "I realised that there were some doors that I still hadn't closed."
On another occasion, Levan prayed for her and discerned that she had participated in a visualisation meditation. That made her remember a New Age product which she had used for her visualisation sessions in which she generated positive images in the belief that it would bring positive things to pass.
She found the purple plate she used to sleep with to give her better sleep and got rid of it.
"Instead of relying on all these expensive products, I just have to have faith in God ."
"I prayed:  Please show me things I need to get rid of, doors I need to close.
"The Holy Spirit led me to this ornamental eye that was supposed to ward off bad luck. I thought: I need to throw this out."
Her newfound Christian faith has given Olivia the very things she had struggled so hard to obtain – joy, peace, guidance and meaning in life – and had found only through Jesus.
"What Christianity has given me is the peace of knowing the Creator. I have the assurance that I will be better than okay.
"And it's so simple. Instead of relying on all these expensive products, I just have to have faith in God and pray, and I get direct guidance from God. That's the best thing."   
---
RELATED STORES:
She left church for 20 years, tried New Age spiritualism – but God called out to her
Frontman of iconic rock band, Ronin, finally finds what he has been searching for
If you have enjoyed reading Salt&Light...
We are an independent, non-profit organisation that relies on the generosity of our readers, such as yourself, to continue serving the kingdom. Every dollar donated goes directly back into our editorial coverage.
Would you consider partnering with us in our kingdom work by supporting us financially, either as a one-off donation, or a recurring pledge?
Support Salt&Light