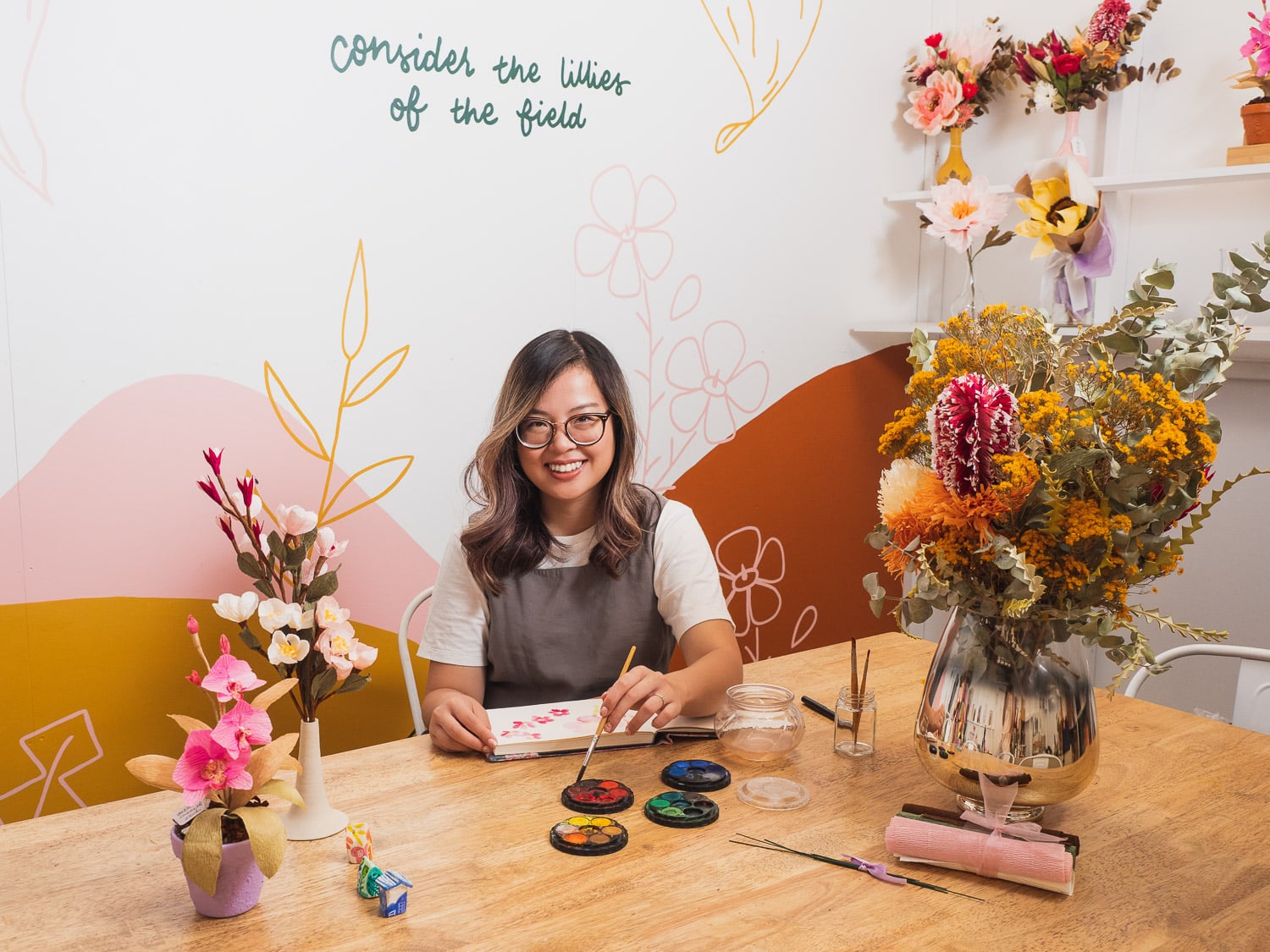 At Jotterbook Flowers, art is not the end product, meaningful interactions are. Photo by Julia Kalinkina.
At Jotterbook Flowers, an art studio and gift shop tucked away in a leafy urban warehouse in Fremantle, Perth, a burst of florals hand-painted on a wall mural warmly greets each visitor.
Orchids, mimosas, ixora – these flowers remind the studio's founder, 26-year-old Carrissa Wu, of sunny Singapore where she grew up. She is now based in Perth.
Specialising in the craft of paper flowers, Carrissa holds workshops to teach others to create flowers out of premium Italian crêpe paper. She hopes that celebrating nature's beauty through this experience will help them feel at home and at rest.
"Before I start the workshop, I'll usually remind my participants that the joy of this craft is finding out what is unique about each flower that we're creating. Just as every flower is purposefully and wonderfully made in nature, so are we," she said, referring to Psalm 139.
She designs each workshop based on seasonal flowers, or what God has been laying on her heart.
"When war broke out in Ukraine, we did sunflowers, Ukraine's national symbol. When the first bad wave of Covid-19 hit Perth, we did proteas, which are often used to symbolise transformation and resilience," she said.
She guides everyone through each step of the way and encourages them to celebrate their unique flowers and to admire how others around the room have created them too.
Once they're done, participants bring home their finished creation as a reminder that they are capable of creating something beautiful, in the hope that they feel refreshed and inspired for the week ahead.
God connections
From its inception, Carrissa wanted Jotterbook Flowers – named after the way she found comfort in doodling in jotterbooks as a child – to be centred on fostering a community built upon God's love for each and every participant.
Instead of being just an end product, art would be a vessel for meaningful interactions to happen. Growing up, she had seen on multiple occasions how art has an uncanny ability to bring people together.
When she was 12, at a dinner in a restaurant with her extended family, Carrissa casually picked up a napkin and rolled it into a flower. Her uncle saw it and wanted one and, soon enough, everyone at the table wanted one, too.
At 14, when she migrated from Singapore to Perth, she struggled to make friends in school. It was during art lessons that she found cultural barriers broken.
"Making paper flowers was a bridge for deeper conversations."
A few years later, she had her first encounter with her husband's sisters.
She remembered feeling shy and awkward as this was her first time meeting Nick's family and she kept herself in his room. Thankfully Nick's sisters gently drew her out by inviting her to make paper flowers together for an upcoming wedding.
Slowly, the layers of anxiety started peeling away. As she began to feel more at ease, the conversations moved from technicalities to sharing life stories.
"Making paper flowers was a bridge for deeper conversations," she said.
That encounter left such a deep impression on Carrissa that she aspires to replicate the same experience with every participant in Jotterbook Flowers through art.
Through the gentle sowing and watering of conversational seeds, she hopes that the petals of friendships will open and bloom.
At each workshop, she strikes up casual conversations with her participants. Oftentimes, the conversations would naturally deepen.
"Sometimes they'll share that they've had a tough year with health or family issues, and booked the workshop to get some time for themselves to do something fun and relaxing. Each person shares what they feel comfortable to share. My job is to create as safe an environment as possible so that no one feels judged or pressured," said Carrissa.
"At the end of each workshop, when I stand in front of a room full of participants, I feel like I'm gazing upon a field of beautiful wild flowers and I see how precious each one is to God."
Consider the lilies of the field
Despite the ease with which she now runs Jotterbook Flowers, this was not Carissa's original career choice.
After graduating with a Fine Arts degree in Australia, her interest in counselling led her to embark on a career as a Responsible Gaming Advisor in Crown Perth's casino.
For three years, she counselled people from various walks of life who were trying to woo lady luck. Sadly, these people had families and jobs, but gambling was their number one obsession.
Even after they applied for a self-exclusion to ban themselves from entering the casino, they eventually returned. Carrissa would help her clients shift their focus to more worthwhile activities.
Deep inside she felt something stirring. "I wanted to be on the other side. I wanted to provide something valuable for people to do outside of gambling, something that connected them back to themselves, their community and God," she said.
These deep stirrings coincided with the beginning of the pandemic in late-2019, when she was stood down from her job. It was a blessing in disguise as the many months of lockdown gave her a chance to reflect on her direction in life.
"He's not going to leave me, He's not going to forsake me, He's not going to let me drown."
Like many, she felt lost. Her identity was closely entwined with her career and how much money she made. Doubts started to creep in and she was perplexed by questions: "Who am I really to God? Who am I when I'm not working? Who am I when I'm not striving?"
As she wrestled with these questions, Carrissa sensed God calling her to rest in His goodness despite feeling stressed and anxious about her future as a result of the pandemic.
More than once, He brought her attention to Matthew 6:28-30:
And why are you anxious about clothing? Consider the lilies of the field, how they grow: they neither toil nor spin, yet I tell you, even Solomon in all his glory was not arrayed like one of these. But if God so clothes the grass of the field, which today is alive and tomorrow is thrown into the oven, will he not much more clothe you, O you of little faith?
After months of wrestling, it finally dawned on her that she didn't want to spend her 20s and 30s in a casino. "I felt so detached from God's gentle nudging and tugging of my heart," she recalled.
With the support of her husband, Nick, Carrissa went back to her lost love – folding paper flowers.
Things took off online and by the end of 2020, she decided to quit her role as a gambling advisor and took the leap of faith to set up Jotterbook Flowers, where she found the answers to her restless heart.
God's providence
Still, life did not become a bed of roses.
As a newly-minted entrepreneur, Carrissa faced challenges and obstacles.
"I knew how to make art but I didn't know how to make money. I didn't have the skills to make it sustainable. For the first six months, I barely broke even," Carrissa said.
But God provided a job for her through her church, Riverton Baptist Community Church, as a part-time administrator which helped tide her through the birth pangs of Jotterbook Flowers.
When the admin role was coming to an end, one of Carrissa's close friends, a business consultant, stepped in to coach her on making her business sustainable.
"Business was so slow and dry", but each month God provided timely help through unexpected ways.
The next month, Carrissa was involved in a car accident. Her car was rear-ended and sandwiched. Thankfully no one was hurt, though her car was slightly damaged. Once again, God provided for her through her insurance pay-out, which took care of another month.
"I don't do anything special. All these interactions were a result of God's work in my heart and life."
"So always at the back of my mind, I keep telling myself: Consider the lilies of the field. He's not going to leave me, He's not going to forsake me, He's not going to let me drown," said Carrissa.
A breakthrough came this year in April. 
It was an ordinary day and she was driving. There were many things weighing on her mind and she was trying to meditate on Matthew 6. Suddenly, she felt the Holy Spirit remove the anxieties of her heart.
Instead of repeatedly reminding herself not to be anxious, she felt her anxiety lifted because of the "overwhelming evidence of what Jesus has done in my life". All her burdens – about how the business was going to survive, where the money was going to come from, when the next sale was going to happen – simply melted away.
"That's not my focus now – my focus is on doing the business with God, letting Him guide me. That just puts so much peace in my heart," she said.
It takes a village
Since then, she has seen God's immense providence and love, especially through her family and community. Looking back on the past year, she recognises how it takes a whole village to raise a business.
Nick and Carrissa's parents are her ardent supporters and encouragers.
Carrissa's dad, an experienced businessman, is her wise advisor, teaching her how to expand and manage her business while her mum faithfully helps as a store assistant, tending to the needs of the participants. Her younger brother contributes in photography and videography.
Even Nick's cousin and her church opened doors of opportunity for more workshops to be held within the local community. Her  friends in Singapore also constantly gave her feedback for improvement.
They are reminders for Carrissa to hold tightly to Paul's words in Philippians 4:12-13:
I know what it is to be in need, and I know what it is to have plenty. I have learned the secret of being content in any and every situation, whether well fed or hungry, whether living in plenty or in want. I can do all this through him who gives me strength.
"We can be easily discontented in times of plenty, like: This is what I wanted three months ago and now I have it but I want more," said Carrissa.
"The challenge is to continue to trust God and focus on the God-given vision and mission ahead."
Coming full circle 
Just a few years in, Carrissa is already starting to reap the fruits of her labour. 
Her dreams for Jotterbook Flowers include having digital tutorials, kits and floral installations.
Most importantly, she's thankful she has an opportunity to create kinship among participants and conversations that point others to Jesus.
Once, a pair of sisters complimented Carrissa on her kind and loving manner. "I thanked them and said, 'I have to be honest, that comes from my faith and from knowing Jesus, because that's how God loves us!'" she quipped.
"They left after this interaction, but I'm praying that seeds have been planted and we can continue to get to know each other in the future."
On one occasion, while she was conducting a workshop at a library, she realised that one of her participants was a former client from the casino.
"I pray that the Holy Spirit will guide each action … and fill every room with His presence."
"A few years ago, he was in bad shape because gambling caused so many issues within his family and we had a lot of hard conversations about that.
"I left the casino to provide something of value for people to do outside of gambling and now to see him having such a good time with his wife and friends while making paper flowers, I was like: Thank you, God. What an affirmation of Your call!" said Carrissa.
"I don't do anything special. All these interactions are a result of God's work in my heart and life. Although things like marketing and making sure the business is sustainable are important, I pray that the Holy Spirit will guide each action, from our conversations, to who each participant is sitting beside, and fill every room with His presence.
"Whenever anyone asks about why I do what I do, or what inspires me or gives me courage to start an art business, I tell them that it's all God's grace in my life, because I've experienced Jesus' love first hand and just want to share it with others."
---
RELATED STORIES:
From burnout to bouquets: How a faith community grew Corinne's Fleurs
"He had a bigger plan all along": She landed her dream job in TikTok, but not before wrestling with God
How ex-journalist Sylvia Yu is bringing about reconciliation with heartbreaking true stories of Asia's "comfort women"
Why would God care about a humble hawker stall in Pasir Ris? This young hawker found the answer
If you have enjoyed reading Salt&Light...
We are an independent, non-profit organisation that relies on the generosity of our readers, such as yourself, to continue serving the kingdom. Every dollar donated goes directly back into our editorial coverage.
Would you consider partnering with us in our kingdom work by supporting us financially, either as a one-off donation, or a recurring pledge?
Support Salt&Light