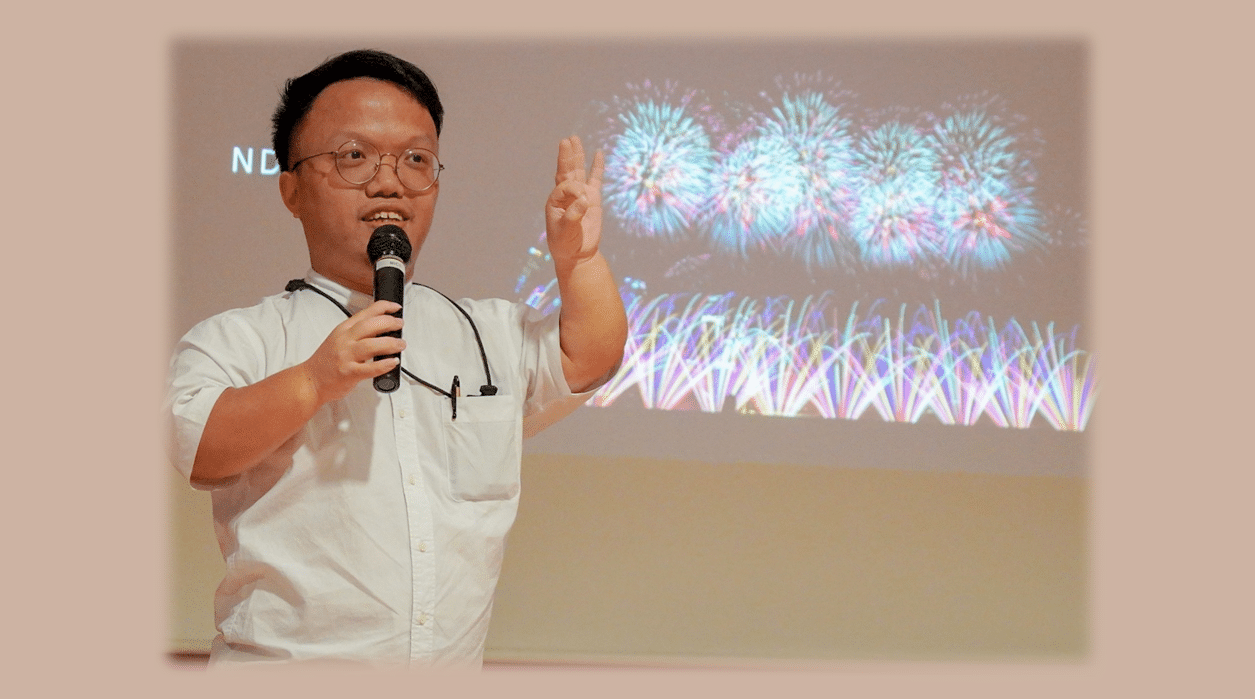 Joshua Khoo, who was born with achondroplasia, was raised to not let his condition stop him from pursuing his passion and serving God. Today, he shares his story at motivational talks in schools and at Christian organisations to encourage youths. All photos courtesy of Joshua Khoo.
The first time Joshua Khoo realised he was not like other children was when his parents tried to enrol him in kindergarten. School after school rejected him because he was born with achondroplasia, a bone growth disorder that causes dwarfism.
"They were afraid because they didn't know how to take care of me. They were not trained to take care of people with special needs," Joshua, 29, told Salt&Light.
Achondroplasia prevents the changing of cartilage bones, especially in the long bones of the arms and legs. This results in dwarfism, where there is a limited range of motions at the elbows, smaller fingers and a larger head. Achondroplasia is caused by a gene mutation. Most cases are not inherited.
When Joshua eventually found a place in a kindergarten, the first day of school proved traumatic.
"My head was bigger. I had pigeon feet – my two feet faced outwards. I got stared at and I felt judged for my medical condition.
"I came home and cried. That was when my mum decided to take me out."
Joshua would later get a place in a church kindergarten where his aunt worked. She promised to look out for him.
"She knew my medical condition well and knew how to handle it."
Not short on love and support
Joshua's parents discovered his condition during a regular prenatal check-up.
"The gynae felt that the proportion of the bones was not right. My head was bigger, and my limbs and hands were shorter than usual.
"As Christians, they knew that God has a purpose in every life that is created."
"When the doctor broke the news to my parents, they were shocked."
Their first child, a son, had been born normal. There was nothing to prepare them for Joshua's condition. His businessman father gave up a project with a multi-national company so that he would have more time to help care for Joshua when he was born.
"He gave up opportunities for me."
What helped his parents even before Joshua was born was the loving support of the people in his church.
Both his father and his mother are second-generation Christians who grew up in Telok Ayer Chinese Methodist Church. They have many relatives and friends they had known since childhood in the church. When news of Joshua's condition broke, the rallied around his parents.
"The support was so great that they had so much faith in God in terms of how to bring me up. This is the good thing about being in a family church.
"So, my parents were not so worried. As Christians, they knew that God has a purpose in every life that is created. That was what they had in mind."
Growing up, Joshua always felt loved and supported. Aunties and uncles from the church were always there to look out for him. Even now, he can still count on them for help.
His grandparents were pioneers of the church. His grandmother served in the church's Hokkien Service, preparing breakfast for worshippers, and was well-known amongst the members of the church. As a result, everyone knew Joshua as well.
"The whole church is familiar with my family because my family has been there the longest.
"When the different language services all worshipped in one building, before we split into two locations, we got to see each other more. Those in the Hokkien Service would call me Ah Ying Ji Eh Soon (Sister Ah Ying's grandson)."
The first miracle
Children with achondroplasia have weak muscle tones and bones. This often affects posture and bone growth. Doctors told Joshua's parents that he would experience delayed walking and motor skills.
"My bones were so fragile and weak that I was not able to sit upright. My lower back spinal cord was too weak to support me. So, it took quite a while before I could even sit up.
"My parents and grandparents who helped take care of me had to carry me throughout my first few years."
Most children walk before the age of two. But Joshua's parents did not know when he would walk. Doctors could not offer them a time frame.
"My spinal cord was weak and my knee caps were not strong enough for me to stand properly. I also had pigeon feet which made it tougher to walk."
When Joshua was four, his father took him to the swimming pool, as was his habit. While he was there, his father felt "the Holy Spirit prompting him" to release his hold on Joshua. In obedience, his father let go of him in the shallow pool and Joshua took his first two steps.
"There was no special treatment. So, it didn't make me feel like I was a special needs child."
"That was a miracle. After the first two steps, I continued walking towards my grandmother. She was shocked.
"Both she and my father were in tears."
While his parents provided him every support to help him overcome some of effects of achondroplasia, they also tried to raise him to function in a world built for people of regular height.
Said Joshua who stands at 1.35m: "At home, my furniture, the tables, the bathroom fixture – toilet, sink, shower – are not specially catered to me. They didn't purposely make things lower for me.  
"I respect this most about them because they didn't want me to grow up feeling like I was different. And, if at home, I have to be specially catered to, then I would have struggles when I go outside."
In church, he was treated like every other child as well.
"There was no special treatment. They didn't have to take special care of me. So, it didn't make me feel like I was born different, a special needs child. I was able to blend in well with the other kids and that gave me a lot of comfort growing up.
"They gave me a lot of assurance that I was no different from the other kids. They simply treated me as who I am – a child of God."
Bullied, but not bested
Outside of the church, people were less kind.
Joshua was bullied a great deal growing up. One incident is still clearly etched in his mind. He was in Primary Four when a group of boys had called to him from across the canteen to join them.
"I was not very close to them. In fact, they liked to disturb me. But as a person who did not have many friends at the time, I got a bit excited.
"I ran across the school canteen, not realising there was a puddle of water. I slipped and fell, and hit the back of my head.
"One of the breakthroughs was understanding the concept that God has given us different gifts."
"They didn't even help me. They just started laughing."
Joshua would find out later that the boys had seen the puddle of water and had deliberately called out to him to see what would happen.
"I went through so much bullying and pain that having this faith is like a cornerstone for me.
"Being born into a Christian family with a Christian community, some of my church school teachers have seen me grown up since I was a baby. They really gave me a lot of assurance. I don't remember asking my parents why I was born this way."
Joshua admitted that he did ask himself: "Why me?" and there was a time when he did wish he was taller. But years of being taught the Bible helped him anchor his identity firmly in God.
"One of the breakthroughs was understanding the concept that God has given us different gifts, different talents. That particular phrase, it took me quite a while to understand what it meant, in terms of being born with different talents.
"So, if I am going to be like this for the rest of my life, what is the something that I can do with the little that I have to glorify Him?"
Different talents
Joshua also struggled with learning difficulties.
"I was just slower than others. I struggled to learn and understand concepts and to remember stuff, to excel academically."
Surrounded by his peers who went to brand-name schools, Joshua did feel "very stressed growing up".
"I was encouraged because the church gave me a platform to serve."
"I did ask God many times, 'Is it really true that we can glorify You only through our academic results? I struggled a lot with that."
But the difficulties he faced in school had nothing to do with the achondroplasia or his intellect, and everything to do with the fact that he was more a "technical person".
When given the opportunity, he often shone in hands-on activities. He taught himself to play the drums and now serves in the church worship team.
"I picked up drumming in Primary Five. One of the choir directors of the children's choir I was in felt that having drums would make the children's presentation more lively.
"I was given a set of drum to play with and I just started playing. I didn't go for lessons. There was no formal training."
Joshua would go on to play the drums for the youth service at 13, and then the adult service at 18.
"I was encouraged because the church gave me a platform to serve and to be more courageous, more outspoken."
Photography confirmed what God's Word had spoken to his heart. 
His mother also encouraged him, reminding him that his gifts were God-given and "not by your own strength or your own might".
"Her message carried me through all these years."
Joshua's interest in technical things led him to take up a course in digital audio and video production at the Institute of Technical Education.
"I was excited by the idea of how an equipment is able to capture a moment in time so candidly and so quickly."
Joshua believed it was "by God's grace" that he was accepted into the course. At the interview for admission, the lecturers were worried that he would not be able to carry the heavy equipment and "didn't want to take me in". But Joshua convinced them that he required no special treatment.
Photography confirmed what God's Word had spoken to his heart – he had a talent that God could use.
Little surprises
Upon graduation, Joshua struck out on his own to be a freelance photographer. Despite having to haul equipment weighing up to 6kg and working with light stands of standard height, Joshua managed. The years figuring out how to function with things of regular height stood him in good stead.
At first, the jobs came through recommendations by friends.
"When you use the gifts He has given you, God will never shortchange you."
"Photography helped train me to be more courageous.
"When I did a job, especially government jobs, I had to be more outspoken because I was competing with the media to get the shots.
"It brought me out of my comfort zone."
Then, at one particular government event that he was covering, Joshua found himself jostled by the local media. To get the shots he needed, he had no choice but to raise his voice.
"The media got a bit shocked, like this guy is calling the shots and he knows his stuff!"
After the event, a journalist approached Joshua for an interview. He wanted to do a story on how Joshua "dealt with struggles during work". The feature that later appeared in the Chinese newspaper increased Joshua's profile which led to offers of projects. It was just the boost he needed in his first year as a professional photographer.
"The interview was an opening God gave. I didn't expect it. God drops little surprises.
"During this period, I realised that God sees the heart of His child. When you use the gifts He has given you, God will never shortchange you."
Since becoming a professional photographer, Joshua has covered quite a few high-profile events including Singapore GE2020 and US Vice-President Kamala Harris' visit to Singapore in 2021.
For the past few years, he has also been the appointed photographer for the Closing Ceremony of the Chinese Annual Conference of The Methodist Church of Singapore. This he does pro bono.
Open doors
As Joshua learnt to see himself not as a person with physical disabilities but a person with different giftings, opportunities opened up for him to use those very giftings.
Soon after becoming a professional photographer, he was invited to share his testimony with a group of Christian youths.
"A church friend working in the organisation invited me. I was a bit shocked. Why me? I'm not a person who can speak very well. I'm more a technical person.
"She just wanted me to share how I overcame my difficulties to encourage other people who are born normal and face the same issues."
Though nervous, Joshua shared from his heart.
"After the whole event, people came forward to tell me how encouraged they were."
He has since given talks in schools.
"Even though I was born with a special condition, yet God never forsook me, never despised me. He saw me as a child of God and was always giving me opportunities, opening doors for me to venture out."
"Even though I was born with a special condition, yet God never forsook me, never despised me.
Last year, Joshua took a sabbatical because Covid-19 dried up all the freelance jobs. He took the opportunity to take up a SkillsFuture course on digital marketing and to reflect on the next steps he should take.
"I prayed and I realised that I had enough resources and relationships, over the past years, to be able to start something new."
He decided to do something that would marry his talents with his condition and that would be "meaningful, nation-wide and inspire others".
"I didn't want to do a solo exhibition just to showcase my work. There's no meaning in that."
So, for the final project of his digital marketing course, Joshua convinced his group mates to do a social media campaign to raise awareness for achondroplasia. Little Mighty Warriors (LMW) was the result.
"I want to be a person who uses his life to impact others."
LMW is a social group that advocates for people born with achondroplasia. Joshua now manages its various social media platforms on his own.
He intends to use his skills as a photographer to document the lives of those who have achondroplasia, and organise an exhibition.
"We are here as salt and light of the world. How can we use the limitations that we have to testify about God's love to the world?
"I want to be a person who uses his life to impact others. Each time I serve, it's a clear sign that God doesn't shortchange those who serve Him wholeheartedly."
---
RELATED STORIES:
Helping children with special needs find their place in the world
Three children with fatal genetic disorder, yet David Lang sees God's sovereignty
If you have enjoyed reading Salt&Light...
We are an independent, non-profit organisation that relies on the generosity of our readers, such as yourself, to continue serving the kingdom. Every dollar donated goes directly back into our editorial coverage.
Would you consider partnering with us in our kingdom work by supporting us financially, either as a one-off donation, or a recurring pledge?
Support Salt&Light