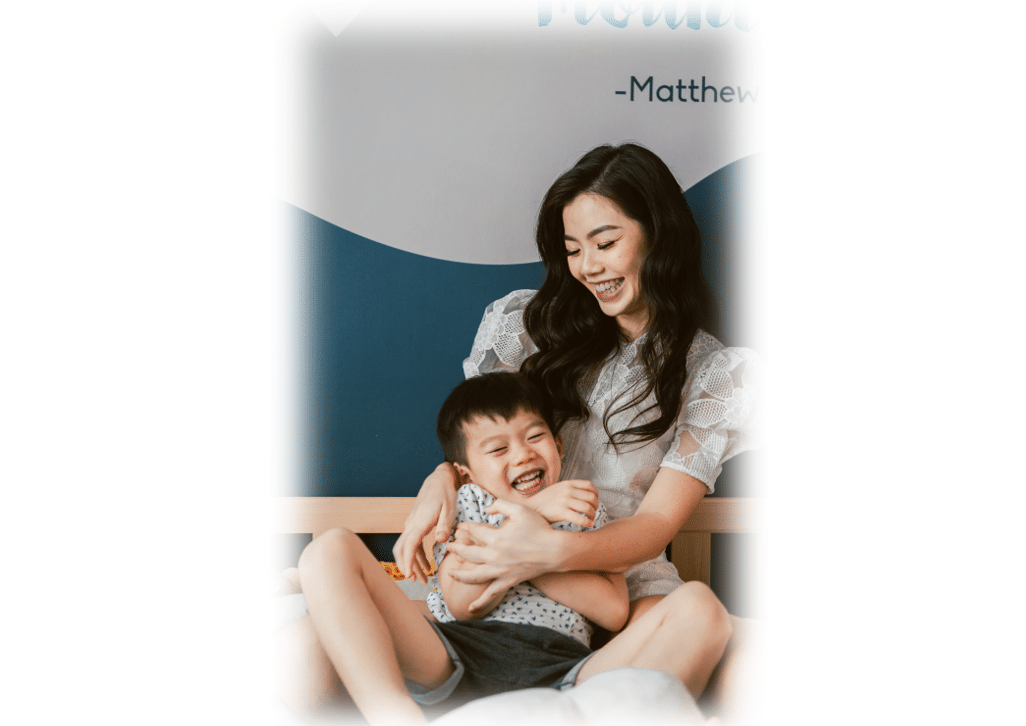 Priscilla Tan wrote Love Like Mine as an ode to a mother's love. All photos courtesy of Priscilla Tan.
"Darling, I love you, I'd do anything for you. I'll take the blame, I'd give up my everything. This love like mine," goes the sweet melody of Priscilla Tan's song, Love Like Mine.
The singer-songwriter's debut song is released just in time for Mother's Day.
"It is a personal ode to my journey as a mother still pursuing my dream to be a singer-songwriter."
"I lost 100% of my income. I struggled and felt like the most irresponsible mother."
Priscilla, 33, is a full-time musician. She quit her job at the end of 2019 to pursue her passion, prompted by God's leading. Her plan was to sing at weddings and corporate events.
Within months, though, Covid-19 shook the world. Large-scale events and public singing became prohibited.
"I lost 100% of my income. I struggled and felt like the most irresponsible mother."
A "dark place of anxiety and uncertainty" followed. But God would prove faithful.
Projects that leveraged Priscilla's marketing experience soon came in. In the last two years, she has been able to make music for brands like LANEIGE, Lee Hwa Jewellery, Colgate and Sennheiser. Doors also opened for her to act in commercials for several companies.
"The rainbows only come after the storm, and mothers can still chase their dreams."
A mother's guilt absolved
Love Like Mine was inspired by an incident that happened when her son was two.
Priscilla was out one night performing at an event. Quite uncharacteristically, she had left her handphone behind.
"I only realised that I didn't have my phone with me when I arrived at the venue. It was too far to drive back to get my phone. So, I carried on."
The sight that greeted her at the door was quite horrific. "I saw blood stains all over the floor."
By the time Priscilla returned home from the gig, it was about midnight. The sight that greeted her at the door was quite horrific.
"I saw blood stains all over the floor and nobody was at home. I walked to the toilet and saw glass all over the floor. The glass shower door had shattered."
She rushed to her handphone only to discover "a slew of missed calls from my entire family". A call to her husband revealed the story.
He had been showering their son when the glass shower door shattered. Shards rained down on the pair. Her husband sustained a few cuts but the bulk of the broken bits fell on their son. A piece cut him right between eyes, requiring six stitches at the hospital.
Now, the pre-schooler has a "little Harry Potter scar" on his forehead that becomes visible when he crinkles his brow when he cries.
"In that moment, though, my heart broke. I was full of 'mum guilt' as to why I was not home for my son when this happened.
"God's peace came over me. I realised, then, that I was absolved of all 'mum guilt' for pursuing my dreams."
"Instead, I had been out singing. How could I be pursuing my interest? I was a horrible mum. It would have been different if I had come back from work. Then, I would have a legitimate reason. I felt like the worst mother on earth.
"I would have done anything to take his place and suffer the pain that he was going through."
But when Priscilla arrived at the hospital, the scene that greeted her was heartening.
"My son was blowing kisses and smiling at the doctors, nurses and family members as if nothing had happened. There weren't even any bandages on his face.
"God's peace came over me. I realised, then, that I was absolved of all 'mum guilt' for pursuing my dreams, and what it means to love unconditionally. This boy knew how to love because he was first loved by us.
"I wrote this song after the encounter. It made me realise what a mother's unconditional love means and how powerful a mother's love can be."
God's love understood  
God had more for Priscilla.
That night, unable to sleep, she opened the Our Daily Bread app on her handphone. The Bible passage that popped up was John 3:16. Having just faced the possibility of losing her only son, the truth that God gave up His only son suddenly became all the more real to Priscilla.
"I have never truly understood the meaning of John 3:16 quite like this."
"I thought about having to give my only son away, which is something I would never do. So, why would God give up His only son for us?
"It made me realise how much God loves us. I've always heard this verse in school, in church. But I have never truly understood its meaning quite like this."
Priscilla hopes her song will speak to other mothers and inspire them to pursue their dreams.
"It's okay to do what you are called to do. With my stories and songs, I hope to create a space for people to share their challenges and struggles. I hope to build a safe community of mothers to open up conversations about what being a mother means, to address our fears and worries, and to spur each other on and inspire each other, especially when we feel alone in our motherhood journey.
"My aim with this song is to give everyone a sense of what a mother's love feels like. I hope this song brings comfort, love and a new perspective to mums." 
---
RELATED STORIES:
"Our intent is missional," says founder of The Fireplace Collective creative agency
"God, what are you doing?": When a go-getter learnt to take her Kingdom assignment one step at a time
If you have enjoyed reading Salt&Light...
We are an independent, non-profit organisation that relies on the generosity of our readers, such as yourself, to continue serving the kingdom. Every dollar donated goes directly back into our editorial coverage.
Would you consider partnering with us in our kingdom work by supporting us financially, either as a one-off donation, or a recurring pledge?
Support Salt&Light