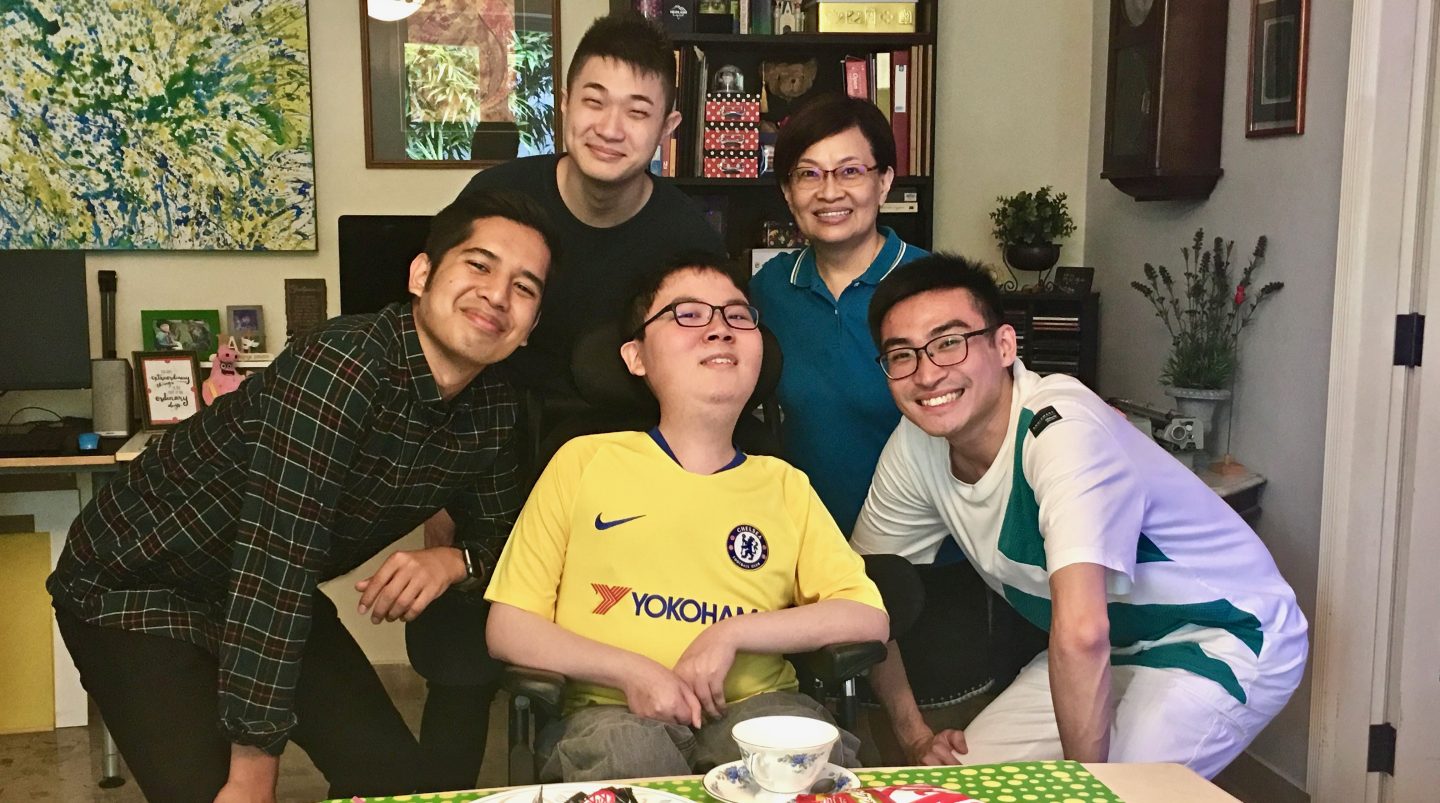 Only God could "give me the strength to cope with the tough circumstances and the courage to live on", says Shalom Lim, seen here in a gathering with his first-year classmates from the Singapore Institute of Technology. All photos courtesy of the Lim family.
At an age when his peers are dating and looking ahead to long and active careers, Shalom Lim, 24, is in a wheelchair, struck by a debilitating muscle-wasting disease.
On August 4, The Straits Times featured the resolute young man, who is an award-winning artist and university undergrad, and who will not give up on his dream to inspire others to dream.
Shalom tells Salt&Light, in his own words, where he finds the courage and the peace to live a life of joy despite almost insurmountable setbacks.
---
My name is Shalom, and I'd like to share with you about my life.
I was born with Duchenne muscular dystrophy (DMD), a progressive muscle-wasting disease caused by a mutated gene.
When I was six, I began to lose the ability to walk, and my parents got me a small manual wheelchair to use when I started school. As a child, I was not self-conscious, so this did not bother me very much.
When I was in Primary 3, my parents bought me my first motorised wheelchair. I was thrilled to use it because it restored some of the independence I had lost from not being able to walk.
The following year I started to lose some strength in my arms and noticed that I could no longer finish my exams on time. My parents relayed this to my form teacher, and I started getting extra time to complete my papers.
This affected me quite a lot because I felt that I was being given an unfair advantage compared to my classmates. But I got over it eventually.
A life almost lost
When I was in Secondary 3, I contracted pneumonia for the first time after having the flu for about two weeks. My left lung collapsed, and I was running a high fever every night. 
When we were at the A&E department, my dad read Psalm 91 to me, and that was the first time I remember feeling God's love for me. Although I grew up in a very loving family, I never fully experienced the love of God until that point. My family kept praying for me, and I got well after just three days.
Miraculously, the phlegm in my lungs disappeared overnight. For me, this was the first time God's grace came through for me, and I was grateful to Him that I could resume school so quickly.
Although I grew up in a very loving family, I never fully experienced the love of God until that point.
About seven months later, in my 'O' level year, I almost lost my life.
This time, the pneumonia was much more severe than the first time. I started having breathing difficulties within five days of catching the flu. Both lungs collapsed, and the phlegm was obstructing my breathing passage.
On the evening of April 26, 2011, I was having dinner with my dad when I suddenly couldn't breathe. I blacked out the moment my dad carried me to the bed. The next thing I remember was waking up in the A&E department of Changi General Hospital and seeing my mum's devastated face.
To be honest, I didn't think I would make it, and I was so happy to see her.
I spent the next 13 days at National University Hospital and had a further three episodes where my oxygen saturation fell dangerously low. But the Lord pulled me through, and I even recovered well enough to take my 'O' levels that same year.
Coming to terms with losses 
The following year I lost my ability to write. That was in my first year at Temasek Polytechnic, where I was doing business studies. I had contracted a random skin infection on my left arm after taking the pneumonia vaccine. The antibiotics used to treat the illness caused the veins in both my hands to become inflamed. I lost the strength in both arms to write.
This was a massive blow to my aspirations to earn a diploma, and I wanted to quit school. But God encouraged me greatly through the support of family and friends: One of my classmates took notes for me during class, and my course manager helped get me a scribe for exams.
I learnt that God will always make a way for me, even when there seems to be no way.
Eventually, God inspired me to devise a way to type on the computer using a stylus input device, which enabled me to graduate from poly with flying colours. 
I learnt that God will always make a way for me, even when there seems to be no way. (Isaiah 43:16-19)
Knowing that in my heart helps me to manage my anxiety, fear and worries every day. Without His help, I would never be able to handle the stress of living with a life-threatening illness.
Just before I started university in 2015, I lost my ability to control my motorised wheelchair as my hands no longer had the strength to move the joystick. I had been so used to moving around independently, this gave me a lot of grief and I even became depressed for a while. 
Despite those setbacks, I clung on to the Word of God that says he will never let me down (Ephesians 3:20) and will work everything out for my good (Romans 8:28).
That gave me the strength to cope with my tough circumstances and the courage to live on.
Gifts of grace
I may have had many challenges, but my story is not all doom and gloom. 
When I was six, I saw that my older brother Isaac, who had autism and DMD, was enjoying his art classes so much that I begged my mum for lessons too. She said "no" initially because I had just started school, and she wanted me to focus on my studies. But she eventually caved in after much persistence from me.
I specialised in contemporary Chinese painting under the guidance of my art tutor, Mr Ng Geok Seng.
As a child, I had always wanted to help the less fortunate, especially members of the Muscular Dystrophy Association Singapore (MDAS). They also have DMD; most of them come from underprivileged backgrounds.
God's grace gave me the peace and the joy that I needed to live my dreams.
The same year I started having art classes, my mum and I co-wrote a poem called Reaching Out. It spoke of my desire to engage the community and make a difference despite my DMD.
Five years later, my mum and her friends helped to publish my art book entitled Live Your Dreams featuring most of the artworks I had produced, to raise funds for the MDAS transport service.
Together with my brother Isaac's book, Not A Wasteland, we raised more than $100,000 that enabled MDAS to put a van on the road for their clients.
When my brother Isaac went to be with the Lord last December, it was the first time I had lost someone dear to me, and it was the most challenging time of my life, not hearing his voice and seeing his smile. But I learnt from Isaac that Jesus loves us no matter what.
God's grace, and the gifts He encouraged me with, gave me the peace I needed to manage my grief and the joy that I needed to live my dreams.
This year God gave me another surprise. When I was approaching the end of my leave of absence from my Criminology and Security degree programme in the Singapore Institute of Technology, my favourite soccer team Chelsea came to town. I badly wanted to meet the players and manager.
The morning of the match I got a text from one of my church members saying she had got me passes to a meet-and-greet session with the whole team! I was left speechless at the goodness of the Lord. That gave me the courage to go back to school.
No mistake
My mother relates that when I was a foetus, my parents did a prenatal diagnosis called chorionic villus sampling to check whether I had Duchenne Muscular Dystrophy as my older brother did.
The funny thing is the results for the test came out negative, which is actually wrong as I have the condition. 
I think it's God's way of telling me that He loves me and that I'm special to Him.
Although it was a mistake, it was God's way of showing me that I'm not a mistake. And that He really wanted me to come into this world. I think it's God's way of telling me that He loves me and that I'm special to Him.
I feel that God has gifted me with a special purpose and place in society. I am in a privileged position of being able to be a blessing to other people by showing them that God's strength is made perfect in weakness.
His grace is enough for us, no matter what we may have gone through or are experiencing: "And He said to me, 'My grace is sufficient for you, for My strength is made perfect in weakness.' Therefore most gladly I will rather boast in my infirmities, that the power of Christ may rest upon me." (2 Corinthians 12:9)
As I look back on my life, I can only marvel at God's love for me. Even though I have DMD, He has been my strength time and again. When I grew weaker, His grace grew stronger.
I can put my trust in Him to bring me through life's trials because He loves me. 
"And not only that but we also glory in tribulations, knowing that tribulation produces perseverance; and perseverance, character; and character, hope. Now hope does not disappoint, because the love of God has been poured out in our hearts by the Holy Spirit who was given to us." (Romans 5:3-5)
How an autistic boy in a wheelchair "shone as a light to the world"
Bringing dignity and hope to children with special needs one brushstroke at a time
If you have enjoyed reading Salt&Light...
We are an independent, non-profit organisation that relies on the generosity of our readers, such as yourself, to continue serving the kingdom. Every dollar donated goes directly back into our editorial coverage.
Would you consider partnering with us in our kingdom work by supporting us financially, either as a one-off donation, or a recurring pledge?
Support Salt&Light