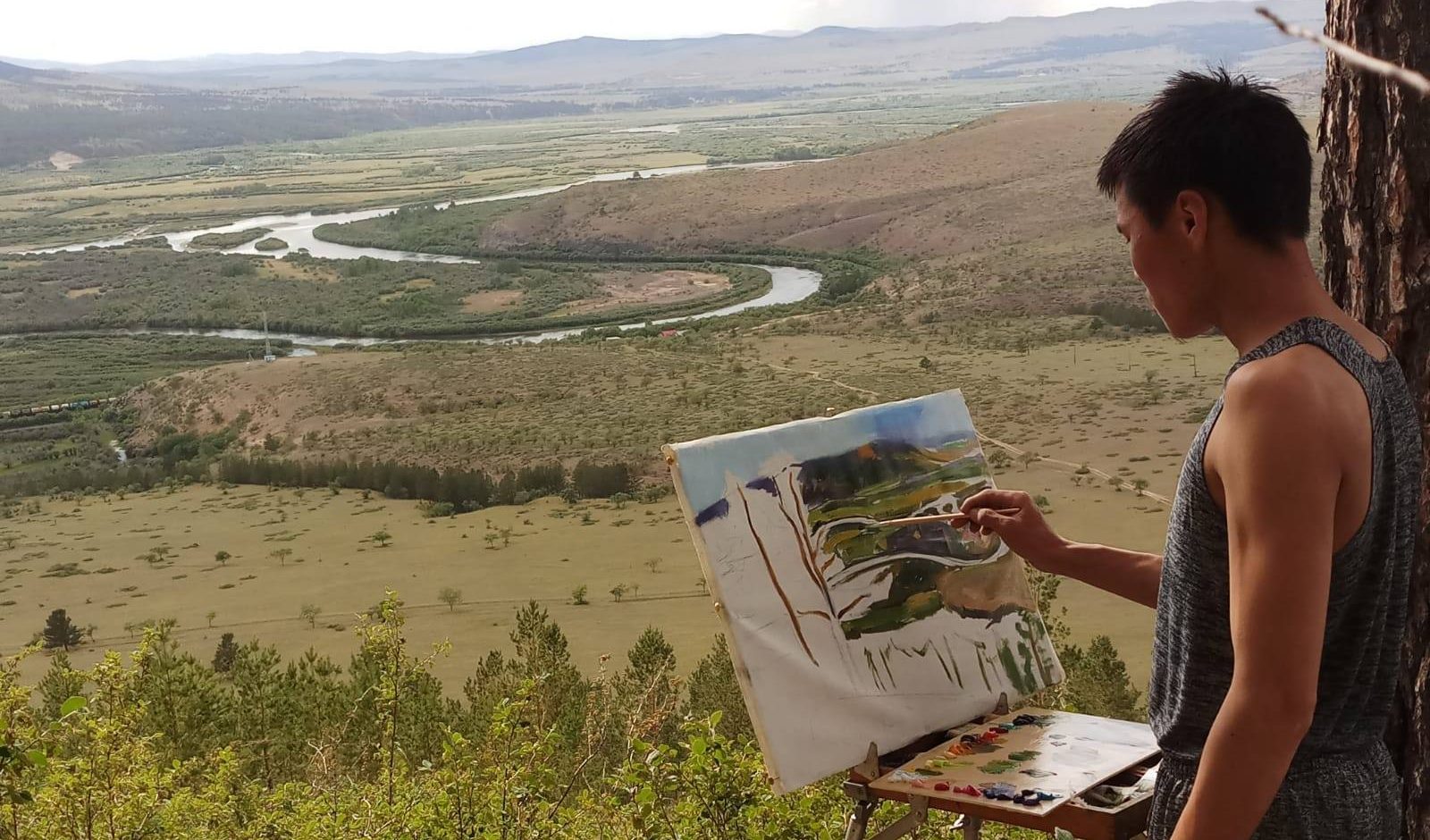 "Despite my difficult childhood, God used art to turn my life around," said Byambajargal (pictured in Saihanii-Hutul). His paintings are found in several private collections around the world. Photos from byambart.com and Sound of Art.
Byambajargal (who only goes by his first name) was born in a tiny Mongolian village the mid-1990s, a period of societal upheaval and political change.
His father abandoned the family when he was a toddler, and his mother struggled desperately to raise her three small children. 
From the tender age of five, Byamba (as he is known to friends) and his siblings scavenged trash to survive.
At age seven,  he was fostered out to work for a rural family. He was small but diligent, and walked kilometres and kilometres each day over the Mongolian steppes, watching over hundreds of sheep and goats. He did this from early morning all the way into the late evening. He endured the harsh Mongolian weather, including winters when the temperature dropped to -40°C.
But Byamba was resilient.
The many hours of solitude gave him time to observe, in great detail, the vast landscape of the Mongolian grasslands. He developed an uncommon sensitivity to nature, which would inspire his artistic vision later on.
As with King David, who herded sheep in his childhood and spent many hours out in the fields, God was using this period to reach out to Byamba before he even knew Him.
His work teems with life and admiration of the sublime beauty of God's creation.
As written in Psalm 19:1:"The heavens declare the glory of God; the skies proclaim the work of his hands."
Today, paintings by the emerging Mongolian artist who is in his 20s, are found in private collections in Mongolia, America, Malaysia, the Philippines and Singapore.
The children's home
When Byamba sustained an injury that put him out of work in the grasslands, he returned home to live with his grandmother. She passed away soon after, and he was sent to a children's home near Ulaanbaatar, the capital of Mongolia.
There, he played with other children, planted vegetables and looked after animals at the shelter. He was also able to finally attend school.
At the home, he heard about God's love, and experienced joy for the first time in his life. He decided to put his faith in God and become a Christian.
These years of respite awakened Byamba and gave him hope that life could indeed be beautiful and worth living.
Byamba picked up a paintbrush to channel this appreciation for the beauty of life into paintings. His talent was quickly recognised, and he won numerous prizes including a trip to Japan. 
Upon graduating from high school, he was the only student who was granted a solo exhibition. His artwork was purchased by the mayor of the city.
Road-building detour
It was also around this time that his life took another detour.
Because of government regulations, he had to move out of the children's home when he turned 18.
He did backbreaking work for a pittance, toiling at construction jobs for 10 hours every day.
In order to survive, he did backbreaking work for a pittance, toiling at construction and road-building jobs for 10 hours every day. He also had to put his dreams of entering university and pursuing an artistic career on hold.
As he continued to attend church, he prayed for an opportunity to attend university. God assured Byamba he was not forgotten.
Unexpectedly, a Christian woman who had met him only once offered to fund his studies at the prestigious Mongolian National University of Culture and the Arts.
Even with her generous sponsorship, Byamba struggled to support himself financially and buy art supplies which were costly. While studying, he worked many odd jobs and restricted himself to eating one meal a day for four years.
There were many times when he contemplated giving up. But God's providence brought him through each time, and Byamba graduated in 2020.
Today his paintings are found in several private collections around the world. He accepts commissions through Singapore-based Christian art gallery, Sound of Art, which also carries some of his work.
The river below the sheer cliff
"Despite my difficult childhood, God used art to turn my life around," said the artist, summing up God's providence in His life.
A traveller on a difficult journey is the subject of one of Byamba's oil paintings, The Way Home.
The traveller's packhorse carries the many supplies needed for the long, arduous ride. Their path ahead is blocked by a river below a sheer cliff, while dead trees symbolise the disappointments the traveller has faced thus far.
With winter approaching, the traveller has limited time to complete his journey. However, beyond these obstacles, the traveller looks forward to the hope before him: By going straight towards a tree shaped like a cross, the traveller will find a path beyond what he can see, towards a refuge where he will find safety and shelter, explained Byamba.
Living colours of love
"Through my art, I'd like people to realise that the world is a truly colourful place, one worth being in – if painted with living colours of love," Byamba said. 
"The love and beauty that surrounds me in His creation has brought me much joy." 
As a professional artist, Byamba continues to depend on the grace and provision of God to keep him going. Making a living as an artist is not easy.
He is also working towards a Master's degree in Psychology. His dream is to establish a home where he can house, help, inspire and equip children and youths who are going through similar struggles he once experienced.
Although he has no idea what the future holds, he knows that God holds his future.
He trusts his Creator, the master artist, to paint his life story as a beautiful masterpiece. As it is, the periods of darkness in his early life have brought out the light more beautifully.
---
The Way Home by Byambajargal will be auctioned off at a fundraising dinner at Soul Food (at Enabling Village) on Saturday, November 27, 2021. Proceeds will go towards Hagar International's relief efforts to provide food, healthcare, emergency shelter and safe spaces for 13,000 displaced women and children in Afghanistan. Click here for tickets.
---
RELATED STORIES:
If you have enjoyed reading Salt&Light...
We are an independent, non-profit organisation that relies on the generosity of our readers, such as yourself, to continue serving the kingdom. Every dollar donated goes directly back into our editorial coverage.
Would you consider partnering with us in our kingdom work by supporting us financially, either as a one-off donation, or a recurring pledge?
Support Salt&Light