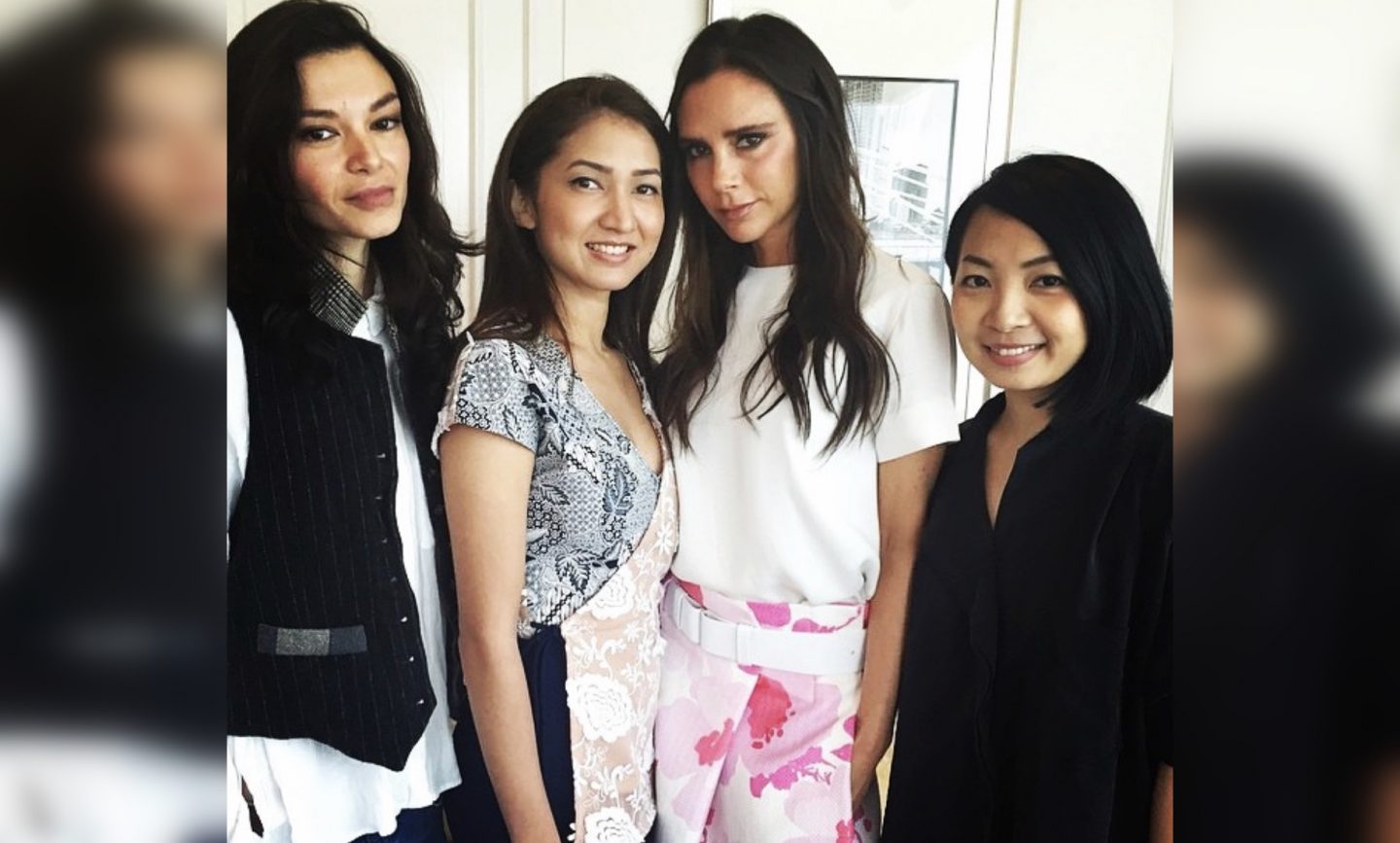 Sabrina Goh (far right) with Victoria Beckham and Singapore designers Chelsea Scott-Blackhall and Priscilla Shunmugam in 2015. All photos courtesy of Sabrina Goh.
Not many fathers would encourage their children to become fashion designers when they grow up. Especially if they are studying science. But Sabrina Goh's father did just that when she was in secondary school. 
It paved the way for her to study fashion in Singapore, where she would met her heavenly Father.
Shortly after, much coveted doors opened for her. At age 25 in 2009, seed funding enabled her to start her brand ELOHIM BY SABRINAGOH, which she named in honour of her God's Hebrew name.
In the same year, she was invited to showcase her label alongside fashion heavyweights like Gareth Pugh, Vivienne Westwood, Christian Lacroix and Marc Jacobs. It would catapult her little-known brand onto the local and global stage, and subsequently take them to fashion capitals like New York City.
Today, Goh's creations, mainly womenswear, characterised by their strong structural symmetry and asymmetry, are sold in the United States, China and Korea.
 With wonder, Goh, now 36, told Salt&Light: "The path was so clear, I felt from the start that this could only have been God's guidance."
A draughtsman's little assistant
In primary school, Goh's father, an architect's draughtsman, asked her to help hand colour in his large 2D drawings by hand when he was rushing deadlines.
"This was before CAD (computer aided design software) which you could use to fill in the colours to indicate the toilets, living room, and where the pipes were coming from. He would ask me to follow another draft that he had done before," said Goh. "There was also no photocopy machine for A0 size (paper for technical drawings) then. So he needed to hand copy everything. I was that copy machine.
In secondary school, Goh knew that she wanted to be a designer, but "I wasn't sure what kind of design I wanted to go into: Interior, graphics or fashion".
"My dad said I should be a fashion designer."
It was unusual advice.
"I'm not too sure why he asked me to be a fashion designer. I was a science student. Parents of my classmates would ask them to be engineers, scientists, chemists, doctors. It was weird."
However, it got her started on making fashion sketches and and doing research into hot designers of that time and their runway shows. It would also lead her to study fashion design at Singapore's LASALLE College of the Arts in 2003. She became a permanent resident of Singapore in 2005.
A stranger
However, Goh did not thrive in her first year. "Language was my number one  challenge," said Goh of English, the lingua franca of Singapore. "I came from a Chinese speaking family. It was very hard to communicate my ideas and present design concepts to the lecturers and classmates.  
"I was not the brightest student when it came to design," she said, adding that it was mainly because she didn't know "how to sell my design because of the language problem".
At the end of her first year at LASALLE, she had the "hunger" to go to church.
At the end of her first year at LASALLE, she had the "hunger" to go to church. "Maybe I was sad because I was not doing well. I wanted to find some inspiration." 
In Malaysia, she had attended church from a young age, but not on a regular basis.
She describes how she found God as "a unique experience".
She contacted "a guy who had been sending me random emails about Christian stories" that she would open and read once in a while. She sent him an email asking: "Which church do you go to? Do you mind bringing me?" He replied that he could, and that he went to City Harvest Church.
Goh says: "I was a bit scared. I wasn't too sure if I should follow a stranger. What if he never brings me to church and brings me elsewhere? So I grabbed a friend along."
After that first service, she did not contact the stranger, but returned to the church on her own and began to grow in her knowledge of God's Word.
From not satisfactory to distinctions 
Goh did not want to waste her three years in Singapore only to realise that she had taken up the wrong course. So she committed her path to God, praying that if this was His will, to help her "be able to complete my studies".
When she went back to school after the break, "I was surprised. My grades started to improve. It was very weird."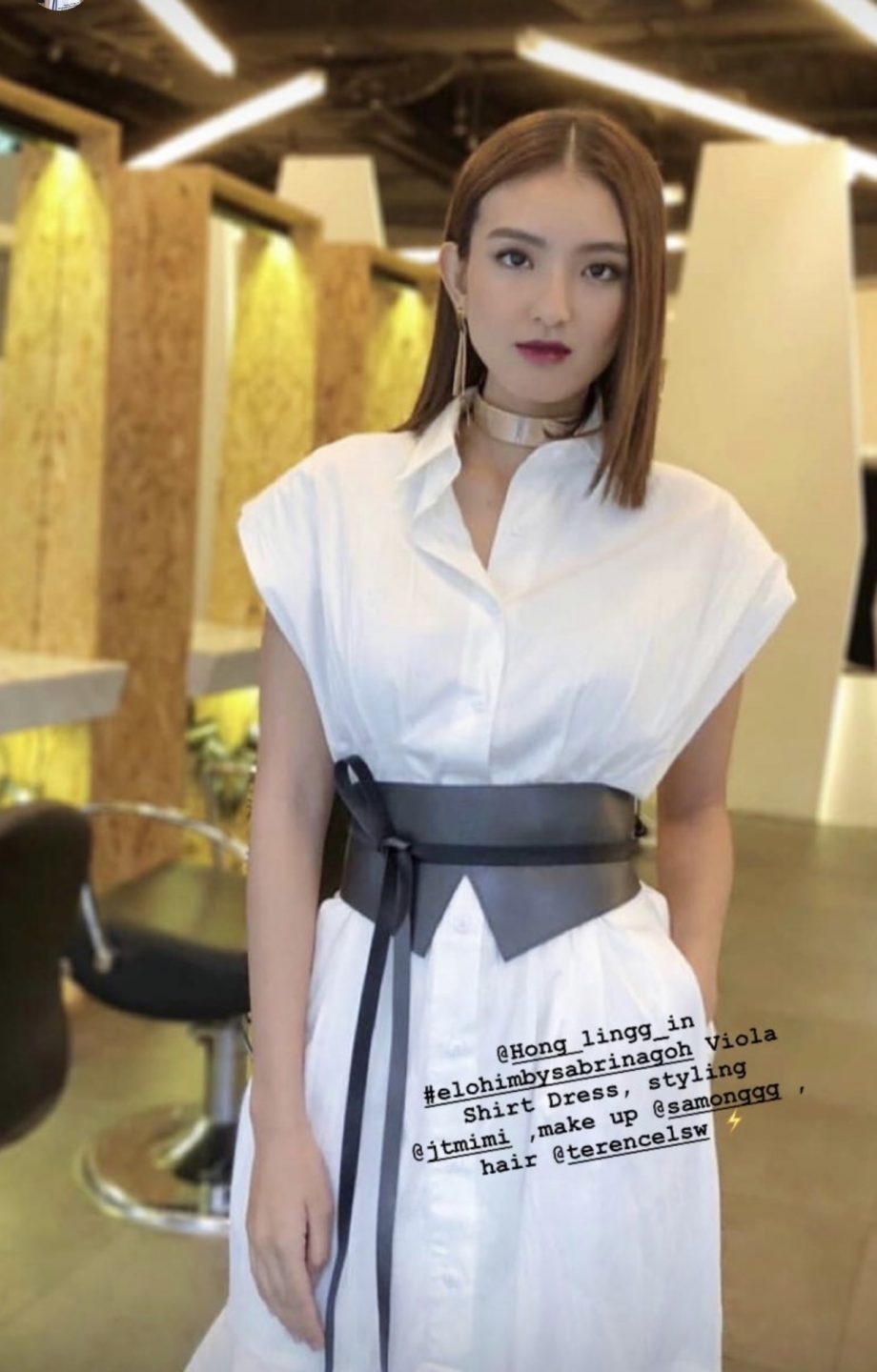 The fashion student, whose grades had been less than satisfactory, would go on to score distinctions right up to graduation. 
"That was the first miracle I encountered," she said. 
Named for her Father
As she walked closer with the Lord, and He directed her path, she became sure of what to name her brand.
Non-Christians "find the name unique", opening up conversations about the designer's faith.
"When I started getting distinction after distinction … pahpahpahpahpah," she says of the succession at which it came, "it was a very sure thing that I would name my label after Him".
"It's very close to my heart, this name. Elohim is my God, my Father's name."
"I had a lot of peace when I launched the brand in His name."
Non-Christians "find the name unique and will ask the meaning of the name", opening up conversations about the designer's faith.
Taking Elohim to the world
In 2009, Goh left the security of a full-time job to strike out on her own.
She launched her label, ELOHIM BY SABRINAGOH online and in some local multi-label stores, with the help of seed funding from SPRING Singapore, an agency under the Ministry of Trade and Industry that helps Singapore enterprises grow. 
In the same year, she was invited to showcase at the Singapore Fashion Week (then known as the Audi Fashion Festival) alongside big international names like Vivienne Westwood. 
The ensuing press and media attention spring-boarded her little-known brand to local and global attention. At home, the brand was picked up by Tangs, Takashimaya and Isetan. Buyers in London and New York City contacted her directly, and carried her label in their shops.
"Along the way, we kept seeking God in prayer," she said. 
The other half of "we" is Jason Fu, 38, her business partner who happens to be her husband. They met in 2007, when they worked for the same company.
He was the IT guy doing data analysis. He provided tech support in the background when she launched her brand, eventually joining her company as a director in 2011 when she needed more help after opening her shop SABRINAGOH. They married two years later. 
In 2010, she was named Designer of the Year by ELLE Awards Singapore.
"Somehow the opportunities and wonderful collaborations just came. The kind of opportunities that everyone wants."
They included showcasing her work in Japan. And going to New York City in 2015 on a business development programme called FashionFutures with CFDA (Council of Fashion Designers of America), in another push given by SPRING Singapore.
Along with Singapore designers Chelsea Scott-Blackhall of Dzojchen and Priscilla Shunmugam of Ong Shunmugam, Goh met "superstars" like Diane von Fürstenberg, Carolina Herrera and high-profile international buyers. 
The Singapore Tourism Board also helped spread awareness of her business. 
Along her career path, entertainment giant Disney reached out to Sabrina via email. In 2016, Goh rocked out a 10-piece collection with with Minnie Mouse's trademark dots.
This opportunity and more "all came directly to us, not that we knocked on doors", said Goh. "I felt it was God's hand all the way from when we started to now.
"It was 'You direct the path', 'You open up the path'. We do not need to fear, to worry where to go.'"
Influences from two dads
Over the years, the work of her heavenly Dad has inspired her designs. "The universe is so big and beautiful," she said. The colourful Danxia rock formations in China were the inspiration for her Autumn Winter 2015/2016 collection. 
Her Spring Summer 2015 collection featured a digital print design inspired by kintsugi, the Japanese art of repair, using lacquer dusted or mixed with powdered gold, silver or platinum.
"This is very much similar to how God makes brokenness beautiful again. And how it turns out sometimes better than the original." 
During this "long winter" brought on by Covid-19, Goh is trying "not to worry where the bread is going to come from" but instead focuses on how to keep the company going forward.
She goes back to the Bible for encouragement. In particular Hebrews 11:1: "Now faith is the substance of things hoped for, the evidence of things not seen." 
---
This is the second story in a series on the role God played in Singapore brands. You can read the other stories below.
Mr Lee Kuan Yew and his CYC shirt: "God moments" in the journey of an iconic Singapore brand
"People thought we were so spiritual but we were desperate!": How God grew Singapore brand Supermama
If you have enjoyed reading Salt&Light...
We are an independent, non-profit organisation that relies on the generosity of our readers, such as yourself, to continue serving the kingdom. Every dollar donated goes directly back into our editorial coverage.
Would you consider partnering with us in our kingdom work by supporting us financially, either as a one-off donation, or a recurring pledge?
Support Salt&Light