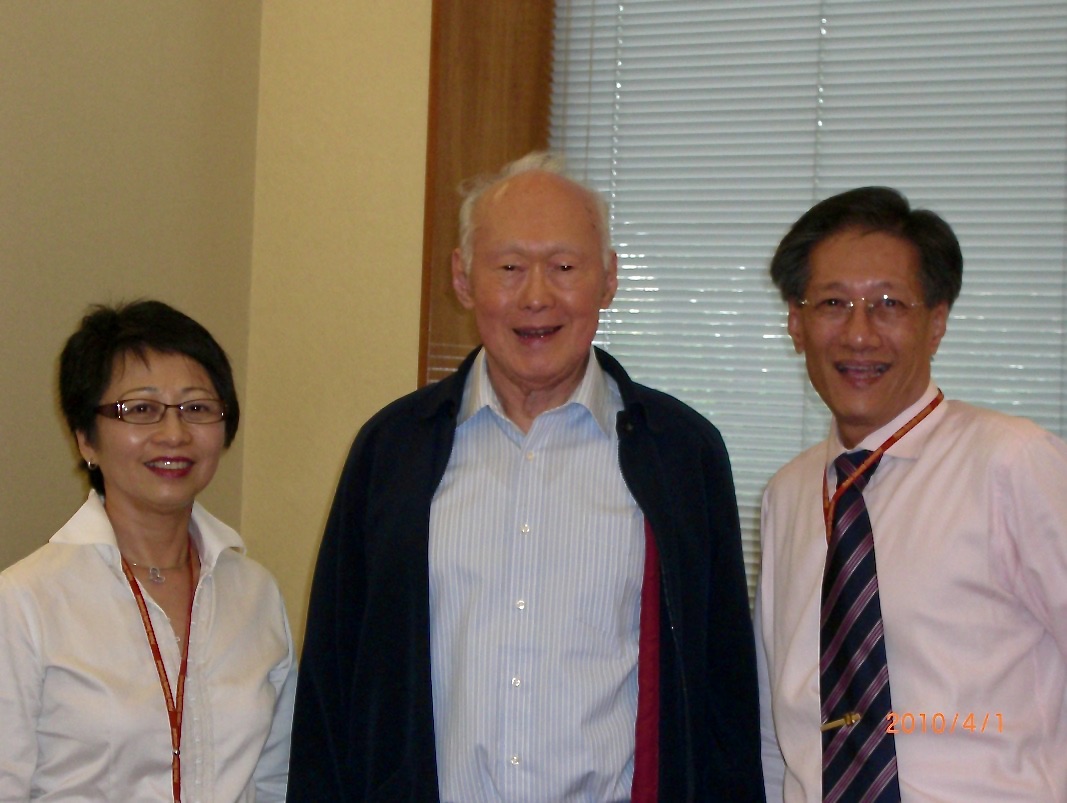 Third generation scion of CYC, Fong Loo Fern (left), with longtime CYC tailor, Roland Tan (right), pictured here with Mr Lee Kuan Yew at the Istana in 2010, when they updated the founding Prime Minister's shirt measurements. All photos courtesy of Fong Loo Fern and CYC.
Nineteen years ago in 2001, a polka dotted shirt that was sentimental to Singapore's founding Prime Minister Lee Kuan Yew gave a leg up to then-flailing family business, CYC Shanghai Shirt Company.
Some 10 years ago, CYC's managing director Fong Loo Fern escaped without a scratch in an ATV (all-terrain vehicle) accident.
Most recently on April 3, Prime Minister Lee Hsien Loong's announcement encouraging the use of reusable masks couldn't have come at a more perfect time for the heritage tailoring brand known for their exacting Shanghainese craftsmanship. Their business had dipped by 80% when COVID-19 struck. But sales that weekend of their just-launched reusable cloth masks – a product of Fong's foresight –­­­ was beyond expectation.
The brand's call for the nation to help sew 300,000 masks for migrant workers received overwhelming support and also went viral across social media and the press.
"A lot of times, I ask for the Holy Spirit to please give me ideas."
Were these all coincidences? 
In an interview with Salt&Light, Fong (nee Chiang), 66, dismissed suggestions that these were a result of either coincidence or good business timing.
They were "God moments", she said.
"Who else would be able to engineer something like that but God?" said Fong, who is also the Chairman of Methodist Welfare Services.
Fong has been blessed by many "God moments" in her life and in the business her grandparents, Chiang Yick Ching and Foo Ah Neok, founded 85 years ago when they came to Singapore from China in 1935 in search of a better life.
As the eldest grandchild, Fong was immersed in the family business from the tender age of 12, working as a cashier during school holidays.
She joined the company in 1977 after graduating from the National University of Singapore with a degree in accountancy.
Fong's proposal to update the merchandise and layout of the shops was rejected by her uncle and father who helmed the company. She left the family business in 1985. 
The family business floundered in the rapidly-changing retail and economic climate of the 1970s and 1980s.
The brand was looking old-fashioned next to competition from newer, more contemporary brands and cheaper imports. Frequent warehouse sales to clear unsold stock hurt their image. Add to the mix a recession and an exit tax on Indonesian tourists who made up a significant portion of their clientele.
A sinking ship
In 1992, Fong's uncle passed away from a heart attack. Two months later, her father suffered a severe stroke and was unable to continue working.
"Business was in deep trouble, like a ship with a lot of holes," said Fong.
She left her job with the US Embassy's Department of Commerce to steer the ship with her mum's help.
"I didn't have to spend money on renovations for a brand name location … So, wow, that was a God moment."
"When I took over, I had to do a lot of painful things like restructure and sell off some assets." This included selling off their factory at MacPherson.
"Then I was left with two shops – in Circular Road and Tanglin Shopping Centre, an old shopping mall. The locations were not that great. The main shop at North Bridge Road was acquired by the government."
Fong hired consultants to help chart the long-term survival of the brand and revamp its image. She closed the division that produced ready-made shirts to focus on CYC's original roots: Bespoke shirts. (Besides their made to measure shirts, CYC today makes ready-to-wear shirts when orders are placed so that they don't stockpile inventory).
She set up a business arm to manufacture uniforms for corporate clients, which would contribute almost half of its turnover in 2002.
Brand-name location
About two years after taking over the business, Fong was at the Tanglin Shopping Centre shop when she met long-time customer Richard Helfer, then General Manager of Raffles Hotel.
"He said, 'Hey, you really should come to Raffles Hotel. Because with your heritage, you should position yourself at one of the shops there.
"Business was so bad, how could we be at Raffles Hotel, such a high-end location, I thought."
Fong went to see a space that a tenant was giving up. It happened to be a menswear shop.
"I didn't have to spend money on renovations, and I was getting a brand-name location. So that was wow, a God moment to have that," says Fong. CYC would be at Raffles for 23 years until 2017.
"But it doesn't mean that you have a nice location, business will be good. We were still trying to reinstate our brand's heritage. We had a lot of old customers who continued to buy from us, but business was really tough."
That famous 36-year-old shirt
Then in 2001, Fong ran a promotion with The Business Times to encourage customers to bring in their CYC shirts, with the view of building a collection of vintage shirts to exhibit.
"We had many customers at that time who told us, 'I've been a customer for 20 years', 'I've been a customer for 30 years'."
As an incentive, CYC gave a 20% discount to those who had shirts that were more than 10 years old, and a 50% discount for those who brought in shirts which were more than 20 years old. They gave a free shirt to customers who brought in shirts which were more than 30 years old.
"That was really a God moment because no one could have engineered a PR story like that."
Mrs Lee Kuan Yew brought in three shirts that belonged to her husband, Singapore's founding Prime Minister.
"They had been our customers for a long, long time. Mrs Lee would come to our shops to place the orders for her husband. She was very simple, never asking for much.
"She told me that one of those shirts was sentimental to her and Mr Lee because he had worn that shirt during one of the rallies in 1965, 36 years ago.
"I thought it sounded like an amazing story that someone would keep a shirt for so long, especially Mr Lee Kuan Yew. I asked if I could share that story with the media.
"Mrs Lee said, 'Write something and I will ask Mr Lee for his permission'
"So I sent in a short story to her. And, to my surprise, Mr Lee said that we could go ahead.
"So I sent the story to the press, thinking that no one would be interested. But everyone got so excited, and I got so much publicity from The Straits Times, The Business Times, even TV and the Chinese newspapers.
"That was really a God moment because no one could have engineered a PR story like that."
That God moment "brought a lot more awareness about what who we are and the work we do. And that helped create more awareness with the younger customers at that time".
Business picked up. The company outgrew their current store two years later, and moved to a bigger, more prominent space right next to the entrance of the shopping arcade at Raffles Hotel.
When the landmark hotel announced it was closing for an extensive makeover in 2017, Fong wondered how to relocate in the brief six months that tenants were given to move out.
Then someone told her about availability at Capitol Piazza. At that time, it was a small space meant for a pop-up. But two years later, the mall management took back the area as they were repurposing the second floor into a co-working space.
"We were given a larger ground floor unit at a very good rate – another blessing," Fong said.
A secret Christian
Fong came to the faith secretly when she was in Secondary Two.
"My grandmother was very anti-Christian. But the right thing she did was to send me to Methodist Girls' School (MGS). And so, I was brought up in a Christian school with Bible studies."
(Fong's grandmother, "a very strong autocratic person" took over the reins of the family business when her husband died in the 1949. "She had no choice. She had two sons to feed," said Fong. These two sons would eventually join the family business.)
Fong was inspired by the passion of her maths teacher, a Miss Wong, and "peer influence".
"Many of my friends at MGS were Christians. I was very sad that I couldn't go to church and join them in their activities. I fought with my grandmother and even my mum about going to church, because I wanted to be with my friends. You know how teenagers are – you want to do what your friends are doing.
"My grandmother was very anti-Christian. But the right thing she did was to send me to Methodist Girls' School."
"I wouldn't say that I was an active Christian at that time. But accepting Christ gave me peace," says Fong, referring to conflicts, sensitivities, work and other issues related to the family business.
Fong wasn't allowed to attend church, but she managed to push for a church wedding when she married into a Christian family.
The matriarch of the Chiang family saw her children becoming Christians. "I think that worried her because she was probably afraid that when she passed on, no one would pay respects to her in the temple."
Fong's grandmother passed on suddenly from a heart attack one night before the family had an opportunity to witness to her.
Fong's mother subsequently came to the faith when she accompanied Fong on a mission trip "where she saw that miracles are real". She went on to become "an avid mission trooper".
Baptism with thunder
Fong was baptised when she got married, but when a friend, a "gungho, enthusiastic Christian", asked if she had been baptised, Fong replied that she didn't think she had been baptised by the Holy Spirt. 
"It was really angels who protected me. I recall falling gently to the ground."
So they arranged to meet at the former golf driving range where Gardens by the Bay now stands. It was a weekday lunchtime some 15 years ago. The driving range was empty. The two friends were the only ones there. 
"It was a nice quiet place. My friend began to pray for me. And suddenly, it started to rain. My eyes were closed. There was a thunderstorm and I heard the trees whishing by me. And I thought I heard footsteps. Then because I was very self-conscious, I opened my eyes and said, 'Okay, I think I've been baptised by the Holy Spirit.'"
Afterwards, the thought of the sound of the strong wind rustling the leaves niggled at Fong. "So one day, I decided to drive to the driving range. I saw that there were no trees nearby. The trees were so far away. How could I hear them so strongly? Oh my goodness, the Holy Spirit had been there.
"I felt that was the confirmation that I had the Holy Spirit in me."
ATV accident
Nine years ago, during a family holiday at an island off Phuket, Fong experienced divine protection.
They had hired ATVs to ride.
"We were taught how to manage the vehicles at the resort, where there was very smooth ground. Then the guide took us single file out through jungle. The terrain became uneven and stony.
"There were a couple of rocks in front of me. And I was trying to avoid them. Instead of pressing the brakes, I pressed the accelerator. The bike went up a slope to my right, and I was thrown off the bike. The bike fell over. But it didn't fall on me. It fell to the left of me.
"My kids came to hold me up. 'Mum are you okay?' they asked.
"I felt myself. No scratch, no bruise, no broken back, no broken bones. This was amazing – I was over 50 years old, and to walk away from an accident like this …
"It was really angels who protected me. I recall falling gently to the ground.
"It's like God's protection, His favour. Sometimes I think I don't deserve this," said Fong, wiping tears from her eyes.
"Now that you made me think about this, you made me cry," she told Salt&Light, adding that God is so real in her life.
Prudence and witty inventions
About five years ago, Fong received the prophecy: "I wisdom dwell with prudence, and find out knowledge of witty inventions." (Proverbs 8:12, KJV). She keeps the verse "in my hands, on my mind".
"A lot of times, I ask for the Holy Spirit to please give me ideas. And it's really amazing how He does so.
Apart from the reusable masks, other "witty inventions" that have come out of this age of COVID-19 have included the recently launched Work From Home Collection. It's an answer the biggest challenge of WFH: Keeping cool in the humid weather "because you can't keep the air-con on 24/7", and looking good in Zoom meetings.
CYC is also looking at technology that would enable customers to customise their designs, or eventually take their own measurements.
As  a Christian entrepreneur in a secular world, Fong says: "It's more challenging because everybody knows that we are Christian. You have to walk the talk. Otherwise you won't be a good reflection of Christ."
It's hard, says Fong who admits that she's "trying to downplay my domineering personality" while being sensitive to managing people. "I think it's all about striking a balance. Because if you say yes to everything, you won't get anything done. But if you bulldoze your way through things, you'll end up with a lot of hurt feelings.
"We really need prudence and courage in managing the different aspects of our business."
"Many times, I lose my temper or say the wrong things.
"Like I teach my grandkids, the most important word to say is 'sorry'. It's one of the most difficult words to say."
As a business person, she tries to espouse the four virtues set out in a Christian book on entrepreneurship, Bringing your Business to Life, by Jeffrey Cornwall and Michael Naughton.
"We really need prudence in managing the different aspects of our business. And then sometimes when we make decisions, we need to have courage to make that decision."
The other two virtues are justice and temperance.
One of her favourite Bible verses is Philippians 4:6-7: "Do not be anxious about anything, but in every situation, by prayer and petition, with thanksgiving, present your requests to God. And the peace of God, which transcends all understanding, will guard your hearts and your minds in Christ Jesus."
---
This is the third story in a series on the role God played in Singapore brands. You can read the other stories below.
"People thought we were so spiritual but we were desperate!": How God grew Singapore brand Supermama
"How my two fathers helped launch my career": Singapore designer Sabrina Goh
If you have enjoyed reading Salt&Light...
We are an independent, non-profit organisation that relies on the generosity of our readers, such as yourself, to continue serving the kingdom. Every dollar donated goes directly back into our editorial coverage.
Would you consider partnering with us in our kingdom work by supporting us financially, either as a one-off donation, or a recurring pledge?
Support Salt&Light