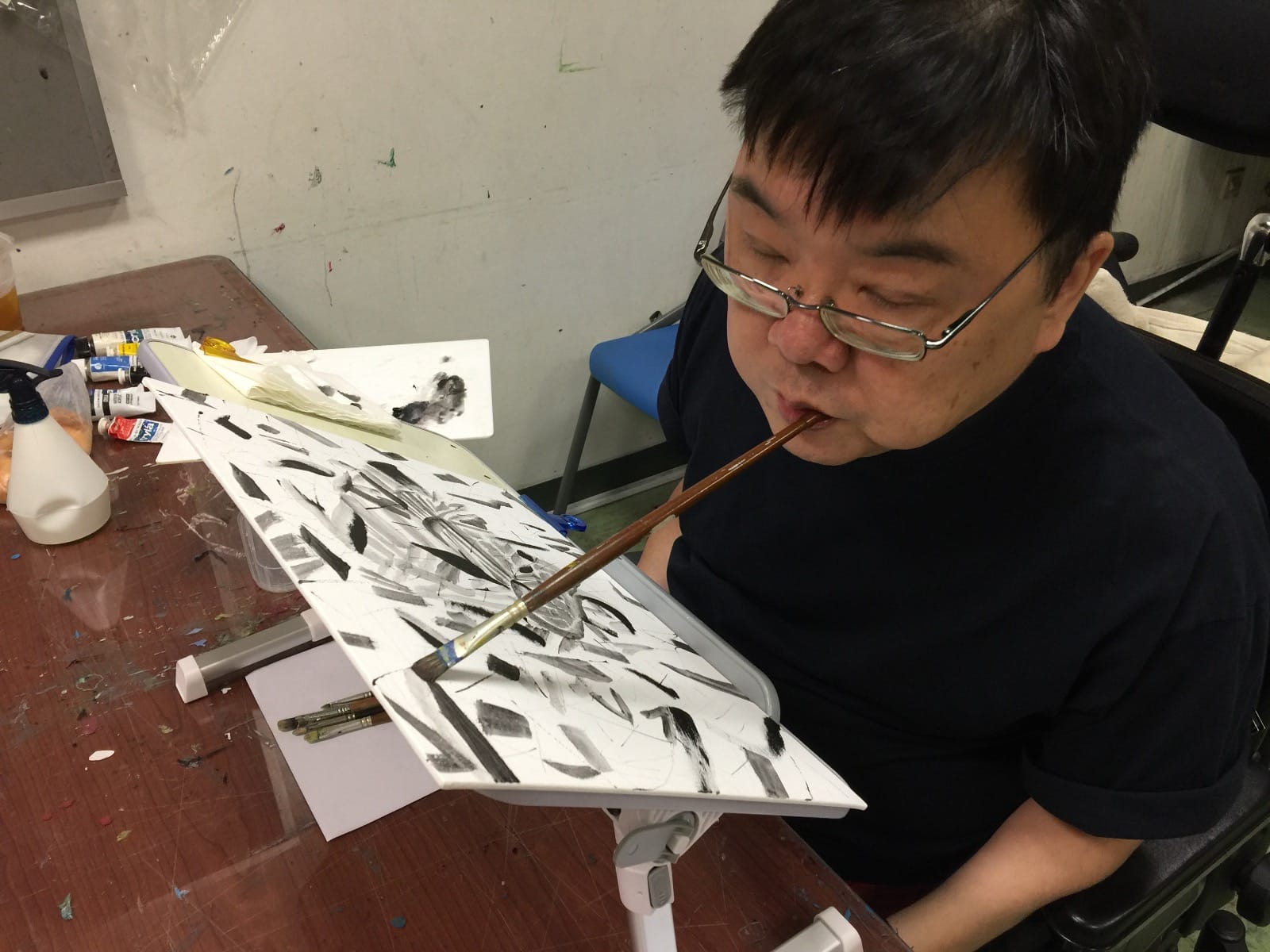 Gilbert Tan at a Nanyang Academy of Fine Arts lesson in 2016. He became a tetraplegic after a swimming accident at age 22 and picked up mouth painting later to become a world-renowned artist. All photos courtesy of Gilbert Tan.
Gilbert Tan is a man with a big voice and a bigger personality. Warm, open and humorous, he shares easily, drawing you into conversation like an old friend.
At 59, he is comfortable with himself and content with his life.
"I don't have a bucket list anymore," he said. He has, by his own admission, all he wants in this life.
This may surprise some when they discover that Tan has spent the better part of his adulthood in a wheelchair, able only to "move my arm but limited, and no finger movement at all".
"I escaped not with the worst and not with the least," he said of the accident that left him a tetraplegic.
One jump that changed it all
It was 1983 and Tan was just 22. He had a job as an architectural draftsman, designing lifts and escalators.
"I was a workaholic. At that time, I got a very high bonus for my work."
"All I remember is that I jumped in, then I couldn't feel anything – no pain, nothing."
Life was on track.
Five days before National Day, he went for a swim with his colleagues at a public pool. They were having fun jumping into the water. On his eighth or ninth jump, he "most likely hit my head on the floor of the swimming pool".
Till today, no one is certain what really happened.
"Even the doctors argued about the cause. One doctor said that he didn't see any bruising on my head so I might not have hit my head.
"When he said that, I thought, 'Must there really be a bruise to prove that I hit my head?'"
Tan himself remembers little. He guesses that his weight – "I was 95kg then" – may have somehow worsened the impact when he hit the water.  
Tan had suffered a spinal cord injury. He would be paralysed from the chest down.
"All I remember is that I jumped in, then I couldn't feel anything – no pain, nothing."
Submerged underwater and unable to move his body, Tan turned his head from side to side as he struggled.
"That may have exacerbated the injury," he said.
"It took my colleagues a while to realise that I had not come up for air. If they hadn't, I would have drowned."  
While the doctors could not ascertain the cause, the diagnosis was clear. Tan had suffered a spinal cord injury. He would be paralysed from the chest down, never able to walk again.
Holding on to peace
Tan had been a Christian since he was 10. Although his parents were from a different religion, he had always been drawn to Christianity. The parachurch organisation he joined in school gave him his first Bible and his friends introduced him to church.
"I was told that I must have a secret, hidden sin that God was punishing me."
"When I read the Bible, it resonated with me."
At 17, while in vocational school, he saved up money to buy his own Bible – "a proper King James Bible with a leather cover". At 18, he was "whacked and chased out of the house" when he told his parents that he had registered to be baptised.
At 22, he had conversations with God about his condition.
"I blamed God a bit. I argued with Him, 'Why me?' I asked for healing."
He recounts that season in his life quite matter-of-factly now but back then he was suicidal.
The active go-getter had to depend on his parents for everything. "I couldn't even scratch my own nose." 
He also had to endure blame for his condition. "I was told that I must have a secret, hidden sin that God was punishing me for."
Asked about his reaction then, he said: "I was strong-willed, which is a nice way of saying I was stubborn. I'm not the type to lie down and take it. I fought back. I told them they were wrong, that it wasn't what the Bible said."
"What helps me through each day is God's peace: 'Peace I leave with you, My peace I give to you.'"
Adding to it all was a host of other medical conditions that tetraplegia brought.
"I was in and out of the hospital. I had problems with bed sores, urine infection, wounds to my liver, calcium stone in the kidney. I was prone to falls and fractures."
He could no longer perspire on his own either. So, his body would overheat easily. 
Throughout his ordeals, he held firm to his belief that "God is never wrong" and to his favourite verse, John 14:27.
"It's the verse that I use whenever I'm hospitalised. What helps me through each day is God's peace: 'Peace I leave with you, My peace I give to you.'
"Paralysed people cannot move. It's quite terrifying. So, 'do not let your hearts be troubled, do not be afraid' comforted me."
Even talking about his dark days, Tan can joke: "If it wasn't for the fact that I have had enough injections in my life, I would tattoo this verse on me!"
Drawing a new purpose
After a few years of depression, Tan realised that he was likely to live beyond the five years the doctors had predicted.
"I asked myself, 'What am I going to do?' I had to make myself useful."
Even breathing and blinking had to be controlled, in order to get the strokes right.
On one of his hospital stays, he ended up in the same hospital as mouth artist Tan Kok Leong. Tan saw his paintings and was inspired.
"I have always loved art. My art in primary school was always selected to be put up in class."
But painting by gripping the brush with his teeth proved to be painfully challenging. The strain on teeth, gums and the mouth were so great, he would often "cry in front of the canvas". Then, there was the constant drooling because it was difficult to swallow while biting on the brush. Even breathing and blinking had to be controlled to get the strokes right.
"My first painting was so small, the size of an orange. But it took me so much struggling. I painted two teddy bears fishing in a small boat."
He would often paint for hours. Once, he even fainted in the middle of a painting session out of sheer exhaustion, having forgotten to take a break.
For three years, he persevered, getting his basic techniques right. He learnt from books and took up courses at the Nanyang Academy of Fine Arts on oil painting, watercolour, Western art, pencil sketching and charcoal techniques. A few years ago, he completed a one-year course on abstract art.
Slowly, his paintings won recognition and were sold. Several have also been displayed in permanent exhibitions in Washington, San Francisco and London, winning him acclaim. 
After decades of mouth painting and some 3,000 works, he is semi-retired. Aches and pains in the neck muscles, pain in the gums and teeth from the tension of holding the brush have taken their toll on his already battered body.
Stepping out in faith
While he is often interviewed about his art, Tan is also an accomplished musician. He can play 15 different instruments including the Chinese flute, guitar, harmonica and pan pies.
So, when he realised he was "not going to die, I better make some money", he also decided to write songs and release his own album.
"There will be times when God seems far away. But when you read enough of the Bible, you know He is always there."
"I wrote Touch, based on the story of the woman in the Bible who had an issue of blood for 12 years and had spent all her money on physicians but could not be cured (Luke 8:43-48). I identified with her.
"Funny, isn't it, that a guy should identify with menstrual problems," he laughed.
As he "stepped out in faith", God brought music producers and musicians into his life. Ploughing in all his savings of S$12,000, he produced an album. Proceeds from the sales was three-fold.
"I went to churches to share my testimony and sell my albums. People were touched."
He was asked to share his story to encourage more people. He reckons he has spoken and performed in more than 200 churches. He was even invited to sing at the Kallang Theatre once.
Asked what he tells people in his talks, he said: "When I was invited to talk to teens who were in drug rehabilitation, I told them, 'When you choose not to take drugs anymore, you are a free man. But I can't decide not to be paralysed.'
"There will be times when God seems far away. But when you read enough of the Bible, you know He is always there. So, I cry to Him, cling to Him. God knows what He is doing." 
Over the years, Tan has learnt to turn his trials into testimonies. He even wrote a book about his many hospital stays called Hospitales – Theatre of Another Kind.
"You can find it in the library," he teased when asked what stories he had included.
Love in an unexpected place 
One hospital tale he did share was how he met Irene, his wife of 17 years. He was a hospital patient, admitted for bedsores. She was a student volunteer.
At the time, Tan, also a founding member of a support group for those who suffered from spinal cord injury, was a familiar face in the wards because of his many hospitalisations.
"Every time I want to complain, I see Christ and Christ crucified, and it changes my perspective."
"The sister in the ward would refer the volunteers to me, saying, 'Talk to Gilbert about what to do and what not to do'.
"I'm very charming. And she was such a good helper, I decided to bring her home to help me," he joked.
There were oppositions.
"My parents asked, 'Why get such a young girl?' I told them, 'The old ones don't want me.'
"Then they wondered if she could take care of me; her parents wondered if I could take care of her."
It is clear the couple, who has no children, are soul mates. He teases her mercilessly. She scolds him like a naughty child while tending to him lovingly.
Asked what attracted her to him, Irene, who did not want to reveal her age, demurred.
"The Lord brought us together," he chipped in helpfully.
Having lived 37 years in a wheelchair, Tan is reflective. "I've lived longer than many – longer than Bruce Lee, longer than Michael Jackson.
"I don't see my problem as anything special. Every time I want to complain, I see Christ and Christ crucified, and it changes my perspective."
How an autistic boy in a wheelchair "shone as a light to the world"
Blind artist behind Orchard Central wire sculptures sees God in his works
Bringing dignity and hope to children with special needs one brushstroke at a time