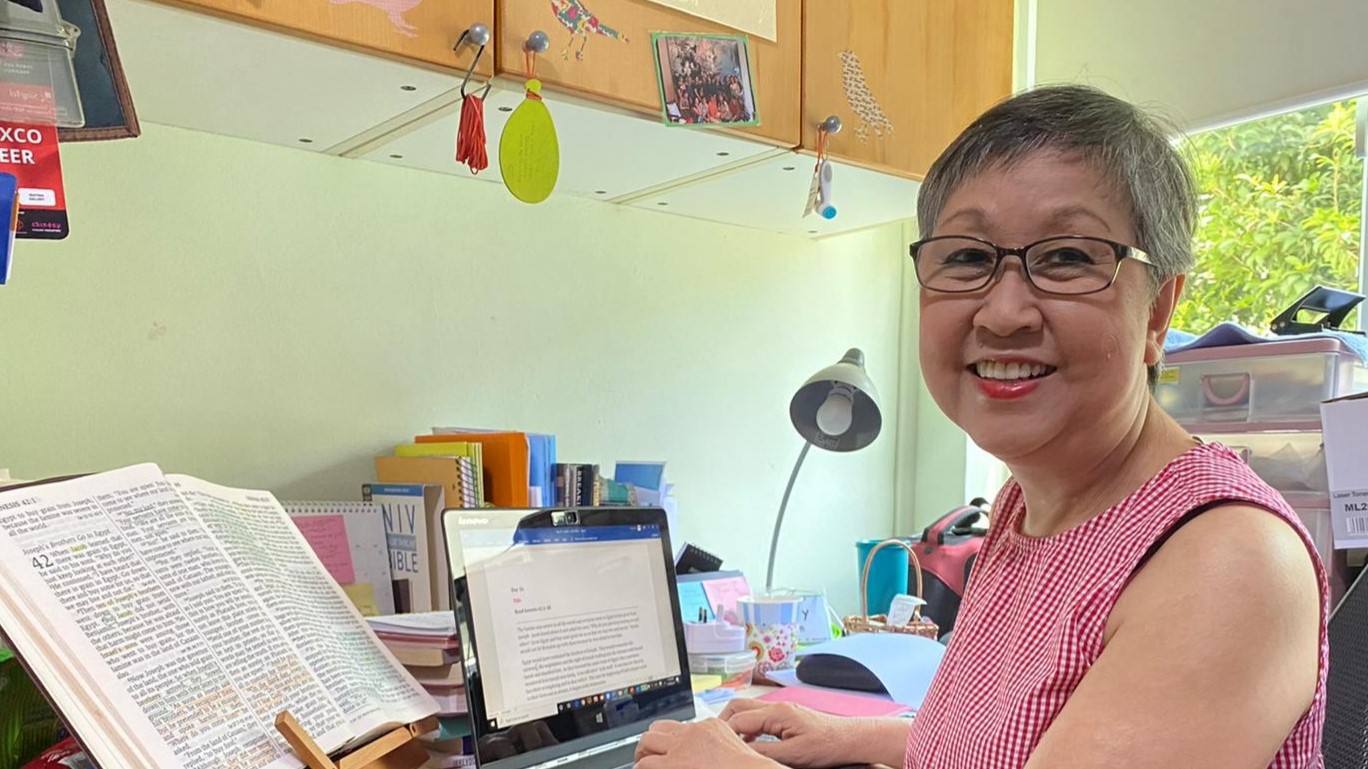 Stricken with cancer not once but twice, Lucy Lim is now fighting Stage 4 breast cancer. But through her journey, she has been a source of joy and inspiration to those around her as she chronicles her battles and her faith in God. All photos courtesy of Lucy Lim.
The first time Lucy Lim, 62, found out she had breast cancer was in 2000.
Her two friends with her were devastated. They had accompanied her to the doctor's office after she had discovered a lump through a routine self-examination. Her husband was travelling for work.
"I said to God, 'Okay Lord, what's next?'."
"There was a box of tissue in front of me. While the nurse was trying to explain the surgery procedure, my friend was crying away next to me.
"I pushed the tissue box to her and said, 'I think you can have the whole box'. Then, we all burst out laughing."
It was not that Lim did not understand the gravity of the situation.
It was not that she did not care.
It was simply that she was assured that "God has been so involved in my life. He is able".
She was 42 then and her daughters were just five- and 10-years old. "I said to God, 'Okay Lord, what's next?'"
Eight-month ordeal 
What came next was a surgery to remove the tumour in her breast. The doctor told her it was Stage 1. This was followed by 12 cycles of chemotherapy and 33 rounds of radiation.
"The side effects were nausea, loss of taste, cramps, tingling sensations on the finger tips, the tips of the tongue and feet, diarrhoea, constipation, exhaustion," listed Lim.
"How did I go through it? One day at a time, one effect at a time."
It was "one day at a time" for nearly eight months. Her husband of 37 years, Tommy Lim, was understandably distraught.
"I didn't let him go with me for any treatments. There was no point for him to go through the ordeal."
Her children were frightened.
"How did I go through it? One day at a time, one effect at a time."
"They cried. My older one was afraid of what might happen if I'm not around.
"The younger one was scared because mama had no hair, what happened? She was so scared of my wig that was on the stand."
Was Lim herself ever fearful of what would become of them if she succumbed to her illness?
"My children's lives are also in the Lord's hands. God is their heavenly Father. He cares for them more than I do. That was the assurance I had. On earth, they are only loaned to me. It was about letting go."
Life-time relationship 
Lim attributes her calm to her long-time relationship with God. At 14, she had joined Singapore Youth for Christ, drawn by the message taught.
"For me, it was the Gospel. The fact that we are sinners and we need the Saviour. I knew I was a rebel at heart. Talk about sin, sure. I sure sin. Talk about heaven, of course I wanted to go to heaven."
She became a Christian and she has never looked back.
"Throughout my life, God has been faithful. There were disappointments and tough times, But, each time, I have found God to be faithful."
"My relationship with God is not transactional."
Lim tells of times of financial challenges when her husband, now a retired businessman turned corporate trainer, was between jobs. They had to stop their daughters' piano lessons because they could no longer pay for them. But their piano teacher said she "really enjoyed teaching them" and gave them free lessons.
On yet another occasion, they could not afford to let their older daughter go overseas with her Co-Curricular Activity (CCA) group. "She was so sad."
But her teachers took the initiative to raise funds for Lim's daughter.   
"It was all God's provision. If God has been faithful to me in the past, why should I expect He would dump me because of the cancer?
"My relationship with God is not transactional – I do this for God, He must do this for me. If He gives me cancer, I must say, 'Sorry, I don't want You anymore'? I have an ongoing relationship with the Lord and that has helped me."
Eventually, the treatments worked. Lim beat the cancer and remained cancer-free year after year. By the 10th year, she was declared to be in remission.
Again, Lord?
Fast forward 17 years. By then it was 2016 and Lim had moved from being a stay-home mum to Director of VisionTrust Asia.
"She was sick for a while. It was like something wasn't right."
Then, she started to develop flu-like symptoms with fevers that would not go away.
Said good friend Lum Hoi Loon, who has known Lim since their teenage years in church and was her colleague at the time: "She would be in the office and she would be wearing a winter jacket, the type we bring on overseas trips and she would still feel cold.
"She was sick for a while. It was like something wasn't right."
Every visit to the doctor yielded the same diagnosis – viral fever. She was also travelling a lot to rural parts of Asia for work, lending credence to their conclusion.
Weeks turned into months. Lim was busy with work. There was a mission trip she was working towards at the end of the year. She was busy with life. Her daughter, Audrey, was getting married.
Then it was March 2017 and her husband refused to let her put things off anymore. Lim was breathless. He was concerned. They went to the A&E and she was warded for eight days as the doctors tried to find out what was wrong.
"What adventures are we going on again?"
It was not her heart. That was fine. It was not cancer in her breast either. Yet, the fever persisted. Then, came a lymph node test that finally shed light.
"Stage 4 advanced cancer. Incurable. Any treatment would only be to prolong life," said Lim.
Somehow between her annual mammograms, the cancer cells left the breast and managed to spread to other parts of the body. The prognosis – a two-year life expectancy.
Lim's response was characteristically calm. "Again, Lord? One more time? Let's go. What adventures are we going on again?"
Strength from testimonies
This time, Lim did not just have her own experience of God's providence to fall back on. She had the witness of her boss, Ernie Taylor, founder of VisionTrust International.
His house in Colorado Springs was totally destroyed by a massive forest fire in 2014. Dubbed the Waldo Canyon Fire, the flames destroyed nearly 350 other homes. Taylor and his wife had been away. So, they managed to escape, but were literally left with the clothes on their back.
"You can walk away. Or you choose to trust in God."
"I called him to say I was so sorry and he said, 'Why are you sorry? You didn't do anything. God has been looking after me for the past 75 years. Don't you think he is capable of looking after me for a few more years?'.
"And I saw how God provided for them. I saw how God brought them through. I saw their attitude. They didn't get angry with God. They were able to trust Him. That became a testimony."
Steeled by the assurance of God's grace, and supported by not just her family but her Christian community, Lim embarked on chemotherapy once more. She was warned of the adverse side effects. But she suffered none of them throughout the five-month regiment.
Asked if she ever questioned God why she was stricken with cancer a second time, Lim said: "When something is beyond you, then what do you do? You have a choice. You can get angry. You can walk away. Or you choose to trust in God."
She chose to trust God. 'I told Him, 'I'm going to watch you work in my life'."
Working things out for good
And work God did in ways Lim could never have imagined. Because of her health, she decided to retire from VisionTrust Asia in early 2018.
"Suffering and joy can go hand in hand."
Just hours after she announced her decision, one of her colleagues approached her to write a book chronicling her cancer journeys. She offered to sponsor its publication "as a gift for your retirement".
Hesitant at first, Lim eventually agreed. "I felt the Lord wanted me to give this message to believers to learn to embrace suffering together with joy. Suffering and joy can go hand in hand."
So, she penned Joy Beyond Cancer – Choosing to Bring Him Glory. All 3,000 copies have since been sold and Lim even gave permission to have the book translated into Burmese because her friends in Myanmar wanted the testimony to bless others there.
"We helped raised funds for the printing and went to their book launch," said Lim.
She did not expect such overwhelming reception. She had hoped the book would encourage people and it did. But it also achieved a lot more.
"People who read my book ended up praying for me. I hear about it all the time. The book has also opened doors for me to speak at women's conferences and retreats, bringing me back to ministering to women."
A second term 
Lim has since published a second book, a series of devotionals around the life of Joseph called When It's Beyond Me – Choosing to Trust in Him. She considers the book a ministry. "We prayed for every reader who will engage the words."
Explained Lim: "It was something developed over time. I had to do chemo and I was confined at home again. What is the purpose of this period? During that time, the Lord put it upon my heart to study the life of Joseph in Genesis which I did."
She thought her notes would eventually be used in speaking engagements. Instead, God asked her to write another book.
"On my own, I would not have done it. The Lord talked to me about leaving a legacy for the next generation."
Lim thought of her grandson, Micah, who is a year old. "I just want to present the truth and let the Word of God be for people today and in the future even when I'm not around."
"I never asked God, 'Why me?'"
So, she wrote, with a deeper appreciation born of personal experience. "God told me, 'You study, teach and observe the Word of the Lord. That to me was the calling of God in this season. You cannot teach without application."
But couldn't the application have come without the cancer?
"My life is not my own. Like Jesus said, 'Not My will but Yours be done'. When it comes to this illness, I never asked God 'Why me?'."
What next?
At the time of this writing, Lim has just received news of her condition. Her last scan revealed an increase in activity of cancer cells in her liver. She will return to chemotherapy in December.
Wrote Lim in a text to her Christian community: "I am once again in a new season of life where I have to trust God because it is beyond me. He is leading me into a new season of rest and trust in Him.  In the waiting, He will reveal Himself to me and, perhaps, my next assignment."
These pauses in her life are not new. "I was serving in BSF and He stopped me. I was in VisionTrust and He called me out. When I was going to retire, He stopped me," Lim told Salt&Light.
"I see every stop as part of God's plan. My life is in the Lord's hands. What's the worst thing that can happen to me? It would be the best thing that can happen to me. If you truly believe the Gospel, you get to spend eternity with God."
"If I were to go home to my Maker, it means my job here is done": One woman's response to terminal cancer
If you have enjoyed reading Salt&Light...
We are an independent, non-profit organisation that relies on the generosity of our readers, such as yourself, to continue serving the kingdom. Every dollar donated goes directly back into our editorial coverage.
Would you consider partnering with us in our kingdom work by supporting us financially, either as a one-off donation, or a recurring pledge?
Support Salt&Light