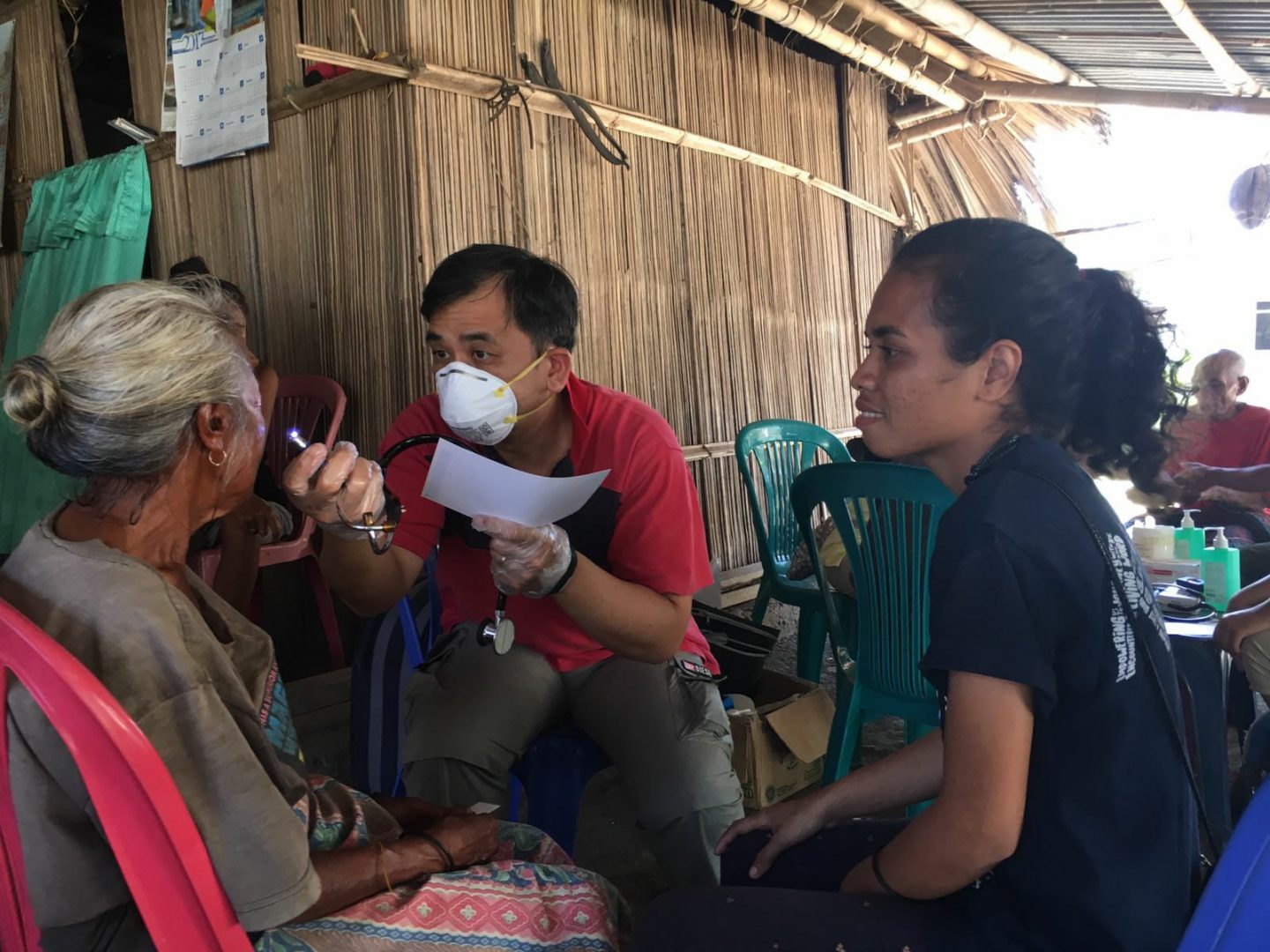 "My definition of success is to be able to use my talents that God has given me to serve people," says Dr Stephen Chang, pictured during one of his many medical mission trips to Timor-Leste. All photos courtesy of Dr Stephen Chang.
On the eve of the 'O' Levels Chinese exam, a teenage boy was down with the flu and could not concentrate on revising his work. At midnight, his father decided to take him to see a doctor. That trip to a run-down clinic in Chinatown became a defining moment that inspired the teenage Stephen Chang to pursue medicine.
Today, Dr Chang, 50, is a well-respected liver, pancreas and biliary surgeon with a long list of professional achievements. He is the pioneer of the single incision laparoscopic surgery, a minimally invasive technique in which surgical instruments are inserted through the navel.
"The doctor said, 'It's okay, just give whatever you can afford.'" 
"There is less post-op pain for the patient. After surgery, there is no scar at all. I use the scar that God has given us – the navel," said Dr Chang.
"I see it as God blessing my skills," Dr Chang told Salt&Light of this achievement that has been published in over 10 journal articles. 
Dr Chang himself has published more than 100 papers in scientific journals. He is also the founding president of the Hepatopancreatobiliary Association of Singapore. It was started to raise the awareness and the standards in the care of liver, pancreas and gall bladder related conditions.
He also serves as an adjunct associate professor at a local university, and his private practice, the GLAD clinic, not only stands for Gall Bladder Liver & Digestive, but also "God loves and delivers".
Dr Chang defines success "as being able to use my talents that God has given me to serve the people".
Midnight in Chinatown
To some extent, the simplicity of his answer can be traced back to that midnight visit to Chinatown when he was in Secondary 3.
He recalls his surprise when he arrived at the clinic.
Dr Chang defines success "as being able to use my talents that God has given me to serve the people".
"We went inside to register, there were a lot of patients sitting on wooden benches. I was puzzled. The old doctor didn't say much and was very stern."
Curious, the young man asked his father how he got to know of this clinic.
Turns out that during the postwar period, Dr Chang's father had accompanied his own father, who had fallen sick, to see this doctor. 
"My grandfather told the doctor, 'I don't have much money.'
"The doctor said, 'It's okay, just give whatever you can afford.'
"That had a huge impact on what I wanted to do."
A dizzying encounter 
Another life-changing moment was encountering Christ at age 18. He was then a devoted believer of another faith. 
While studying hard for his 'A' Levels, he began to feel that life was meaningless. And started searching for answers: Why does mankind exist? What's the purpose of life?
"I spoke to God, 'If it is You, show Yourself real in my life.'"
A Christian friend brought him to an evangelistic outreach event. The message was about Jesus saying He would go to the home of Zacchaeus. (Luke 19:1-10). It moved him.
"I bowed my head and raised my hand to accept Christ. I had a spiritual encounter.
"Upon opening my eyes, I had vertigo for an hour. I was very fit then. I could run 2.4km in 10 minutes and did taekwondo as a competitive sport. This vertigo could not be physiological.
"On my way home, I spoke to God, 'If it is You, show Yourself real in my life.'
"He has been doing that since."
Clear vision
As a medical student, Dr Chang started going on mission trips. On one trip to the Philippines, he had a vision.
"I was doing surgery and was surrounded by dark-skinned people. I had never thought I would be a surgeon."
On one trip, he had a vision. "I was doing surgery. I had never thought I would be a surgeon."
Then, during his housemanship, he found himself assisting in a surgery. "My senior said, 'You have good hands; you can consider surgery as a career.'"
Taking it as confirmation of his vision, he applied for training to be a surgeon.
God continued to guide his next steps. This time, through an earthquake disaster relief trip in Indonesia.
Having completed his three-year basic surgical training, Dr Chang was praying about which sub-specialty to choose for his advanced surgical training. He was offered a position in orthopaedic surgery, a lucrative field to go into.
As he was in between jobs, he decided to join a mission trip to help in the post-quake relief efforts in Indonesia. He was one of two doctors. The other doctor was an orthopaedic surgeon.
"We partnered each other to do some surgeries. He only used casting for patients with fractures.
"I asked: 'Why are you not fixing the fractures with surgery?'
"It was pointless if the next three years of training would have no impact on the mission field."
"He replied that in that kind of environment, if he were to put in implants, and if an infection developed, the outcome would be disastrous and crippling for the patient.
"I was praying if I should take up orthopaedic training. It was like an answered prayer. I felt it was pointless if the next three years of training would have no impact on the mission field, so I went into general surgical training. To really equip myself, I went into the most difficult sub-specialty – liver and pancreas.
"I can see how God led me."
Dr Chang has gone on many medical mission trips to countries like Cambodia and around Central Asia.
Around 2012, his church was organising a trip to Timor-Leste and needed a doctor on the team. Dr Chang signed up for it, thinking it would be like any other mission trip.
The mission pastor leading the team showed them photos of the Timorese people taken by the previous teams. Dr Chang realised that they resembled the people he had seen in his vision years ago.
"I thought, 'This could be the place.'"
Since that first trip, Dr Chang and his wife, Dr Neo Jong Jong, have been to Timor-Leste countless times.
He met the then Prime Minister of Timor-Leste, Dr Rui Araujo, who was in Singapore for medical treatment. Dr Araujo offered Dr Chang a one-year contract to work at the Timor-Leste National Hospital in 2015.
"It was a fulfilment of my vision, with these dark-skinned young trainees surrounding me. I showed their senior doctors how to do some surgery, and tutored four younger training surgeons taking their exams.
"We would have prayer meetings together and we would pray before starting our lectures."
Doors to health
Dr Chang believes that faith must be integrated into all aspects of life.
"I don't separate my work from my faith. To me, my career is a vehicle for my faith."
From the time he was a medical officer, he has been involved in leading a prayer group in places he has been attached to. He has shared Christ with patients who have asked, sometimes going back in the evenings with peers to see them. 
"I believe that healthcare is the open door for the Gospel to be preached."
He was also active in the Healthcare Christian Fellowship. "We had a saying: More people enter through the doors of hospitals than the doors of churches."
Before the COVID-19 pandemic, Dr Chang ran a Tuesday cell group for his patients, as well as a simple service on Sunday afternoons in his clinic. Up to 30 people attended the meetings. And he has seen salvations through these gatherings.
Pre-pandemic, 70% of his patients were foreigners, mostly from Southeast Asia and some parts of the Indian sub-continent.
At his clinic at Farrer Park Hospital, the noticeboard is lined with thank you cards from appreciative patients, a testament to the strong bonds he has built up with patients through his many years of service.
"My greatest satisfaction is seeing my patients or their relatives coming to know Christ."
Never shortchanged
With all his achievements, Dr Chang is still hungry to experience more of God.
"I'm always looking for God's next move in my life. If we submit our lives into God's hands, that's the best position to be."
For that reason, his life verse is Matthew 6:33. He is convinced that "as we seek God, He will take care of everything else".
Dr Chang has this advice for young Christian medical students, who may be very active initially, going on mission trips, and then find it hard to have time to even sleep as they progress into housemanship.
"As a doctor, you look at your own body, how it is so wonderfully made … There must be a Creator."
"Many may drop out of church. Never do that," he said, advising them not to cut back on their commitment to God for fear of grades suffering, or put God on the backburner just because life has gotten stressful and tiring.
"God will never shortchange you." 
He shared that when he was a houseman and medical officer, he would request for Saturday calls, working from 7am on Saturday until 12 noon on Sunday.  And then attend the Sunday afternoon service at his church. 
"As a doctor, you look at your own body, how it is so wonderfully made … how the different parts of the body work together in such unison. There must be a Creator. It's whether you yield to Him or not."
At this point in his life, Dr Chang is restful, but still eager to do more for God's kingdom.
"I know that God knows my intentions and will guide me. As I submit, God will allow me to do more."
---
MORE STORIES ON DOCTORS:
"Do you trust me?" God asked a young missions doctor who was "living like an orphan"
Changing times, unchanging faith: Dr Bobby Sng the visionary, missionary and giant of faith
If you have enjoyed reading Salt&Light...
We are an independent, non-profit organisation that relies on the generosity of our readers, such as yourself, to continue serving the kingdom. Every dollar donated goes directly back into our editorial coverage.
Would you consider partnering with us in our kingdom work by supporting us financially, either as a one-off donation, or a recurring pledge?
Support Salt&Light