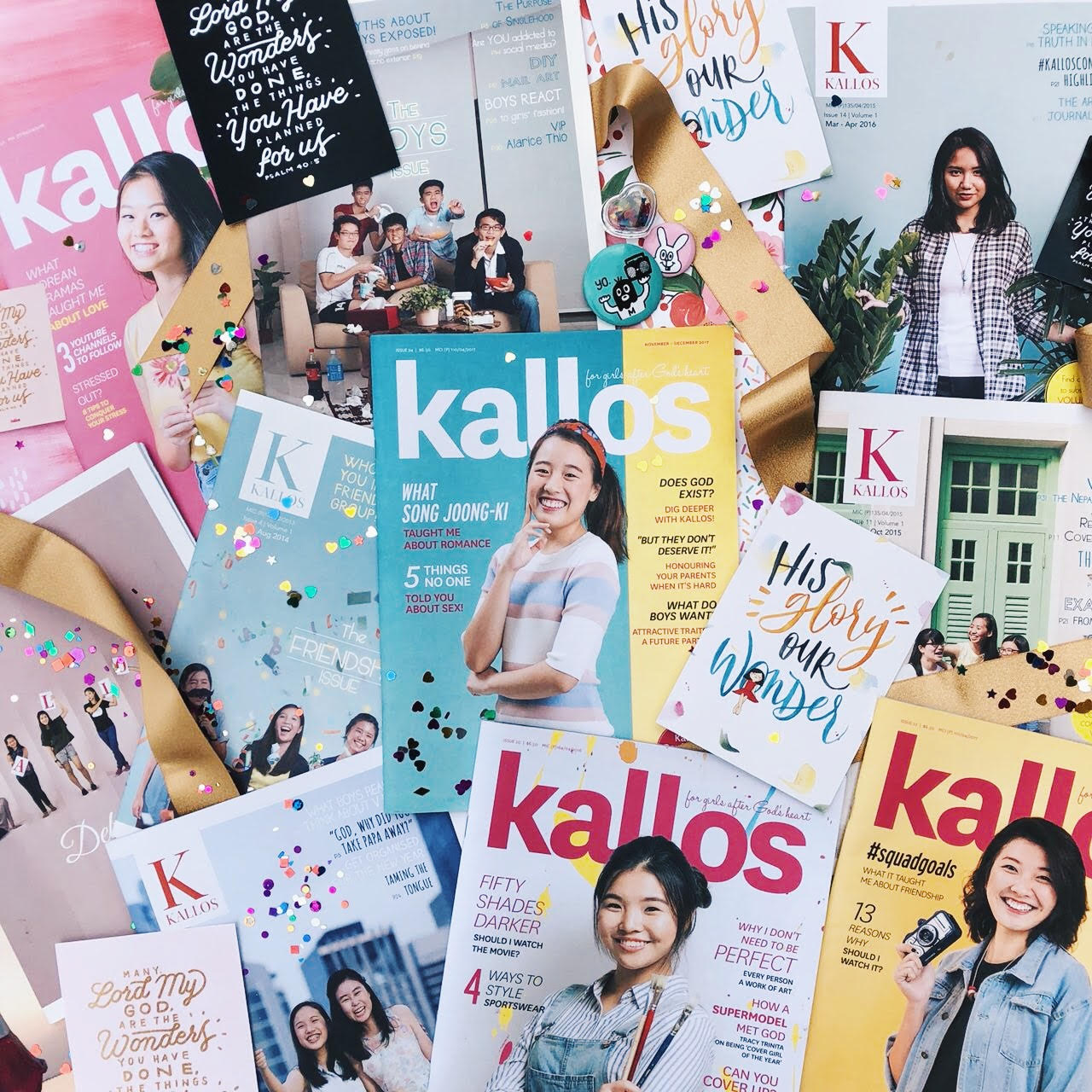 Kallos was birthed out of the simple dream of a 13-year-old girl and has gone on to impact the lives of countless teenaged girls in Singapore. All photos courtesy of Kallos.
"What is one dream you've always had?"
It was this simple question that came up while studying that led three teenaged girls to start Kallos, Singapore's first Christian magazine for teenaged girls.
Six years on and 30 issues later, they are still pinching themselves, in awe of where God has taken their dream.
"We were quite daring. We really believed that when we say we want, means can lah," marvels Dorothea Wong, one of the magazine's founders.
From pet project to big dream
When she was growing up, Dorothea used to read Brio, a US faith-based magazine that catered to teenaged girls.
"Even though the content was more western, it was still relatable. But I thought it would be nice if Singapore could have a similar magazine," she says.
When the idea first came to her, she was just 13. She put the idea down to a pipe dream, as age and school stood in the way.
"If God places a dream on your heart, He will be able to make it come to pass."
Fast forward to 2012: Four years older and just starting on her home-schooling journey, 17-year-old Dorothea found the dream being set in motion by God.
Thinking it would just be a pet project for their own consumption, Dorothea and her two enthusiastic church friends Natalie Tan and Nicole Sho, then 16 and 15 respectively, settled on the name Kallos, which means "beauty" in Greek.
That very weekend, they shared their idea with their youth leader, Quek Shiwei, who was also the one who had introduced Brio magazine to Dorothea.
Shiwei had a bigger vision for the girls.
The birth of Kallos
Shiwei sent them to Dr Andrew Goh, who has been the editor of IMPACT, a Singapore-based Christian magazine, for over 30 years. The three teenagers found themselves in his office two weeks later, armed with a simple proposal they had prepared on Microsoft Word.
They left the meeting with more questions than answers: What is the age range of their target audience? How often will the magazine be printed? How many pages? Who is going to do what?
Undeterred, they ploughed on to fine-tune the proposal. They showed the revised document to Shiwei, who was a student at Singapore Bible College then. They thought they could publish just 200 copies for distribution in their home church, Riverlife Church.
But discussions with a printer revealed that a minimum print run of 2,000 copies would be the most economical. Shiwei tapped on her network of friends to ask if their youth ministry would like copies of the magazine.
"Everyone was happy to pick it up because it was new and free at that time. But it was really God's grace ­– we managed to give out almost all 2,000 copies of our first issue to 35 churches, which is quite amazing!" says Shiwei, now 31 and the director of Kallos.
Supernatural provision
How did three teenagers and a Bible college student fund the cost of production and print?
"When we first started, I shared the project with a believer and he was very supportive. I didn't even know what I was asking but he just gave us more than what we asked for," recounts Shiwei. The funds were sufficient to last them two to three years.
She also took the bold step to give the magazine out for free after much prayer. But she knew this business model would not be sustainable and a subscription model would need to be implemented eventually.
By this time, the team had grown from four to seven. Two years in, the team felt it was time to rebrand the magazine and change the business model.
Recently, the magazine made it to the shelves of major local bookstores Popular, MPH and Kinokuniya – another dream come true for Dorothea.
"Whenever young people share that God placed some dream on their heart, I will tell them if they really believe if it is from God, you just need to trust Him and be that vessel. He will be able to make it come to pass," testifies the now 23-year-old university student, who continues to be a writer at Kallos.
Psalm 119:105 reads: Your word is a lamp for my feet, a light on my path.
This could not ring truer for Shiwei and Dorothea. Many times, God gave them just enough light to see what was immediately ahead. It taught them to trust and caused their faith to increase.
"We just obeyed God and then every step of the way, He would just open the next door. We really didn't know anything but somehow, whenever we were ready, the next door opened," acknowledges Shiwei.
That was how each interview came about, each event happened and even each staff member hired.
"Next, we're looking to move into the region and I'm very daunted by that," admits Shiwei, a mother of three. "But it seems like God is again opening the right doors. I just have to have the courage to take the team forward into that."
A safe space 
Just as Brio had strengthened Dorothea and Shiwei's faith while they were growing up, Kallos is doing the same for countless of teenaged girls in Singapore.
"We can be a voice of truth to girls in this generation when it is not very easy to be a female."
Girls have written in to share how the magazine has helped them address issues surrounding their faith, as well as helped them connect with other like-minded youths through events organised by Kallos.
And more than that, the founders discovered that the magazine is also a safe space for their readers.
Many have written in to their advice column, Dear Kallos, with candid questions they would never ask in church, such as "I'm having pre-marital sex, should I break up with my boyfriend?" and "Is it normal for a Christian to have depression? Am I a Christian if I have depression? Am I saved?"
"For the girls to write in and share so honestly about the issues that they struggle with, it gives me hope, to know that we can be a voice of truth to girls in this generation when it is not very easy to be a female," says Dorothea.
To think that the whole Kallos journey started because Shiwei's parents got her and her three sisters a subscription to Brio, which she went on to share with Dorothea.
Likewise, Shiwei urges parents to subscribe to Kallos for their teenaged daughters.
"Even if they're not interested right now, you leave it out there and they might love God a little bit more through reading our articles. Because you never know where they are in their faith. Whether they're backslidden or fervently loving God or considering whether they want to take up this faith, something in the magazine might speak to them in a non-threatening way."
Kallos is celebrating its 30th issue with a special giveaway!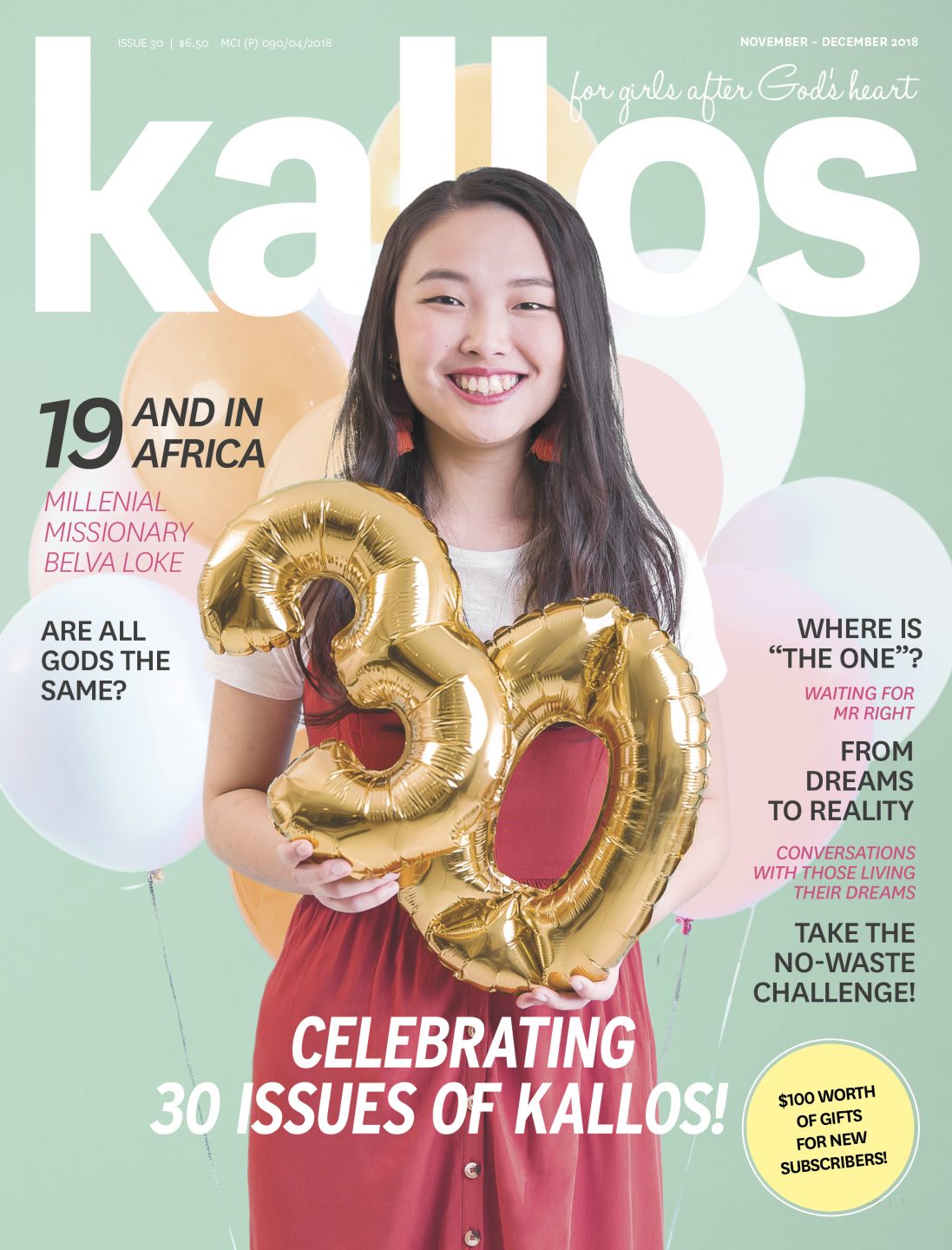 The first 30 subscribers this month will receive five specially curated gifts worth up to $100 from Kallos partners Doodles With Joy, Letters of Love by Jo, Glorious Letterings, ThreeOneTwoFive and A Paper Hope!
Head to www.kallos.com.sg for subscription details and bless a young woman today! Terms and conditions apply.
If you have enjoyed reading Salt&Light...
We are an independent, non-profit organisation that relies on the generosity of our readers, such as yourself, to continue serving the kingdom. Every dollar donated goes directly back into our editorial coverage.
Would you consider partnering with us in our kingdom work by supporting us financially, either as a one-off donation, or a recurring pledge?
Support Salt&Light