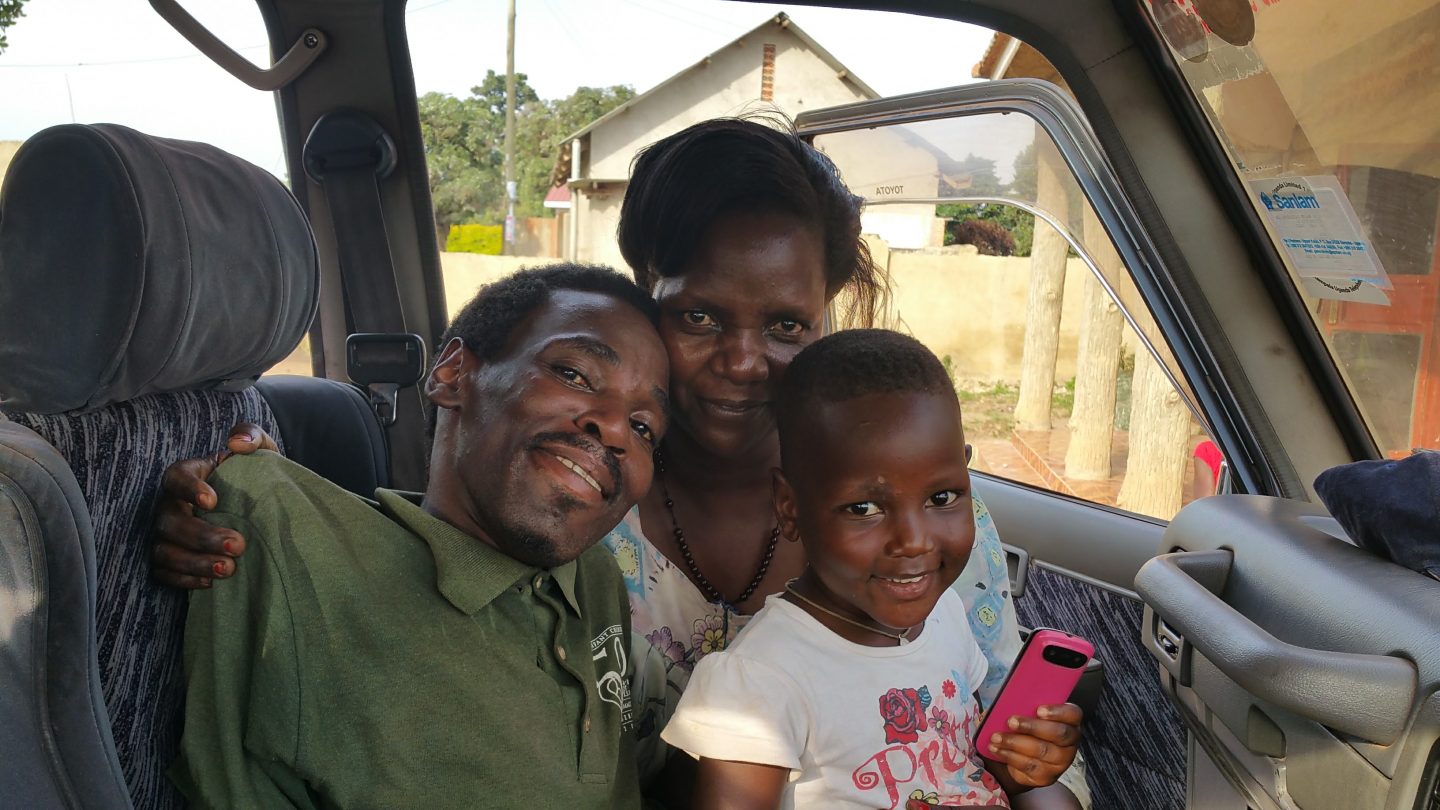 Michael (left), a paraplegic man whom God urged Tim to befriend, is reunited with his family after a long estrangement. All photos by Timothy Weerasekera.
Once on the way home, shortly after moving to Uganda from Singapore, I saw a badly deformed man in a broken wheelchair, screaming at the top of his lungs at the matatus (minibus-taxis) that stopped near him.
It was Michael, the resident paraplegic drunk of Kajjansi.
His frail frame was lit by the headlights of the matatu, dust billows starkly accentuating the beams of light around him.
"This man seems very angry. Why is he shouting at us?" I asked the Ugandan passenger sitting beside me.
Michael and I made eye contact for a millisecond. He smiled at me, and the Holy Spirit spoke. "Get in touch with that man."
Chuckling, my travelling companion explained that Michael wasn't angry, despite all the yelling. He was calling for passengers to board the bus. In exchange for his "services" the matatu operators would give him a token payment of a little less than 4 cents.
He'd do this for a few hours on end – probably till he lost his voice – just to earn enough to buy himself two small samosas and a cheap drink. That would be dinner. That was his life.
As we drove away, Michael and I made eye contact for a millisecond. He smiled at me, and the Holy Spirit spoke. "Get in touch with that man."
A few weeks later, I took the wrong matatu from Kampala and almost got lost on the way home. Night had fallen, and somehow I found myself in the dust of Kajjansi once again. The town was known for its thieves at the time, and my having luggage in tow didn't make my bad situation any better.
Looking quickly for the right bus home amidst the dusty taxi bay, I found Michael instead.
"Excuse me, ssebo (sir), how are you? Have you had your dinner?" I asked him.
"No, daddy!" he said. Grasping for my hand to kiss it. His own hands and arms were badly contorted.
"Come, I would like to buy you dinner today." Everyone around was staring in bemusement at the muzungu (yes, I'm a "white man" in Africa), trying to befriend the town drunk.
The other destitutes decided that they would be a part of the party as well, and invited themselves to dinner. Alas, I had to turn this conga line of a motley crew away. They were not my assignment that day. Michael was.
Nothing seemed to change, but it was quite evident that the Holy Spirit was doing something.
Over the next hour or so, Michael recounted his life story to me, slurring much of the way.
"I was not born this way," he said. "But when I had polio as a child, the fever made my body stuck."
"You know what, Michael, I believe that Jesus can heal you," I said, mustering all my training from Kingdom Invasion.
"Really?"
"Yes! Let me pray for you please".
It didn't take long before the power of God fell upon him and he started crying and twitching uncontrollably at the table.
To be honest, I didn't really know what to do once – *bam* – his head hit the table and he remained there weeping and groaning for about 10 to 15 minutes. Nothing seemed to change, but it was quite evident that the Holy Spirit was doing something.
The next day, I received an urgent call from Michael who beckoned me to come back to his place. He recounted a dream he had the night before that instructed him to change his lifestyle. The next thing he knew, he woke up to one of his arms completely unstuck.
After this, Michael and I formed a relationship which saw him finally reunited with his family from which he had been estranged for many years. 
And as I cared for him, taking him home, bathing, housing and feeding him through a season of malaria, getting him a new wheelchair and eventually attempting to start a small business for him to subsist on, it became clear to me that Michael was changing. Slowly but surely. 
An adventure of epic and ridiculous proportions
Michael's story is just one of many which the Lord has given me on my journey as a missionary so far.
My time serving in Africa has been nothing short of an adventure.
From more serious work like helping to administer schools in Uganda, to starting businesses and farming collectives in rural communities in Kenya, to refugee assistance in Rwanda, to involvement in Bible schools and orphanages in the Congo, to equipping the church and overseeing food distributions for hundreds of thousands of people in some of the largest refugee camps in the world, I never thought that I would have a chance to serve the Lord on the field like He's let me.
Fieldwork leaves you with tears of joy at breakthroughs, tears of sorrow at brokenness and tears of laughter at the bungles. Ultimately, they are all sweet.
I thought that perhaps I would be planted in one place to work on one thing, but that isn't the way that the Lord has let things play out.
Instead he's expanded the scope of work to diverse and unusual fields that I knew almost nothing about. It's a terrific adventure and an unwarranted privilege. I don't deserve the life He's given me.
At the same time, the field is full of hilarious mishaps and antics.
Like that one time, I got my car stuck on railroad tracks while I was in a traffic jam in Kampala, and nearly got mowed over by an oncoming train. 
Another time, I had to show up at the house of the actual Archbishop of the Church of Uganda for an urgent meeting in shorts and a t-shirt after having just come off the road from 10 hours of driving from a refugee camp on the border of South Sudan. Much to my mother's dismay when I sent her the photo, mind you.
And still more recently, my rental car's radiator blew in the middle of nowhere on transit to a refugee camp and I had a totally punctured tyre at the same time. So, I had to DIY-fix it all while village children, who tend to appear out of nowhere, laughed at the huge tear in my pants in a terribly unceremonious place. 
The list of funny and embarrassing mishaps definitely goes on, but there is really nothing in the world I'd rather do, because nothing is quite as fulfilling and challenging as fieldwork.
Fieldwork leaves you with many tears. Tears of joy at breakthroughs, tears of sorrow at brokenness and and tears of laughter at the bungles. And ultimately, these tears are all sweet.
Your greatest ability is your availability
Although I'd always been willing to be a missionary, I never actually thought I'd become one. I was prepared to live and work in Singapore my whole life.
In fact, prior to my stepping out for my first nine-month stint in Uganda, I had never been on a mission trip. No Philippines, no Thailand, no Cambodia. Just Uganda, nine months, all alone.
It was probably not the most ideal arrangement but, in retrospect, my lack of prior experience in the deep end of the pool only served to highlight the incredible grace of God over the whole journey.
My lack of prior experience in missions only served to highlight the incredible grace of God over the whole journey.
Up to the point of my departure, my career had been one huge blessing after another.
Straight out of university where I majored in political science, a five-minute interview over coffee which came about from a divine appointment landed me in a department of the Prime Minister's Office, full of incredibly bright and warm people.
There, the Lord offered me the privilege of learning from the crème de la crème of civil servants for a year while working on a new nationwide policy review project.
Later, another divine appointment had me building a brand new leadership institute for the late President Nathan under four incredible and diverse bosses, all at the top of their fields. Personal coaching and mentorship in an extremely flat structure was a daily occurrence.
I didn't deserve these opportunities, but somehow in His kindness to me, the Lord gave me the pioneering skills in these start-up environments that would later prove invaluable on the field.
For the surrendered whose steps are ordered by the Lord, everything is training. Nothing is wasted.
The signboards of life
Many ask how I know that I'm called to this. Well, there was a definite and undeniable point in my career when God called me out, but the more I think about it, the more I believe that the Lord starts whispering our destinies to us earlier than we think.
While growing up, I was often asked what I'd like to do in the future. Because of my belief in the concept of marginal utility, I would invariably describe my perpetual daydream about installing taps in poor African villages as opposed to working in Singapore because I've always wanted to work where the fruit of my life could yield the most benefit for the world.
The Lord starts whispering our destinies to us earlier than we think.
It was difficult to believe that I would do more good for the quality of life in Singapore, with her efficiency and affluence, than I would if I invested myself elsewhere for others.
One tap in a thirsty village radically changes the quality of life for the villagers, allowing them to invest their time in more productive pursuits.
Little did I know, that that's exactly what God would have in store for me as a full time missionary.
Through unexpected, unorchestrated work with a British charity focusing on supporting the persecuted church, I found myself on assignment wandering the inhospitable Kenyan deserts in search of some of the most remote communities needing water. 
The Lord brought life to my daydreams! And then I realised, perhaps I hadn't been daydreaming at all. Perhaps I'd been unknowingly discerning His destiny being released over my life all along.
For anyone looking for direction, I'd suggest, on top of seeking the Lord diligently, that you pay attention to your daydreams, and pay attention to your tears.
What you secretly dream about, and the burdens you cry over, could be the God-given signposts for your life.
He has set eternity in the hearts of Man.
If you have enjoyed reading Salt&Light...
We are an independent, non-profit organisation that relies on the generosity of our readers, such as yourself, to continue serving the kingdom. Every dollar donated goes directly back into our editorial coverage.
Would you consider partnering with us in our kingdom work by supporting us financially, either as a one-off donation, or a recurring pledge?
Support Salt&Light