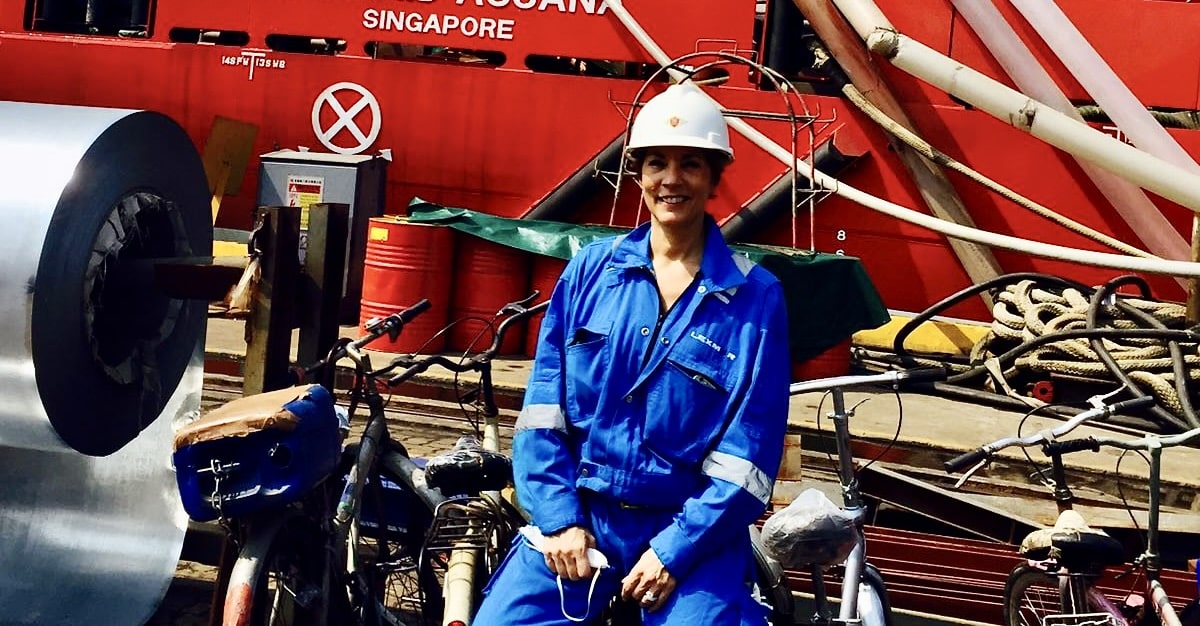 When her husband died suddenly, Dutch expat Marieke Barker was left holding the reins of a company in the male-dominated diving industry, with neither management experience nor technical know-how. How would God save her from drowning? Photos courtesy of Marieke Barker.
Marieke Barker always looks like she's cruising through life.  
With a personality as towering as her stature and a smile as dazzling as her pixie blonde crop, the former CEO of LEXMAR Engineering & LEXMAR SAT Systems – companies specialised in the engineering, design and manufacturing of saturation diving systems for the offshore diving industry – appears every inch a captain of her own ship.
But Marieke, at 57, has been through many turbulent seas, and tossed often by raging waves.
When she left safe harbour in the Netherlands in 1994 and set sail for Singapore, she had no idea she was heading into stormy waters and straight on a collision course with a force so powerful she was brought to her knees.
She said yes
Marieke grew up on a farm in the Netherlands with three brothers and three sisters, in a Christian home where no one really talked about God.
She did not know what it meant to be a child of God, nor how to be in a relationship with God. 
"I was not so Christian," she says. She was living with her then-boyfriend, Lex, when she had an encounter with God in 1993.
She was in a church service, most of which she did not remember, but she remembered the pastor saying: "You're either for God or against God."
"That shook me because I was just doing my own thing; so if I had to decide if I were for or against, I knew I was against God," Marieke says. "But I wanted to choose to be for God."
She signed up for a catechism class and married Lex later that year.
Lex planned to move to Singapore after the wedding to start a diving systems business, and he asked Marieke if she wanted to go. She said yes.
"That one word changed my life dramatically," she says. 
Rough waters
So, Marieke packed up her life in the Netherlands and started a new one in Singapore in April 1994.
It proved to be years of struggle in rough waters.
"Instead of focusing on what I missed, I started being thankful for having so many people to miss."
The industry and economy were very difficult at that time and LEXMAR, a small start-up, floundered. Marieke and Lex took on small deals refurbishing diving equipment, distributing and selling parts, and did some odd jobs to stay afloat.
Socially, they were also flailing. Unlike other foreigners, most of whom were in Singapore on generous expat packages, Marieke and Lex had limited disposable income, and what they had was ploughed back into the company.
"We were not living the expat life, and we are white so we didn't fit into the local community either [at that time]," she says. "We didn't work with other people in the office, so initially it was just Lex and me."
With Lex out most the time working or trying to get work, Marieke worked alone managing the company's administration, leaving her "too much" time to think, and not enough stamina to battle homesickness and culture shock.  "It took so much energy just to be okay," she recalls. God sent a lifeline through a calendar from her family, on which her eldest sister wrote the words: "It is not the circumstances that determine your happiness but your attitude towards your circumstances."
"It was life changing," Marieke says. "Instead of focusing on what I missed, I started being thankful for having so many people to miss."
Upon the invitation to take communion, she heard God say: "I've done everything. What else is there to do? Come."
Spiritually, Marieke was adrift with doubt as well. The church she attended in the Netherlands was legalistic, and her takeaway from it was that she would be damned if she took communion without being a child of God. Because she did not have the assurance that she was saved, or was a child of God, she battled with the same question in Singapore. 
At a church service one day, upon the invitation to take communion, she asked that question yet again, and heard God say: "I've done everything. What else is there to do? Come."
It took six years for LEXMAR to start manufacturing its own brand of equipment to incorporate into its refurbishments, and another six years for LEXMAR to secure its first contract for a complete in-built saturation diving system in 2006. A second contract came along a year later.
With the company sailing on smoother waters, Lex and Marieke decided to put it on the block. They hired a business advisor to help with the sale but the deal fell through.
Just as life and business seemed to be coasting, Marieke's life hit another iceberg.
Lex fell gravely ill that same year and passed away at the end of 2007, after 10 weeks in the hospital, plunging Marieke into deep, dark waters.  
Diving in
Marieke was left holding the reins of a company in a male-dominated industry, with neither management experience nor the technical know-how required to steer the company.
Barely a month after the devastating loss of her husband, she dived right into the new role on autopilot.
Ian, the business advisor hired to package the company for sale, agreed to stay on as a managing director to run the company's day-to-day operations. Marieke, then the sole owner, took on everything else.
Barely a month after the devastating loss of her husband, she dived right into the new role on autopilot to keep the company going.
At around the same time, the landlord of the building LEXMAR was leasing sent unwelcome news that the company had to vacate the building.
"We had so much going on; it was almost impossible," Marieke says.
But her faith from an encounter with God prior to Lex's passing had girded her for that moment.
Marieke had heard a Christmas sermon in 2007 that centred on the angel declaring to Mary that with God, nothing was impossible. (Luke 1:37) "That jumped at me, and that same day Lex said yes to Jesus," she recalled. Lex passed away shortly after that.
This message became an anchor for her life.  
So, when she was told the company had to move, she told God: "This might look bad, but You probably have a better plan."
Marieke negotiated a three-month extension on the lease but had to pay double the rent. Thankfully, the finances were sufficient to tide LEXMAR over. When her real estate broker suggested she bought a building instead of leasing another one, she baulked at the idea because securing the required financing was questionable. But she said yes, and LEXMAR did end up getting financing and buying its first building a month later.
Amid what was already a turbulent time, Ian, the managing director, passed away unexpectedly two years into the job. Marieke was left truly on her own, with the full weight of a growing company on her.
LEXMAR had almost 100 employees by then, and was inundated with major contracts, each of which typically took two to three years to complete. She was drowning in the sudden responsibility – not just towards the company and employees – but also to the clients.
When she was told the company had to move, she told God: "This might look bad, but You probably have a better plan."
The company staggered through the transition and earned a bad reputation in some areas although Marieke personally commanded respect in the market.
"People were rooting for me, but they also told me it was hard for me because I did not have the technical know-how to succeed [in this industry]," she laments. 
"I was brought up with a great sense of responsibility, one of the core values being to never give up," Marieke says.
So she kept pushing on but crashed two months later, overwhelmed and in tears, questioning if she had what it took to run the company.
God responded to her distress through a good friend, who told her straight: "If this is really not for you, God will show you, but in the meantime, stand in the authority God has given you."
The next day, Marieke came across these words in her reading time: God wants you to do what He has called you to do in the place He has led you, in a way that glorifies Him. She wrote down the note and stuck it on her fridge, where it stayed for years. Below the note, she added: To God be the glory.
That day, she committed herself and her task to God, pouring out her fears, her pain, her feelings of inadequacy, to Him.
"I'm a woman in a man's world. If that's what You want me to do, I need to know engineering and I need to know everything about diving."
She heard in her heart the Lord telling her: "With Me, you can. Lean on me."
Her life and the company changed course that day.
Miracles at the helm
For the first time in her life, Marieke's relationship with God became raw and real. Although she was aware God was already drawing her during Lex's illness, the open wound in her heart intensified because Marieke could no longer find anything to hide behind.
She heard in her heart the Lord telling her: "With Me, you can. Lean on me."
"It was hard at the business and hard at home because I was on my own," she says. Although friends encouraged her, Marieke did not turn to any friend with specific work issues because she could not expect a friend to fully understand her work. So, she cried out to God. A lot.
"It was a blessing in disguise because I see now that God wanted to pull me close to Him and making me dependent on him," she realises.
Meanwhile, the tide of problems kept rising despite more contracts. A giant wave crashed down on them in 2011 when a client defaulted on a contract for which LEXMAR had thrown in millions of dollars pre-buying equipment.
Another deal that had the potential to save the company from drowning fell through. LEXMAR was sinking under the burden of a severe cash crunch. Everyone in the industry, the LEXMAR employees, and even Marieke herself, was convinced the company was finished. Many of LEXMAR's employees abandoned ship that year.  
She was so beaten by then she thought God was never going to show up.
But He did.
He sent help in the form of Martin, who had the technical know-how and operational management experience Marieke needed. Martin came onboard in early 2012 to supervise a sea trial for one of LEXMAR's system, originally for a couple of weeks, but he never left.
In early 2013, real estate prices were going through the roof, and the building LEXMAR bought just five years before had more than doubled in value. Marieke saw a way out and decided to sell the building, with the intention of paying off LEXMAR's debt and heading back to the Netherlands.
"It was a blessing in disguise because I see now that God wanted to pull me close to Him and making me dependent on him."
At around the same time, a client showed up without solicitation. The client insisted on awarding a major contract to the company although Marieke was honest about the fragility of her company. She took on the contract after signing up Martin full time as the head of operations. 
"Within a month, we went from 'we're closing' to 'we're back in business'," Marieke says. "God opened doors and I was back on my feet."
Suddenly, everything fell into place. The whole diving systems market could see the quick turnaround because everyone thought the company was sunk and it re-surfaced.
"It's not because I was so smart," Marieke chuckled. "God went before me and said 'Here, here's a contract you can do."
Following that contract, more came in. When LEXMAR got back on its feet, Marieke decided to buy another building ahead of the end of the lease of its current building. When she found the building she wanted, she walked around and prayed over the building, asking God to make the deal smooth so they could get it at a good price.
"It's not because I was so smart," Marieke chuckled. "God went before me and said 'Here, here's a contract you can do."
"The asking price was way beyond our budget but the landlord agreed to meet us in the middle," Marieke says. However, it was still beyond LEXMAR's budget. On the second meeting, she went alone praying in the car, listening to the lyrics of a song – "You split the sea so I can walk right through it".
With quiet trust, she knew that God was going before her as He had for the Israelites in the Red Sea.
During the meeting, Marieke found out that a painting received years ago at the opening of LEXMAR's first building had, in fact, been a gift from the owner of the building for which she was in the midst of negotiation. The owner pondered deeply before writing down the exact number Marieke knew LEXMAR could afford.
"I looked at the number and I said 'deal!' and we shook hands," she says. The wife of the owner was shell shocked that her husband had come all the way down with the price. The meeting took all of 20 minutes.
LEXMAR moved into the new building end September 2015, exactly when the lease on the previous building ended.
That same year, news of interest by a company to acquire LEXMAR circulated in the market and reached global leading marine services provider JFD, who was also keen to buy over LEXMAR.
"When it's God's plan and time, we don't have to help Him along."
JFD immediately initiated negotiations with Marieke. Because it did not want to get into a bidding war with the other company, Moving quickly, JFD closed the deal in 2016.
"It was another miracle because the other company was so loud about wanting to acquire us that JFD moved quickly," Marieke says. The other company eventually withdrew from negotiations.
"I felt like God only used that company to make JFD aware that it should hurry up and acquire us!"
"When it's God's plan and time, we don't have to help Him along," she says.  
On another occasion, LEXMAR was saddled with very expensive equipment for a contract on which the client defaulted. One of the pieces of equipment was a Hyperbaric lifeboat that LEXMAR had not been able to pay for. At the same time, a company in the US needed a lifeboat urgently. Her lifeboat became their lifeboat.
God took care of the million euro plus debt.
People at the centre
Marieke did not steer the ship alone; she was quick to acknowledge the crew.
Apart from Martin, God brought Winnie, who agreed to help Marieke organise the finances because all the employees of the finance department had quit. Unknown to Marieke, two of her employees, Michael and Madhan, had been praying, that God would start a prayer group in the company. And God did.
The workshop manager Leong had contracted the swine flu and became very sick. The doctor gave him a 50% chance of survival. Winnie, a Christian, and Marieke gathered everyone who wanted to pray. Marieke made known to everyone she would pray for healing in the name of Jesus.
Leong survived – their earnest prayer was answered.
Eventually, more employees joined the prayer group, and started praying regularly in Marieke's office with the door wide open.
They later also prayed for all the companies under their James Fisher corporate umbrella that everyone would get to know Jesus. They had a prayerbook and almost everything got answered, although nobody they knew of had yet come to know the Lord.  
One year, Marieke sent mugs to all 500-600 employees in the global JFD offices for Christmas. On the mug was printed: "You are loved (Jeremiah 31:3)" and was accompanied by a card with the note: "You can only be you, and who you are is brilliant, exciting and inspiring, because you are made in the image of a brilliant, exciting and inspiring God."
"The idea came from God," Marieke says. 
On what would be her final company party, she mentioned the mug and earnestly shared her belief that a company is like a body; without all the parts, the company was nothing. She encouraged the employees, by saying that if they ever felt insignificant or that their jobs did not matter, they did.
"Lots of people came to me and were touched. They told me no one had ever talked to them like that," Marieke says. "Although I never mentioned God in my speech, I believe seeds were planted, someone else can water them and God can make the seeds grow."
A friend had prophesied over Marieke in 2013 that God's kingdom would be visible in her company.
"His kingdom did become visible in the company," Marieke says, "through the culture, the prayers, the favour upon us, the miracles." 
The prayer warriors in LEXMAR often prayed that anyone who dealt with the company would feel and know they were blessed, though they may not know why.
"People often tell me what we have is so good – people are willing to help each other, the attitude is good, the culture is good," Marieke says. "They could not tell what it was, but they knew we were different. I believe it is the blessing of God."
After JFD acquired LEXMAR, the economy tanked, and the contracts for diving systems dried up. Many in the industry told Marieke she sold the company at the right time, but she told them: "No, God did. I can't look in the future."
Safe Harbour
Marieke left JFD at the end of 2019, three-and-a-half years after she sold LEXMAR.
After she stopped work, Marieke's body caved after years of running it on adrenaline and stress. She was hit by a debilitating illness, just as the world was hit by the Covid-19 virus. She was locked down at home and locked in with God.
"It was bad timing but also good timing because I could rest," she says.
God was drawing Marieke to Him and urging her to move from just listening to sermons and worship songs to reading the Bible with Him and letting the Holy Spirit teach her.
During that season of being tucked away from the world and with God, He coaxed many of the tumultuous emotions out of Marieke and brought healing to her soul. One of the songs that really plucked at her heart strings during that season was Dancing on the waves.
After much deliberation, Marieke eventually decided to move back to her home country after 28 years in Singapore. About a month before she was to take off for her homeland, news broke that JFD was ceasing operations in Singapore.
"It was like God was saying to me, 'That's it Marieke, it's the end of this chapter. If you have ever doubted your decision to go back to Holland, now you know.' It was mind blowing," she said of the confirmation from God.
Shortly after Marieke returned to the Netherlands, her father passed away. She was thankful for the opportunity to bid him farewell and be with her family. God's timing was perfect.
Her industry peers call Marieke a woman who triumphed through extraordinary circumstances, "a respected leader in our industry" who has influenced and encouraged many with her positivity, her strength and her resilience.
This writer calls her an overcomer because she leaned on the gale force of God, who taught her not just to walk on water but to "dance on the waves".
If you have enjoyed reading Salt&Light...
We are an independent, non-profit organisation that relies on the generosity of our readers, such as yourself, to continue serving the kingdom. Every dollar donated goes directly back into our editorial coverage.
Would you consider partnering with us in our kingdom work by supporting us financially, either as a one-off donation, or a recurring pledge?
Support Salt&Light