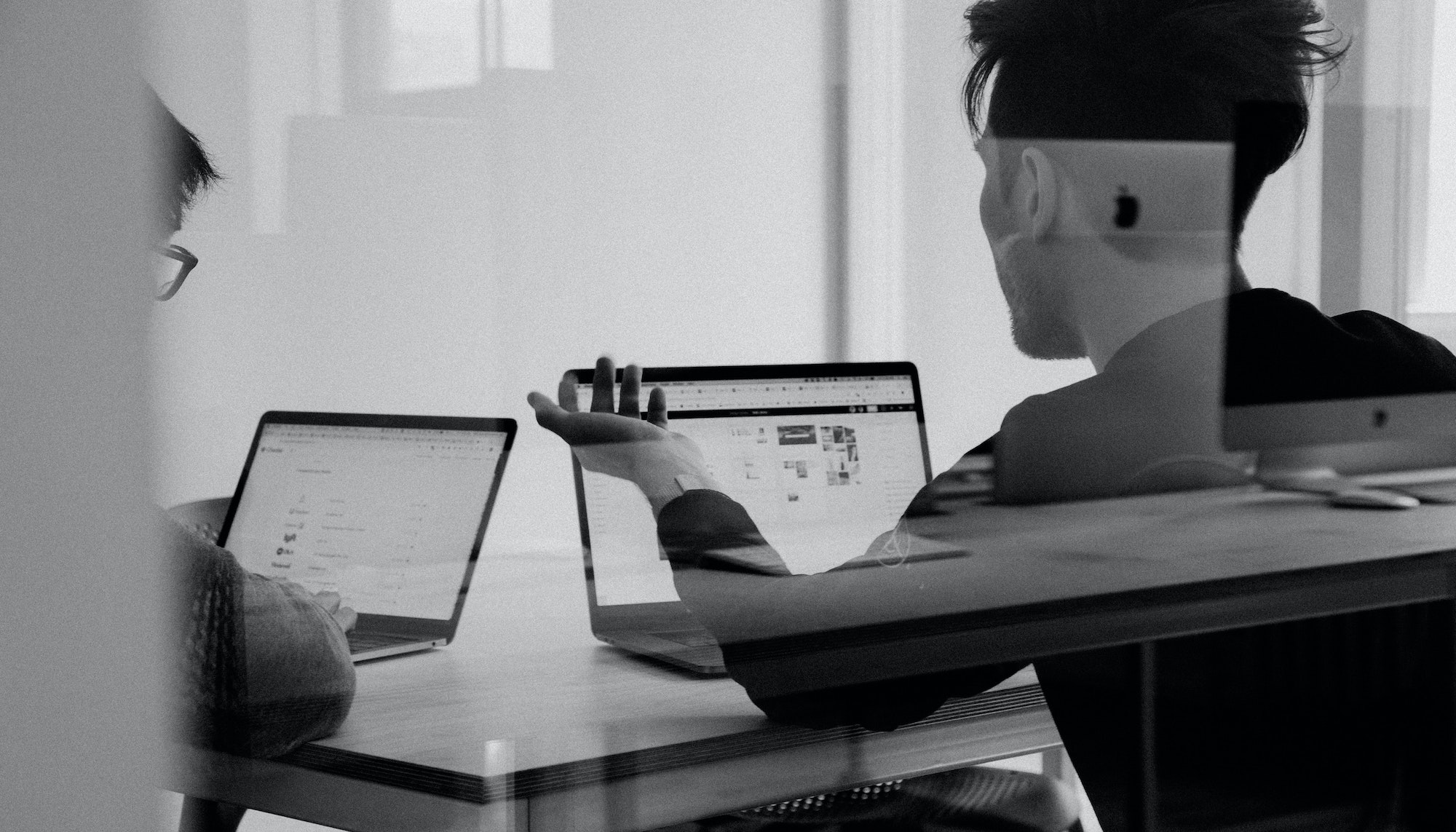 "WFH has introduced greater informality into the traditional office relationship," observes Jeffery Tan. "Build on this to deepen relationships into personal ones, allowing opportunities to share our lives and Christian values." Photo by Charles Deluvio on Unsplash.
The primary focus of the marketplace is on business, making money and all things corporate.
For many Christians who are active in this space, the natural tendency is to see their lives in two separate (and distinct) worlds: Being a "Christian", which happens on Sundays, and a "marketplace person" during the workdays.
Are you the same, regardless of the "world" you are in or the day of the week it is?
It is a divide often steered by a desire to compartmentalise our lives to avoid potential complexity and complications. 
On first look, this approach appears convenient as it separates one's Christian faith from the other areas of one's lives. This is often borne out of the challenges encountered in integrating one's beliefs or faith into work, which can be difficult.
But there is an alternative approach to be considered: What if we see no difference between what we do at church and Christian settings, from our behaviour and actions in the marketplace?
The demolition of this artificial divide can bring about a greater sense of personal congruence and authenticity – in short being one and the same person – regardless of the "world" we are in or the day of the week.
Two masters?
In thinking about one's secular vocation, and the pursuit of success and significance in the marketplace, Matthew 6:24 is frequently quoted: "No one can serve two masters. Either you will hate the one and love the other, or you will be devoted to the one and despise the other. You cannot serve both God and money" (NIV). The conclusion that is often reached is that the choice is binary –  serve one or the other, but not both.
But what if the choice is more nuanced and less stark? What if one can be leveraged for the purpose of fulfilling the other? Let me elaborate.
In today's secular economy, the singular pursuit of profit is increasingly being challenged by the concept of a corporation's "purpose". Can Christians also adopt this lens to view our role in the marketplace as a platform from which we can exemplify and share our Christian faith through our actions and influence, as a way of sharing with others the eternal light that is within our lives?
In so doing, we live out the teachings of Matthew 5:14-16: "You are the light of the world. A town built on a hill cannot be hidden. Neither do people light a lamp and put it under a bowl. Instead they put it on its stand, and it gives light to everyone in the house. In the same way, let your light shine before others, that they may see your good deeds and glorify your Father in heaven." (NIV)
Natural ice-breakers
Our Christian vision of the marketplace requires us to embark on a journey of discovering how each of us can be used in the marketplace to serve God's purposes through serving others, providing opportunities for the growth of others and sharing the Gospel's good news – be it through our actions in the office or any place of work.
For those in the marketplace, the individuals we interact with are similar to a preacher's congregation in the church. The preacher interacts with the congregation within the walls of the church; but those of us in the marketplace interact with our "congregation" of colleagues, competitors and contacts found in offices, meeting rooms and any forum that allows us to shine for God.
The COVID pandemic in the past two years has introduced a greater sense of informality in our work interactions and the traditional office relationship because of WFH (work from home).
Sharing our principles, and even our struggles, displays an authenticity that is both respected and welcomed.
WFH has introduced greater informality into the traditional office relationship. From the scheduling of appointments and meetings which used to be arranged through executive assistants, these can now be done via a quick WhatsApp.
The pandemic has removed the usual "starchiness" traditionally associated with the office environment.
The fact that one is now able to arrange a video call that has participants (colleagues and bosses alike) dressed casually and with the ability to peer into each other's homes and living rooms, has introduced a closer and more personal connection. We should seize the moment and build on this to deepen relationships into personal ones, allowing opportunities to share our lives and Christian values.
While a person's personal faith or religious beliefs can be private matters, we should be willing, when appropriate situations arise, to be open to discuss the Christian principles that guide our lives and speak candidly about how our faith has challenged us to trust God during difficult times (such as COVID), and the victories He has given us.
Apart from demonstrating the practical struggles we encounter, it also brings depth to the authenticity of our lives, giving an inside look into the religious aspect of one's life. This authenticity is both respected and welcomed in the marketplace.
Purpose in all places 
For a corporation, its purpose is defined as the higher purpose of the company that goes beyond the sole profit orientation. The purpose is to define and deliver a long-term, value-creating promise, either in the company's local environment or in the global market environment, that is directly related to the company's value creation.
The concept of purpose may not always be clear or obvious.
One's position in a corporation is not a pre-condition to sharing our Christian values.
For a start, we often conflate purpose with position in an organisation. While it is wonderful to be the CEO because it provides greater latitude to more freely share one's Christian values, this ability is not confined to members of senior management.
It should be highlighted that one's position in a corporation (whilst helpful) is not a pre-condition to sharing our Christian values and principles in the marketplace.
I have a friend who was entangled with the law in his youth and served time in prison. He accepted God into his life in prison and, upon his return to the work community as a company driver, he would use the opportunity of longer journeys to share his gratitude for this employment opportunity. It was his testimony of God's goodness and grace in his life by providing him an employer who gave him a second chance.
The message my friend shares may be simple but the impact is no less powerful of a life transformed, and those who have the opportunity to learn about this change are encouraged.
At the other end of the spectrum is another friend leading a successful real estate group, who unabashedly shares with his organisation (and anyone he meets in the marketplace), the story of how God touched his father before he passed on and the resulting salvation that came to my friend and his extended family – an embodiment of the promise of Acts 16:31: "Believe in the Lord Jesus, and you will be saved – you and your household." (NIV).
This, too, is a powerful message of a life touched that has made my friend an evangelist of God's goodness.
God's ambassadors
Often, we are hesitant to use our marketplace role and appointment as a platform to influence and impact the marketplace for God. Possibilities are subjected to self-censorship, heaped with generous servings of self-doubt, in the mistaken belief that the role is better played by someone else.
Perhaps the one important element we should not overlook is the fact that we are ambassadors for Christ.
The story in John 6 of Jesus' feeding of the 5,000 with the five barley loaves and two small fishes that the boy presented to Jesus, provides a valuable lesson: It tells of God's ability to multiply seemingly minuscule offerings to meet the greater purposes He wants to achieve, if only we are willing to obey and partner with Him.
The words of respected author Kay Arthur serve a timely reminder that we should keep at the back of minds, when times of self-doubt arise: "So many times we say that we can't serve God because we aren't whatever is needed. We're not talented enough or smart enough or whatever.
"But if you are in covenant with Jesus Christ, He is responsible for covering your weaknesses, for being your strength. He will give you His abilities for your disabilities!"
Perhaps the one important element we should not overlook as we contemplate our marketplace purpose, is the fact that we are ambassadors for Christ.
Just as earthly kingdoms ensure that their ambassadors are well-supported to be worthy representatives in the countries they are posted to, we too will need to have the confidence that our heavenly King will provide the requisite resources and support for us to be His ambassadors in the marketplace.
Time, talent and treasure
To quote American theologian, Tim Keller:
"If you have money, power, and status today, it is due to the century and place in which you were born, to your talents and capacities and health, none of which you earned. In short, all your resources are, in the end, the gift of God."
As we consider how we can best partner God in the marketplace by humbly offering the gifts of our time, treasure and talents back to Him, it behoves us to step back and witness the miracles of what He (and not us) can do in impacting the marketplace, where He has placed us – the same way He miraculously multiplied the gift offerings of one boy to feed 5,000 people.
What He requires from us is the courage to step forward, exercise our faith (small as a mustard seed), and watch Him move mountains in the marketplace.
---
FOR MORE STORIES LIKE THIS:
Bring the church to where the people are – out in the marketplace: Ed Silvoso
"A divine ambush": Pastor and medical doctor Philip Lyn on how he came to lead a church of 13 marketplace pastors
If you have enjoyed reading Salt&Light...
We are an independent, non-profit organisation that relies on the generosity of our readers, such as yourself, to continue serving the kingdom. Every dollar donated goes directly back into our editorial coverage.
Would you consider partnering with us in our kingdom work by supporting us financially, either as a one-off donation, or a recurring pledge?
Support Salt&Light