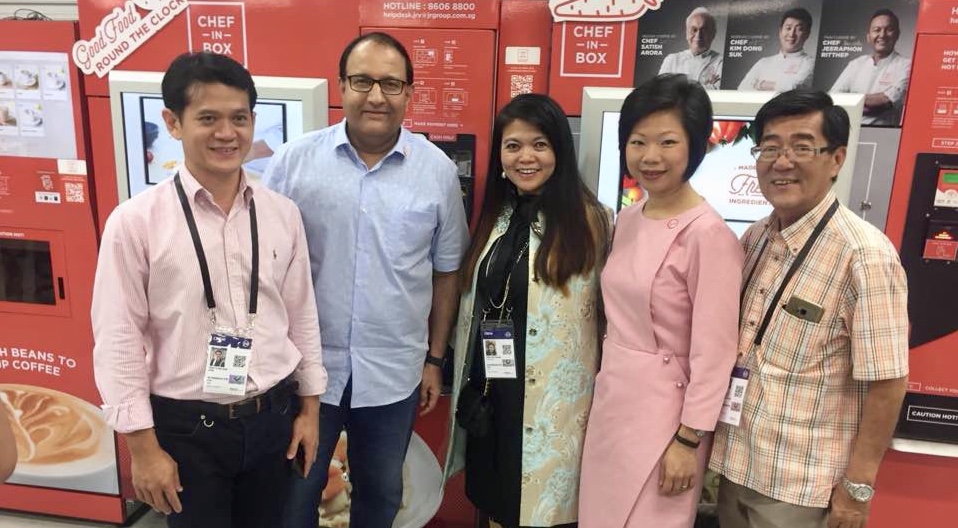 Senior Minister of State for Communications and Information, Sim Ann (second from right), and Communications and Information Minister S Iswaran (second from left), invited JR Group to set up their vending machines, Chef-in-Box, at the Trump-Kim Summit media centre in June 2018. All photos courtesy of Jocelyn Chng (centre).
She is a force to be reckoned with in Singapore's competitive food industry.
Jocelyn Chng, managing director of Sin Hwa Dee Foodstuff and CEO of JR Group specialising in food manufacturing and F&B operations, was named Woman Entrepreneur of the Year in 2001 among other awards. 
Hearing this dynamic leader speak, you would hardly guess her secret.
Chng has suffered greater loss and heartache than most.  
Yusheng for everyone
Under Chng's leadership, Sin Hwa Dee was the first in Singapore to manufacture do-it-yourself yusheng sets for sale to retail consumers in 1990.
"In the first three years, we threw away a lot of product as consumers didn't know how to use them. But we persevered and this segment is now a million-dollar business with more than 10 competitors," said Chng.
She also launched VendCafe, Singapore's first unmanned vending-machine café. It was the dream of her late husband, Richard, who first saw the opportunity of providing ready-to-eat meals when the couple visited an overseas trade fair.
"A lot of people ask me, 'Why are you so creative? How did you think of so many innovative ideas?'
"Actually, I ask God for ideas. I ask Him for wisdom and to give us breakthroughs," said Chng, with James 1:5 in mind.
Knowing grief
But there were years when her relationship with God was severely tested. 
She was just in her second year in university, but made the bold decision to take over the reins of Sin Hwa Dee.
At age 21, she lost her father to colon cancer. She was just in her second year at the National University of Singapore (NUS), but made the bold decision to take over the reins of Sin Hwa Dee in 1988, the sauce factory her parents had founded in the late 1960s.
Well-meaning relatives advised her to give up the debt-ridden business to find better prospects in the corporate world. They worried that she would struggle in the male-dominated industry. A concerned lecturer asked if she would like to postpone her studies so that she could settle things at home.
But Chng, the eldest of six children, made the decision to soldier on, pulling 20-hour days juggling work and school.
"I wanted to take care of my family. My mum doesn't really run the business so I decided that I should help her earn income to raise the other five siblings," she said.
With the help of her mother and second sister, Kathleen, they managed to steer Sin Hwa Dee around. 
Under her leadership, the company's product range expanded to include pre-made sauces for laksa, Hainanese chicken rice and char siew.
The move was met with success, opening the door to export Sin Hwa Dee products overseas.
Business thrived, her siblings grew up and found their path in life. Chng herself married and had three sons.
Life was good.
Until Chng was dealt another severe blow.
"I couldn't take it"
In late 2003, trouble struck her husband, Richard Wong. His foot started to swell.
The couple didn't fret much as Wong appeared healthy and was even able to run JR Food (now known as JR Group).
To set their minds at ease, he went to the hospital to get his foot checked. 
He received his diagnosis on February 10, 2004. It was lymphoma.
Despite starting treatment, he passed away on February 25, just 15 days after his diagnosis.
Chng was 37. Her sons were eight, five and one.
The shock was intense, especially because the tragedy followed on the heels of another bereavement just eight months earlier – Chng's late maternal grandmother, Madam Kee Siok Cheng, a woman of faith and Chng's role model, had passed away suddenly at age 85.
Jocelyn had spent her formative years under the care of her grandmother, as her parents were busy with the business. She attributed her faith, character and values to Mdm Kee.
"Grandma was always giving thanks. In everything. That's how I learned to do the same."
"Whatever grandma did, she would say, 'Let's pray first'," said Chng, 52.
"She was always giving thanks in all areas. Everything. That's how I learned to do the same," she said of her grandmother's legacy, reminiscent of Timothy's grandmother, Lois, in the Bible (2 Timothy 1:5).
The double bereavement was almost too much to bear.
"It was really a big hit for me … I couldn't take it," Chng said, confessing that she didn't know how to carry on with life then.
For two months, she stayed home, trying to cope with her grief.
She told her sister, Kathleen, that God had taken away the two pillars in her life.
To which Kathleen said: "God has made you the pillar for your three boys. You must press on as you are now the pillar for them."
Angels to bear her burden
As Chng grieved, she found comfort in God's Word. Two verses kept surfacing: Ecclesiastes 3:11 and Deuteronomy 31:6.
"It was really these Bible verses which encouraged me because, at that time, I did not know what to do. Imagine, Richard passed away within two weeks. I didn't even know whether it was real or I was having a nightmare.
"It was the faith that He would wipe away all my tears that kept me moving."
Her close-knit family rallied around: Her in-laws moved in to help care for the boys. Her mother and two sisters camped at her home for a period of time so that she was never alone.
Her friends visited, encouraged her, sang hymns and prayed with her. They watched out for her sons, Noel, Joel and Emmanuel, helping them with schoolwork and other necessities. 
Her youngest brother, Tony, left his career in finance to help run JR Food. This, together with the efficient team she had put in place at Sin Hwa Dee, helped the businesses carry on.
Chng was also introduced to Wicare, a fellowship group set up by widows to support other widows, in a bid to "bear one another's burdens, and so fulfill the law of Christ" (Galatians 6:2).
A dream of feeding thousands
Shortly after her husband's death in 2004, Jocelyn dreamt that she was feeding thousands.
"After I woke up, I kept asking God, 'What was that dream all about?'"
At the time, she was struggling with whether to give up JR Food. But Tony had stepped in to help.
"Everyone in the company understands that the food we produce for thousands must be good enough for our own family."
Today, JR Food's VendCafe has not only taken off in the heartlands, it has also gained international  attention. 
Less than 24 hours before the Trump-Kim Summit was to take place in June 2018, the Singapore government invited the company to set up a VendCafe in the media centre to cater to the needs of journalists covering the event.
"Thank God we had vending machines and didn't have to set up a kitchen there. We moved the machines in the middle of the night and got them set up just before the event started," said Chng.
And that was just a glimpse of what God had in store for her.
She was recently invited by a renowned international foundation to discuss how vending machines that dispensed ready meals can feed the needy in Africa and India.
"What God has shown me in my dream – that we can feed many people and feed them well – is coming to pass. Initially, I didn't understand it; I am just one person, how am I going to feed thousands? But now I am beginning to understand.
"Feeding the next generation well is really what we want to do and this is the purpose for everyone in the company. Everyone understands that the food produced must be good enough for their own family.
"We cannot do something just to make money."
Believing in blessings
Despite the series of sorrows and setbacks, Chng is thankful.
She recounts how God protected and provided through her difficult seasons. 
"In university, I was working and studying full-time but I managed to graduate. It was not to my credit but God's. He gave me good lecturers, helpful friends and good health," she said. Her good friends guided her academically and then-boyfriend Richard recorded the lectures for her.
"As I look back, I can see that God surrounded me and my family with good people who were willing to support us, love us and push us to the next level."
"He is an attentive and personal God; He will look after everything that matters to us."
In business, God brought her partners who shared the same values and closed the doors on unsuitable ones, she said.
Debt-ridden Sin Hwa Dee was turned into one of Singapore's leading F&B players, supplying products to international fast food chains, top-end hotels and major airlines. It even expanded its reach overseas, exporting its products to over 30 countries.
Chng now oversees about 300 employees.
Despite her busy schedule, she continues to set aside time every morning to pray and count her blessings (Colossians 4:2).
Remembering Proverbs 22:6, Chng prays over her three sons, Noel, 24, Joel, 21, and Emmanuel, 17, as Mdm Kee once prayed over her.
"Ahead of an exam, I'd pray, 'Oh God, please take away all fear, let him have an easy paper, You let him remember what he has learned … ' And then my son would interrupt and say he wants to sleep already, why I pray so long?
"Aiyoh, that was what I told my grandmother when I was young." The memory brings a smile to Chng's face.
God is central in her work as well.
"In business, don't always think that it is within our power to make things happen. 
"Leave it in God's hands. He is an attentive and personal God, He will look after everything that matters to us."
Her management team has formed a prayer group.
"Whenever we encounter any problem, whether at work or home, we pray together and for each other," Chng said. "It is quite powerful because as a group, we have seen how impossible things became possible!"
An example was how her SME (small- to medium-sized enterprise) managed to beat bigger competitors to clinch a huge project. She likened it to David facing off with Goliath.
Instances like these have strengthened her faith. "If you think that God wants you to take on a project, then go and get it.
"There's nothing too big for Him. God can move mountains." (Mark 11:23)
If you have enjoyed reading Salt&Light...
We are an independent, non-profit organisation that relies on the generosity of our readers, such as yourself, to continue serving the kingdom. Every dollar donated goes directly back into our editorial coverage.
Would you consider partnering with us in our kingdom work by supporting us financially, either as a one-off donation, or a recurring pledge?
Support Salt&Light