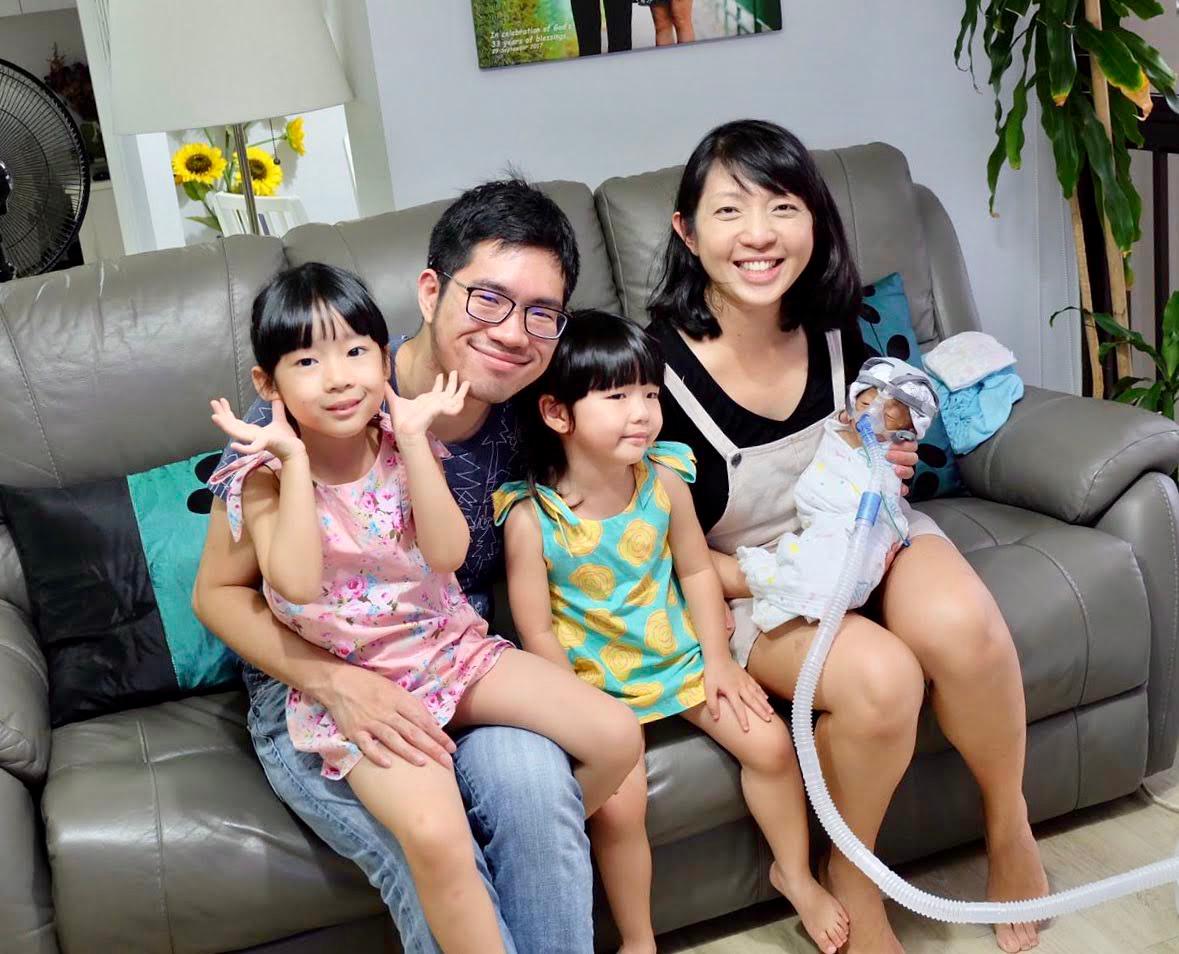 "God broke my perception of normalcy and showed me how to see Caleb from His perspective," writes Hannah Seow whose son, Caleb, was born with major abnormalities and lived for only seven weeks. All photos courtesy of Hannah Seow.
"For you created my inmost being; you knit me together in my mother's womb. I praise you because I am fearfully and wonderfully made." (Psalms 139:13-14a)
My eyes were filled with tears as I clutched the ultrasound photo of my baby and read this familiar verse. How could an abnormal child be "fearfully and wonderfully made"? How could our Lord take delight in this supposed creation of His?
I'm expecting! 
I was overjoyed when I found out that I was expecting a third child in June 2019. My hubby and I prepared our two girls for the addition of another sibling to the family.
"I walked into the ultrasound room that day not knowing that it would be the start of an immensely heartbreaking journey."
We found out that we were going to have a boy at my detailed fetal scan at 20 weeks. We named him Caleb Huang Zhu An (黄主安), our strong and courageous fighter, whom we prayed for the Lord's peace to be upon. However, my gynaecologist noticed some anomalies and referred us to a specialist for a second opinion.
I walked into the ultrasound room that day not knowing that it would be the start of an immensely heartbreaking journey.
"I am so sorry, Mummy. I am looking at some abnormalities in the brain. There is a cleft lip and a cleft palate. Looking at the heart – I am seeing a total of three major cardiac abnormalities. There are usually two cords, but I can see only one. There are also abnormalities at the abdomen. Baby's head shape is not normal.
"I recommend an amniocentesis test to find out whether the baby has any underlying condition. We need to know more to help you and baby better."
The Lord spoke very clearly: "I make no mistake, Hannah."
I stared at the ultrasound screen. A flood of helplessness, disbelief and overwhelming sadness engulfed me. This cannot be happening. 
My hubby and I decided to go for the test. The doctor drew some amniotic fluid to test whether Caleb has any chromosomal abnormalities. The results came back a week later.
Caleb was diagnosed with Trisomy 18 or Edward's Syndrome, which is functionally incompatible with life.
Very few of such babies are born alive. Even fewer survive past a month, and only a handful survive beyond a year. These babies have very poor development and growth.
We were told that, should Caleb survive, he may not be able to progress developmentally beyond that of a one year old. 
My world plunged into darkness. I cried for days on end. The nights were filled with sorrow as I struggled to accept how God could allow this to happen.
Then the Lord spoke very clearly one evening. 
"I make no mistake, Hannah. Not with you, and not with Caleb." 
How could I say to Caleb that "you are beautiful" when deep inside I cringe at his physical abnormalities? 
I sobbed. God spoke deep to my spirit, and assured me that He was in full control, even over these painful circumstances. I felt His peace as I decided to keep Caleb, and to have him for as long as the Lord gives. 
But there was something I continued to struggle with. I could not bear to look at his ultrasound pictures. As much as I loved him, seeds of rejection subconsciously took root inside my heart. I could not love Caleb wholeheartedly. I was unable to accept Caleb for who he is.
How do I love someone who is abnormal? How can I say to Caleb that "you are beautiful" when deep inside I cringe at the physical abnormalities? 
In the subsequent months of my pregnancy, I stopped talking to Caleb. I spoke about him as if he was apart from me, not realising that he was growing, kicking and moving inside of me in every moment. 
Weeks before I delivered Caleb, God reminded me about His love: "Hannah, would I look at your imperfections and ugliness and stop loving you?"
I broke down as I told Caleb how sorry I was for not loving him with my whole heart. I started talking to Caleb every day.
I told him how much God loves him, how much I love him and how much his family loves him. 
Welcoming Caleb 
Caleb arrived into this world on 19 February 2020 with but a little whimper.
Still, I couldn't help asking God: "God, why?"
All was quiet as the doctors whisked him away to the Neo-Natal Intensive Care Unit (NICU). He was born at 38 weeks, weighing a good 1.99 kg. 
Caleb was born with all the abnormalities that were detected in utero.
When I came face to face with him, my heart broke.
I saw how hard Caleb was trying to breathe, with tubes on his face and body. At the same time, I felt an immense urge to lavish love on this little baby boy.
I just wanted to carry him up and hug him. But still I couldn't help asking God: "God, why? You didn't heal Caleb. I'm happy that he is alive, but, oh, that pain in my heart. How am I to live from now onwards?" 
More bad news
When Caleb was one week old, I received a piece of news that shook my world even further. We knew that Caleb had heart abnormalities, namely VSD and PDA, and were looking forward to surgery when Caleb was bigger to give him a better chance at life.
When I came face to face with him, my heart broke.
But the cardiologists discovered something new in their scans that was a complete game changer.
"Caleb's Mummy, during our scan yesterday, we found out that Caleb has an extremely rare cardiac condition called coronary artery fistula. Usually the patient has one fistula. But not for Caleb. He has multiple fistulas, and they are complexly woven around.
"This is a condition that we cannot treat. Surgery cannot fix it. I am sorry for all of these. Would you like to take Caleb home?" 
I could hardly stand as I digested this new development.
I told Caleb I would be back and walked out of the NICU weeping. My hubby and I were going to lose Caleb. The doctor could not tell us how long Caleb would survive. It could be days, it could be weeks, but Caleb's heart was going to fail.
"But Caleb is still lovely and I want you to see him."
As I made my way home from the hospital, my heart and mind was numbed from the devastating news.
I asked God, "Why would You allow Caleb to be born and then to pass on just like that?"
And amidst the traffic, I heard the Lord say this to my aching soul: "I want you to see My beautiful creation, Hannah. I do not delight in Trisomy 18, it's a result of the Fall and sin in this world.
"But Caleb is still lovely and I want you to see him."
Tears streamed down my face. Yes, God, Caleb is beautiful indeed. 
Bringing Caleb home 
We made preparations to take Caleb home so he could experience our family's love. The nurses at the NICU trained me how to be Caleb's primary caregiver.
By His divine grace and strength, I learnt how to tube feed him his milk and medication, to wear his mask, to operate the ventilator, to change the tapes on his face and to remove his mouth secretions. 
And a week thereafter, Caleb was home with us at two weeks old. 
Caring for Caleb
I had the privilege of looking after Caleb, and having him at home with us for a good five weeks.
Every day felt like a roller coaster ride, and I felt like a complete mess on most days.
We were blessed to have a team of doctors and nurses come by to monitor Caleb's condition.
But I was exhausted. And every day felt like a roller coaster ride.
On some days, Caleb was well and stable. On other days, I feared I would lose him. And as Caleb developed complications, he had hernia and seizures. It was not easy for him but he was peaceful and calm as he fought on bravely.
I was stretched to the limits – physically, emotionally, and mentally.
While looking after Caleb, I also wanted to be there for my two girls. It was a hard time for the family as we made multiple adjustments. Honestly, I felt like a complete mess on most days.
"Hannah, these mundane tasks bring me glory."
One afternoon, I told God that I didn't know how much longer I could carry on.
In my utter helplessness and hopelessness, the Lord spoke gently. 
"Hannah, these mundane tasks bring me glory. Whatever that you do for Caleb, you are doing them unto Me (Jesus). With each day that I breathe life into Caleb, as you and your family take care of Caleb, I am healing Your heart. I will give you strength."
I cried – not tears of sadness but tears of inexplicable relief.
I was weary but the Lord came by. Jesus was in my home. Whenever I took up the syringes and tubes to feed Caleb milk and medication, whenever I wiped him down, cleaned his secretions at his lips, changed his diapers, stayed by his side as he had seizures, I could love, even in the face of death, with His strength.  
Saying goodbye
It was about 10 minutes past midnight on 8 April 2020.
"Caleb, Caleb! Daddy and Mummy are here."
I went into Caleb's room, with syringes of milk and medication, a clean diaper, and wet cotton wool, all ready to clean and feed him before going to bed.
Caleb had three seizures that day, and I was so relieved to see him sleeping peacefully when I looked at his cute little face.
"Hello Caleb, Mummy is here." I stroked the side of his face and wiped off some saliva secretions from his lips.
Caleb usually stirs as he doesn't like to have his lips cleaned. But this time, he did not move at all.
I looked at him again, at his chest, his neck, his mouth. He looked like he wasn't breathing. My hubby came into his room and we both called out to Caleb. 
"Caleb, Caleb! Daddy and Mummy are here."
There was no response.
"I never knew that I could look upon what I thought was ugly, and see that he was beautiful."
I sobbed as I lifted Caleb up and held his still warm body in my arms. I will always remember that searing pain and ache of carrying my lifeless son, my heart feeling the trauma of death.
I sat next to Caleb even after his doctor came by to certify his death and removed his equipment. I looked at Caleb. I never knew that I could look upon what I thought was ugly, and see that he is so beautiful.
I never knew that I would find Caleb so adorable and cute despite his flaws. I gazed at his cleft lip, his slightly deformed thumb, little fingers and odd-shaped toes – Caleb is still lovely.
God broke my perception of normalcy and showed me how to see Caleb from His perspective.
God may have allowed imperfection in the form of Trisomy 18 in Caleb's physical body, but Caleb is fearfully and wonderfully made.
I said my last goodbyes to Caleb knowing that he is now fully restored and in the arms of our everlasting God.
Seven weeks of life.
Seven weeks of heartache with pain, joy, challenges, beauty and love all meshed together.
Seven weeks (and more) of teaching his Mummy how to see God's creation through His eyes of love. 
Caleb was a calm, meek and gentle boy. Despite his flaws and sufferings, he bore it all so well. Never did I hear him cry out loud to complain. He was easily pacified, strong and brave.
I will always remember that immense look of peace and joy on his little face when he passed away in his sleep. No signs of struggle, no gasping for breath – Caleb left in the most victorious way to go Home to our Maker. And for this, I am eternally comforted. 
Till we meet again, Caleb, you will always be the most beautiful boy I know. And you will always be in our hearts.
Are you struggling to love or to be loved? God loves the unlovely and the rejected. He showed me how much He loves me as His child through my journey with Caleb. I am imperfect and I have flaws. But Jesus sees me as His beautiful creation.
And today He sees you too – you are lovely to Jesus.
---
This article was first published on YMI.today, and is republished with permission.
---
This is the fifth story in our Christmas series: God with Us. READ THE "GOD WITH US" STORIES BELOW and check back for more stories every day till Christmas.
"God is with us, even as I watch my wife with dementia slip away"
"Go to those who can only be reached by water!" God's "impossible" call to sail into a closed country
Her young life stalled after a horrific accident, yet "God made sure I lacked no good thing"
If you have enjoyed reading Salt&Light...
We are an independent, non-profit organisation that relies on the generosity of our readers, such as yourself, to continue serving the kingdom. Every dollar donated goes directly back into our editorial coverage.
Would you consider partnering with us in our kingdom work by supporting us financially, either as a one-off donation, or a recurring pledge?
Support Salt&Light