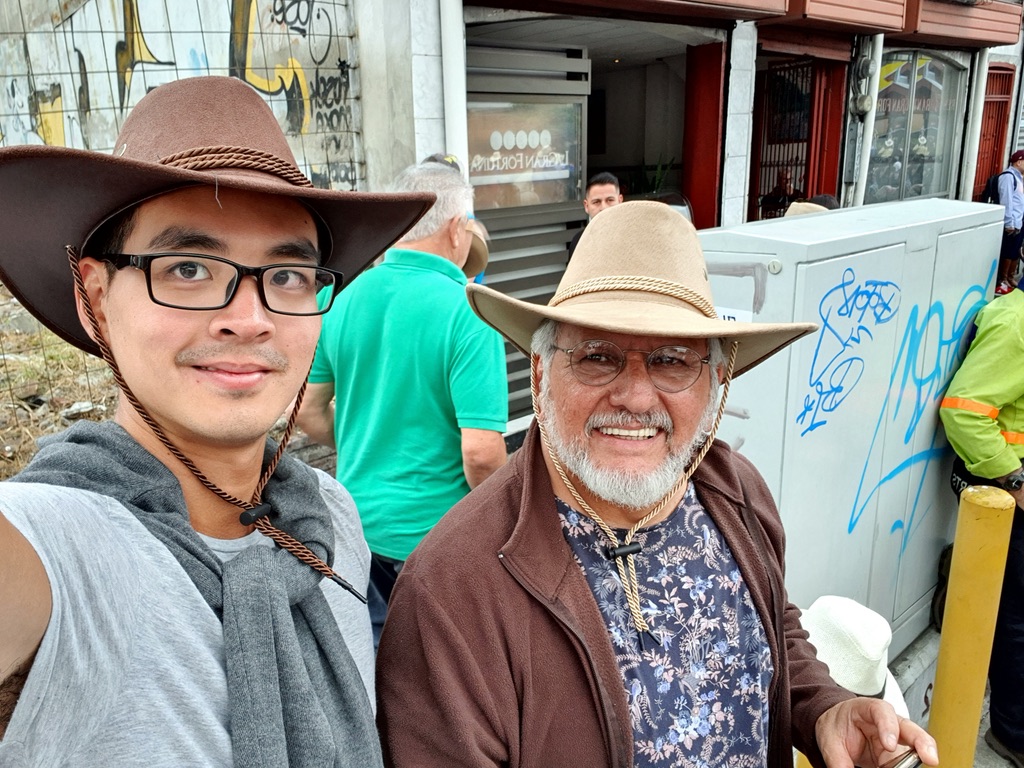 Nicholas (left) and Fernando, his late girlfriend's father, in Costa Rica, where they travelled together in 2019 for ministry work. All photos courtesy of Nicholas Tay.
He thought he had his life all planned out.  
Nicholas Tay and his younger brother headed to the United Kingdom together in 2016. The plan was for him to take sports nutrition and his brother sports therapy, and then join forces to start a gym thereafter. 
Little did he know that his life would take a drastic turn within one year.  
After settling in the University of Surrey, Nicholas spotted a Hillsong church poster in his school.  
Having been a Christian since young, he rounded up his housemates to attend the upcoming event at the Hillsong church at Guildford. It was a 20-minute walk from where they lived and they found themselves going back to the church week after week.  
One day after service, they were hanging out at bistro bar nearby when he bumped into a worship leader from church.  
He learnt that her name was Maria Jimenez, a Costa Rican who grew up in the UK because her parents were both missionaries who had come to England in 1995. He told her he was also interested in music and she encouraged him to audition and join the music team in Hillsongs, which he did. 
The pair got to know each other more and more and, soon, they started dating and started a relationship.   
Tragedy
One night in March 2017, both of them had sushi for dinner and then went to a nearby bar for some drinks. They had the equivalent of about 10 shots each.  
Maria asked Nicholas if he wanted to drive her car and he agreed to take the wheel to head to his place as both of them had planned to go for a hike the next morning.  
The last thing he remembered after tilting his steering wheel was the car skidding and crashing into the concrete block.
Instead of going straight home, they ended up going for a spin.  
Nicholas was speeding at close to 200km an hour, and only managed to brake and slow down to about 160km an hour when he turned a bend on the A3 motorway outside of Guildford.  
The last thing he remembered after tilting his steering wheel was the car skidding and crashing into the concrete block that divided the flow of traffic on the expressway.   
When he regained consciousness, he found himself hanging upside down, held in place only by the seatbelt. He looked to his right for Maria, but the seat was empty. He turned to the back seat and still did not see Maria.  
Disorientated, he finally managed to undo his seatbelt and slid out of the car from the passenger seat. As he crawled out, he noticed that the front half of the car was completely crushed and a crowd had gathered around a person lying on the ground. 
He walked over and saw Maria groaning in pain. The left leg of her jeans was completely torn and her thigh had a huge and deep gash. Shocked, he knelt down, held her hand and kissed her forehead, whispering: "Don't worry, everything is going to be all right."  
When the police and medics arrived, they tested him for drugs and alcohol. He confessed to them that he had had a few drinks.  
"It didn't make sense that I was still alive. The windscreen was shattered."
"I thought that was it for me … that I was going to be charged for drink driving and blamed for crashing a car. Okay, I thought, I'm going to man up and I'm going to accept things as they are," Nicholas told Salt&Light.  
Minutes after, both tests came back negative.  
"The test result didn't make sense because I had quite a few drinks. It also didn't make sense that I was still alive. The windscreen was shattered and even if my tendons were not severed or my bones crushed, I should have had some trauma on the brain," said Nicholas, now 28.   
Nonetheless, he heaved a sigh of relief at the test results and asked if he could follow Maria to the hospital. They told him that he will be sent to another hospital for more tests to be run on him to ensure that he was all right. Maria's injuries were more severe and she needed to be air-lifted by helicopter and sent to another hospital.  
"Prepare for the worst"
As he was in the ambulance, Nicholas thought to himself that Maria's injuries could not be that serious since he had walked out unharmed.  
Shortly after, one of the officers who was sitting beside him received a radio call and he overhead the other party saying: "Tell the guy to prepare for the worst. It's not looking good on our side."  
That was when Nicholas started panicking and sweating.  
When the next radio call came in minutes later, the officer lowered the volume and listened. Then, she turned to him and shook her head. 
"Nothing mattered more than the death of Maria."
 "I'm sorry, she didn't make it," she told him.  
Nicholas broke down. He knelt on the floor of the ambulance and repeatedly cried out: "What have I done? What have I done? What have I done? Please tell me this is not true."  
When the ambulance arrived at the hospital, they had to transport him on a wheelchair because Nicholas was so shaken that he could not walk on his own. He dissolved into despair as they wheeled him in.  
They sedated him before putting him on a scan. When he woke up a few hours later, two policemen walked up to him and told him that he was under arrest for causing the death of Maria by dangerous driving.  
"I needed to tell them I was sorry."
"I was completely numbed to everything that was happening around me or being said to me. Nothing mattered more than the death of Maria," said Nicholas, who was handcuffed and taken to the police station. A church friend and his pastor heard about the news and bailed him out.  
Though he was feeling immense guilt, shame and self-condemnation, Nicholas quickly made arrangements to seek out Maria's parents and went to their house one day after the accident. By then, they had already received the news that their daughter had passed.  
"I needed to see them to tell them what happened so that they heard it directly from me. I needed to tell them I was sorry," said Nicholas.  
A parent's love
He walked into their house, shaking and crying.  
Elizabeth – Maria's mother – hugged him. The parents, together with Nicholas and his pastor, went into a room to talk. There was not a dry eye in the house.  
They talked about the accident and Fernando, Maria's father, said: "Let's pray" and placed his hands on Nicholas.  
"Son, I forgive you. The reason I can forgive you is because I first knew God before I knew my family." 
What he said next astounded the young man.  
He told Nicholas: "Son, I forgive you. The reason I can forgive you is because I first knew God before I knew my family."  
When those powerful words of forgiveness were released, Nicholas was so overwhelmed that he was speechless.  
He cried out to God in his heart: "God, is this how much you've been loving me the whole time? For once in my life, I experienced undeserved love … for the first time I understood what unconditional love was – receiving love from someone that you don't deserve."  
From the moment he stepped into her house, Elizabeth was able to show love towards Nicholas because she remembered thinking: "If the person behind the wheel had been my own son, or my husband, or even myself, how would I want the world to react?" 
"That was my first thought and it saved me. I had no vengeful feelings. Even at the hospital while we were waiting to see the body, I asked a friend to find out where Nic was. I thought, my daughter is dead but Nic is alive, so I need to go to him. Obviously, I wasn't allowed to do that as he was in custody," wrote Elizabeth in an article for a website called The Forgiveness Project. 
The news of her daughter's death numbed her for months and her whole body felt broken. It did not help that she had been having panic attacks and taking medication for a few years before the accident.  
Maria's father, Fernando, was having a tougher time, though he had chosen to forgive Nicholas.  
"In the early days, I blamed myself for buying Maria a car. I also blamed Nic. I wanted to get out a machete and kill him. These revenge fantasies initially got me through," said Fernando. "But I also knew I didn't want to end up a bitter man.
"Maria was so dear to me and I knew she would want me to forgive Nic if she was here. So I took this position in order to honour Maria. I found great help in knowing I couldn't blame God or anyone. It was an accident."  
Nicholas knew that forgiveness was not the same thing as love.  
He did not expect to receive forgiveness from them, much less love. He could not even love himself and continued to be in denial over the pain he was in.  
He only mustered up the courage to tell his own parents what had happened two weeks after the accident as he was afraid of getting berated. 
For the next few months, it was a haze of getting up with tears in his eyes, playing endless computer games to tune out reality and then going to bed, crying again.  
He also harboured deep resentment towards God, blaming God for letting things spiral to such an extent.  
"This is how You love me? I wish I never knew You," Nicholas told God during his lowest moments. 
After all, he had been a dutiful Christian since young. He was a leader in church and an active member of the Navigators and the Boys' Brigade. He ran camps, led bible study, played in the band. It was only later that he realised that his faith was lukewarm because all those were done out of obligation instead of a deep understanding of the heart of ministry.  
Now, he was close to losing his faith.  
His friends around him were worried about him and would take turns to keep an eye on him. They did not dare to leave him alone and would rotate in shifts to ensure that there was always one person with him.  
One day, Nicholas was out wandering in town and there was a gap of half an hour between the friend who had been with him earlier and the next one who would come by in 30 minutes.  
During that time, Nicholas found himself wallowing in negative thoughts. 
He was walking along a road, watching cars zooming past. 
He heard a voice saying: "Why don't you step on to the road, in front of the car? You are going through pain and it is too much to bear. Just step out and the next second you will not feel any more pain."  
Nicholas stood by the roadside and started choosing which car to step in front of.  
He managed to snap out of it and his friend arrived to accompany him.  
Like their own
It was during these darkest moments of his life that Maria's parents, Elizabeth and Fernando, showed him love like no one else did.  
They told him they wanted to prosper his life and they eventually grew to love him like their own son.  
The love that Elizabeth and Fernando could no longer shower on Maria, they now showed to Nicholas. 
During Elizabeth's daily phone conversations with Nicholas, she found out that he would soon not have a roof over his head as his semester was ending and he would no longer have his student accommodation. He had rented a new house but it was only ready a few weeks later.  
She then asked Nicholas to move in with them.  
It was awkward for Nicholas initially, but he had no choice as he could not find any alternative accommodation.  
It was during these few weeks that he had many talks with the couple as all of them waited for the court case to be heard. The lawyer who was assigned to him advised him not to plead guilty and that he was unlikely to go to jail.  
Meanwhile, the love that Elizabeth and Fernando could no longer shower on Maria, they now showed to Nicholas.  
When Nicholas moved into his new house, Fernando helped him with the furnishing and helped to trim the trees in the garden.  
"I could not understand why they did what they did," said Nicholas.  
Eight months after the accident happened in March 2017, the lawyer changed his tune and informed Nicholas that he may have to plead guilty to get a lighter sentence. The prosecutor was pushing for the maximum of a 15-year sentence.  
Elizabeth and Fernando fought for the charges to be dropped. They wrote letters and petitions in support of Nicholas.  
Eventually, Nicholas' sentence was reduced. Still, he needed to serve about two years in prison.  
Life as a prisoner 
In Nov 2017, he was put in the "worst" prison in London. There were fights and stabbing incidents breaking out everywhere and Nicholas found himself living in paranoia, always looking over his shoulder.  
"I would feel the weight of God's presence fall on me over and over and over again and I would pour my heart out to Him."
He would ask his  cell mate to go with him to the toilet if he needed to shower so that they could keep watch for each other and leave immediately should a fight occur.  
Later, he managed to transfer to a "better" prison, but life was monotonous and he was crying a lot.  
Sometimes, he had so much time to himself that it became dangerous – he would be trapped in his own mind, helplessly replaying the accident over and over. 
Yet he noticed that every time he found himself wallowing in shame, guilt and darkness, something miraculous happened.  
"I would feel the weight of God's presence fall on me over and over and over again and I would always end up on my knees, crying and crying for hours, pouring my heart out to Him. 
"Never underestimate the restorative power of the Holy Spirit, run to Him and watch Him do the impossible."
There will be like a white cloak wrapping around me, and I will feel safe, pure and free from any of those black stuff that was haunting me," said Nicholas.  
"Never underestimate the restorative power of the Holy Spirit, run to Him and watch Him do the impossible," he added.  
Meanwhile, his brother, Elizabeth and Fernando would visit him in prison every week. The couple knew his parents were back home in Singapore and so took time to speak truth to him every week – that he was forgiven and that they loved him. 
It was in the prisons that Nicholas heard God's invitation to minister to a broken world using music.  
It was also in the prisons that he joined the choir of the prison's charity, Beating Time, and served as a volunteer with the Samaritans to provide a listening ear to fellow inmates. 
"I realised that people need someone to hear them out, they need to talk out their hurts and trauma," said Nicholas, who is now back in Singapore and will pursue a counselling degree next year.  
He has also joined the pastoral staff team and worship ministry at Good Gifts City Church.  
Before he returned to Singapore last year, he had also travelled with Fernando to Costa Rica to share their stories and do ministry work there.  
Elizabeth is now the Reconciliation Ambassador for Beating Time and her role is to help prisoners and their families overcome the challenges that imprisonment brings and offer a glimpse of love in the midst of rejection. 
Two months ago, Nicholas got engaged to his former polytechnic friend.  
"The day you are able to love again," his mentor once told him, "is the day that healing has begun."  
This Christmas, Nicholas will be having a party with his family and fiancée.  
Christmas, to him, is about having a second chance – erasing the old and birthing forth a new life.  
The embodiment of God becoming man has materialised in his life through the tangible love offered freely by Maria's parents, Elizabeth and Fernando.  
Said Nicholas: "I saw the forgiveness and love of God through them. For the first time, I understood and experienced undeserved and unconditional love … that is honestly indescribable."
---
This is the sixth story in our Christmas series: God with Us. READ THE "GOD WITH US" STORIES BELOW and check back for more stories every day till Christmas.
Loving the unlovely: How God taught me to love my abnormal baby
"God is with us, even as I watch my wife with dementia slip away"
"Go to those who can only be reached by water!" God's "impossible" call to sail into a closed country
Her young life stalled after a horrific accident, yet "God made sure I lacked no good thing"
If you have enjoyed reading Salt&Light...
We are an independent, non-profit organisation that relies on the generosity of our readers, such as yourself, to continue serving the kingdom. Every dollar donated goes directly back into our editorial coverage.
Would you consider partnering with us in our kingdom work by supporting us financially, either as a one-off donation, or a recurring pledge?
Support Salt&Light