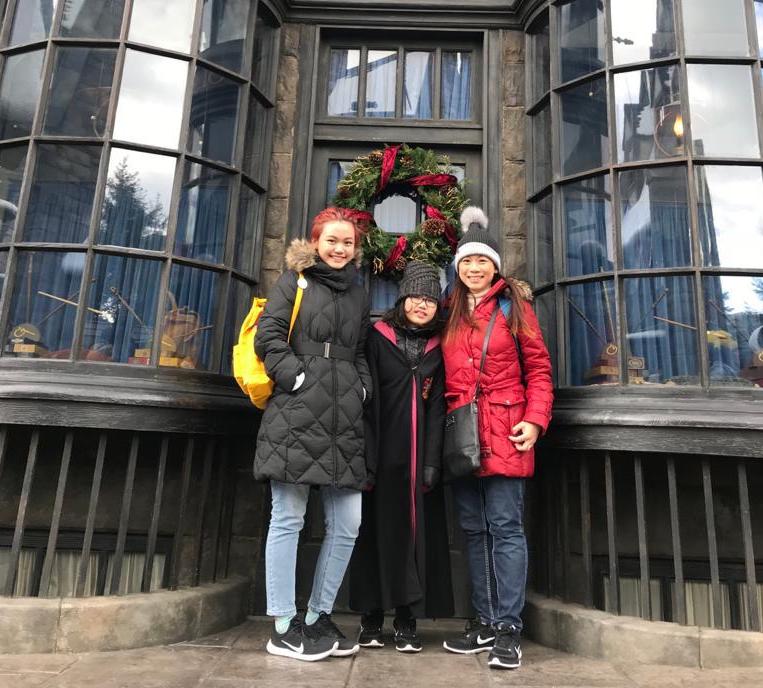 Theresa Tan's (right) desire to put together a book of letters from 20 mothers to their daughters, sprung from her own difficult journey with the woman she called Mom. She also reflects on parenting her girls, Bethany (left) and Becca. All photos courtesy of Theresa Tan unless otherwise stated.
When a publisher approached Theresa Tan, 53, to ask 20 mothers to each write a letter to their daughters for a book project, she agreed in a heartbeat.
It wasn't just because "it's something I've always wanted to do" but have been putting off "because there's always another fire to fight or sourdough to bake (yes, your procrastination genes came from me)". She wrote this in the forward of Letter to my Daughter, addressing it to her own daughters, Bethany, 19, and Becca, 14. She also has a son, Bruce, 21.
"Much of that desire came from my journey with my own mother," Tan told Salt&Light.
Tan currently edits the online news website for City Harvest Church, and runs a writing outfit, WORD Agency. Also a screenwriter and playwright, she started her career in magazines – as a writer for 8 Days, and an editor for Female and ELLE Singapore. She wrote A Clean Breast, her autobiography about her journey through breast cancer, in 2013. 
Growing up on the 5th floor
In the early part of her life, Tan was sent to live with a lady she called Ah Sim who lived on the 5th floor of her family's HDB block.
Her parents worked in nursing. Her mother, a staff nurse at a hospital, worked long hours for 10 days in a row before getting a one-day break.
"Ah Sim was pretty much my mother for the first seven years of my life. I felt unconditionally loved by her and had older 'sisters' in the form of her daughters," Tan said. She is still in touch with them.
"My mom didn't know any better – it was how she was raised."
Tan's parents brought her (and later her younger brother) home to live with them when she was in Primary One. 
Her relationship with her mother was a challenging one. "My mom and I didn't get along because she felt guilty that she was not there for me in my early childhood and I simply didn't know how to connect with her.
"Mom had grown up as the oldest girl in her family, and her mother made her responsible for all her younger siblings," said Tan.
"Having learnt that, she applied the same to me. Unfortunately, it usually meant that if my brother committed an offence, I was the one who would get scolded and beaten.
"Looking back now, I realise two things. One, my mom didn't know any better – it was how she was raised. Two, it taught me to care about my brother and to assume a level of responsibility for him – something I would like to pass on my children (without the scolding and beating)."
Tan's mother was Catholic. "She was the first and only person I had ever seen who was so in love with Jesus. Sadly this made me feel disconnected from her because I didn't know the God whom she loved, even though, as a cradle Catholic who ticked all the boxes — such as observing days of obligation, not eating meat on Friday — I thought I'd done all the right things to go to heaven."
However, as the years passed and as mother and daughter "grew into a more comfortable co-existence", Tan realised "that the Person she loved the most, whom she was willing to die for, was Jesus Christ".
"Her faith truly helped her to be a better person. She was naturally a hot-tempered person, but as she grew in her faith, she mellowed. I would see her visibly fight her urge to say something in rapid response.
At her wake, Tan met cancer survivors. They told her about her mother's "secret ministry".
They grew closer after her mother was diagnosed with cancer in one breast at the age  of 49.
"For the first time, Mom allowed me to take care of her – cook for her, help her dress.
When the cancer spread, she came to live with Tan's family. Bruce was then four, and Bethany age two.
"Every day Mom would sing hymns and pray," Tan recalled. "Sometimes I would come home and find her and Bruce sitting on the bed singing How Great Thou Art."
In the final nine months of her life, Tan's mother would often tell her that she prayed that she would come to know Jesus. "As someone who never had a real relationship with Jesus, just a historical knowledge of Him, I had no idea what she was talking about. But as the months passed, I found myself waking up at 5am to read the Bible.
"As the Word became life to me day by day, my heart was changed.
"I was saved one month before her passing. Having her live with me the final months of her life drove me to seek this God whom my mother loved above all."
Her mother was 64 when she passed away in 2003.
At her wake, Tan met cancer survivors and children of those that her mom had led to the Lord. They told her about her mother's "secret ministry".
"Mom was a big believer of 'do not let your left hand know what your right hand is doing' (Matthew 6:3)." 
"I remember she telling me that she sometimes dreaded obeying the Lord because it usually came with some kind of extremely painful or impossible instructions. One of these was to reach out to other sick people." 
Praying MIL
Tan said that her mother was not the only one who "prayed me into the Kingdom".
For 18 years, the mother of the man she would marry prayed for her "since we met and got married and had children and was finally saved".
"God knew what I needed before I even knew it myself. My mother-in-law is a great woman of faith.
"She gave me my first NIV Bible, and her constant sharing of Bible verses planted many seeds that eventually blossomed into a love relationship between my God and me."
Tan describes her husband, a civil servant, as "a wonderful man who is God's greatest gift to me".
Fixer, confidante, guide
Tan takes after her dad in her parenting style. "I'm the fixer, confidante and magical unicorn who can solve all problems (I'm kidding!). But I've endeavoured to be as honest and open and a good guide to them as I can be.
Her faith has taught her to see her children "from God's eyes".
"Used to be that I believed parents are entirely responsible for their children's personalities, good works or bad – everything being the result of parenting. But as I grew in my faith, I have had many conversations with Father God about my kids, particularly my daughters. I have also found that He really is first their Father, even before my husband and I came into the picture. I've seen again and again how He got their backs and covered our gaps. I wouldn't even know about the trouble they'd been in till it was long over, but He has always held them in His hands."
"My faith has also taught me to first turn to God when I am faced with a challenge with any of my children. Often, I have no idea what to think, do or say. But I take comfort that God knows it all. If I pray before I speak to them, I know He will give me the words to say that serve to build the relationship.
"I went on a 40-day fast last year when I was at my wits end about one of my kids. While of course I hoped for a miracle and that my kid would change after my fast (see, I'm slow), what I gained was a rhema word from Isaiah 54:13, that my children will be taught by the Lord, and great will be their peace.
"It didn't solve my problem, but instead, God gave me an elevated perspective. While I can't say I'm totally without anxiety, when I feel anxiety rise, I declare that verse out loud, and peace comes over me."
Conversation catalyst
Commissioning and editing the stories for Letter to my Daughter moved and touched Tan in so many ways.
"What touched me deeply in these letters was that tension between wanting their daughters to be protected, but also knowing they need to have the room to grow, to learn and to make mistakes. It's a lesson every mother needs to learn, painful as it may be.
"I was also surprised and moved by some of the letters that delved into family history that had never been spoken about. There are some things we can only articulate to our children when it's in the form of a letter and that can be very liberating for us mothers."
"What runs through all the letters is the immense pride these mothers have in their daughters. No matter how difficult these relationships may be or have been, a mother's pride is always her child.
"Editing the letters also helped me appreciate God as my Father who is proud of each of us, His children."
"Editing the letters also helped me appreciate God as my Father who is proud of each of us, His children. Despite our silly mistakes and wilful disobedience, He's waiting for us to return, to repent, to draw close again, to sit together and talk, to connect. 
"I pray it inspires mothers reading it to write their own daughters a letter or a series of letters. To pour their hearts out, to genuinely share (not nag), and to build a bridge to connect with their daughters (and sons). I hope it encourages daughters – whether they are 7 or 57 – to do the same for their moms.
For mothers and daughters who don't get along so well, and may find it difficult to get a conversation going, as Tan initially did with her own mother, she said: "My sincere wish is that this book can spark a conversation or mend a strain in the relationship."
Letter to my Daughter is not just for women.
"This book is for fathers as much as it's for mothers – and it's for daughters too," said Tan.
"It gives fathers an understanding of that special bond between a mother and daughter.
"My hope is that it would enable men to better appreciate how precious a daughter is to her mother and how someone else's child must be loved, protected, cherished for who she is."
Letter to my Daughter is available at Kinokuniya, Popular, Times and online.
MORE STORIES ON MOTHERS AND DAUGHTERS:
"A beautiful child, the perfect gift from God": Loving and learning from their children with special needs
If you have enjoyed reading Salt&Light...
We are an independent, non-profit organisation that relies on the generosity of our readers, such as yourself, to continue serving the kingdom. Every dollar donated goes directly back into our editorial coverage.
Would you consider partnering with us in our kingdom work by supporting us financially, either as a one-off donation, or a recurring pledge?
Support Salt&Light