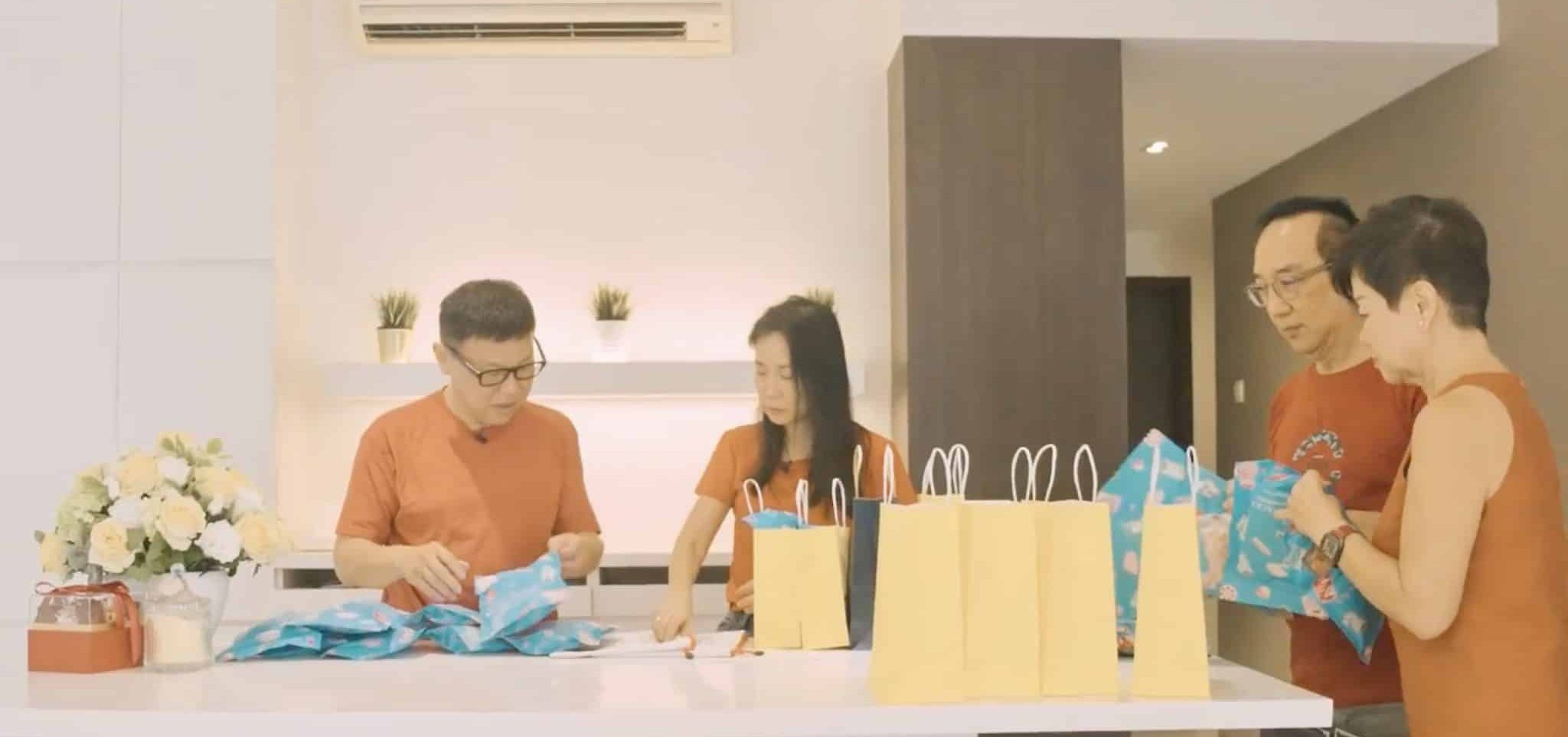 A snack pack left by the Chongs (left) opened doors to a relationship with their neighbours, the Gohs (right). The new friendship led to the Gohs returning to church and to a caring community. Screenshot from a video by Hope Church Singapore.
Goodie bags. Care packages. Blessing packs.
Covid accelerated the giving of these expressions of care, concern and appreciation in Singapore, particularly during the lockdown and subsequent days of social isolation. 
The idea was to let the isolated  – from migrant workers far away from home to neighbours to the left and right of us – feel that someone cares for them. Or to show gratitude towards the overworked essential workers in early days of the pandemic – especially those working in healthcare, transport, cleaning and delivery, for example.
Is there impact, meaning and relevance in the mass giving of care packages? Do these in any way affect those who receive them?
Here is one couple's and one church's experience:  
Goh Kah Wuang and his wife were pleasantly surprised to find a snack pack hanging from the gate of their flat. All their neighbours in their block had been given one too.
"Not many people give out goodies in our neighbourhood – so that was very refreshing."
The couple, in their 60s with grown-up children, were touched to know that someone was thinking of them – especially during the season of social restrictions to stem the spread of Covid.
"Not many people give out goodies in our neighbourhood – so that was very refreshing," Kah Wuang, who works for an American firm, told Salt&Light.
A handwritten note attached to the pack was signed by a Jeff and Claudia. Kah Wuang, and his wife, Mylene Lee, a homemaker, wondered who these "angels" were.
"We initially thought they were new neighbours who had just moved into our block, trying to get to know the neighbours," said Kah Wuang. 
"So every time we saw an unfamiliar face in the lift or carpark, we would ask, 'Are you Jeff or Claudia?'" 
The Gohs eventually ran into the givers of the goodie bag, and were subsequently invited to their home for a meal. It was the start of a good friendship.
It was only then that Mylene discovered Jeff and Claudia Chong's occupations: Both are pastors at Hope Church Singapore, where Jeff is the Senior Pastor.
Pastors Jeff and Claudia invited the Gohs to their home on Sunday mornings to watch church services that were being live-streamed at that time.
The Gohs had not been to church for a while.
"We thought it was time for us to go back to church," said Kah Wuang, who saw God's hand in bringing them back into His fold.
The Gohs – plus neighbours who are open to the faith – got together on Zoom with their pastor-neighbours and their cell members, who live in the same area, to share about their lives and pray for each other.
By the time Covid restrictions were eased, the Gohs found it easy to attend in-person services.
"We felt comfortable because Pastors Jeff and Claudia had helped us connect with other church members and mingle with them," said Kah Wuang.
Taking the first step
Having rediscovered Jesus' love, Kah Wuang and Mylene are now involved in living out His command to love the people around them.
Mylene has participated in Hope Centre's Bread With Love programme that distributes bread to residents of rental flats in three areas. It opens doors for volunteers to befriend and provide psycho-emotional support to the residents. (Hope Centre is a non-profit voluntary welfare organisation that extends practical help to people of all races and backgrounds. It is affiliated to Hope Church Singapore.) 
The key to loving neighbours is to build relationships – without the pressure of getting conversions.
Over the recent National Day period, Kah Wuang and Mylene (and Pastors Jeff and Claudia) in turn blessed neighbours of all races and backgrounds in their block with a goodie bag.
Like Kah Wuang and Mylene discovered, the blessing packs are an opportunity to break the ice with those living around them.
It is part of the church's Love Our Block campaign. 
Given that 95% of people in Singapore live in HDB flats and condos, mobilising the church to reach out to people living in their neighbourhood is key to making sure that as many people as possible get to hear the good news.
(For churches under the Love Singapore network, this is formally known as Loving Singapore Block-by-Block. The nation-wide call was launched in November 2004.)
Community pastoring also known as block pastoring "is a task that God has given to every single church in this little nation we call Singapore", Ps Jeff has said.
The key to loving neighbours is to build relationships – without the pressure of getting conversions, he explained.
The Chongs sensed God leading the church to set up cell groups to take ownership of areas where members reside.
Since 2019, Hope Church Singapore has made an effort to train its members in reaching out to the communities around them. It also came up with four steps that are spelled out in a simple manual, Hope Church Singapore: Block Pastoring Guide.
Blessing neighbours is the first of the four steps. (Read more about these four steps – Bless, Fellowship, Minister, Proclaim – and how to put them into practice here).
"It does not have to be done in a linear fashion. It depends on the receptivity of the people you are trying to reach out to," Ps Jeff said. His vision is to have one cell group in every block in Singapore.
(In the early 2000s, Ps Jeff discovered that two life groups from the same congregation – who lived in different regions in Singapore – would meet on the same night, in the same building, in a central part of the island. Subsequently, the Chongs sensed God leading the church to set up cell groups in –and take ownership of – the areas where members reside.) 
Scaling up efforts to bless
To make blessing fun, friendly and doable for its members, life groups and visitors, over the recent National Day, Hope Church Singapore, bought snack packs to distribute to 14,000 households.
About 2,000 people from 445 life groups were involved in distributing the blessing packs in their blocks. Members could give them out as-is, with a note, or to add on more goodies.
"These packs can be given out as a blessing," said Soh Chin Heng, executive director of Hope Centre, who is also helping to steer the church's efforts to love Singapore block-by-block. 
"What we trying to do is step up the scale of mobilising the whole church to do block pastoring," he said.
His team reveals that they have been heartened to see not just families, but also groups like young adults, older members who are in their 50s to 70s, as well as Filipino workers, embracing the initiative. 
In the days around the National Day period, they appeared as a sea of red around the island as they fanned out to bless their neighbours with the snack packs. Some shared photos of themselves in a social media campaign celebrating the Nation's birthday. Others shared stories of their block pastoring efforts using the hashtag #lovemyblockSG. 
The church had previously purchased snack packs for members to distribute to neighbours on other significant occasions such as Chinese New Year and Christmas. Previous gifts have included tote bags and door hangers with the message: "Thank you for being my neighbour."
Life Groups receive a certain budget every quarter to aid such activities. 
"Some life groups also come up with own initiative. For instance, distributing mooncakes during mooncake festival," said Chin Heng. 
Mobilising the church
Only about 10% to 15% of neighbours may respond with thanks or return the blessings, said Chin Heng. A smaller proportion may, over time, be willing for you to pray with them and receive Christ, he said.
Life groups have fed back that they have been blessed in return – beyond receiving thanks and reciprocal snack packs.
Some have gotten to know their neighbours on a deeper level than "hi" and "bye" and, like the Chongs and Gohs, have gone on to become good friends with their neighbours. Others have joined forces with neighbours to make group buys in the neighbourhood, Chin Heng revealed.
In a video produced by Hope Church Singapore recently, Ps Jeff said: "When we do it with the love of God in our hearts, and when we pray, God will surprise us.
"God will open many doors. There are more people who want to say 'yes' to Jesus than people willing to share Jesus with them."
---
RELATED STORIES:
"It starts with me": Love Singapore block by block this National Day
If you have enjoyed reading Salt&Light...
We are an independent, non-profit organisation that relies on the generosity of our readers, such as yourself, to continue serving the kingdom. Every dollar donated goes directly back into our editorial coverage.
Would you consider partnering with us in our kingdom work by supporting us financially, either as a one-off donation, or a recurring pledge?
Support Salt&Light