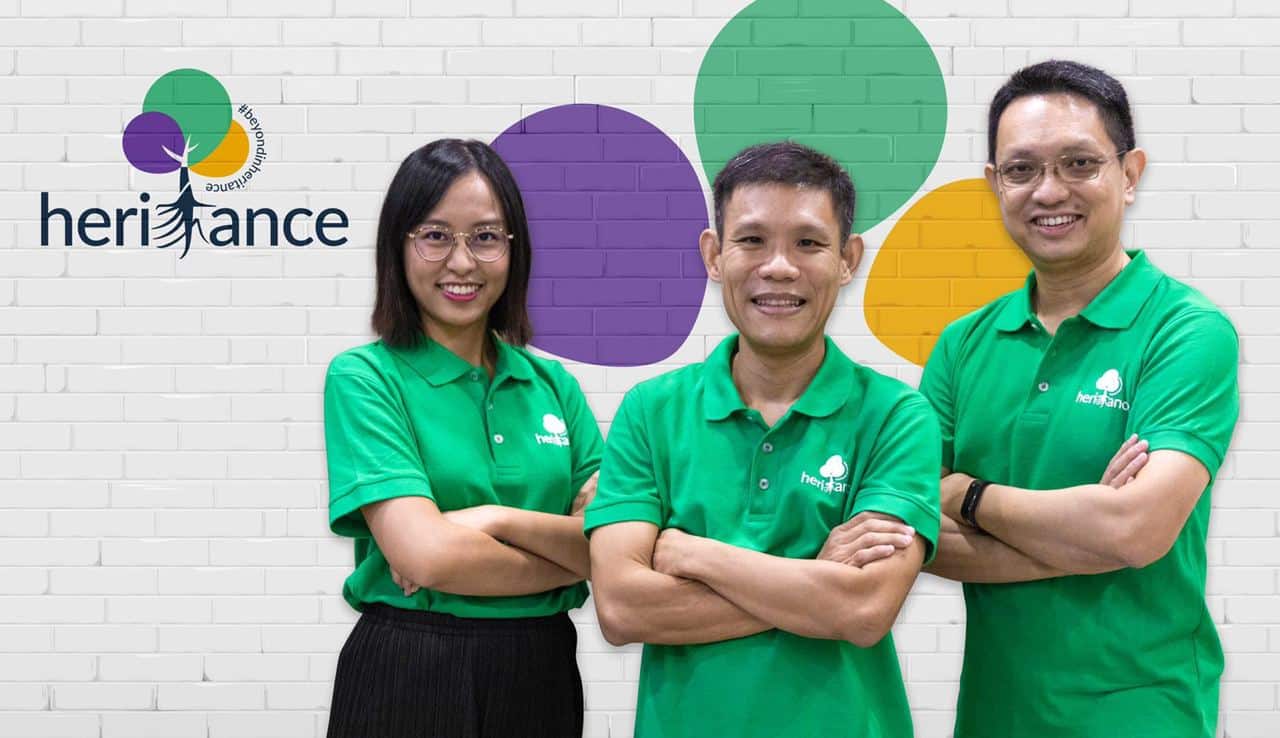 Persis Hoo, Derek Liang and Clifford Chew, co-founders of heritance, a mobile app that allows users to make a SmartWill and leave a legacy of photos and values as well. Photos courtesy of heritance unless otherwise stated.
His wife cheated on him and left him to raise their young son on his own. But he never spoke to the boy about the circumstances surrounding his mother's departure.
When the man became terminally ill with cancer, he wanted his son to know the truth so his son could forgive his mother. But by then, the man could no longer speak. So, he wrote his son a letter instead.
This was a story estate planner Derek Liang, 44, told Salt&Light about one of his clients.
"The man told his son, 'If you want to find out how your mother treated me, go to my Google Drive. There is lots of evidence. Don't let our failed experience deter you.'
He has witnessed how disputes over inheritance have torn families apart.
"He wanted his son to believe in marriage again. And he also told him, 'When you look up at the sky, remember this message from your father.'
"I was like, this is what passing down values is all about. I became convicted that everyone should write a will for values as well."
In his job, Derek has had to draw up wills for his clients. On many occasions, he has witnessed how disputes over inheritance have torn families apart. He always felt the need to right the situation. Over the years, he has taken to writing letters to his clients' children.
"I keep it in my Google Drive and have put it in my will that when I die, my children can go into this Google Drive and distribute these different letters that say I knew (my clients') father or mother because I'm usually too shy to give a eulogy at their wakes.
"Twenty years later, I want the children to say, 'Uncle Derek knew my father and sings praises of my father, telling me how great my father was.' "
A sure call
What Derek did not anticipate was how God would use his desire to pass down legacies that went beyond wealth.
Late in 2020, he was at a prayer meeting with Digital Mission Ventures, a group of kingdom-minded entrepreneurs who run DMV Labs, an accelerator programme for early-stage tech founders seeking to steward their business for good and for God. While in prayer, Derek sensed God telling him to start a digital mission himself.
"I told God, 'Number one, I'm not so good to do it by myself. Number two, my plate is full.' "
"God said that this time we need to do a digital mission so that everybody from the factory worker in Jakarta to the village teacher in Hanoi and the farmer in the Philippines can pass down a legacy – that passing down a legacy is not just something for rich people.
"They don't have money but they can still pass down a legacy."
Derek is no stranger to the tech start-up world. He is the former co-founder of financial planning app, GoalsMapper. But at that time, he did not feel he was in a place in his life to start more things. His fourth child had just been born and he had barely embarked on work in a church planted by his home church.
"I told God, 'Number one, I'm not so good to do it by myself. Number two, my plate is full. Unless you send me people, I can't do it.'"
Yet he saw green lights everywhere. His wife, who had reservations every time he made a career switch, gave her full support.
While he was with one of his children at a park, he saw a signboard on how a seed had to move away from the parent tree so it would not use up the same nutrients.
"It was a confirmation that unless a kernel falls to the ground and dies, it is useless (John 12:24). I interpreted it as the need to chop off my professional practice, let it die, to create new seeds.
"Then, the birds will bring it far away from the main tree. That would be the missional message of the business."
Then there were two
As the idea of a digital business took root, Derek could not help getting more excited about it. Soon, he found himself sharing his idea with a colleague, Clifford Chew, 51.
A technopreneur with experience in financial engineering and his own investment advisory practice, Clifford is someone who also believes in the biblical basis of planning for future generations (Proverbs 13:22).
"God already has this desire in His heart and He is calling different people to do this mission together."
He said: "When Derek shared with me his plan, I could feel: 'This is God talking' through him. I prayed about it and felt: Yeah, this is what I was meant to do.
"There is something different between venture and quest. Many start-ups start as a venture. You don't know where your destination is, you change your focus according to circumstances.
"But I felt this was a quest. God already has this desire in His heart – He wants to bring families together – and He is calling different people to do this mission together. The end destination cannot change. So, to me this is a quest.
"It was the first time I was doing a start-up like this. It was very exciting."
Derek was taken by surprise when Clifford offered to join him. "I told him, 'You have four kids. Your plate is as full as mine.' But I was very excited."
"This is the guy I know who has a lot of tech experience. But he is not just the experienced CTO (Chief Technology Officer) of many companies. He is also a very prayerful believer, a caring father and loving husband.
"That was the confirmation from God that He wanted this start-up to go through."
Four is the number
The team was not yet complete.
Derek was at a worship service when the worship leader spoke on how he had invited three other people, strangers at first, to join his team. The worship leader shared that he had always worked alone but now believed that four was better than one.
"We need a Gen Z. We need a Millennial, best if the person is a parent."
Derek realised that a four-man team was needed.
"I told Clifford, 'Cannot two of us Gen Xers. We need a Gen Z. We need a Millennial, best if the person is a parent.' "
They prayed, and Clifford remembered a young woman he had met at a leadership camp.
"In my line of work, I interact a lot with younger people. But she had this uncommon maturity and grace about her," he said.
"I remembered she was in the legal profession and thought: Perfect fit, why don't we approach her?" 
The woman he had in mind was Persis Hoo, 28, daughter of Gordon Hoo. Gordon is the founder of Gordon Hoo Consultancy, which provides agency management, leadership empowerment, recruitment, production programmes and workshops.
Coincidentally, Derek had once attended a three-day leadership and training camp run by Gordon. The experience had been instrumental in Derek becoming a Christian a year later.
"Clifford said to me, 'You go and talk to him. I think we need one of his children on our team.' I was like Samuel, going to the house of Jesse, not knowing which of the children God wanted to anoint."
Gordon invited Derek over to dinner to meet his seven children.
"I was like Samuel, going to the house of Jesse, not knowing which of the children God wanted to anoint."
Persis was already married by then and had moved out. That day, she had felt the urge to see her parents and had called home to tell them she would be back for dinner.
Said Persis: "At that time, I had been practising law for a while and I was actually open to other options. But I wanted to be sure it was God calling.
"When I heard Derek talk, I was very taken aback. I never thought of doing a start-up, never had any desire."
Derek recalled: "She never asked me any questions, never appeared interested. In my mind, I thought: Seow liao (This is crazy)! I have no product. Yet, I asked her to join this. I went back and told Clifford, 'No chance.' "
What he did tell Persis to do was to pray about his offer. She did.
"I believe in the mission and vision of the company. I come from a big family with six siblings and I value family," said Persis, who is now mother to a seven-month-old.
In June 2021, four months after Derek first broached the idea, Persis joined the start-up as a full-timer.
The fourth person is Solomon Sim, 28, the Head of Technology who, after a two-hour interview, went from offering consultancy work to agreeing to join the team.
Said Derek: "We had two weeks to pray and he came at the end of the two weeks. His was the last interview of the day."
Significant moments
So, out of the need to leave families with more than wealth after the passing of a loved one arose the impetus for the start-up, heritance, where Deuteronomy 6:7-8 can be lived out.
heritance is a mobile app that allows users to manage their wealth and write a SmartWill with the help of an eco-system of service providers such as lawyers and wealth planners. It also has a function that lets people leave a legacy of memories for their families and friends through carefully selected photographs, videos, recordings and documents.
Explained Persis, the legal counsel on the team as well as the one in charge of training and working with partners who provide legal and financial services to users: "It's different from social media because this would be a curated family album with only significant milestones and memories.
"On social media, when someone passes on, there are thousands of photos or videos. When others look at them, they can't tell which are the key moments. They don't know what it says about you.
"We want you to create memories of key milestones. We're not here to replace social media but to complement it." 
Lasting memories
heritance has an additional memory time capsule function that lets users send photographs, videos, recordings or letters at a future date to their loved ones.
"You can schedule it for milestones in the future such as birthdays, anniversaries, graduations or after your death and customise a date for sending these out," Persis added.
"For example, if you have just gotten married, you may have thoughts, feelings and life lessons that you might want to record down. You can schedule it for when your daughter gets married so she knows this is how her mother thought at that stage of her life.
"I want to compile legacy stories, letters that impact and inspire the next generation."
"This is a way we can pass on values through the app."
The memory time capsule can be added to the will, so that more than just wealth is passed on to the next generation.
The app also includes wealth personality tests that can give people greater clarity when they are managing their wealth. Additionally, a values test is available to help users ascertain what values they hold dear and would like to pass on.
Derek, who is the Director of Product Development, elaborated: "We have a posting culture where we post images and words on social media. I want to compile legacy stories, letters that impact and inspire the next generation that are timed to milestones."
Meant to be well-placed reminders, their purpose is "so the next generation will remember", Derek said. "That is parenting after life. That kind of impact is what we want."
He believes that when those who fight over monetary inheritance focus on something more meaningful, quarrels will stop. He himself has recorded four prayers, one for each of his children, that will be sent to them upon his death.
God's handwriting
With the team settled, everything started moving very fast. Within a month, they raised a pre-seed fund of US$300,000 which was what they needed to develop and get heritance up and going.
Said Clifford, who is the Director of Strategy: "After we raised the funding, I was walking alone, reflecting and marvelling at God saying, 'This must be Your hand.'
"We agreed to pray and seek God. If God is our CEO, we all have access to Him."
"We had just an idea, no product and yet we managed to raise US$300,000. And after we reached our target, no matter how we sought for more, there was nothing. It stopped exactly at our prayer target. It was the handwriting of God."
They also got into DMV Labs and met other kingdom-minded entrepreneurs. In less than 10 months, by April this year, their product was at "minimum viable product" (mvp) stage, which in start-up terms meant it had enough features to be used by early-adopters.
There are now more than 200 people using heritance.
Up next are plans to raise more funds and apply for grants, so they have enough money to expand into Malaysia and Indonesia. In about three years' time, when they have shown their potential for growth and revenue generation, they plan to move to "Series A" funding, the first of the significant rounds of growing their startup via external investments.
It is widely reported that 90% of startups fail, but Derek is unfazed by the challenges ahead. He said: "God gave me the business plan. God is the CEO. Why do I need to worry? Our job is to renew the family, refresh them so they can bear fruits for the family and for future generations."
Clifford agreed: "One of my personal mottos is the Latin phrase that means, 'All for one and one for all'. For me, all of us are servants of one Lord who made Himself a servant for all. It represents what we are doing."
"For me, all of us are servants of one Lord who made Himself a servant for all."
That is not to say that everything has been plain sailing. There have been disagreements about the way funds are raised. The usual way start-ups raise funds is through debt financing, where funds are borrowed with the promise of payback with interest.
Said Clifford: "But Derek said God told him not to use any debts to raise funds. Then how? Derek only gave me a problem.
"So, we went back to our CEO. Essentially, that is how we resolve a lot of differences."
Derek chimed in: "This year, we had an offer from a consultant who promised to give us a very good bank loan. But Clifford prayed about it and said God is very consistent. We shouldn't take the loan.
"But (if we) don't take a bank loan, (there's) no money to develop and grow the company. Then how? I was a bit agitated. But we agreed to pray and seek God. If God is our CEO, we all have access to Him. If God says 'no', then I have nothing to say."
The team is now 10-strong, comprising the co-founders, employees, partners as well as advisors. Together, they have seen God intervene at every turn. Just this April, they had wanted to recruit a vendor to improve the app's user-experience. But their spiritual mentor directed them to another way of going about things at a fraction of the cost.
Said Clifford: "It turned out to be wonderful advice. So, God has spoken through mentors, through co-founders. It's wonderful.
"As I reflect on it, God has prepared each of us for this. Derek was prepared in his start-up, GoalsMapper. I was prepared in my deep tech background, and the business and finance experience leading up to this work."
Added Derek: "We were not school-mates or friends prior to this. Our age group is so so diverse, from Millennial to Gen X. We have indeed been called by God to assemble His team."
This way of working – where a major part of decision-making and research has to do with seeking God and patiently waiting for Him – is new for these start-up veterans.
"It's like working in God's company," said Clifford.
---
To find out about how you can be involved in helping missional digital start-ups, click here for the DMV website.
---
RELATED STORIES:
From selling rojak to flipping cars in the US, he now has a start-up that helps people live their dreams
From start-up to unicorn: Grab co-founder Anthony Tan on what keeps him accountable
Global leadership movement, Faith Driven Entrepreneur, launches podcast to journey with Asia-based startups
If you have enjoyed reading Salt&Light...
We are an independent, non-profit organisation that relies on the generosity of our readers, such as yourself, to continue serving the kingdom. Every dollar donated goes directly back into our editorial coverage.
Would you consider partnering with us in our kingdom work by supporting us financially, either as a one-off donation, or a recurring pledge?
Support Salt&Light