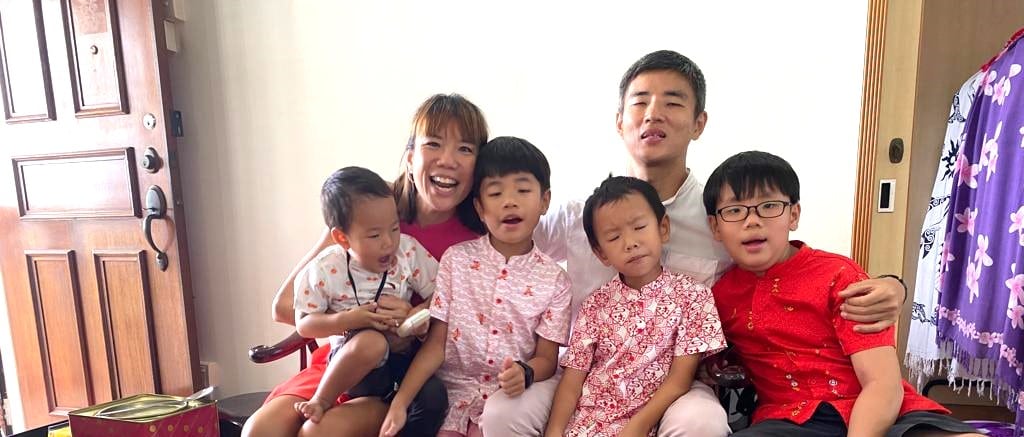 The evidence of things unseen: Faith guided Victor Wu and his wife, Sue-Anne, pictured here with their children (from left) Theodore, Nicodemus, Abraham and Emmanuel, when Abraham nearly died at 10 months of age. All photos courtesy of Victor Wu.
It began with a slightly phlegmy cough. But Victor Wu and his wife, Sue-Anne, did not think it was anything out of the ordinary. Their 10-month-old, Abraham, was still his usual active self and had even gone out with his extended family to admire a sunset.
The next day, Abraham developed a fever and was decidedly less chirpy.
When he still looked lethargic the following day, Sue-Anne took him to see his paediatrician, who said it was a virus and prescribed medicine for his fever.
But Abraham could not keep his food down all day and the lethargy persisted. Said Victor, 41: "When I came home and my wife told me about him, I noticed the difference."
"He just wasn't a picture of a healthy baby."
Because Abraham is their third child, Victor admitted that he and Sue-Anne did not immediately panic. But by bedtime, their baby's colour "just wasn't right" though they "could not put a finger to it".
"He just wasn't a picture of a healthy baby," wrote Victor in an e-journal he kept about the events that would unfold.
They took Abraham to the A&E.
"What's the worst that could happen, right? At most, if it's nothing, we waste time and waste money. But it was better to err on the side of caution," Victor told Salt&Light recently.
On hindsight, the family is glad they did not ignore the symptoms, especially because it would have been so easy to: It was late, and Abraham's drowsiness could have been attributed to natural sleepiness.
A heart under attack
At the A&E, the nurse could not detect Abraham's pulse. The normally energetic toddler was awake but uncharacteristically quiet.
Doctors told the Wus their youngest child had myocarditis, an inflammation of the heart muscles. There was almost complete blockage of his arteries and his pulse per minute was down to about 50 when it should have been between 80 and 130.
Sue-Anne, 39, wrote in an article for their church's magazine that she "crumpled into a corner" when she heard the news.
Abraham's little heart was, in fact, "struggling to cope with the virus attacking the body". He needed surgery immediately to have a temporary pacemaker placed in him to help his heart to beat.
"I had no words. I had no tears. We must have prayed but my mind was a blank."
"The doctor said the surgery risk is really high and they needed to intubate him to help him breathe. The cardiologist told us the next eight hours were crucial," wrote Victor in his blog.
There was a high chance Abraham would not survive the procedure.
Though it was the wee hours of the morning, the family sent out urgent messages asking for prayer support. Their cell group leader and his wife, as well as another cell member, rushed to the hospital to be by their side.
"I had no words. I had no tears. We must have prayed but my mind was a blank," Sue-Anne wrote.
Roller coaster ride  
The hour it took for the operation to take place stretched "like an eternity". Abraham would pull through but doctors told the Wus that, at one point, his heart rate fell to as low as 20 beats per minute.
He was not entirely in the clear. Doctors expected his condition to deteriorate further, and recovery rate was pegged at 50%.
Doctors expected his condition to deteriorate further, and recovery rate was pegged at 50%.
His pulse was still weak and the medication given to enlarge the vessels in his heart so it would not be overworked could result in lowering blood pressure and endangering his life if not carefully calibrated.
Sue-Anne wrote: "Nothing quite prepares you for the sight of your baby, sedated, lying in a hospital bed, with multiple tubes attached to different machines.
"I spent most of the next day crying. Was my baby really going to die? Victor and I were utterly helpless but somehow God gave us hope.
"I prayed with all my heart for God to heal Abe. I cried out to the God whom I knew is merciful and gracious (Ps 103:8), who promised to deliver and protect (Ps 91:14-16)."
The days that followed were an almost hour-by-hour roller coaster ride of ups and downs. Abraham developed a blood clot at the site of his pacemaker, which required him to be put on blood thinners.
But he did not have an allergic reaction to intravenous immune globulin (IVIG) medication.
As Abraham became more responsive, he also got more active and would often dislodge the tubes attached to him that were giving him the vital medication he needed.
A few days after his surgery, he developed a rash. When that settled, he came down with an inexplicable fever that disappeared, then returned.
At times, his blood pressure would spike crazily even as his oxygen levels plummeted.
"They should name a roller coaster ride in Universal Studios after Abe," Victor noted wryly in his blog.
The beauty of the Body  
What really sustained the Wus through it all was the love and support of their friends from church. At the time, they were attending St John's-St Margaret Church (SJSM). 
"Prayer is God's ordained means of conveying His blessing to His people."
Many came to pray with the family or sit in silent support.
Mused Sue-Anne in her published reflection: "We felt as though (and perhaps in fact) that the whole of SJSM was praying for us. Each day, I had very specific prayer requests.
"God displayed His faithfulness to us by answering each one.
"Can God work even if no one prayed? For sure. But prayer is God's ordained means of conveying His blessing to His people."
On several occasions when they needed to pick things up from their home, church friends volunteered to run the errand.  
To help Victor and Sue-Anne, who camped out at the hospital to be with Abraham round the clock, their cell pastor delivered bunk beds to them at the hospital so they could rest more comfortably.
Others chipped in to care for their two older sons, Emmanuel, five years old then, and Nicodemus, who was three, taking them out or ferrying them to church. This allowed Victor's mother, who took care of them, some reprieve.
Some brought home-cooked meals to the couple that warmed their hearts and insulated their bodies against the biting cold in the waiting area.
One came to do push-ups with Victor "in solidarity" when he found out that was how Victor kept himself occupied and warm during the countless hours at the hospital.
"The fact that we even have friends is a glimpse of God's grace."
Since Sue-Anne was still nursing Abraham, producing enough milk for him while she was so busy was a concern. Their friends made her nourishing soups and lactation cookies, and bought her supplements.
Another friend wrote them a cheque to help them "cover any incidental costs".
Wrote Victor in his blog: "The fact that we even have friends is a glimpse of God's grace.
"You have manifested the very real presence of God through your prayers and presence (and emails, conversations and messages). We can really feel the love, and are encouraged and strengthened in this trying time."
"We can really feel the love, and are encouraged and strengthened in this trying time."
Sue-Anne agreed in her reflection: "Even our extended family could not help noticing their care of us."
For Victor, who told Salt&Light that he had never been popular growing up and can count the number of friends he had "on one hand", having such deep connections with his cell group was unexpected.
"These are not people I grew up with. Yet, the relationships are so much deeper, so much stronger, so much more real. That is the beauty of being in the body of Christ."
Test of faith 
Although Abraham was hospitalised for just 10 days, the near moment-by-moment changes in his condition took Victor and Sue-Anne on a long faith-changing journey.
"God doesn't always come through the way you want Him to."
"The scary part is, I hoped that I could say that God is good even when bad thing happens," said Victor.
On more than one occasion, he wondered: What if God decides to bring Abraham home this very night? Would I still be able to praise Him? Should I?
Yet, he could not deny God's goodness at every turn.
Had they not rushed Abraham to the A&E, the outcome would not have been so positive.
Those given temporary pacemakers when their hearts were as damaged as Abraham's usually had to have the device for at least a week or even permanently. Abraham's was removed within days.
"If I didn't go through this, my faith would not have increased."
Though given multiple heart medicines, all of which had possible side effects, Abraham tolerated all of them well.
"We romanticise the Christian life: 'Give your life to Jesus and God will solve all your problems.' But I know that God doesn't always come through the way you want Him to," Victor shared.
"If I didn't go through this, my awareness of God's faithfulness and my faith would not have increased.
"It's just like muscles. You don't do push-ups, you never grow stronger. You have to tear the muscles and feel the pain. Then, hopefully, you grow stronger."
Victor also found his approach to fatherhood changed as a result. He became less concerned about his oldest son's kindergarten homework and Primary 1 registration.
He also became more patient and empathetic towards his middle son's meltdowns. On one occasion, Nicodemus wept when he wanted a drink of milk. Instead of telling him to "stop whining", Victor found himself picking his son up and hugging him.
Life afterwards
Even when the medical crisis ended and Abraham was allowed to go home, the Wus found themselves still learning lessons in trusting God.
For a long time, husband and wife were hyper-vigilant about their youngest son's health. Sue-Ann would sometimes be "overwhelmed by fear" and would watch her son as he slept to check on his breathing.
To this day, Victor still tucks Abraham, now six years old, into bed and remains with him till he sleeps.
Every bout of illness brought some measure of panic and they have rushed their son to the A&E or paediatrician's office only to be told he would be fine.
"In the initial years, if he gets winded or has a fall, the first few times we would rush him to the A&E because we were not sure if it was his heart," said Victor.
Every review gave rise to fear that worse was to come, especially when, at the six-month review, they were told that Abraham had an enlarged left ventricle but could still live a normal, active life.
"I vacillate between trust in God and crushing anxiety."
"I vacillate between trust in God and crushing anxiety," Sue-Anne wrote.
To manage her emotions, she learnt to give thanks and connect with God in nature. "God is big and while I have my concerns about Abe, He is in control."
Two years ago, Abraham was taken off the cocktail of medication normally given to the elderly for their heart condition. Now, he is like any boy his age – active, playful and healthy.
As to the question that Victor had asked himself when Abraham's life hung on the line, he had this to say: "I hope God will help me get to the point that if He took everything from me, He can still preserve my faith."
---
RELATED STORIES:
"Please heal her. She's the only one I have": Doctor and single mum who lost her only child to incurable illness
"We miss him fully, but we don't grieve as those who have no hope": Parents of Baby Emme
If you have enjoyed reading Salt&Light...
We are an independent, non-profit organisation that relies on the generosity of our readers, such as yourself, to continue serving the kingdom. Every dollar donated goes directly back into our editorial coverage.
Would you consider partnering with us in our kingdom work by supporting us financially, either as a one-off donation, or a recurring pledge?
Support Salt&Light