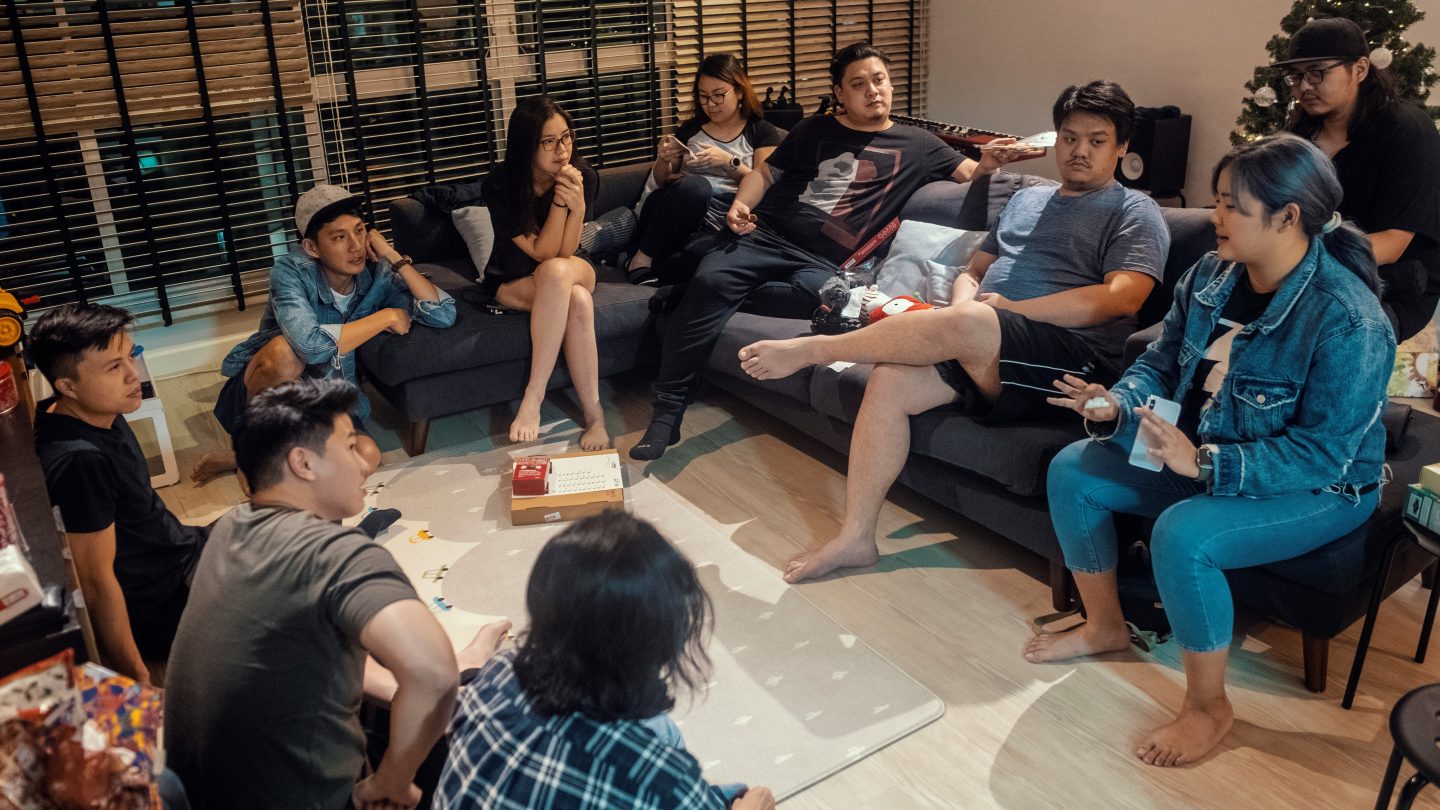 Catching the fire of God: Three core members of the Fireplace Worship community have gone on to launch The Fireplace Collective, a creative agency with an eye out for lost children of God. All photos courtesy of Joshua Tan.
While companies were folding in the face of the COVID-19 pandemic, one spark of a business idea was fanned into a burning flame.
In March, despite the dismal economic outlook, three friends got together to register a non-profit Christian creative agency called The Fireplace Collective (TFC).
Their plan is to work with those in lighting, video production and music and "connect people, groups, churches and parachurch agencies to the right resources to produce creative content" – whether it be a song to be written, music video to be created, story to be filmed, an event to be organised or a live performance to be put together.
"At the heart of it, our intent is missional," said Ling Jia Hao, 37, director of the company. "The desire is to see the lost sons and daughters come home to God."
Just a prayer?
TFC has been five years in the making, since a prayer was said for Ling in 2015 by a friend at the end of a casual meeting.
"The desire is to see the lost sons and daughters come home to God."
"While he was praying, God spoke to me about something totally unrelated to what he was praying," Ling said, recounting that God told him to create a safe space where people could be authentic with each other.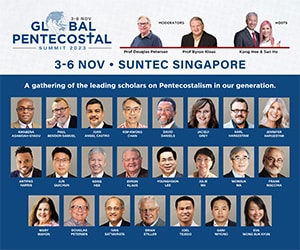 "God gave me an idea that it was to be like in a living room, a family context where people could be around a fireplace and be real and raw with each other, open up their hearts and catch the fire of God."
He did not immediately leap into action, knowing that "sometimes, God speaks to us words in advance".
"I held onto the word about the fireplace." 
The next move
Ling's first thought was to set up a worship school in Asia, in keeping with a long-held desire. "From my youth, I had a deep revelation that God wanted every nation and every tribe to worship Him in their own culture, expression and language.
"The desire had always been burning."
Instead, he took his family – his wife, Ruth, and their three sons – into the mission field. They spent nearly a year abroad in the Philippines and New Zealand with Youth With A Mission (YWAM).
"God is not offended by the mess and the processes that we still need to walk through."
Upon their return, a season of just waiting to see where God would take him next followed. Ling was also leading worship at Kum Yan Methodist Church.
A text came in 2018 from a friend who, knowing that Ling wrote his own songs, wanted to introduce him to local music producers. Their meeting resulted in a vision to gather "nameless, faceless Christian songwriters" and give them a platform.
Together, they rounded up a fledgling group to record one of Ling's original songs, Praise to the One; thus began the Fireplace Worship (FW) community – the coals of which eventually sparked TFC, the business. 
"It was the start of a journey for us to connect with many musicians in the music industry – a safe place for many to come to God just as they are: Real community, real connection, no judgement," Ling shared.
Before long, there were about 20 regulars from the local Christian music industry, including seven core members. They met over barbecues and often would end up worshipping and encountering God together, which to Ling was precious.
"Living out Christian values is challenging in the music industry," he offered, noting that "God is not offended by the mess and the processes that we still need to walk through".
Perfection redefined
As the vision of a fireplace was becoming actualised, one of the people drawn to its glow was Priscilla Tan, 31, who had quit her job at the end of 2019 to become a full-time musician.
"Who gave you the picture: Is it your own expectations or is it from God?"
"I felt it was God's plan," she said. "All I needed was to get booked for corporate events and weddings."
With the COVID-19 outbreak, however, all her gigs dried up. A part-time music job she found also came to naught because the company had to close down.
"It threw me off," she admitted, until a sermon entitled "This Is Not What I Pictured" gave her clarity.
"It was about who gave you the picture: Is it your own expectations or is it from God?
"I realised that it may not be your plan but if it is God's, you submit to Him and see how it goes. Out of that, I wrote a song about the 'Picture Perfect Frame'."
She also resolved to remain in music full-time and to join Ling as co-founder of TFC, where she takes charge of marketing, publicity, partnerships, project management, social media and coordination.
It's about the journey
To complete the TFC team, 29-year-old videographer Joshua Tan came on board. Once a hard-living musician with his own band and a hip-hop group, he knew first-hand the kind of lifestyle the music industry can draw a person into.
"For 10 years, I was drinking, partying, doing drugs, getting into trouble," he said.
He had recommitted his life to God in 2018 and had been looking for a community like FW "where there can be healing and where we can journey together".
Meeting Ling was seminal: "I saw how much Jia Hao surrendered to pursue his calling and I was very curious. 
"He says it's just part of his journey with God and he is the most content he has ever been in any situation."
Miraculous provision
None of the founders is drawing a pay from the company in its start-up phase. This is their surrender and sacrifice, said Ling.
"This is our sacrifice, to sow the seeds for many sons and daughters who will come home to God because of this Fireplace."
"Worship has always been about sacrifice, whether in the Old Testament or New Testament. It is reflected in the lives of the men and women of God.
"I think of the fireplace like the brazen altar in the tabernacle. It always has to have a sacrifice. (Leviticus 6:9)
"This is our sacrifice, to sow the seeds for many sons and daughters who will come home to God because of this Fireplace."
Asked if he has ever worried about his finances since he is the family's sole breadwinner, and he and his wife are expecting their fourth child in August, Ling shared accounts of God's miraculous provision for his family.
When he needed to raise funds for his YWAM mission trip, a church friend handed him an envelope with US$400 just moments after he decided to commit to the trip.
In November last year, when the family was short of S$7,000 to pay off loans, a friend gave him a cheque for that exact amount.
"God was teaching us a different way to live in the Kingdom – to live in obedience."
"We were really running out of finances. We felt like God was leading us in this direction not to take up a full-time job and to strictly obey Him. But we were being tested to the core. We wondered: 'Did we hear wrongly? Are we doing it wrongly?'
"What we didn't know was that God was teaching us a different way to live in the Kingdom – to live in obedience."
Along with the money, his friend also gave him a word. "She told me: 'This season of testing has come to a full stop'."
And so it had. As the couple was considering if Ling should start TFC, Ruth told him that if God provided S$5,000, they would take it as a sign that he should go ahead.
"Before our conversation ended, a friend called me on the phone and told me that he and his wife had been praying and had decided to support me with S$1,000 every month for six months," said Ling.
Two days after that, another friend handed them an envelope with S$3,000. Ling affirmed: "When He calls, He will provide." (Philippians 4:19)
Priscilla Tan's own testimony is: "We've seen God with us every single step of the way." (Jeremiah 1:8b)
Come by the fireplace
Even so, it has been challenging. The team had grand plans for theatre-style live shows where people sing original songs and tell the stories behind the songs.
However, everything has had to be moved online because of the coronavirus outbreak. They have instead been producing and posting mini-shows in a series called By the Fireplace. 
Their following is only just building up, but the response has been more than what the team hoped for.
Priscilla did the first episode on her own with three cameras, sharing about the Circuit Breaker's impact on motherhood, and received heartfelt messages from people relating how they had been moved.
One mother was so touched that she, too, shared her journey, which prompted Priscilla to write back to pray for her.
"Another also messaged me that she went through depression. As she listened to the episode, she felt that God was with her."
Pointing people to God is at the core of all that TFC does, Ling said.
"There is no extent that we cannot lay down our lives for Him."
"In this digital age, we can help to develop social media approaches to position content."
Asked if creative types tend to clash, he replied: "If Jesus is really worth us doing this, there is no extent that we cannot lay down our lives for Him, to surrender.
"So, we are able to lay down ourselves and our differences.
"Because of our surrendered-ness and our shared vision, we are not relating to each other just as colleagues. We are walking in this close-knit journey with one another."
Musician Ryan Kong's God-songs: Heart-driven even in 'fig tree moments'
"Without my parents' prayers, I might have turned out very differently": Indian music luminary Keba Jeremiah
If you have enjoyed reading Salt&Light...
We are an independent, non-profit organisation that relies on the generosity of our readers, such as yourself, to continue serving the kingdom. Every dollar donated goes directly back into our editorial coverage.
Would you consider partnering with us in our kingdom work by supporting us financially, either as a one-off donation, or a recurring pledge?
Support Salt&Light